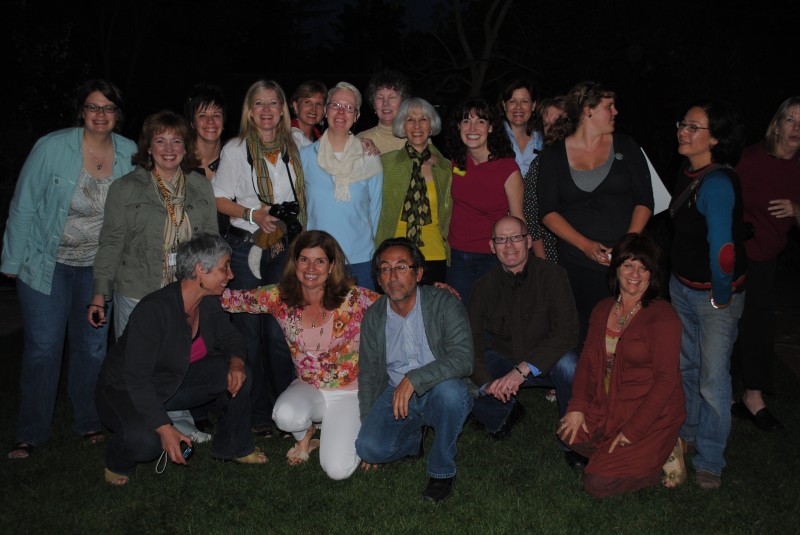 Okay, I know a lot of you don't use Twitter.  Many of you might think Twitter is a little weird. But did you know that I LOVE Twitter.  It's true. I looooove Twitter.
It has introduced me to so many, many incredible gardeners.  Some are just the average weekend-gardener, some are professionals (landscape architects or landscape designers), some are magazine editors, some are book authors, almost all have their own personal garden blogs – but the one thing that bonds us all together is that we LOVE to talk about all aspects of gardening.
 And Twitter allows us to throw out random gardening questions, share our garden pictures, funny incidents, design ideas – the sky's the limit! – and get a TON of responses within minutes. I tell all of my clients they're crazy if they don't use Twitter for the simple fact that it's like having your own herd of landscape professionals at their disposal, just waiting to answer their questions!
So, when the San Francisco Garden Show came to town last week, what better reason to throw a garden party than to finally meet so many of these people in person!  And what a party is was! The crazy part was that only a few of us were actually from this area!  Most people flew in from around the country (even Canada!) to either have a booth at the Show, or to write about the show, or just to attend one of the HOTTEST Garden Shows in the land! And here they were – all in my backyard!
The weather was absolutely perfect and the food divine (thanks to my catering friends at Julie and her Sister).  The stars were lined up just right for us all to enjoy a wonderful evening together.
First thing's first…when having a party make sure there's awesome food!
Okay – so now that we've got the food figured out, all we need is some 'Swag'….
How can you go wrong when Haven's Soil Conditioner 'Tea Bags' are handed out to everyone, along with Annie's Annual's 2-for-1 coupons!  You can't – it's guaranteed success!  Thanks so much Annie and Annie (yes, they're both named Annie – coincidence?)
Well, my blog isn't titled Gossip In The Garden for nuthin!  Here's a little insight about many of the people you may know (or at least heard of.)  And if you DON'T know them, you should definitely check them out, as they're all fabulous gardeners in one way or another!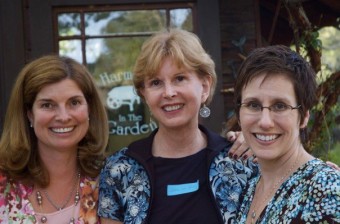 Here I am in pure Heaven, hugging Debra Lee Baldwin (author of Succulent Container Gardens) and Patty Craft (editor of Horticulture Magazine) – two of my favorite women.
But did you know they're two of the most down-to-Earth women you'll ever meet?  Both preferring to just wander around the garden, taking photos, 'taking it all in', versus the 'Get me to the  middle of the crowd' type (and no, there's nothing wrong with that type, as you'll see)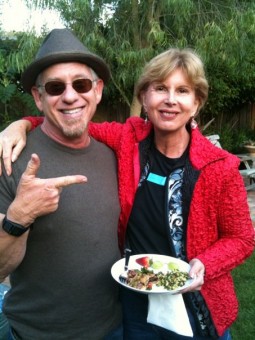 Speaking of 'Get me to the middle of the Crowd', here's Billy Goodnick (pointing to Debra Baldwin, no doubt heckling her in some way).  Billy is a character, as many of you who read his blog and column on Fine Gardening's website probably know.
But did you know he's actually a really mellow guy?  Seriously!  And when you get him on the topic of landscape design (he's a landscape architect, btw) he'll listen to your ideas, offer his suggestions and let loose TONS of pearls.  A true wealth of information.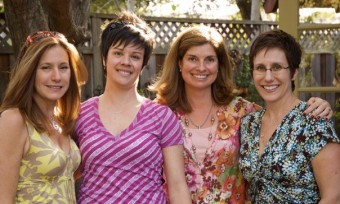 Here I am again, in the middle of Jeanette Craft-Sinclaire (Patty Craft's sister), Jayme Jenkins, and Patty.
It was wonderful meeting Jeanette, as she lives about 10 minutes from me and is an incredible photographer (thanks for some of these photos, Jeanette!)
And then there's Jayme.  She's such a cool chick – so darn young, full of energy and totally, totally nice.  But did you know this girl has the World's Straightest Posture?  Seriously – she does!  You'll NEVER see her slouch.  And should you meet her in person, call her name and she'll whip her head around with the cutest 'surprised' look on her face – every time.  She cracks me up.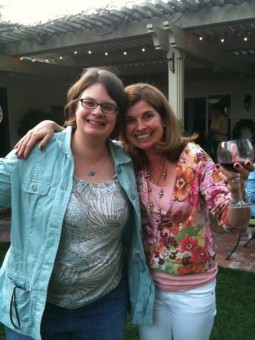 My poor guests – they couldn't get away from me mobbing them.  
Here I am mauling Katie Elzer-Peters.  Many of you know she's an amazing writer but did you know she secretly likes to get dogs a little tipsy?  She claims it was an accident, but I have my doubts.  She's unbelievably funny, in a very dry sort of way.  An absolutely joy.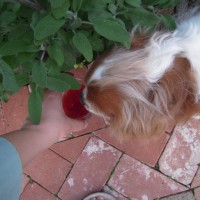 Um…I believe that's YOUR hand, Katie, giving my dog the wine?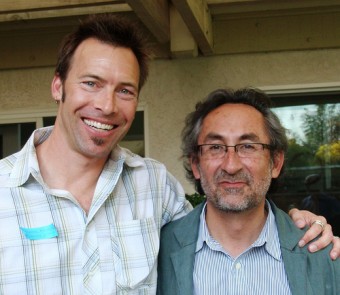 Never have I met two more charming landscape designers than John Black and Galen Fultz , and lucky me, they're both from Northern California.
It's always great to meet designers who are so talented yet so humble.  These are two awesome guys and you should really check out their websites for design inspiration!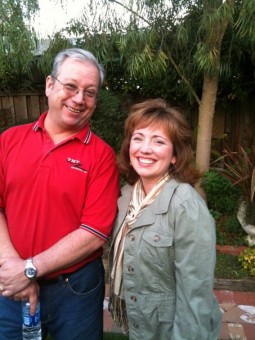 Matt Moore and Christina Salwitz – another pair of super interesting people I finally got to meet in person.
Matt is another local, and I'm so glad to finally get the scoop on his company as they make a brand new, totally organic, worm-casting infused brand of magic soil, called Terra Vida.  This soil is SO amazing, I'm using it on my next big job and I can't WAIT to see the results!  You can be sure I'll be writing a post about it.
Christina is another character – such a pistol, so funny, so talented, and has worked in a gazillion different nurseries and is a fountain of nursery information!  Just watch where she sets her drinks down, though, as she's another one who likes to get innocent dogs tipsy.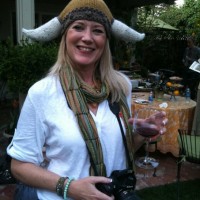 And here we have sweet, shy Jenny Peterson.  Such a unassuming little wallflower, that one. NOT.  Elayne, with Annie's Annuals, hand-knit this viking hat for Jenny who promptly snatched it out of her hands and wore it ALL night.
And did you know that Jenny stayed with me for 3 nights?  And I can honestly say she's one of the sweetest, funniest people ever.  A very cool chick, indeed, who likes to sleep in late, has a devlish twinkle in her eye, and is always up for a good laugh.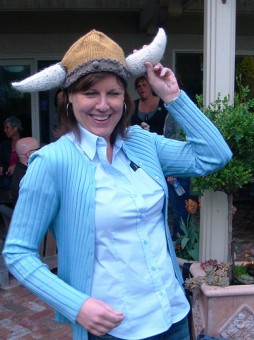 And not to be outdone is our own, lovely Susan Morrison.  "Sorry Jenny – that hat is MINE.  Plus, I can make the horns stand up better than you can."  That's just a small example of why I love Susan so much.
Susan was my partner-in-crime, and co-hostess, helping me coordinate this party.  I've really been lucky to have spent a lot of time with her over the past 6 months and let me tell you not only is she, hands-down the FUNNIEST designer I know, but she's so dang SMART!
True, this photo is misleading, but trust me on this.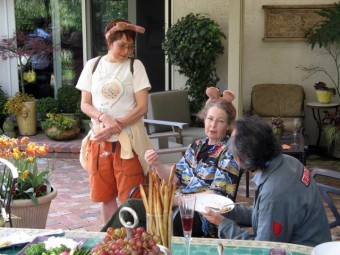 Here's an exception to the whole 'Twitter Party' thing.  Many of you may have heard of (or probably READ) the hugely popular Town Mouse/Country Mouse blog…well guess what!  Here they are in person, and NO they don't use Twitter!
Yep – that's Renate Kemp (Town Mouse) and her co-writer Country Mouse.  They specialize in native gardening and mouse-ears.  It was fun to watch many of the guests exclaim in surprised joy 'THAT'S the MICE'!!!???  Yep – that's the elusive mice all right.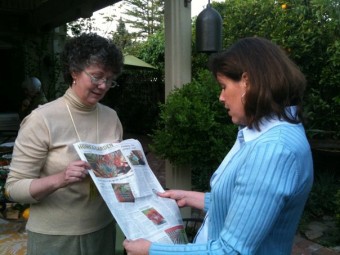 Want some great gossip?
I found out Daffodil Planter's REAL NAME! Yep.  That's her, pointing out Debra Baldwin's article to Susan.  And and her name is…drumroll please….Charlotte Germane.  Is that an AWESOME name or what!!??  Why she's been keeping that hidden from us is beyond me.  If I had a name that beautiful, I'd be telling everyone who came in contact with me. I'd probably even have a T-shirt made with my name across the front of it.
She's another very, very witty person.  Makes me laugh CONSTANTLY.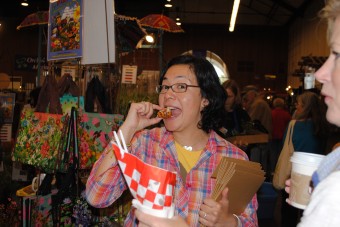 And last, but never least, is our most revered Elayne Takemoto, from Annie's Annuals.  Yes, this photo is actually taken at the show (striking a pose while eating a donut), but I couldn't find one of her ANYWHERE except in the group photo above.
Elayne arrived at the party with her two co-horts Kelly Kilpatrick and Claire Woods and the three of them were truly one of the best combination of people ever to grace Los Altos.  They are SUPER funny, SUPER cool, SUPER down-to-earth, not a pretentious bone in their body and as you would imagine, FULL of plant knowledge.  I'm a huge fan of these three!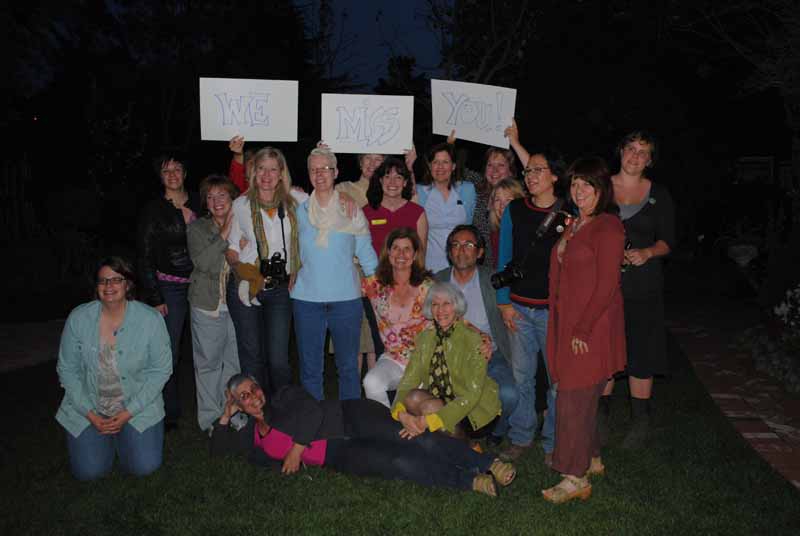 To end this post I'd like to show you another version of our group photo. Charlotte Germane suggested this idea, and Susan Morrison created the signs.  A good friend of ours, Katie Swanberg (known as GardenPunk) has been seriously, seriously ill.  We missed meeting her in person and wanted to let her know we're all thinking of her.
And that's Twitter for you.  None of this would've ever happened without it.  So what are YOU waiting for?