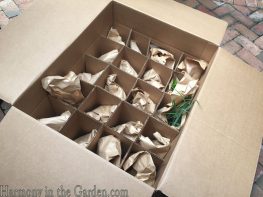 I'm finally able to catch my breath after my big move, and now that the suffocating summer heat has passed and I can think and write clearly again!   It's been a hot, hot summer with temperatures averaging in the 100's for weeks on end (definitely not the norm, locals assure me, as they see me slowly begin to lose my mind.)
And while some of the plants that I hauled all the way up here have melted away in the heat, the vast majority patiently remain in their containers, waiting for me to find a permanent home for them in my new garden.
As the final installment of my seasonal Drought Buster series (click here to read about Fall, Winter, and Spring) I thought this would be a great time to tell you about the incredible plants that have survived months of blistering temperatures.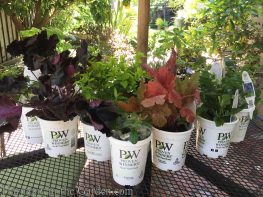 Since I do a fair amount of writing for various publications, I'm often sent samples of plants to trial. Growers do this hoping to obtain feedback from various zones around the country before introducing their new babies to the public (and, of course, a little positive PR never hurts either!)
As you can see from the photos, sometimes I'm sent a lot of plants. Which is perfect, as I divide them between many of my long-time clients the Bay Area (zone 9), my mother's garden in Meadow Vista (zone 8b), and in our family's garden in Lake Tahoe (zone 6b.) We've had pretty ideal testing grounds in Northern California as we've had years and years of harsh growing conditions; seemingly endless drought, followed by an insane amount of drowning rain this past winter, and now this summer's unrelenting heat.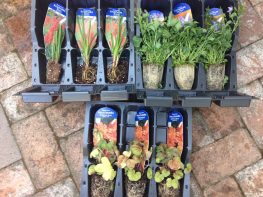 I rarely write about plants that I've only trialed for a few months, as only time will tell just how hardy they'll end up being (annuals excluded, of course.)
Most of the plants that I'm featuring here have been in the ground for a few years, which also means they're most likely now easily found at your local nursery (or at the very least, online.)
So with that said – here are my favorites that I heartily recommend!

Proven Winners
Summerific Perfect Storm (Hibiscus)  Full sun, Zones 4-9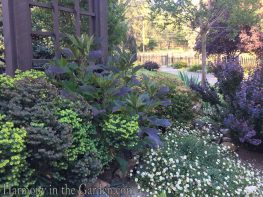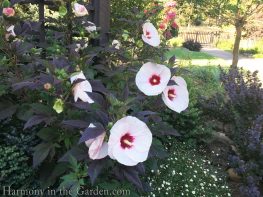 One of my very favorite perennials introduced by Proven Winners is this unbelievably tough Hibiscus hybrid.  It's naturally compact, growing to about 3'x4′ wide and has the most gorgeous moody, inky foliage that holds its color throughout the entire summer.
The huge pink and white flowers (7-8″) flower throughout the summer, but honestly – it's the foliage that I'm wild about.  It has survived several summers in my mother's HOT garden, without being coddled one bit (watered just a few times a week.)
Pruning hibiscus is a little different than other perennials since it's one of the very last plants to emerge in spring.  It's best to leave the deciduous stems standing throughout winter to remind you where its located.  Since it's so late in emerging in the spring, it's easy to forget its there and accidentally damage it by trying to plant something new in the blank space.
Be patient – it'll soon emerge and reward you with all the dark and dusky beauty you could want!

Superbena 'Stormburst' Full Sun, Annual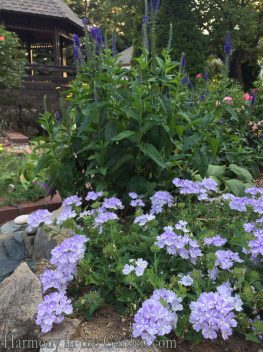 If you're like me, you've planted tons of tried-and-true verbenas over the years.  This one, however, deserves a medal for its unbelievably tough qualities, and non-stop bloom time.  This was planted in my mother's garden in May, not realizing the very next week was the start of umpteen 100-degree temperatures.
We were both shocked that this little plant endured without flinching one bit, producing mounds and mounds of flowers throughout the entire summer.  It had just a few weeks of down-time but then quickly started right up again.  In fact,  I visited it yesterday (4 months later), and it was still covered with flowers.  And speaking of flowers – aren't they the cutest ever?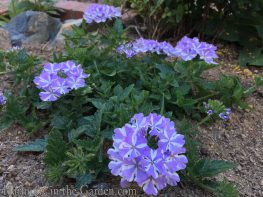 The lavender color has a white stripe, but changes tones with different lighting: sometimes it's magenta, sometimes periwinkle, or even a soft pink. Full sun, very little water, tons of blooms with zero wilting.  What's not to love?
Make sure to keep an eye out for this one when it hits the nurseries in 2018.

Calycanthus 'Aphrodite' (Carolina Spice Bush)  Deciduous Shrub Zones 5-9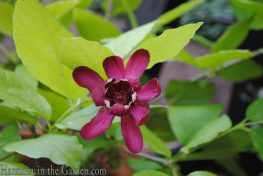 This improved variety of Carolina Spice Bush has deliciously fragrant, oversized bright red flowers that re-bloom.  I've kept this sample growing in a large container for the past few years, as I knew it would be eventually be coming along with me to my new home.
The crisp green foliage hasn't wilted one single day in this heat (with very little water, too, I might add) and the magnolia-like flowers are simply stunning.  As it grows to about 6'x6′, I'm excited to finally give this beauty a permanent home in the back of my border.
Oh, and did I mention it's deer-resistant and tolerates clay soil?

Cuphea 'Vermillionaire'  Full Sun, Zones 8-11 (otherwise treat as an annual)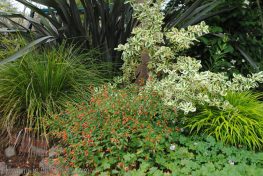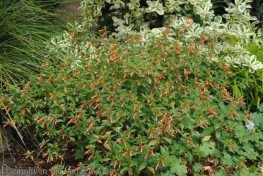 Planting a cuphea is like planting hummingbirds – they magically seem to appear to claim their stake on their new favorite buffet. The problem with cupheas, though, is they get pretty large and rangy by summer's end.  'Vermillionaire', however, remains tidy and compact (2 1/2′ x 2 1/2′) with scads of flowers from May to the first frost.
Despite preferring full sun, I planted mine in partial shade, and miraculously it hasn't stretched one bit, or reduced the numbers of its flowers!  The compact size makes it perfect for the front of a border, or perhaps in a container.
Once established, 'Vermillionaire' needs very little water, too, making it ideal for my new garden.

Supertunia 'Lovie Dovie'  Full Sun, Annual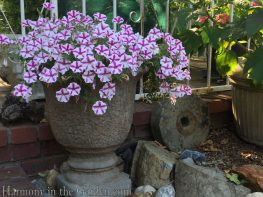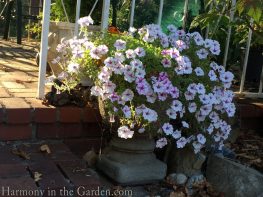 Petunias are another annual that's sorta done to death, don't you think?  In the spring, they look so pretty in their little containers; only they end up getting leggy as they quickly begin to stop flowering.
'Lovie Dovie', however, is a Supertunia (the only ones I plant) which means it blooms and blooms and blooms!  This one has surprised me as it hasn't just survived our blistering temps, but actually seems to thrive in them.  It hasn't stopped blooming once since planted in this container in May (going on 4 months now!)
I took the second photo yesterday so you can see the falling leaves around it – it has no intention of stopping quite yet.  It might look delicate, but I assure you it isn't!

Artemisia 'Silver Cascade'  Full Sun, Annual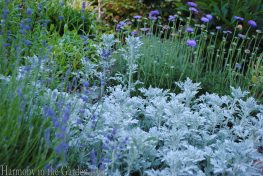 I know, I know – another super common annual, right?  But hear me out!  The problem with most artemisias is that they either get way too big, or way too rangy (or both!)  This variety, however, tops out at 4″ high by maybe 16″ wide.  It remains tidy and compact with velvety foliage in soft shades of gray.  It looks particularly stunning growing in a container or at the base of a taller, leggier plant.
Should it ever start to look a little rangy, just give it a hard hair-cut, and it'll bounce right back again to its compact self. Mine has overwintered in my Zone 9 garden for a few years now, but otherwise, you should count on treating it as an annual.  I'll never go back to the regular ol' artemisias again.

Terra Nova Nurseries
Echinacea Supreme 'Cantaloupe' (Coneflower) Full Sun, Zones 4-10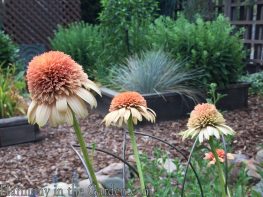 Every spring there seem to be more and more coneflower varieties introduced to the market.  'Cantaloupe,' however, has got to be one of my favorite new varieties with its unique (and aptly named) color.
The double center looks like a pom-pom, adding a lovely soft textural quality to the often stiff and coarse flower.  Its tendency is to grow upright to a mid-sized 2 1/2'x2 1/2′, meaning it won't flop quite as readily as many of the other, larger varieties. Oh, and it's deer-resistant as well.
The flowers bloom for months at a time, starting as soon as the summer's heat begins and lasts all the way through October. And could there be a better color for a fall bouquet?

Rozanne and Friends (formerly Blooms of Bressingham)
Stokesia 'Blue Frills' (Stokes Aster) Full Sun, Zones 5-9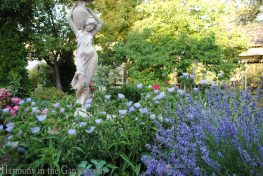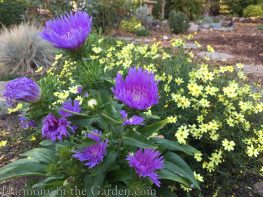 Stokesia, in general, are pretty cool flowers.  They kick into gear towards the end of summer when our gardens begin to decline a bit, offering oversized flowers for weeks at a time.
Many traditional varieties are in shades of light blue (like the ones in the photo on the left), but check out the color of 'Blue Frills'!  These flowers are a rich, deep vivid-blue on upright stems with dark green foliage.
They're a stunning addition to the late summer garden (when colors tend to become a little washed out), growing to a tidy 2'x2′.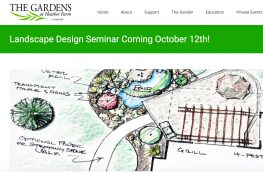 If you're interested in hearing more about some of my favorite new plants, I'll be one of five guest speakers at an all-day workshop on Oct. 12th at Walnut Creek's The Gardens at Heather Farm.
Co-sponsored by the Association of Professional Landscape Designers, The Gardens at Heather Farm, and Pacific Horticulture Society, the focus of the day is Renovating the Mature Landscape:  Resources and Inspiration for a Beautiful, Sustainable Garden. Geared toward the serious gardener, as well as professionals, the talks will inspire all to take a new, fresh look at their gardens and what they can become.  I hope to see some of you there!