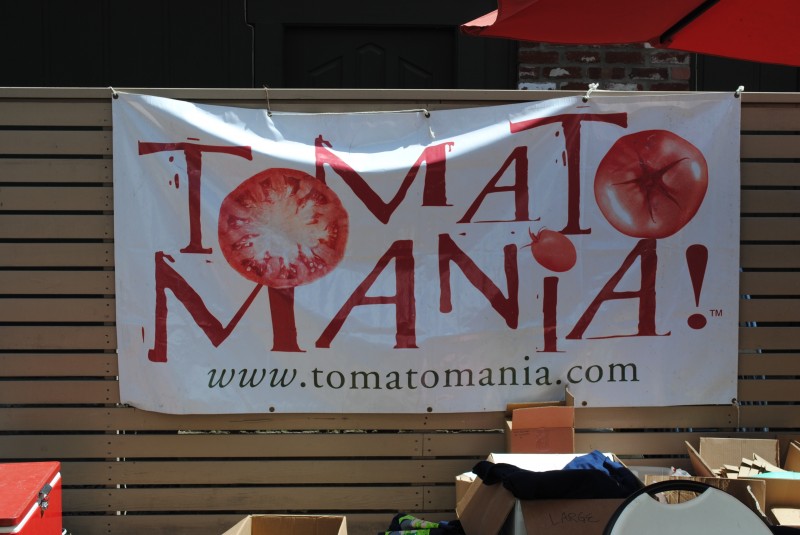 We were up in Sonoma last weekend and attended the 'World's largest traveling  heirloom seedling sale', called Tomatomania.
To be honest, we accidentally stumbled upon this event, but the timing couldn't have been better. 
Not only was I ready to plant my annual 2 tomato plants, but we were heading over to tour the gardens of some very well known garden designers and I was stumped as to what to bring them.  
Then it hit me – tomatoes!  
A risky thing, to be sure, buying a garden designer a plant for their garden, but I figured 'what the heck, who wouldn't love an heirloom tomato?'   So I found an employee and asked his advice of what tomatoes to give the most incredible gardeners in the world – you should've seen his eyes light up!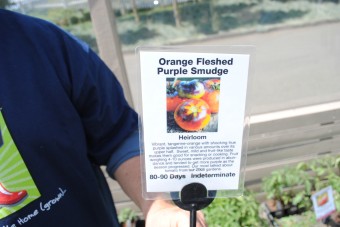 It took him about 2 seconds to figure out the perfect tomato for the 'connoisseur'.  He rushed  over to snatch up one of the last of the 'Orange Fleshed Purple Smudge', which was just about sold out.  
Apparently people line up before opening time, sort of like garage sale mentality, and are primed and ready to pounce on their favorites once the doors open.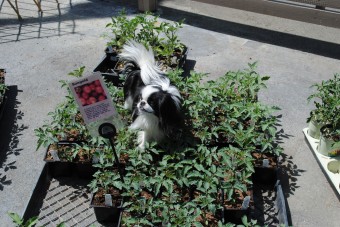 At one point someone's little dog 'Tartufo' ran over and lifted his leg on some of the tomatoes I was going to buy.  I moved on to another flat of seedlings.
Luckily there was a TON of tomatoes from which to choose.  Tomatoes that Tartufo hopefully hadn't already christened.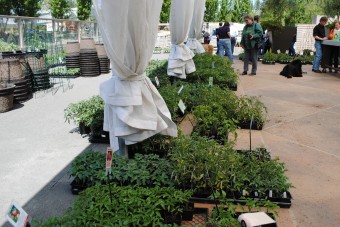 This passionate employee also showed us other tomatoes that we just 'can't live without' -'Paul Robeson' and 'Sungold'.  
I said I only had room for 2, so he told me I had to buy at least these 3 and to just stick one in a large bucket and grow it on the driveway – 'who cares what the neighbors think?  You can always cram in a tomato bush!'  I LIKED this guy!

They sell much more than just seedlings here- everything you could possibly imagine associated with growing tomatoes.
Here's the creator, Scott Daigre, and his sister Sally – the whole family gets involved with Tomatomania!
Oh, and as if the experience wasn't fun enough, there were some massive Cottonwood trees all around this site which were blowing their cottony seeds everywhere.  It was quite surreal looking, like feathers and snow combined.
I couldn't help but watch these kids enjoying their moment of discovery.  The perfect ending to the perfect day!

.