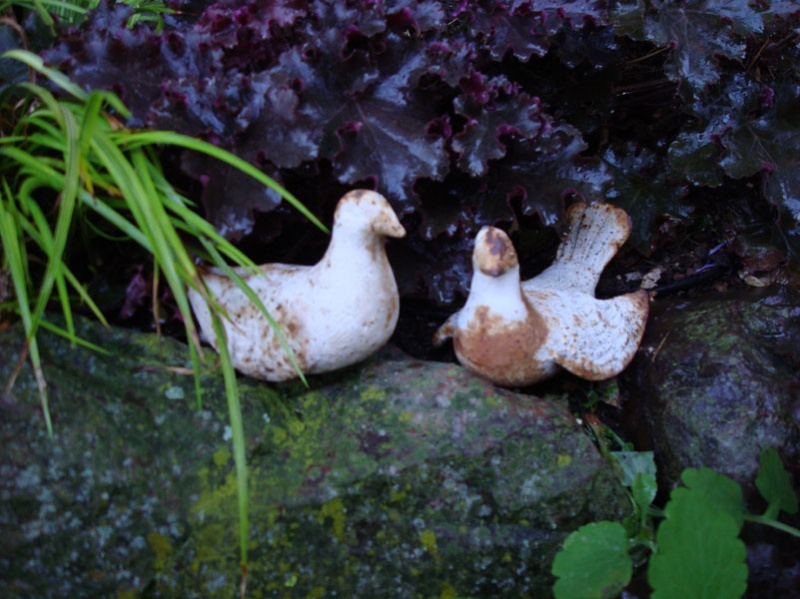 My grandmother had an incredible way of looking at life through a child's eyes.  I've often thought of how she nurtured my love for gardening in such subtle ways, wondering if that was her original intent or if it just came naturally to her.
For example, when I was a young child and would come to visit, she'd hand me a pair of scissors and ask me to go outside to pick a bouquet of flowers for her.
Any flowers I wanted.
That was such an exciting feeling for me, to choose for myself which flowers I wanted – with no caveats, no rules, no 'Oh Honey – not those'.  And no matter what I picked, or how odd my choices might've been, those flowers stayed in a vase the entire time we were there.
When I was very young, my grandmother would include me in her gardening chores by handing me her bucket of plastic flowers, and have me walk around her garden and stick them where I thought they belonged.  They were clusters of somewhat faded clumps of flowers on a long wire stem, which actually looked great (to a child, at least) tucked at the base of her delphiniums, or tucked in the crevices of her stone walls.  Again, she made me feel so important, giving me such 'big-girl' decisions to make all on my own.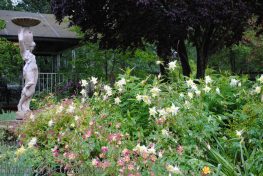 As I've thought about my years gardening with her, there are a few flowers in particular which stand out as bonds between us.  Not just because of their inherent beauty, but because of the ways in which she incorporated them into my life.
My number one flower of choice has to be the columbine.
When I was about 4, we would take walks down to the lake and would pass through a huge stand of naturalized columbines.
These were the really tall ones, of varying colors, and to a little girl the eye-level flowers looked like fairies dancing in the wind.  Definitely not your ordinary flower.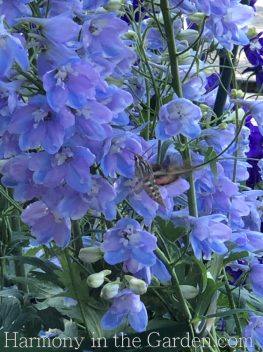 Another flower which my grandmother always planted (to many 'oohs and aahs' of tourists who happened to walk by) were giant delphiniums.  
She planted a mix of dark purple and light blue varieties, and they'd grow to a towering 4-feet high.  
To a child, this was an enormous size, and in my eyes her garden was MAGIC.  
I remember playing alone in the garden once, and someone walked by and asked me if they could photograph the flowers.  
I was as proud as if I were the one who'd planted them!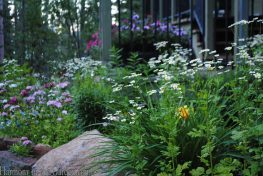 The next flower I would include in my memory bouquet would be Feverfew (chrysanthemum parthenium).  These happy little flowers bloomed and re-seeded everywhere in my grandmother's garden.
In fact, I even have some in my own garden which came from her original plant.  
Without fail, I still get excited each spring when I first spot the little leaves emerge. I can't wait to gently crush a few leaves between my fingers, and deeply inhale their peppery fragrance.
For just a moment, I'm transported back in time.
And thanks to their prolific re-seeding, I always end up with more than I need. I try to incorporate them into the gardens of my clients in hopes of spreading the joy these little troopers bring during the hot months of summer.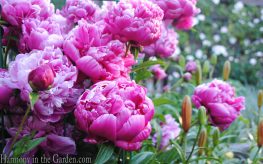 My grandmother's very favorite flower of all were her beautiful, deep pink peonies.
Each year, she'd nurse her plant along, even though it never really bloomed much (thanks to the shade from the pussy willow trees).  But even so, each summer it would manage to produce a few flowers, and when it did she went crazy over them.
To a child, this flower was pretty cool.  What other bud in the garden would be allowed to be covered with ants?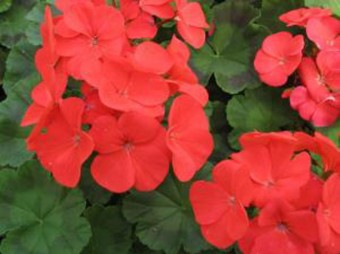 My tribute wouldn't be complete without mentioning the common geranium.  
My grandmother had a huge deck around her home which was bordered with a zillion pots of geraniums, blooming in shades of red, pink and white.  When I'd visit, she'd let me hand-water all of the pots (a chore which I loved doing).
She'd then have me pick off all of the cutworms which were eating her flowers (another chore which I loved doing).  The worms were always crazy colors, either pale pink or yellowish or sometimes a dark plum color (based on whatever flower they were devouring, I guess).   
It was sort of like an icky Easter egg hunt.

And what happened to the geraniums in the winter of her Zone-6 garden?  She'd haul them all down into her basement and place them under her grow lights, loading them on a long table (and every other horizontal surface she could find).
 My poor grandfather would have to maneuver around this jumble of plants to get to his garage, but I don't think he minded much.  As children, my brother and I loved playing in this basement with all the humidity, greenery, and life going on while looking out the basement windows which were blocked solid with snow.
So thank you, Grandma, for showing me the beauty of nature, for making a small child feel important, and for including me in your passion for gardening.
And thank you for taking the time to look at life through my eyes.