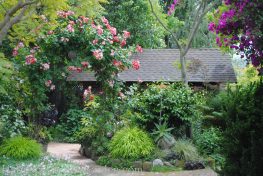 This month my office is being featured in Sunset Magazine (my copy just came in the mail yesterday and I'm so excited I can hardly breathe!)
I've grown up with Sunset in the house, whether it was magazines, how-to or garden books lying around my mother's and grandmother's house.
So imagine the pride that I feel seeing one of the most meaningful places in my life featured right there on page 49!

And imagine how honored I am to have one of my close friends, and someone whom I greatly admire, Debra Lee Baldwin, write the article!
Debra and Kathleen Brenzel (Sunset's garden editor) have visited my 'Chick Shack' on different occasions over the past few years, and while I've always known my office is a special place to me, I never realized that others could also feel its emotional 'pull'.
There's just something so special about this place, so I thought I'd tell you all a little about it.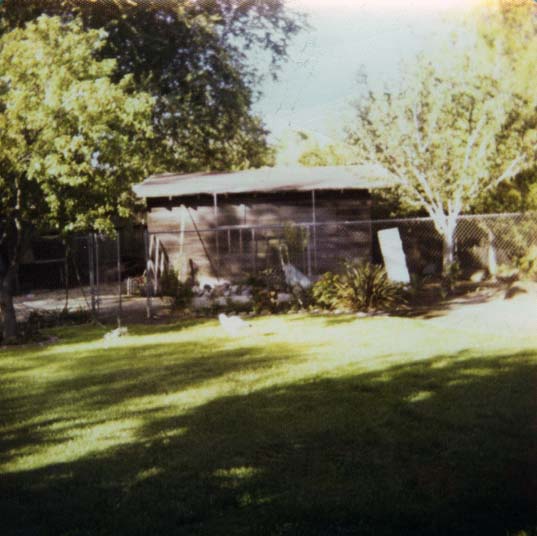 When I was just 10 years old, we moved to this house, and of course the first thing I fell in love with was the spooky, abandoned shed in the back yard.
My parents cleaned it up a bit, put in a little window, and a new floor, and it quickly became a hideaway for my brother and me.  We spent many years playing in that shed and having sleepovers with our friends.
Fast forward a few decades.
About 12 years ago I moved back home, re-married, and bought the home (and shed) from my parents.
While my husband and I were busy raising our young children, the shed just sat there storing our junk.

It wasn't a total eyesore, though, as my mother and I had fixed up the front a bit so it was rustic and charming from the outside.
But inside? It was a whole different story – it was nothing more than a spider-ridden storage unit with holes in the floors and walls.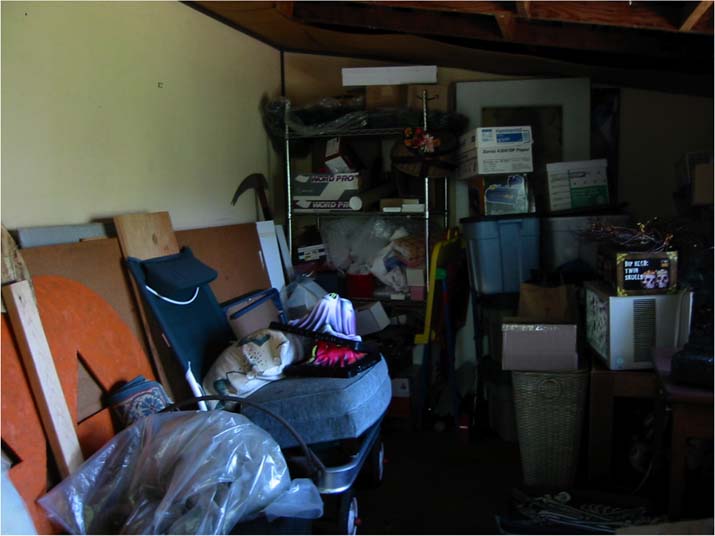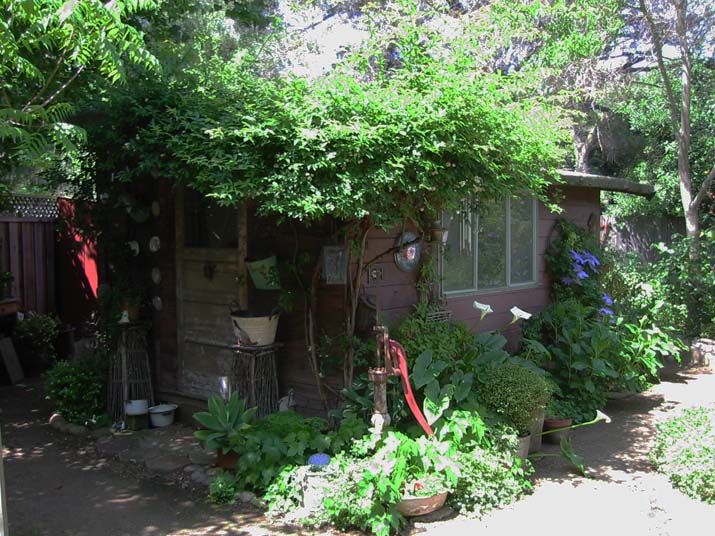 My husband, Tom, had been wanting to fix up the shed for years, but since I couldn't quite figure out how I wanted to use it (definitely NOT as a man cave) the remodel never really materialized.
One summer, Tom was between jobs and since he had a little free time on his hands asked, once again, to pleeease let him rip off the flat, leaking roof and get started.
Since I had just started my landscape design business, it made perfect sense to turn it into my office!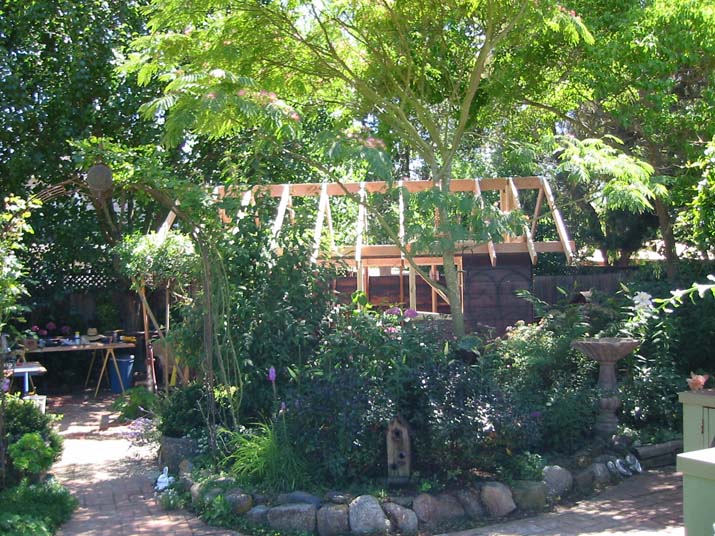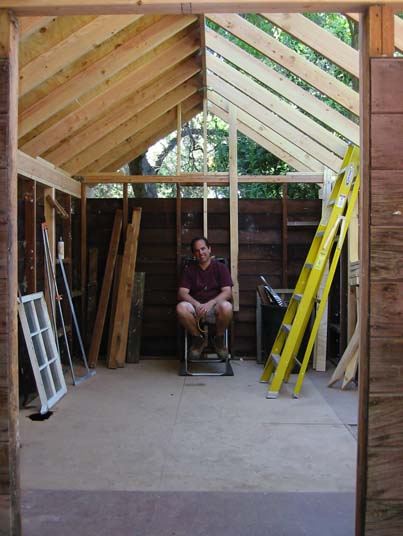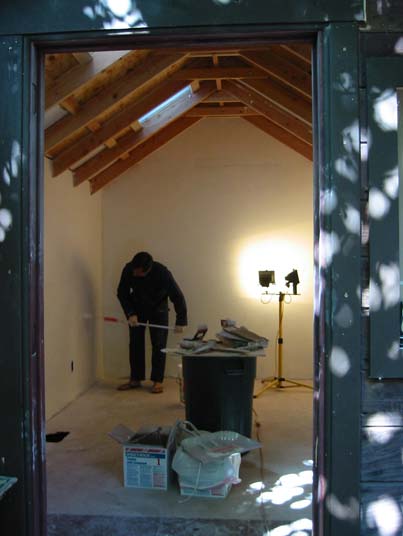 Tom was in heaven, working every day for the entire summer, on a project he'd wanted to do for years.  And I was in heaven because we were finally giving this little building the glory it deserved.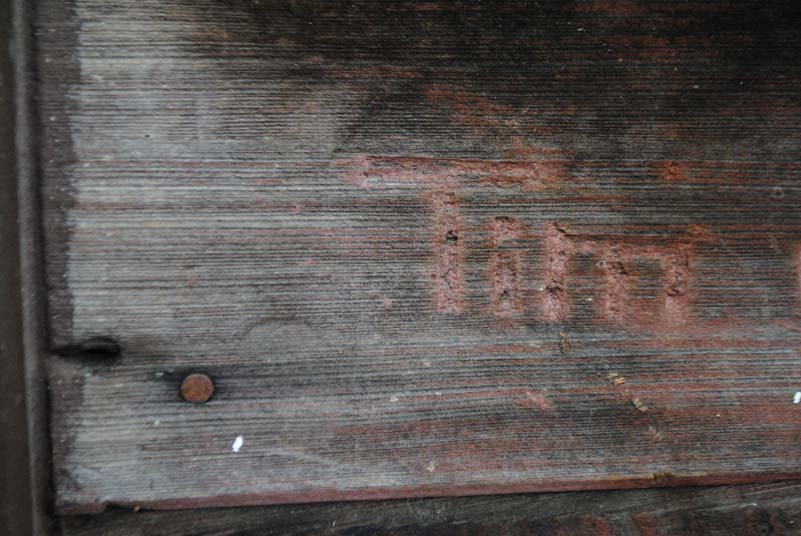 In an effort to maintain its rustic simplicity, I really wanted to keep as much of the original shed as intact as possible – including the faded redwood exterior.
And especially the section that my then 10-year old brother had carved his name into – and then vehemently denied it.
When my mother found out, she was furious, but he steadfastly denied it, blaming it on his poor friend.
Hmmm…sounds a little fishy to me.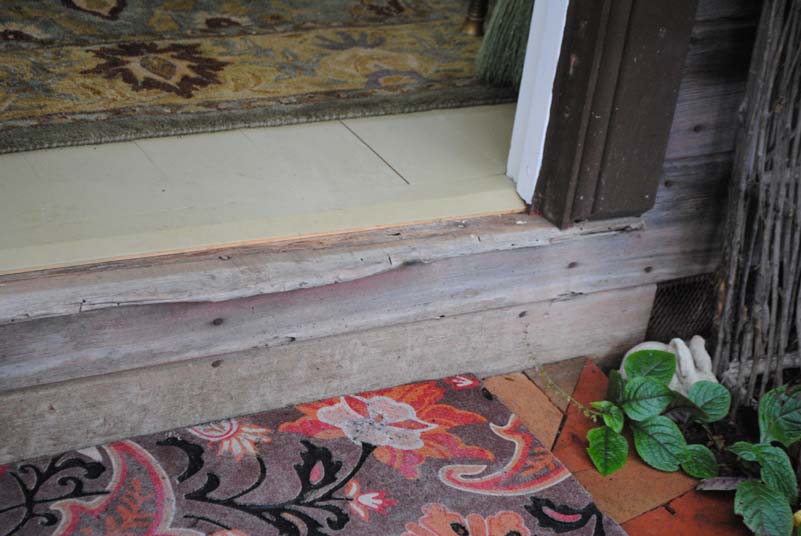 And I also insisted on keeping the front stoop, cracked and worn thin over the years.
I wonder how many times I've stepped into and out of this little building.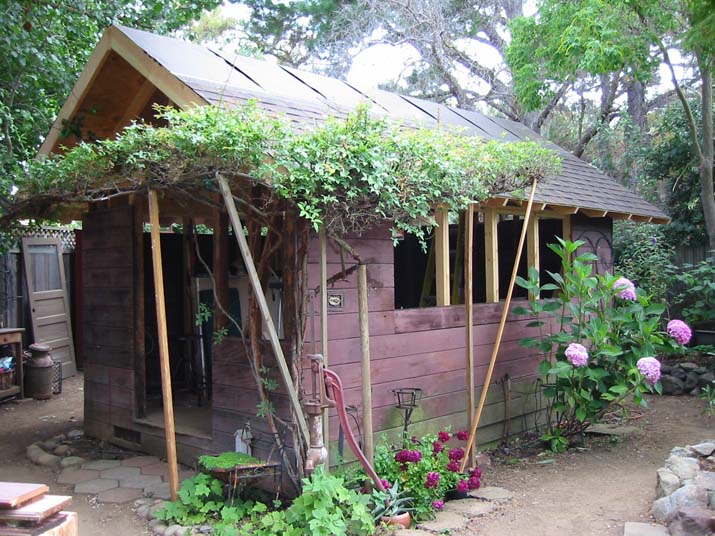 We wanted to pitch the roof, which posed a bit of a problem for Tom as I didn't want my wonderful, old 'Lady Banks' rose to be damaged by the process.
So Tom built a brace to carefully support the rose while he gingerly pulled it away from the roofline. 


My mother had collected a few antique windows over the years (with the intent of someday remodeling the shed herself) and combined with others that we found at various antique stores and flea markets, we now had a total of eight.
These old windows, with their fragile, wavy glass, lets in the softest, dreamiest diffused light.
Outside of these windows, I have two large planter boxes filled with flowers that hummingbirds adore (salvias, cupheas, and abutilon). Nothing makes me happier than designing at my desk and having a hummingbird fly up to take a sip of nectar just inches away from my face.

I've had so much fun personalizing the outside of this little building, with my collection of old garden tools being my favorite of all.
It's taken me years of scouring my grandfather's and father's garages, flea markets, and antique shops to find such treasures.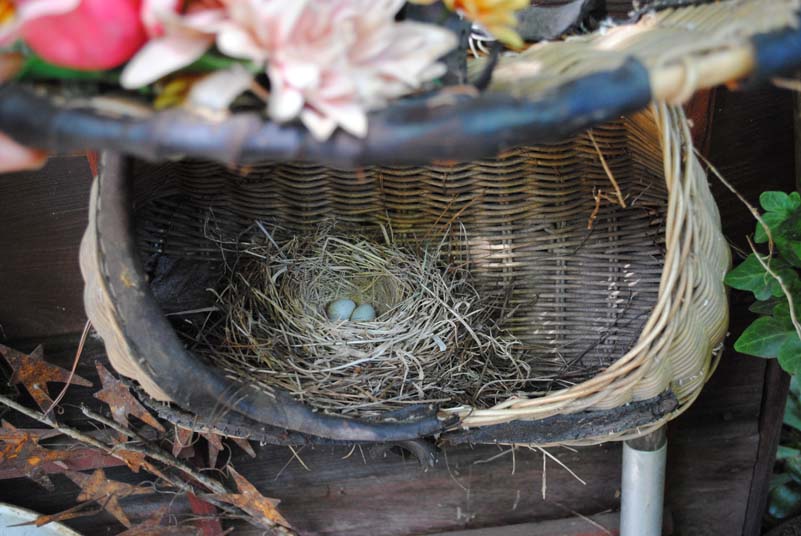 I especially love my dad's old fishing creole that's been the home to many little birds over the years.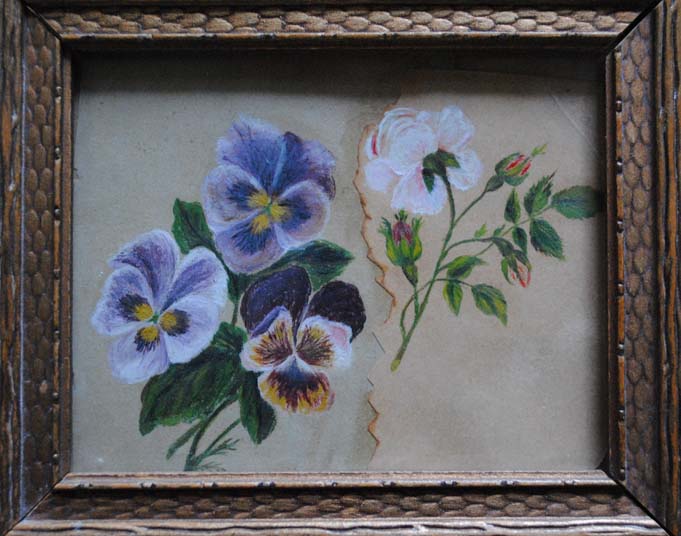 While this space was originally re-invented as my office, it's morphed over the years into something much more meaningful.
I've slowly filled it with things that are near and dear to my heart, from my past and present, that fill me with joy.
Whether it's the pansies that my great, great grandmother painted for her mother (left), the bookcase my father built for me when I was a toddler, the little birds that my mother painted, or artwork my daughter's made over the years – all of these items give me endless joy and inspiration.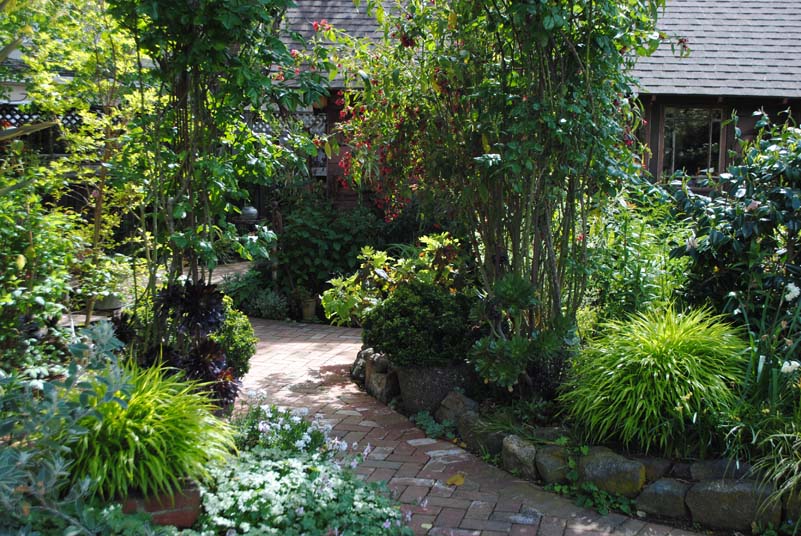 I love how my office is barely visible from most spots in the garden, like a secret that's tucked away just waiting to be discovered.
This place is clearly the heartbeat of my garden.
And to know that others can also feel how special it is makes it all the more meaningful.