It's no secret that this past year has been a whopper for me.  During most of my chemotherapy treatments I was able to continue writing and public speaking, but it became increasingly more difficult as time went on. After my mastectomy (and a few 'hiccups' along the way) I just needed to hibernate for awhile and take a break from everything – including my garden.
While my garden continued just fine without me (though a bit unruly at times) my houseplants weren't quite as self-sufficient.  All except my tillandsias, that is.
These little treasures were like the Energizer Bunny – they just kept on going and going, without needing much attention from me.
Every time I looked at one of my other houseplants, I'd be filled with a mixture of guilt and resentment, knowing I didn't have the energy to take proper care of them.  My tillandsias, on the other hand, filled me with delight.  I knew that if I couldn't get around to watering them for another week, so be it – they'd be just fine.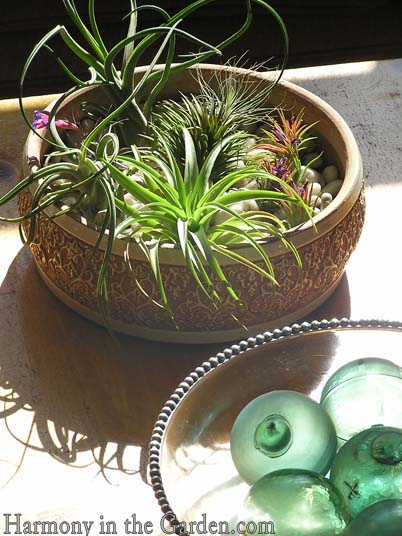 Even before I became sick, there's always been something about tillandsias that made my heart sing.
Maybe it's due to their seemingly endless array of colors, shapes and textures.  Maybe it's because of their otherworldly appearance.  Or, maybe it's because they're one of the easiest ways to transform a 'blah' container into something magical.  Even just saying the word is fun.
Tillandsias (more commonly known as air plants) are in the bromeliad family.  Those dried-up looking roots you see at the base of each plant aren't really roots at all, but rather 'hooks' that allow them to grip onto other living things.
Contrary to typical plant, their leaves are used to capture nutrients and water from moisture in the air, not their roots.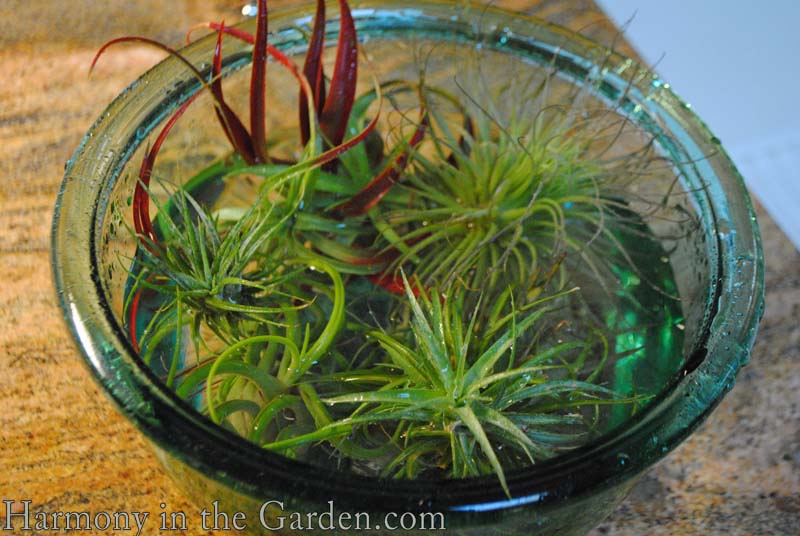 While they won't ask for much from you, they do have a few requirements.
One is that their surrounding temperatures stay above freezing (easy enough to do when growing inside your home).
And while they appreciate bright light, you'll definitely want to keep them out of direct sunlight.
Tillandsias will also need a weekly misting of water along with a light dose of liquid fertilizer every few months.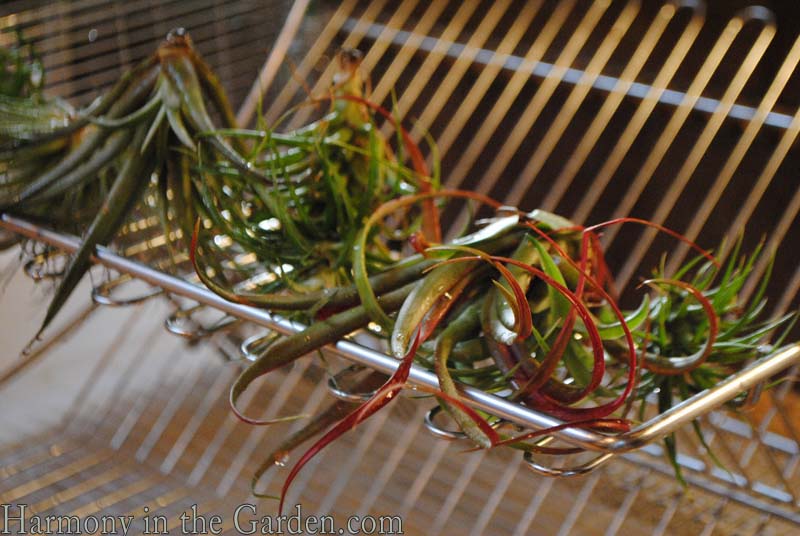 In my dry California climate, I take it one step further and give them a really good soaking once every couple of weeks.
I just plunge them into a bowl of water and leave them for an hour.
After their bath, I drain them upside down in my dish drainer.  They really don't want to have their crowns wet, or they'll start to rot, so upside down drainage is essential.

Oh, and one more reason why they're such great houseplants is the fact that most varieties will graciously offer you their babies!
Similar to succulents, air plants will produce offshoots, or pups that you can gently pull off and reuse elsewhere.
Could it get any better?
Here are a few of my favorites that I have sprinkled throughout my home: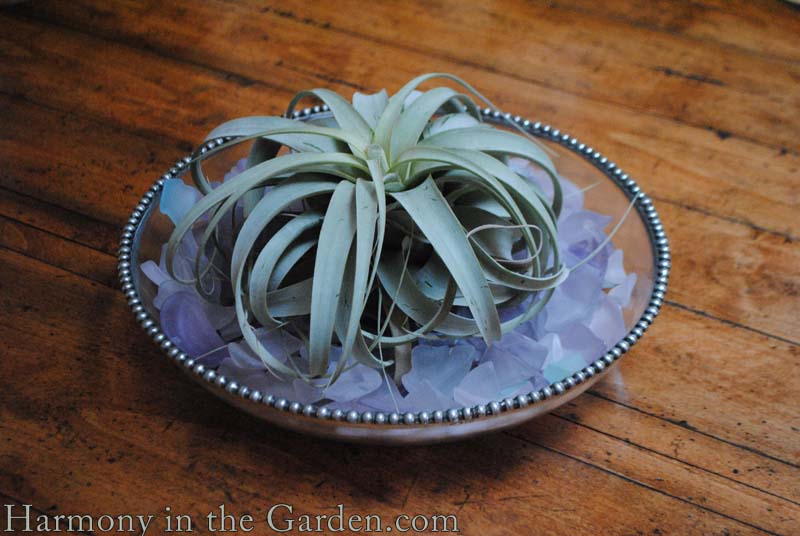 This tillandsia xerigraphica is one of my all-time favorites. It's thick and leathery foliage gently swirls around to form a hefty (and satisfying to hold) clump of extra-terrestrial beauty.
For most of the year, its primary residence is in this shallow bowl filled with tumbled glass.  Many years ago, my husband and I found a pile of old broken bottles in an abandoned dumping ground in the middle of a Lake Tahoe forest.
We brought the glass home where it sat in a big bucket in our garage for over 10 years until my husband finally figured out what to do with it. He bought a rock tumbler – and the rest is history.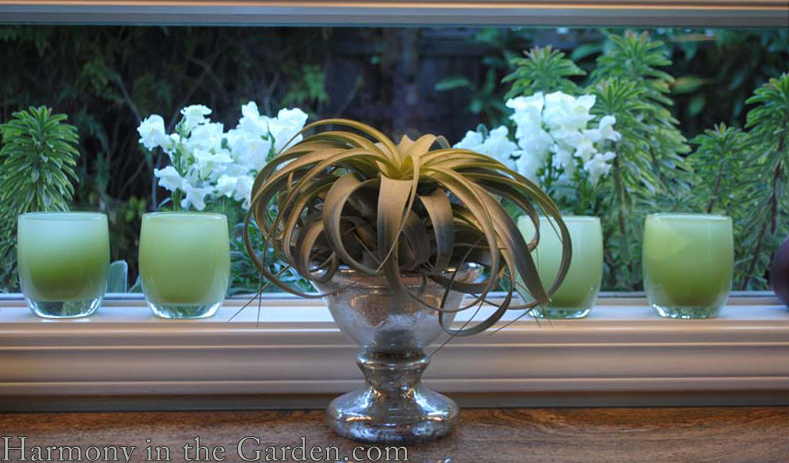 Since lavender colored glass seems more like spring than it does Christmas, I usually end up moving this air plant to a mercury glass bowl once December arrives.
I like how the elegant bowl elevates (both literally and metaphorically) this unusual plant.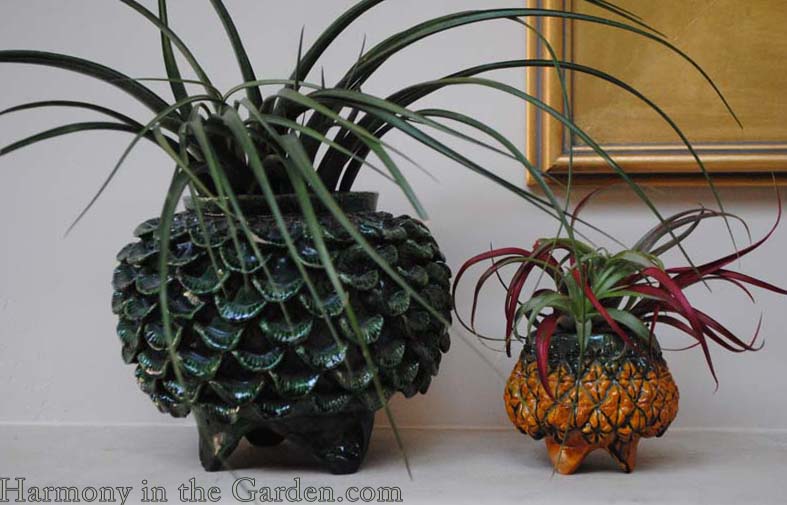 My fireplace mantle is home to these tillandsias.  I love how the long, slender shapes of their foliage contrast with the highly-textured containers.  It's a pretty dynamic combination, don't you think?
I bought these containers in Mexico a few years ago and immediately knew what I would do with them.
The shop owner must've told me a dozen times 'You know they won't hold water, right?'  Even though I reassured her that I understood what she was saying, she wasn't convinced.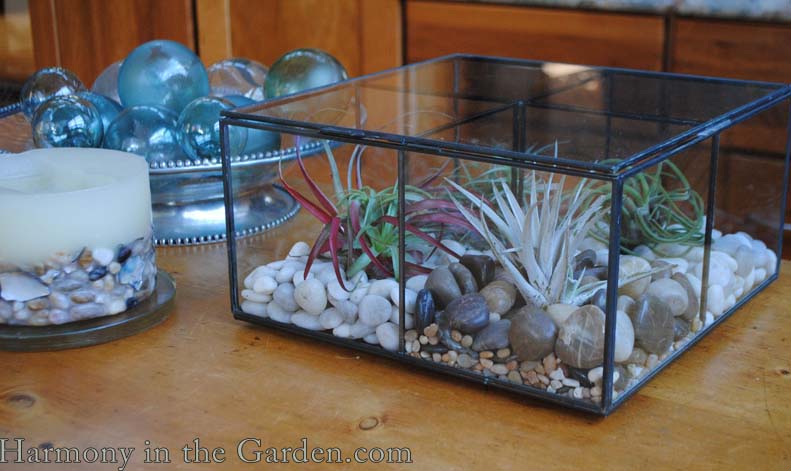 This grouping of air plants has happily lived in my family room for several years.  I found this glass terrarium covered with dust and dirt on an 'everything must go' discount table (can you believe it?) and again, immediately knew how I would use it.
I wasn't sure if they'd be okay living enclosed like this, but clearly they are.
I use stones in different colors and sizes to help highlight each air plant's unique qualities.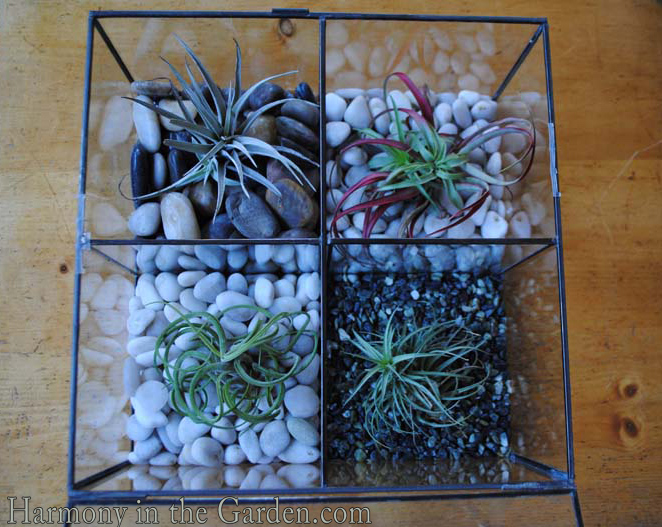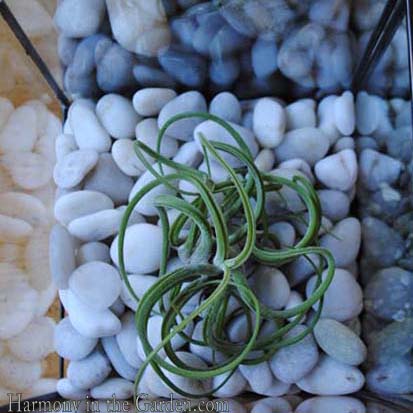 I also bought the other terrarium sitting on that discount table and gave it to my mother.
During the holidays, she fills hers with antique Christmas ornaments to accompany her air plants.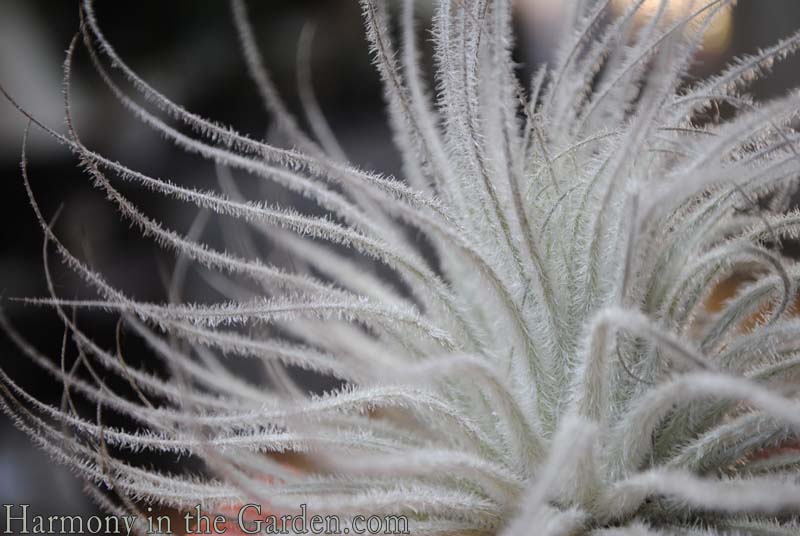 In my office lives one of my favorite air plants of all – tillandsia tectorum.
When I first saw this pricey little gem sitting in the florist shop, I thought it must be fake – flocked with the white stuff that covered our 1960's Christmas trees.
When I was guaranteed that this was, indeed, alive I just had to have it.  It's gorgeous, soft and furry – and part of me can't help but treat it like a pet!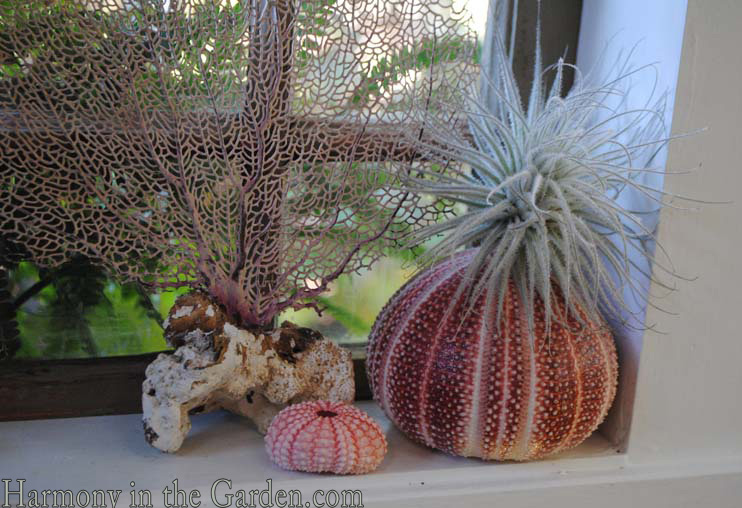 Since it looks a little like something you'd find deep in the ocean, I've placed it with my other favorite things to collect – sea shells.
Don't even get me started with my sea shell obsession.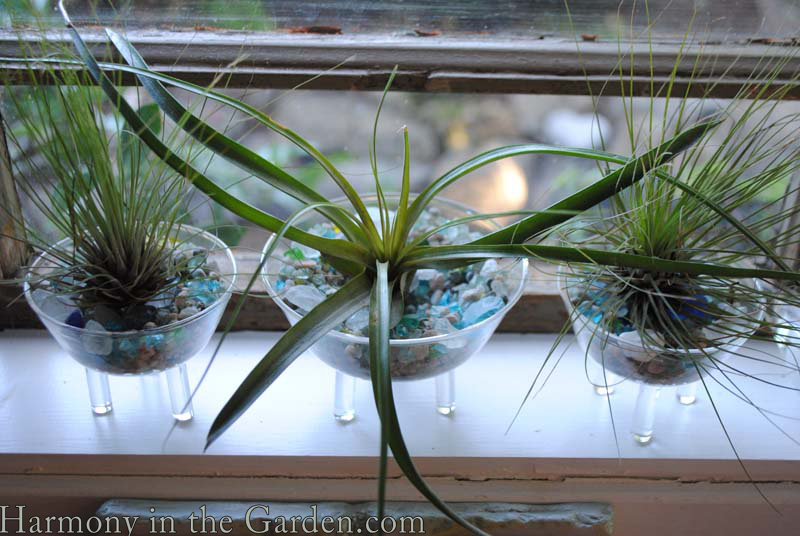 While visiting Los Angeles a few summers ago, I visited the amazing garden shop, Potted, and found these sweet little glass containers.
After filling them with tiny colorful glass and pebbles, they happily hold more of my tillandsias (and fit perfectly on my old, narrow windowsill).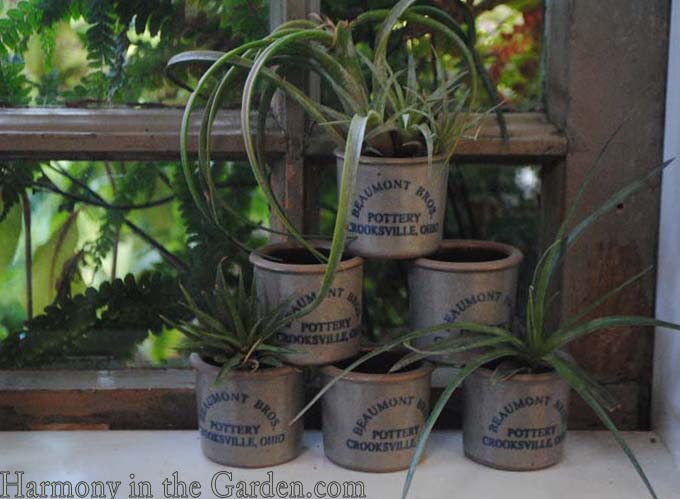 On the next windowsill over are a group of tiny little pottery crocks that I've had for decades.  I never knew what to do with them until my air plants started having babies.
Now they're an ideal spot to create a tillandsia pyramid.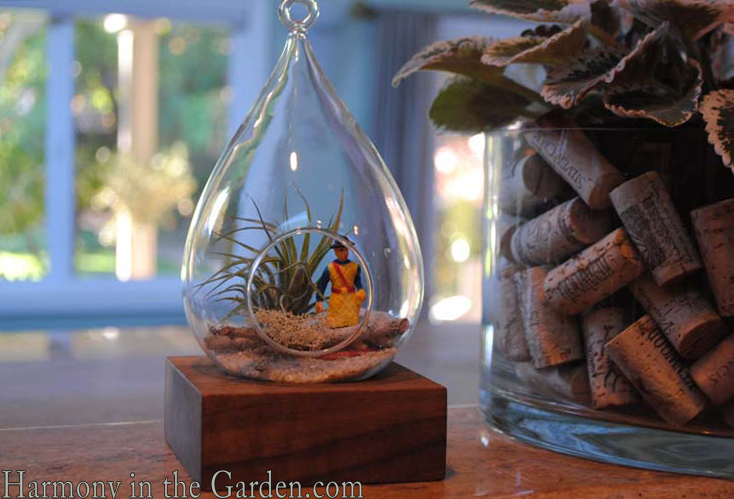 Meet Lozano.
Not the air plant, but the little guy who lives inside of this terrarium.  My daughter found him at our local carwash (named – you guessed it – Lozano's) and lo and behold here he is, watching over me as I do the nightly dishes.
I especially love this teardrop terrarium from Lila B. Design, which is one of my favorite floral design/goodies shop ever.
I'm particularly fond of the cool base that goes along with the terrarium, allowing it to rest securely on the counter.

I like the weary yet determined look on Lozano's face as he's discovering new lands….
I hope you've enjoyed seeing just how much fun you can have with these little easy-going beauties.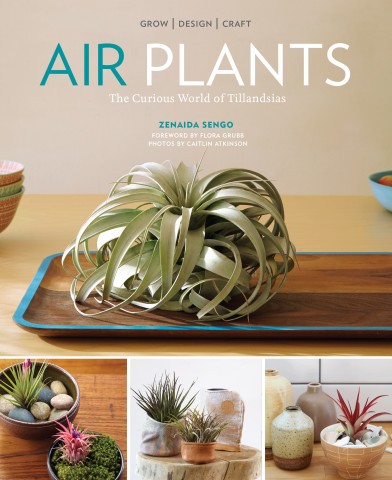 And,  if you're not hooked quite yet, then the giveaway I'm about to offer will surely convince you to give tillandsias a try.
Air Plants, written by Zenaida Sengo, is a beautifully photographed book with everything you'll ever need to know about growing, designing and crafting with tillandsias.
I read this book from cover to cover, enjoying learning about how to care for these plants, how to take care of their 'pups' and a zillion creative ways to display them in the home.

UPDATE:  Congratulations Beeg – you won the Air Plant book  (I've already sent you an email asking for your home address so once I receive it, the calendar will be shipped).  Thank you all for your good wishes and for participating!
How to enter:  For a chance to win, leave a comment here on my blog letting me know either 1) creative ways you've used air plants in your home, 2) your favorite varieties, or 3) what you might do with one, even if you've never had one before.  How easy is that?  And even though I can't respond to giveaway blog comments (if I do, it'll skew the random number generator), please know that I read every one and love what you have to say!
A few more details:  A random winner will be chosen by midnight June 22nd and contacted within 24 hours. If the proposed winner forfeits or does not claim the prize by June 28th, the prize will be re-awarded based on the sponsor's sole discretion. All prizes will be awarded. Please provide your first and last name to enter this contest so I can immediately contact you if you win. The winner agrees to allow his/her first name to be mentioned in conjunction with this giveaway.
This giveaway is limited to U.S. residents only, who are over the age of 18 years old. No purchase necessary to win. This sweepstake is also void where prohibited by law (wherever that is, I'd sure hate to live there!) By entering this giveaway, you agree to these conditions.

All material © 2009-2015 by Rebecca Sweet for Gossip in the Garden.  Unauthorized reproduction prohibited.