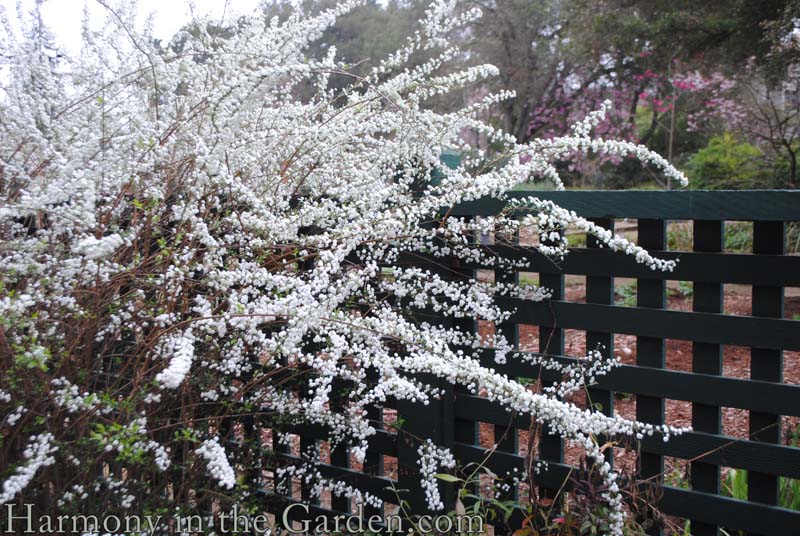 The other day I overheard two women talking about their spring gardens and one of them stated matter-of-factly that she'd never plant a flowering quince since it blooms for such a short period and then just sits there the rest of the year.  While its true that it blooms only once, in my opinion that's not reason enough to ban it from the garden. Or forsythia, for that matter, or bridal wreath spirea, or any other of spring's magnificent 'one hit wonders'.
It's important to remember that not every plant in our garden has to perform and look good every day of the year.  This is an especially common demand from those of us who garden in mild climates, with our seemingly unlimited options for multi-season plants.  It's perfectly okay to have a one or two-season plant in the mix.   Why?  Because a garden that's truly dynamic and engaging – one that will take your breath away – is one with many different layers. And some of these layers solely consist of these fleeting moments of beauty, placed throughout your garden.  After all, you wouldn't want to go to a play and watch the same scene over and over again, would you?
Part of the problem with these overly large, one-season shrubs is that often times people aren't quite sure how or where to use them in the garden.  Here are a few suggestions that will allow you to enjoy these one-season plants to their fullest, taking advantage of their brief moments on the stage.  Here are a few of the most common concerns I hear from my clients…

1.  My garden is too small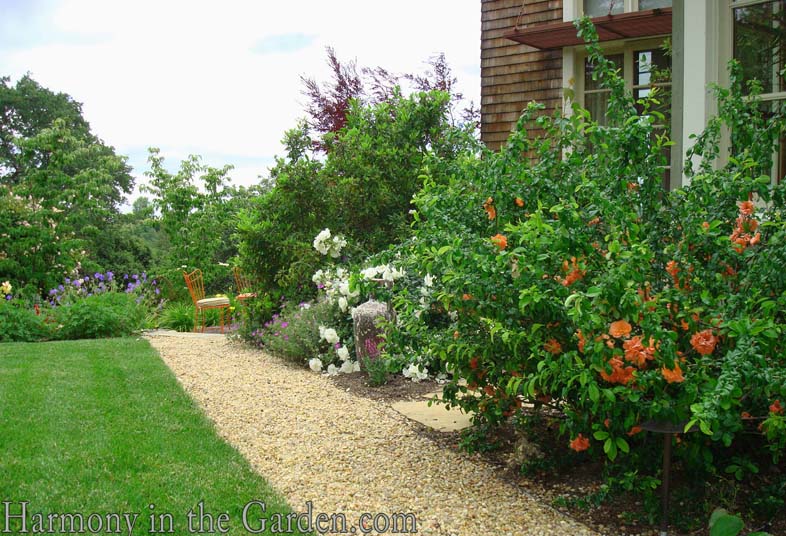 While its true that most of the old stand-by shrubs are quite large and imposing, there are plenty of dwarf varieties on the market that are perfect for any sized garden.
The 'Cameo' flowering quince, for example, with its soft peachy flowers, reaches a very manageable 3×3 size.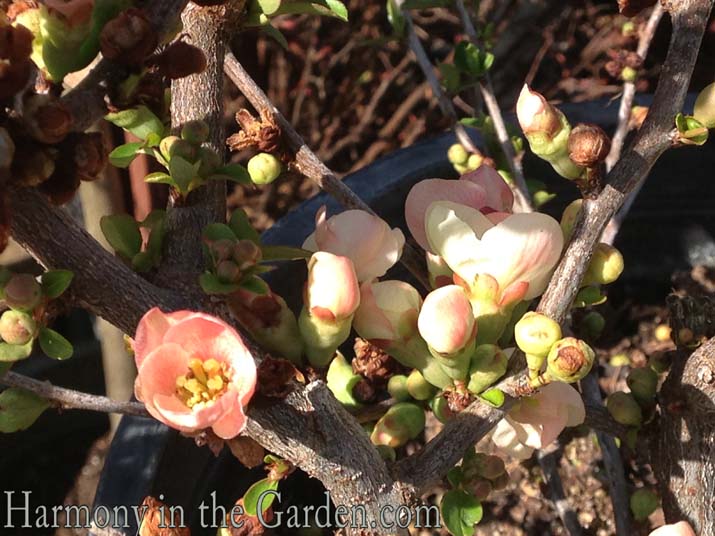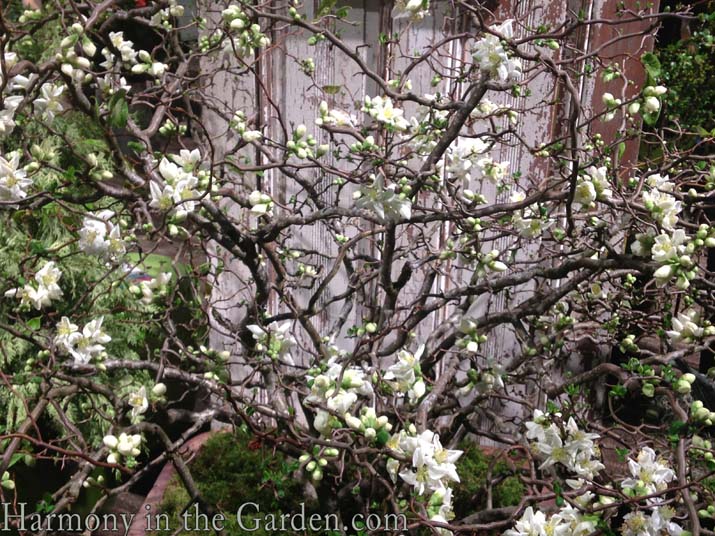 Or the 'Kan Toyo' quince, with its shell-like blooms growing to a tidy 3×3.   For a winter focal point, nothing beats the 3×3 show-stopping 'Contorta' quince, with its twisting, zig-zag maze of branches.
2.  Won't it get lost in the back of my garden?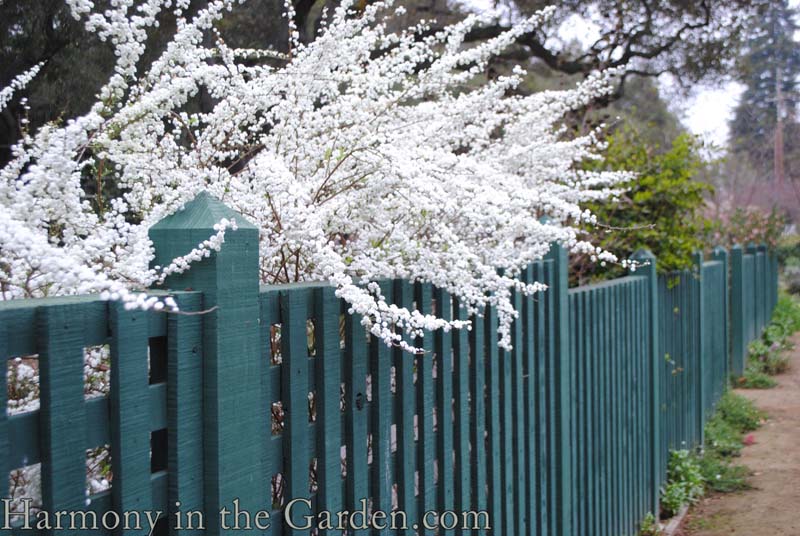 Larger varieties are best placed at the back of the garden where they can be allowed to grow to their ultimate size.  Nothing's worse than having to constantly hack at a large shrub to keep it growing within a small space.  It's way too much work, and you'll just end up with an oddly misshapen shrub.
But just because it's placed in the back of the garden doesn't mean it'll become lost in the landscape.  To help you enjoy their blooms from any point in the garden (or inside the house, for that matter) try to plant these larger shrubs  near a colorful fence or wall which will help highlight their wow-factor colors.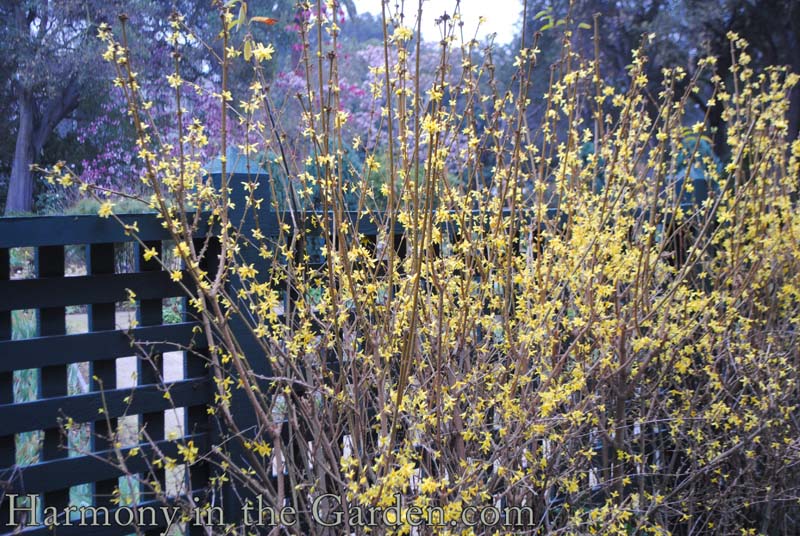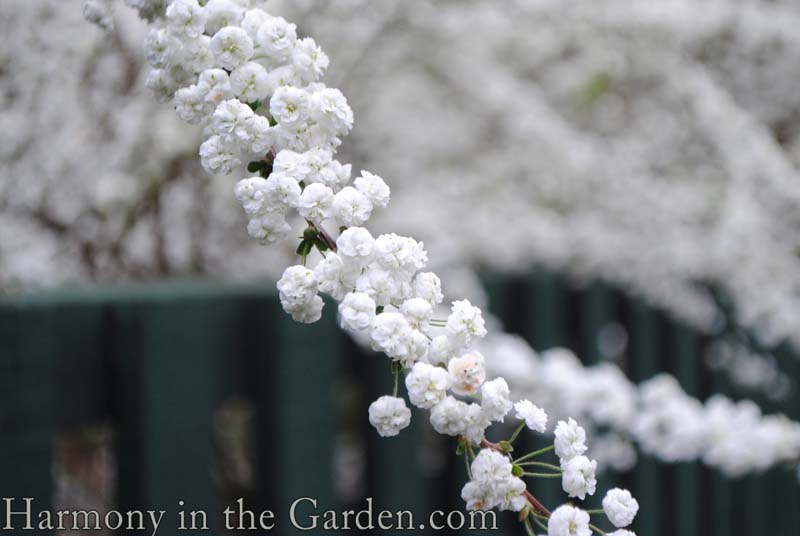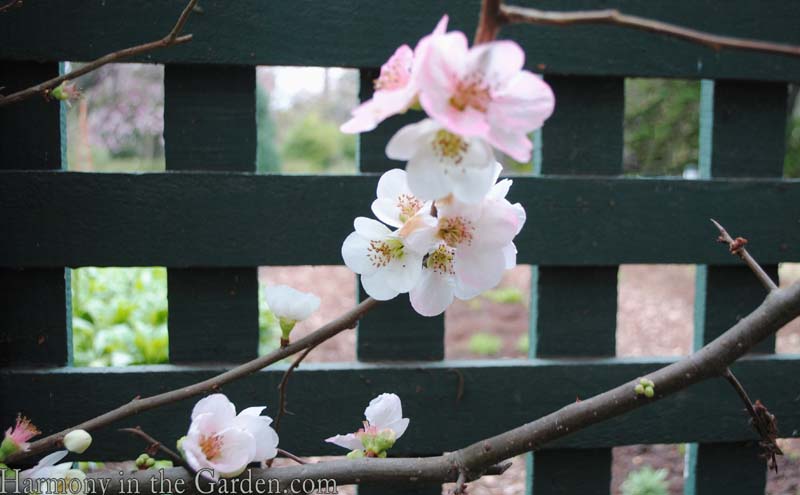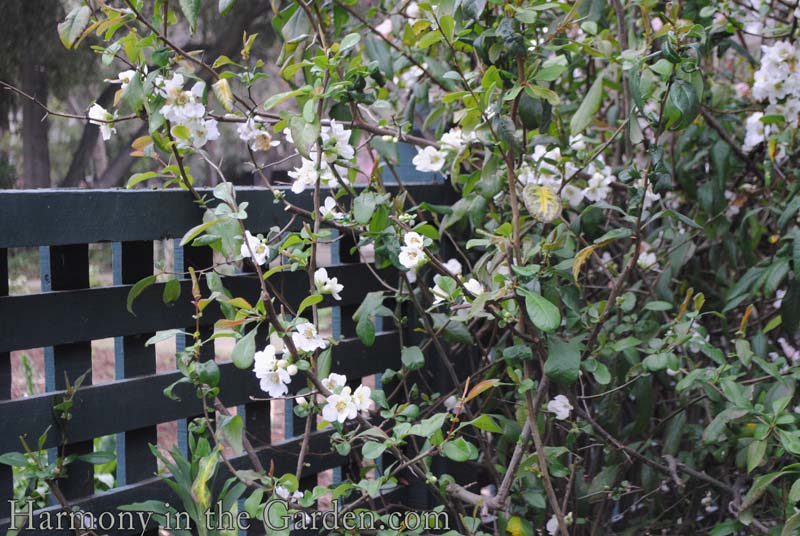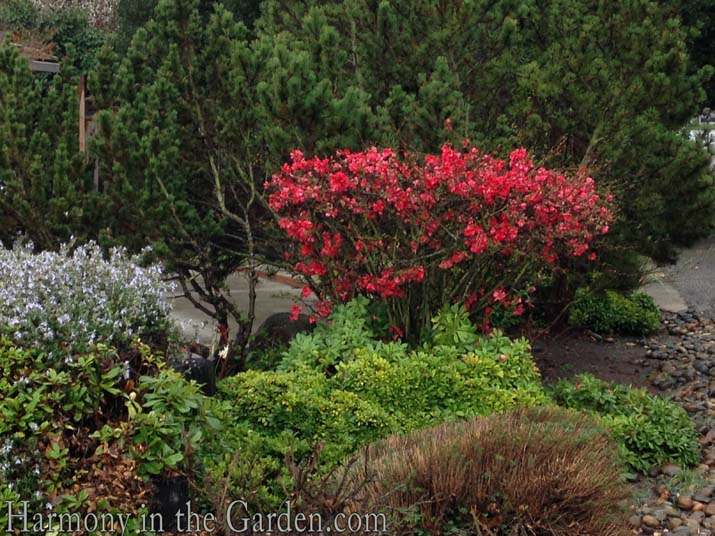 And don't forget about your color choice, too.  Make a statement from a mile away by choosing one of the many varieties that have shockingly bright blossoms.  There's no way the eye is going to cast a cursory glance over this shrub when in full bloom!

3.  Will the jumbled shape look too messy?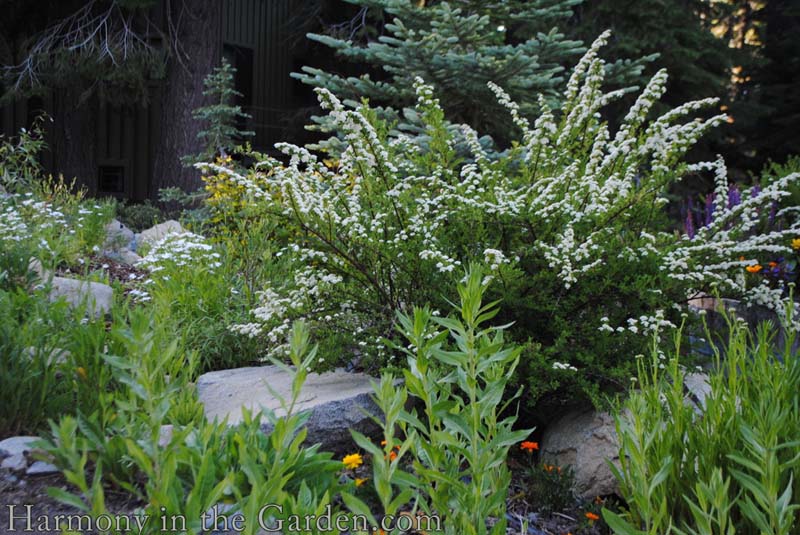 In my latest book, Refresh Your Garden Design, I discuss in detail the many different ways to use a plant's various shapes and forms (i.e. round, mounding, conical, vertical, etc.) to create a desired effect in the garden.
But first – what's the difference between shape and form?  I like simplify it by saying that one is 2-D while the other is 3-D.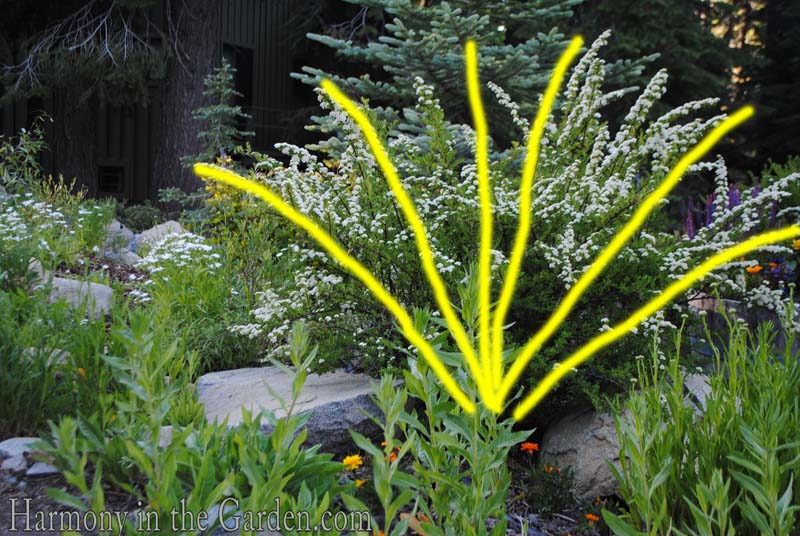 The shape of a plant refers to its two-dimensional qualities – its outline, silhouette or contour.  For example, when looking at a plant head-on, imagine drawing a line around the general structure of the plant.  That line would be considered its shape (i.e.: a fountain (Spirea 'Pleno'), a vase (Witch Hazel) or a column (Berberis 'Helmond Pillar').
The form of a plant, however, is three-dimensional and includes depth along with the outline. Another way to define form is the overall shape of a plant when in leaf (the leaves emphasizing the depth).   Examples of form include the spreading Dwarf Balsam Fir (Abies balsamea 'Hudsonia'), the conical Dwarf Alberta Spruce (Picea glauca 'Conica') or the twisting Dwarf Black Locust (Robinia pseudoacacia 'Twisty Baby').
Forsythia, spirea and flowering quince are just a few of the many types of shrubs that have a fountain shape, with a loose and open form making them ideal for an informal, casual garden.
A garden bed filled with an overabundance of open and loose forms, however, can quickly appear jumbled and overly busy due to the lack of contrast between shapes and forms.  To restore order among a chaotic bed such as this, strategically place a few plants that have contrasting forms (such as mounding, globular or spreading).  These forms will appear visually heavier, helping to anchor the garden and restore a sense of order.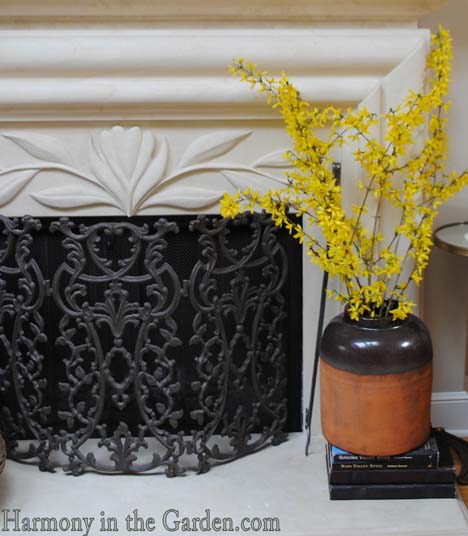 And last but not least – don't forget about those blooms!  There's nothing better than a house full of vibrant color and delicious scent in the last days of winter.