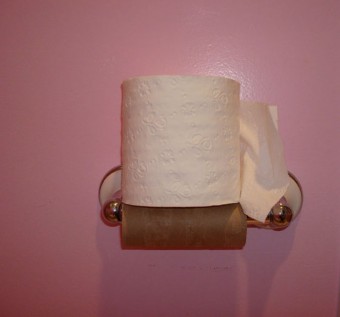 .
I'll never write a post about terrible taste.  I think it's just rude – who's to decide what looks good and what doesn't?  BUT…when it comes to being lazy – that's another story.  Lazy people are fair game…
.

For example – if you're going to use the solar lights that you plunk in the ground, please make sure they're straight.  How hard is it – just stick them in the ground STRAIGHT.  I can't tell you how many times I walk around the neighborhood and see them completely cock-eyed.
.
.
.
This home, in particular, drives me insane.  At first I thought about sneaking over one night and doing a good deed by straightening the lights for them  But now when we walk the dog, my family actually looks forward to walking by this home just in hopes of seeing the homeowner walk down the pathway, stepping OVER the lights (yes, we've seen them do this several times).  It's taken them more effort to step OVER the lights over the past year, than it would've just to bend down ONCE and straighten the light.  Should some of you Kinder Souls think 'give them a break – they may have arthritic backs…' my answer would be NO – they're in their 30's and are healthy as a horse!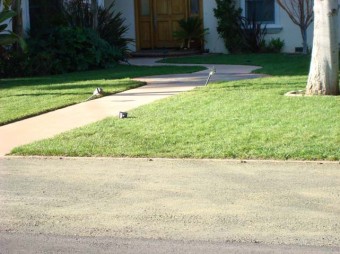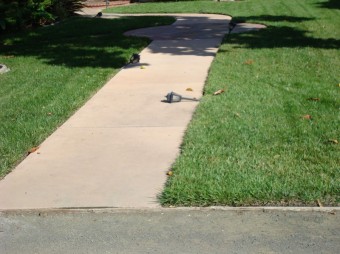 .
The beauty of these?  Look at the progression…the first photo was taken about 8 months ago.  Now, it's even worse! Someone actually 'kicked' one of the lights INTO the path…and STILL left it there!
.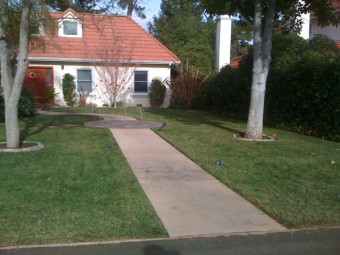 .
And lest you think I'm picking on these people for the occasional lapse in tidiness…you'll notice this photo was taken 4 MONTHS LATER – it's now Christmas time!  Notice they've bothered to put in little candy-canes along their walkway while ignoring the kicked over lights!!
.
.
.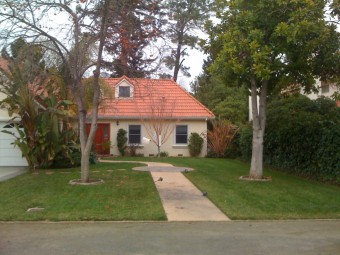 .
Okay – one more….this was taken a full year after the above Christmas photo and it seems that in between holidays they hang laundry on the poor Japanese Maple.
.
Let me tell you…this house provides so much entertainment for me on my daily walks!
.
.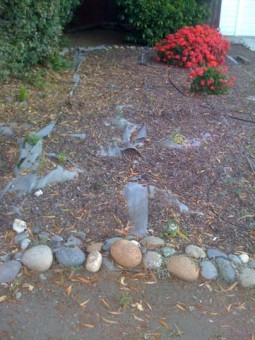 .
Here's another personal favorite of mine. When using black plastic as a weed barrier, please cover it up!   Again – C'MON people!!  A little bit – okay.   BUT THIS???
.
.
.
.
.
.
.
.
.
.
.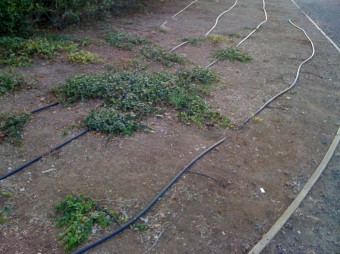 .
One more (for now).  I love it when people actually PAY to have their yard landscaped, but then leave the black irrigation tubing exposed.  Again, Kinder Souls, lest you think  'Jeez Rebecca…they're obviously not finished yet'….you'd be wrong.  It's looked this way for the past 3 years now.  WHAT are they thinking….