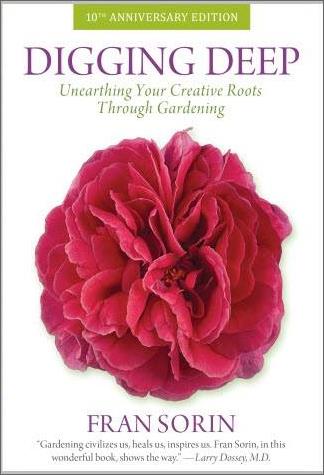 I'm honored to be participating in Fran Sorin's Cyber Book Party (complete with two grand giveaways!) celebrating the updated 10th Anniversary Edition of her groundbreaking book Digging Deep – Unearthing Your Creative Roots Through Gardening.
I've had the privilege of getting to know Fran personally over the years, believing our styles of gardening, designing and the way in which we view life to be in lockstep with one another.
I've read her book several times and each time I re-read her chapters on Sparking your creativity, Giving shape to your dream, The act of nurturing, Enjoying what you have sown, I find myself nodding and muttering aloud 'yes – exactly!'
Fran has written this book for all gardeners, with all levels of experience. It's more than just a guideline to help you create your own, personal garden but is also filled with practical and specific exercises to help unlock your inner creativity.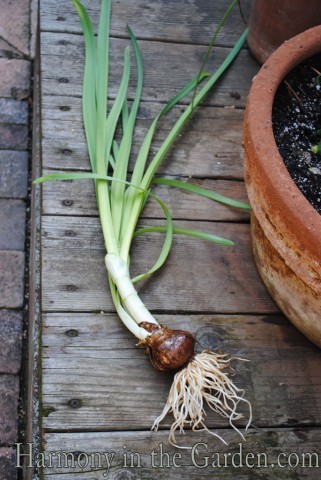 I especially love the title, Digging Deep, which holds extra meaning for me this year as I'm battling breast cancer.
My chemotherapy treatments leave me with precious little energy to think about gardening, much less anything else. And believe me when I say I've had to dig deep, really deep, just to get up in the morning to take my morning stroll through my garden.
When I was first diagnosed in September I quickly realized that surgery was in my near future (in February). One of the first things I did was to plan ahead in my garden as much as I possibly could.
I knew I'd be pretty house-bound for about 4-6 weeks after my surgery, which would also coincide with my garden waking from its winter nap.
Which is when we all want to get out and start gardening again, right?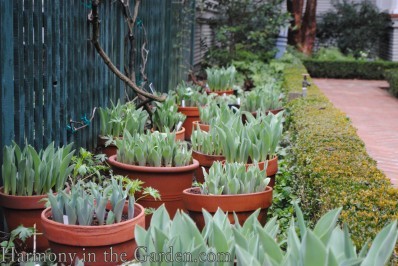 So, to help alleviate my anticipated angst and frustration of not being able to work in my garden, I've been chilling bulbs this year. I'll plant them in big containers that I'll place on my back patio – right outside of my bedroom window.
I've chosen tulips in soft shades of pink, peach and apricot along with small soft yellow tazetta daffodils to plant around the perimeter.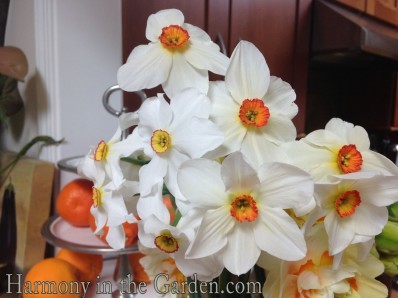 I also placed a special order with one of my favorite heirloom bulb companies (Old House Gardens). I'm so excited to to plant my now-chilling 100-year old pheasant-eye narcissus 'Firetail' and 'Poeticus Ornatus'!
I just know that their weeks and weeks of cheery blooms will keep me content while I'm on bed rest.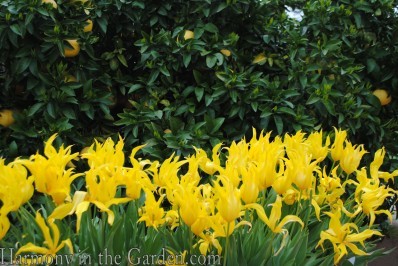 With our mild California winters, tulips, hyacinths, many daffodils and crocus don't get enough mandatory winter-chill hours to bloom if they're planted directly in the ground.
So planning ahead and pre-chilling them for 6-8 weeks is mandatory (here's how I do this in my own garden.)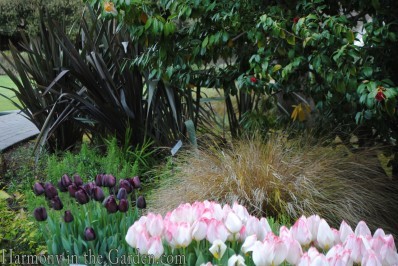 And, in fact, I was recently interviewed by a newspaper where I discuss some of my favorite year-round bulbs that I like to include in my garden designs. (Click here to read.)
One more tip – for a fun way to force bulbs in time for the holidays, Susan Morrison has an effective and unique way of using vodka. Curious? Click here!

Now to the FUN part of the book party – the PRIZES!
Fran has offered each participating blogger TWO prize packages for TWO lucky winners!
Prize Package #1
A collection of four incredibly realistic looking oak and birch planters, hand-crafted in the U.S. from Nature Innovations ($149.00 value!)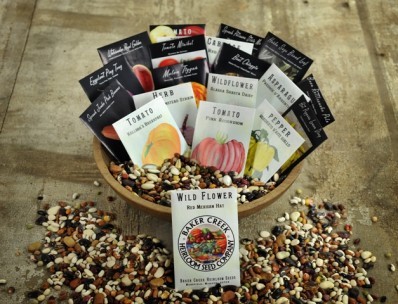 Prize Package #2
A hand picked collection of 19 different rare veggie and flower seed varieties from Baker Creek Heirloom Seeds . Not familiar with Baker Creek Seeds? (Click here to read a review I wrote on their book and their amazing heirloom seed company.)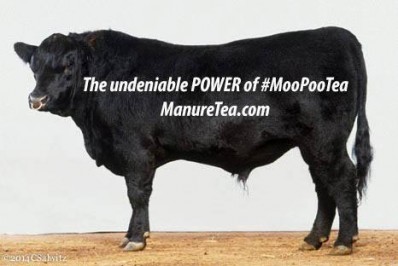 In addition to the collection of heirloom seeds you'll also be receiving a 3-pack variety of Authentic Haven Brand's Moo Poo Tea Bags – the perfect start for your new little seedlings!

How to Play? All you need to do to enter to win is to leave a comment below on my blog telling me about 1) your favorite bulbs or 2) the seeds you can't live without.
But Wait – There's More! Just head on over to the other 7 participating blogs below and leave a comment on their sites to increase your odds of winning. There's a total of EIGHT of us participating which means you have EIGHT changes to win! And, as if the prizes aren't enough Fran has also priced the e-book version of Digging Deep at a discounted rate of .99 cents during the giveaway. Just click here to download your copy now.
Who else is participating in the giveaway?
Debra Prinzing@www.debraprinzing.com
Helen Yoest@ www.gardeningwithconfidence.com
Dee Nash @ www.reddirtramblings.com
Jenny Peterson@www.jpetersongardendesign.com
Fran Sorin@www.fransorin.com
Brenda Haas @www.bggarden.com
Gardening Gone Wild @www.gardeninggonewild.com
Best of lucky everyone, and Happy Holidays!
…………………………………………………………………………………………………………………………………….
UPDATE: Using a Random Number Generator we have 2 winners! Congratulations Darla A. who won prize #1 and Kay who won prize #2! I've sent you both an email so all I need is your address and I'll coordinate getting the prizes shipped to you.
I wanted to thank everyone for their great bulb and seed recommendations (several of which were new to me!) and for the good wishes re: my health. If you didn't win this time, I'll be hosting another giveaway in a few days so stay tuned!
The winner will be randomly chosen by midnight Dec. 8th and contacted within 24 hours. If the proposed winner forfeits or does not claim the prize by Dec. 13th, the prize will be re-awarded based on the sponsor's sole discretion. All prizes will be awarded. Please provide your name and email to enter this contest, so I can immediately contact you if you win. The winner agrees to allow his/her first name to be mentioned in conjunction with this giveaway.
This giveaway is limited to U.S. residents only, who are over the age of 18 years old. NO PURCHASE NECESSARY TO WIN. This sweepstakes is VOID WHERE PROHIBITED BY LAW (wherever that is, I'd sure hate to live there!) By entering this giveaway, you are agreeing to these conditions.