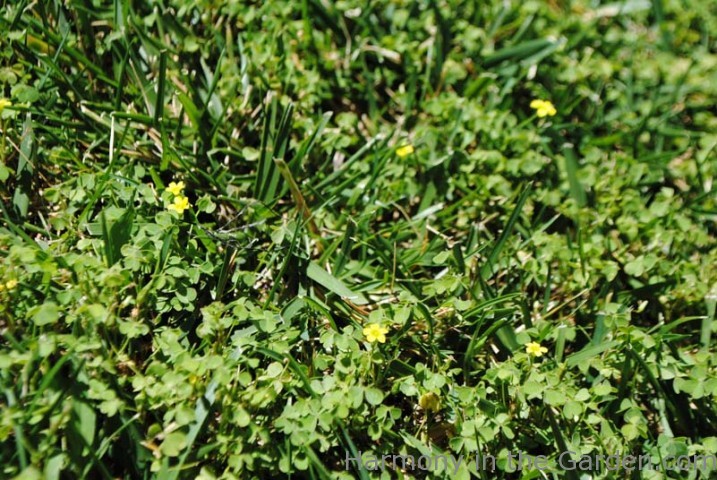 I love Oxalis in my garden.
No, not the horribly invasive oxalis that has taken over my lawn, but the colorful and well-behaved hybrids available in nurseries everywhere.
Come and take a look…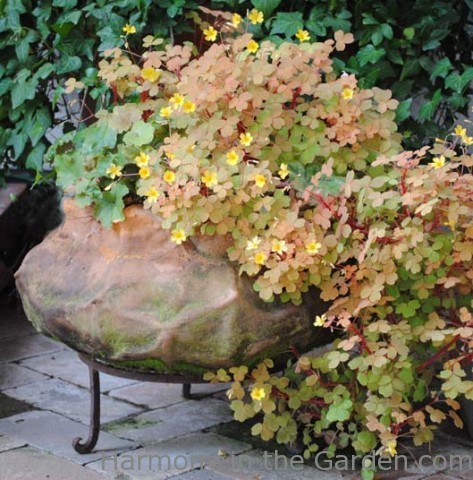 My favorite oxalis of all is 'Sunset Velvet'.
This variety is an evergreen trooper, happily growing in my Zone 9 garden for many years.
Planted in bright shade, it has survived the hottest days and the coldest nights (down to the high 20's) without a complaint!
In spring, its delicate bright green foliage is beautifully complimented with its red stems.
As the temperatures warm up, the lime green turns to shades of terra cotta and peach, and the plant is soon covered with zillions of happy little yellow flowers (lasting for months.)
As fall and winter settles in, the shades intensify with oxalis putting on its best show yet.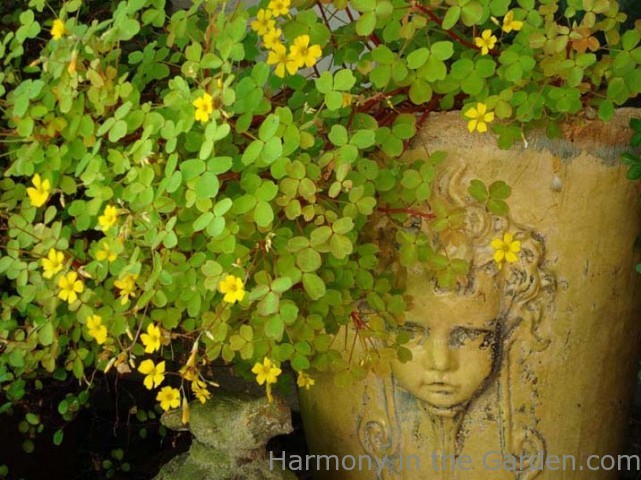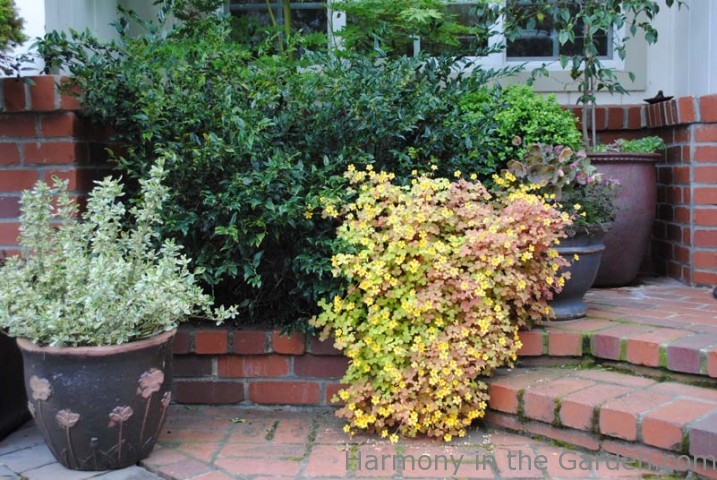 One of the things I love best about 'Sunset Velvet' is the way in which it blends with just about any container you might have.  Terra cotta, ceramic, tile, zinc – you name it, it's a natural companion.
And speaking of companions, plant 'Sunset Velvet' near tumbled bricks and you have a color echo made in heaven!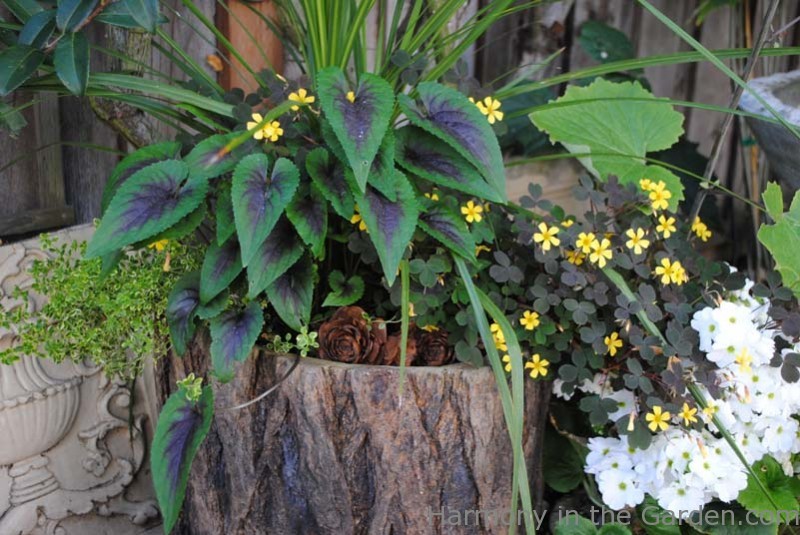 Another favorite of mine is oxalis 'Burgundy Bliss', with its dusky shades of maroon and olive green.
I'm a sucker for the color maroon, and anything that falls within this color range, so this one's a natural for me.
I love it most when its little yellow flowers are in bloom, as they add a whole new dimension to any planting scheme.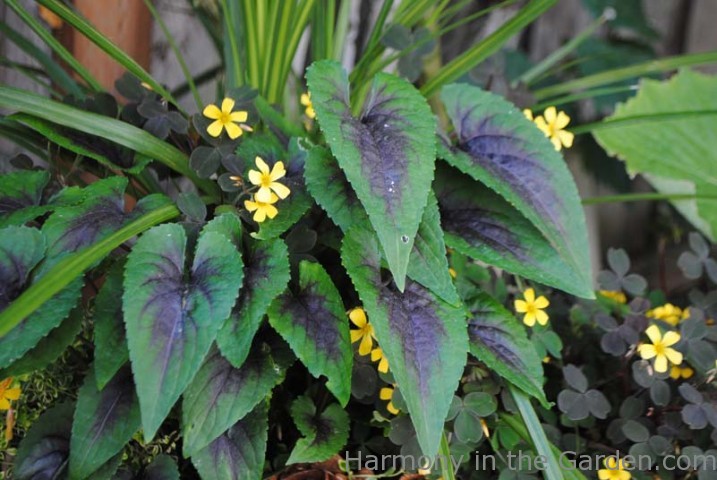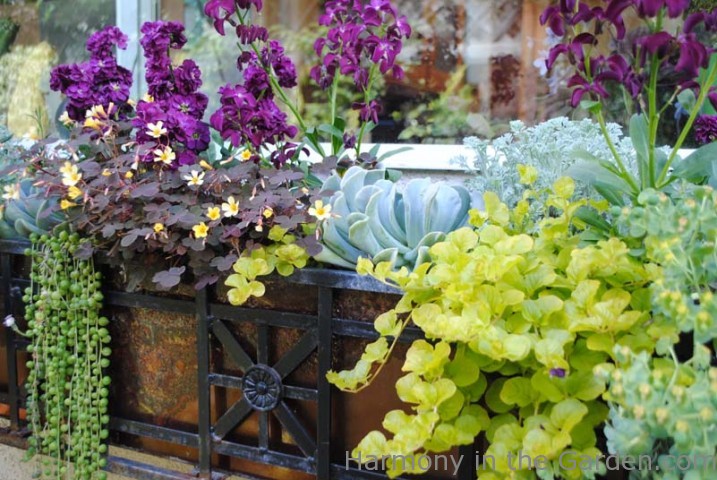 I'm particularly fond of planting this variety in containers made of darker materials, like the faux bois one above, or my burnished copper window box.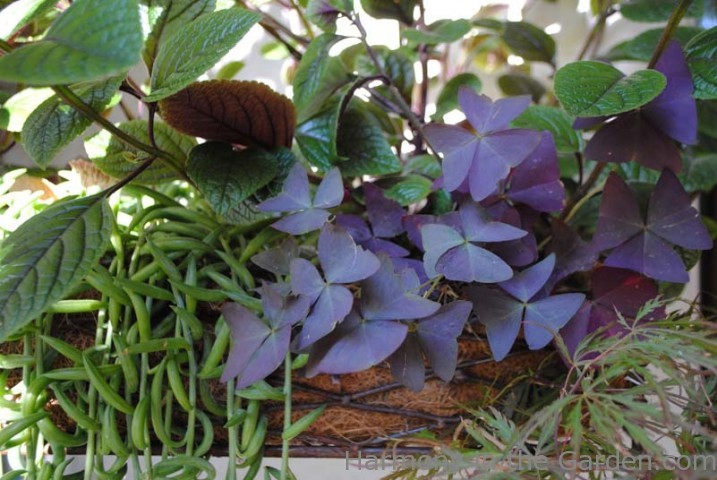 The dark plum foliage of Oxalis triangularis 'Charmed Wine' is much larger than the above varieties, and has more of a traditional shamrock shape.
The triangularis varieties tend to fold their leaves down at night, forming tight little clusters, only to re-open again in the morning giving them the common name of 'Butterfly Shamrocks'.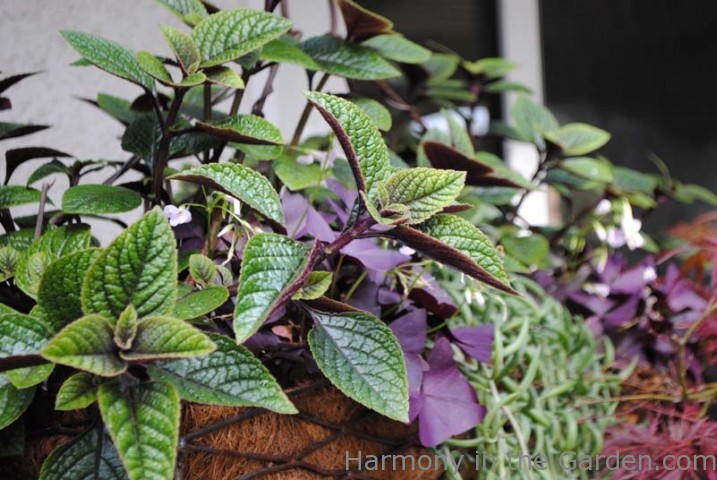 I've had many people tell me they're not quite sure how to incorporate the vibrant (and somewhat garish) tones of the 'Charmed Wine' foliage within their containers.
I like to pair them with a plant that has similar (yet subtle) shades, like this Plectranthus ciliatus, creating unexpected color combinations.
I can also imagine this oxalis planted with many of the different heucheras that have similar colors under their leaves.
With such a wide variety of colors, combined with their tough and resilient nature, what's not to love about these plants?  These oxalis are welcome in my garden anytime!