A few months ago I wrote about the fabulous day Susan Morrison and I had with the crew from Growing a Greener World (see below).  Well, I'm thrilled to be able to share the episode with you all, right here.
The topic is Small Spaces, and in addition to our two cents, you'll also meet Baylor Chapman, who owns Lila B. Design, my very favorite floral design business in San Francisco.
I hope you enjoy the show!
June, 2011:
Yesterday, Susan Morrison and I had the great honor of having the crew from Growing A Greener World spend the day in my garden.  Why were they here?  To film part of a segment for an upcoming episode on 'Small Space Gardening' (which just so happens to be one of the chapters in our book, Garden Up!)
We had met Joe Lamp'l and the gang several times before (in fact, I wrote about it last year during their visit to Annie's Annuals), but never did I think we'd get to spend the entire day (and well into the night) with them!  You know, when you hang out with someone for 15 hours straight you really get to know them, seeing sides that may not come out during brief visits.
While I'd love to talk about skinny spaces, designing focal point fences, creating edible living walls, going into great detail offering tips and design strategies, I have a feeling many of you would rather see a 'behind the scenes' post instead.  I know I would!  So here goes….
So, why did they come here in the first place?  My garden just so happens to be filled with skinny spaces where I've packed a lot of punch into beds as narrow as 8 inches:
And while you may think my garden would be the belle of the ball, alas it was not.  It was my tiny Nespresso machine that stole the show!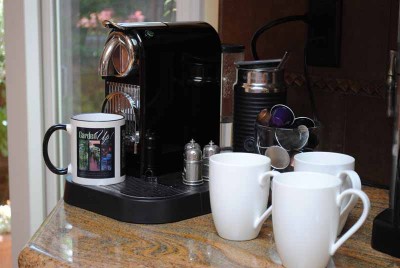 Seriously!  Everyone must've had at least 6 lattes throughout the day, and that little machine just kept cranking out the black gold non-stop.
And what do you get when you have a sleep-deprived crew all jacked up on caffeine?
Yep – good times is what you get!
Welcome to our day……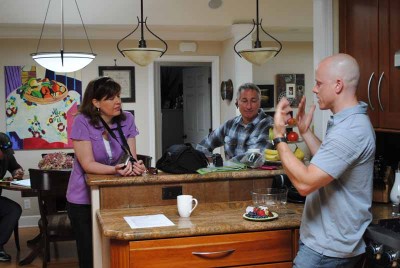 As you can see the caffeine hasn't quite kicked in and people can hardly keep their eyes open.  But that doesn't keep Chef Nathan from telling us scary stories about bedbugs in hotels and his scary bouts with sleep paralysis (or as he calls it: The Devil On Your Chest).
And then there's Associate Producer, Theresa Loe, who is unequivocally the most organized human being on the planet.  Here she's demonstrating her oh-so-cute apron she wears during filming to hold everything from small cameras to dental floss to bandaids to sunscreen.  But wait – it doesn't stop there!  She also has a scarf with a hidden zipper pocket in it for even more storage.  And if those pockets get filled up, she has this cute little shoulder bag made out of an old pair of jeans with, yes, even more pockets.  In our book we talk a lot about the importance of layering.  Theresa has clearly mastered the art.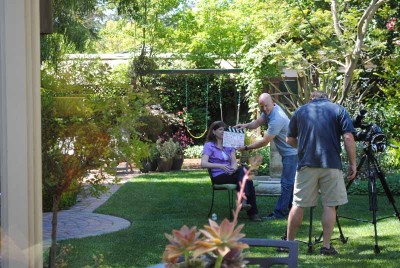 So now we move on to the actual interviews.  There's Susan getting ready for her 37th take (just kidding – it was only in the single digits).  Carl Pennington, Director of Photography, waits for Nathan to say the classic "Take 4"!  We never really saw Carl's face as its pretty much always behind the camera.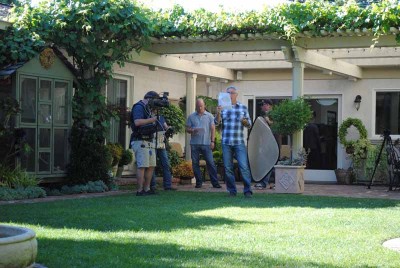 While our portion of the show only lasts about 16 minutes, it took hours to shoot.  This wasn't anyone's fault, but resulted from little distractions like crows camping out overhead, the random barking of the dog next door, the constant sound of airplanes overhead and the street sweeper.
So as you can imagine, there was a lot of down time.
A lot.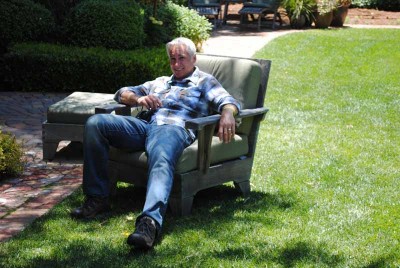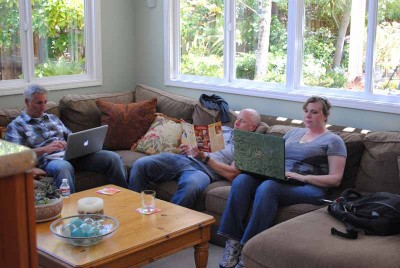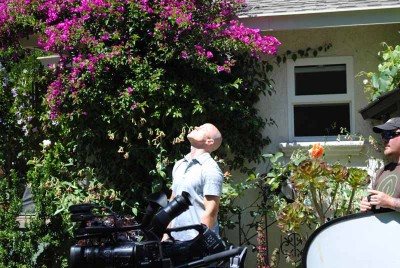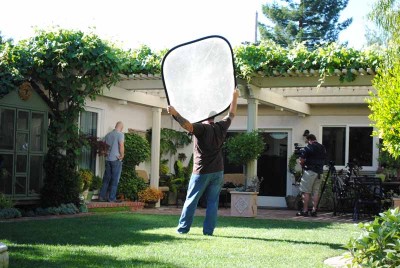 Susan and Christa Hansen are a dead giveaway that something's happening over by the swingset…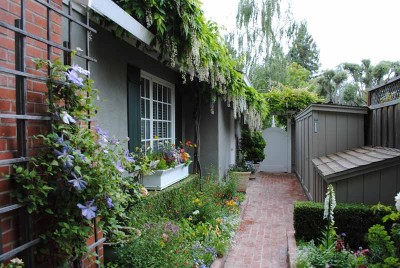 After all the footage is finally shot in my garden, everyone headed over to the garden of  my clients Bob and Margaret, who have successfully turned an ordinary side yard into a spectacular layered garden combined with total functionality (but to see more of that you'll have to tune into the show!)
After the long, hot day everyone drove back to my house again to enjoy a little down time with some pizza, beer and wine.
It was at this point the cameras were all put away for the day and we laughed, ate and drank into the wee hours of the night.
Thanks for stopping by everyone!  I'll keep you posted as to the exact airing of the show, but I hear it's around the beginning of October.   More to come….
………………………….
Update-This just in from Theresa Loe:  The episode is #214 "Small Space Gardening" and will air the week of October 1st on most PBS stations. (But each station is independent, so you need to check with your own local station). And remember, you can watch the whole episode on line beginning October 2 (the day after its release date).