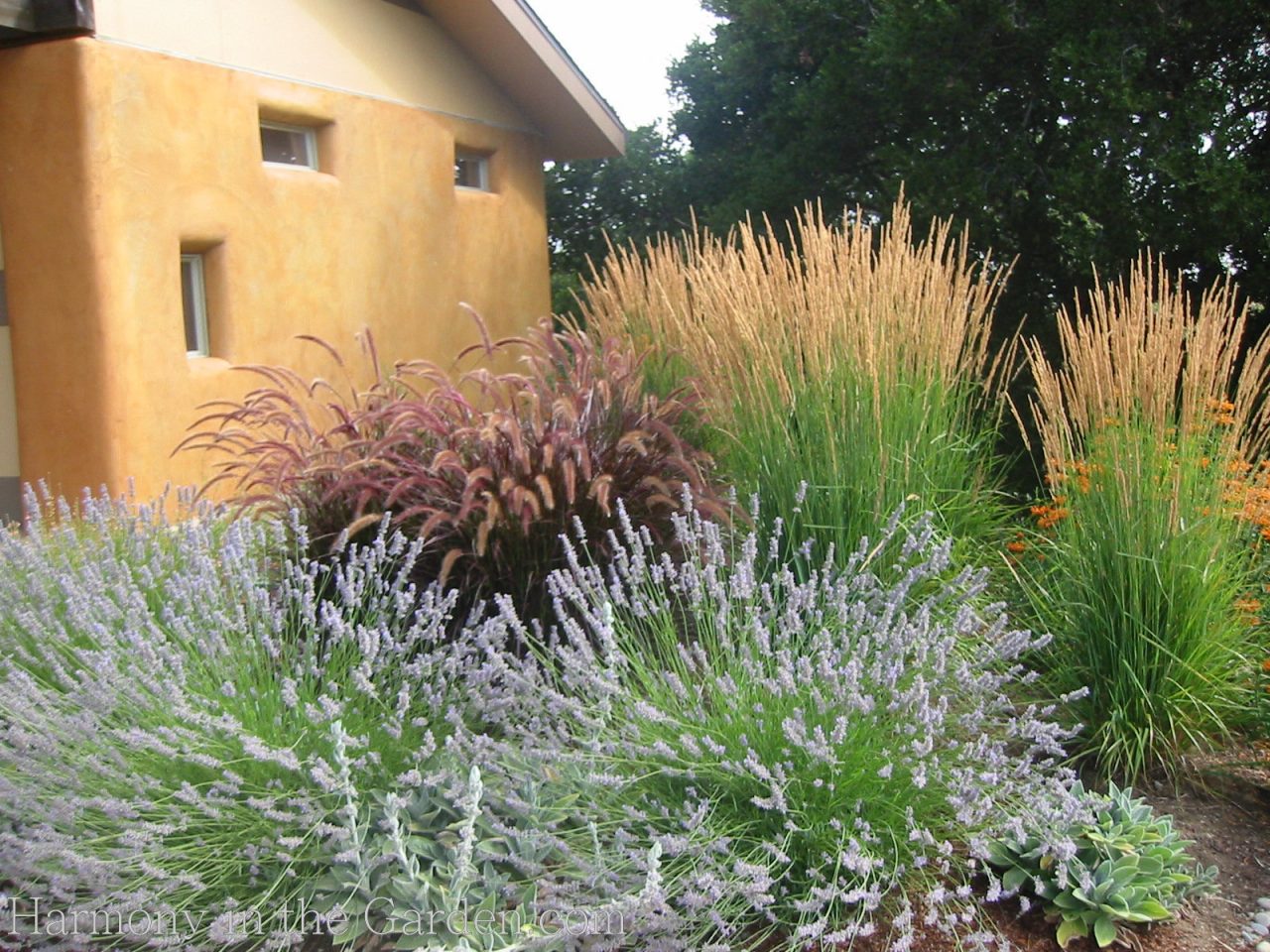 If you've been reading my blog for awhile then you know I love ornamental grasses.
And luckily they've become a common sight in nurseries, with so many amazing selections from which to choose.
Yes, grasses are all the rage and for good reason.
Why?  Generally speaking, ornamental grasses will grow in just about any type of soil, most are drought tolerant and diseases and pests aren't usually an issue.
(to see more of this garden and how I used grasses to foil the deer, click here!)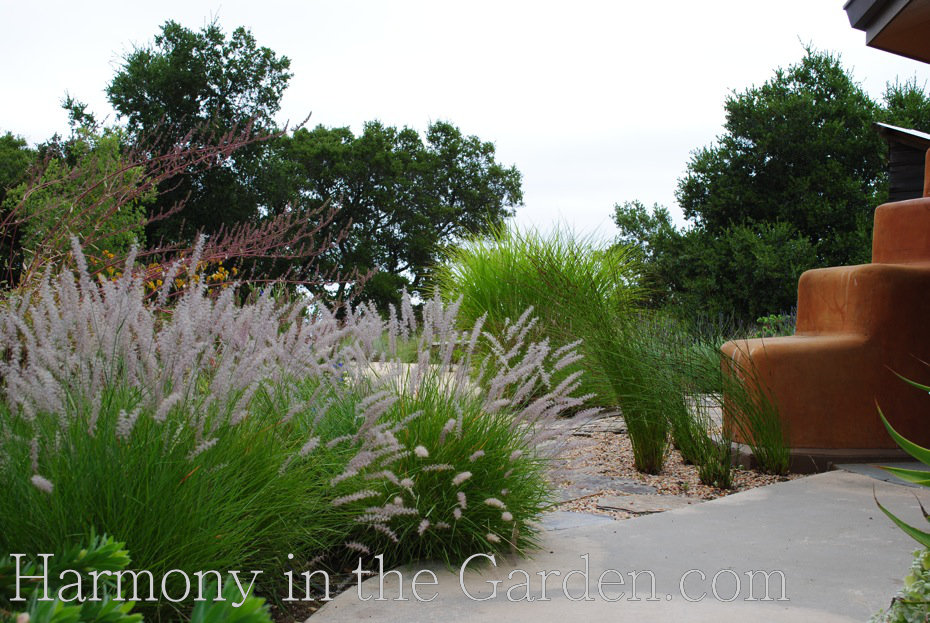 Not only are they tough as nails, but there's a size that's perfect for any situation.
From the tiny black mondo grass, to mid-size Blue Oat grass, to the long and arching blades of purple fountain grass.
Need more convincing?  How about the fact that they come in a rainbow of colors: ruby red, steel blue, jet black, chartreuse, pink, brown, orange and variegated forms.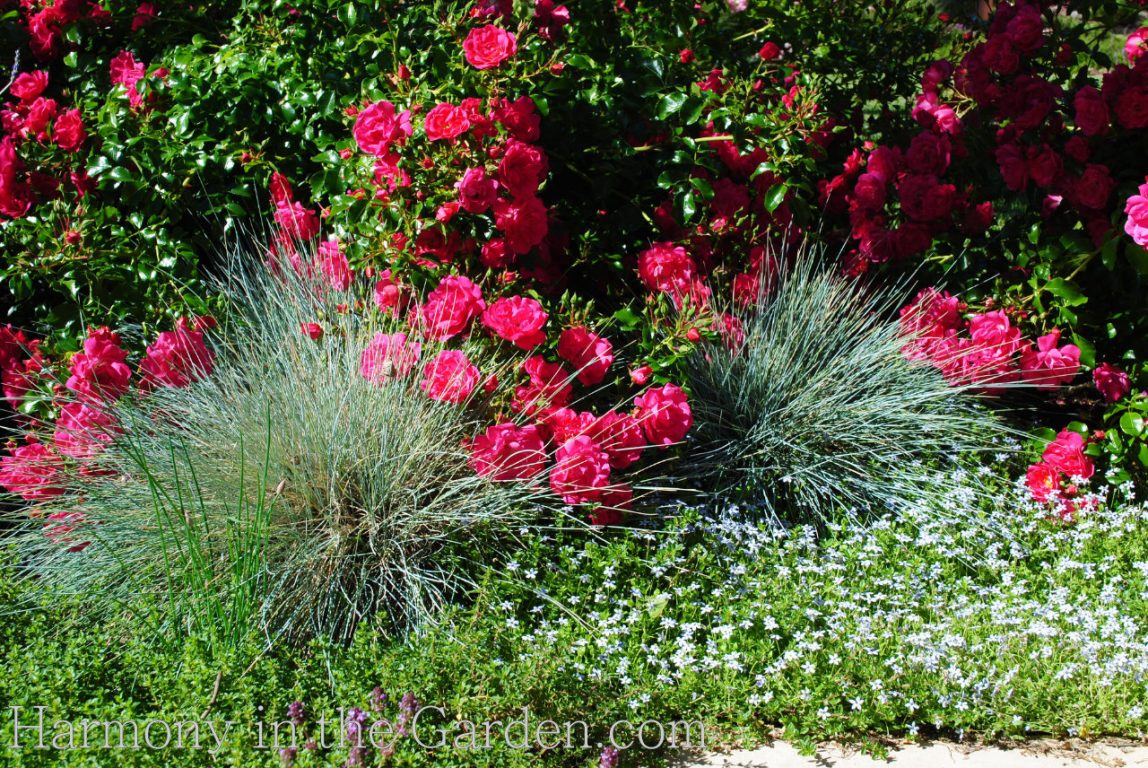 I particularly like the way the finely textured foliage of grass complements neighboring plants with bolder leaves and/or flowers.
The contrast helps both plants stand out just a bit more than they would on their own.
The roses in this photo are pretty enough, but when nestled near the blue fescue, an eye-popping combination is created.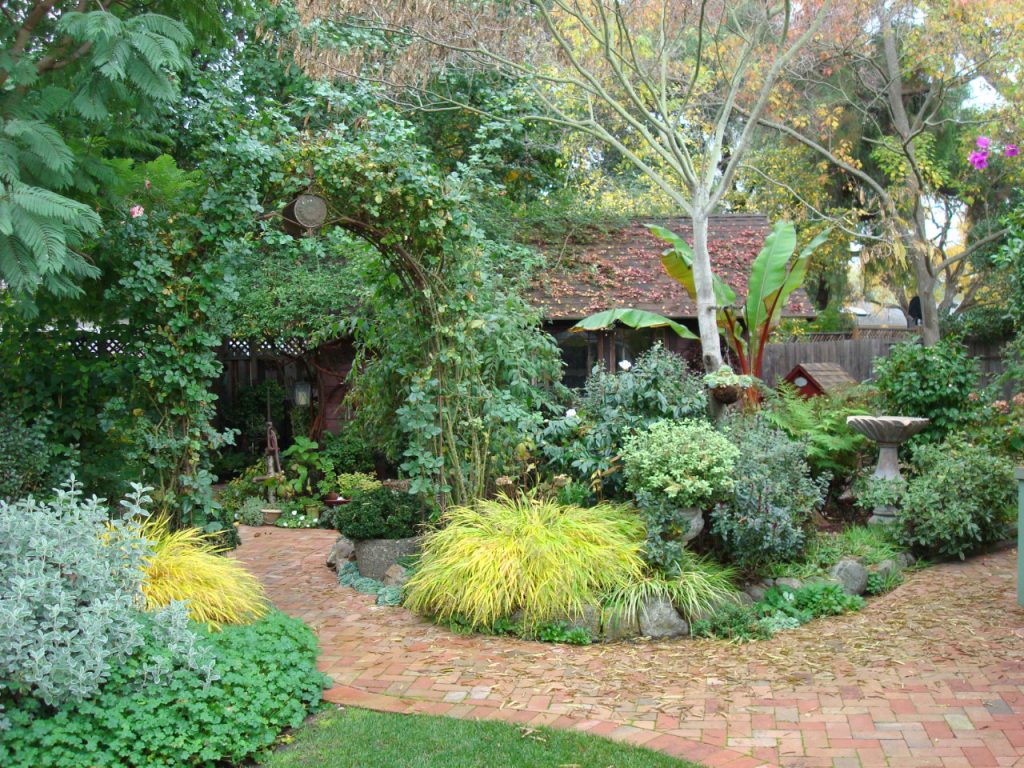 Don't forget that many grasses have eye-popping fall colors, too!
Hakone Grass, for example, turns brilliant shades of gold once the temperatures start to drop.
And because of its thin and wispy foliage, when a soft breeze passes through, it gently sways, providing another much needed design element to your garden – movement.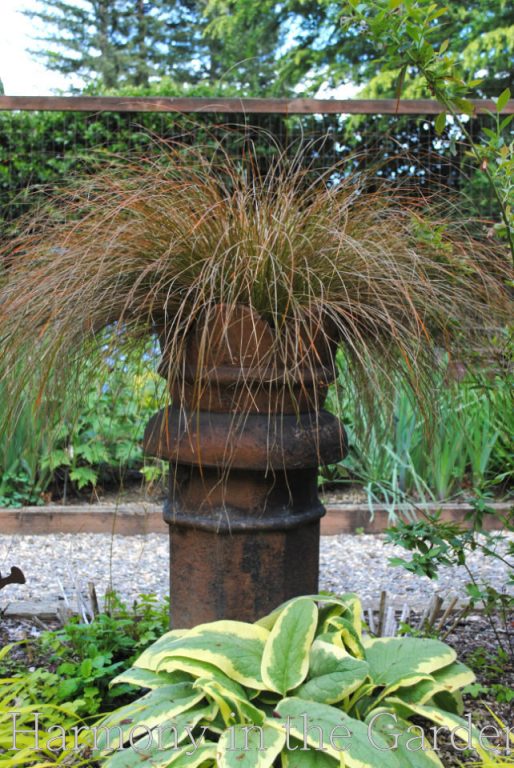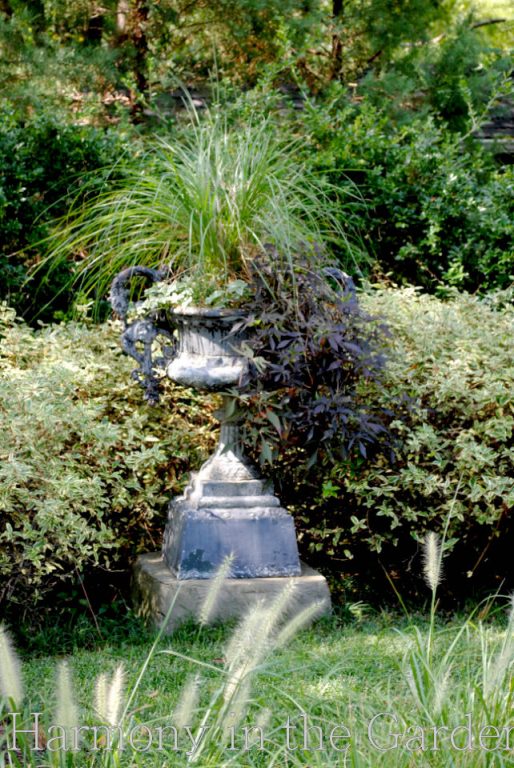 I love the creative ways gardeners and designers are viewing grasses as more than just another plant in a planting bed.
For example, instead of filling an elevated urn with annuals or perennials, a single specimen of grass looks just as elegant, while making a bold statement.
In the first photo, taken in Freeland and Sabrina Tanner's garden, note how they've used the bronze colors of the carex to harmonize with the rusty iron container.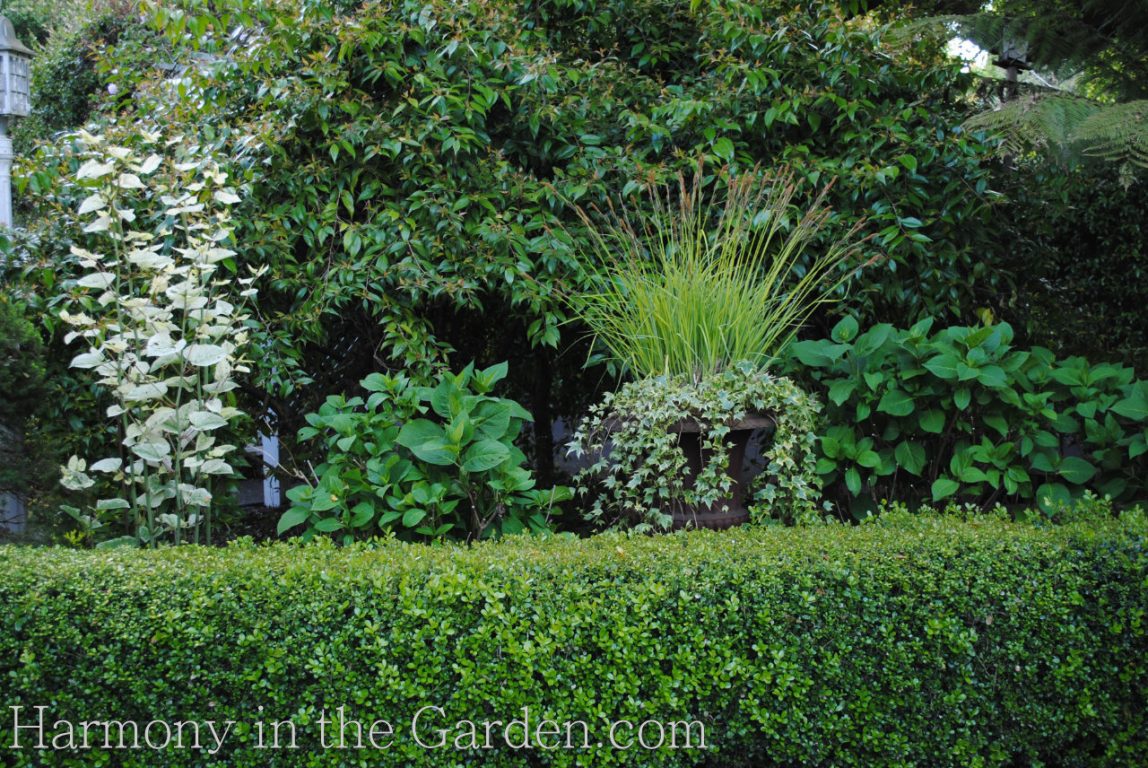 Another reason you might want to consider elevating your grass in a container is to help it 'stand out from the crowd'.
Sometimes plants with finely textured foliage can get lost among other showier plants.
When elevated in a container, however, the foliage is not only appreciated up close but it's given a pride of placement, turning it into a showpiece.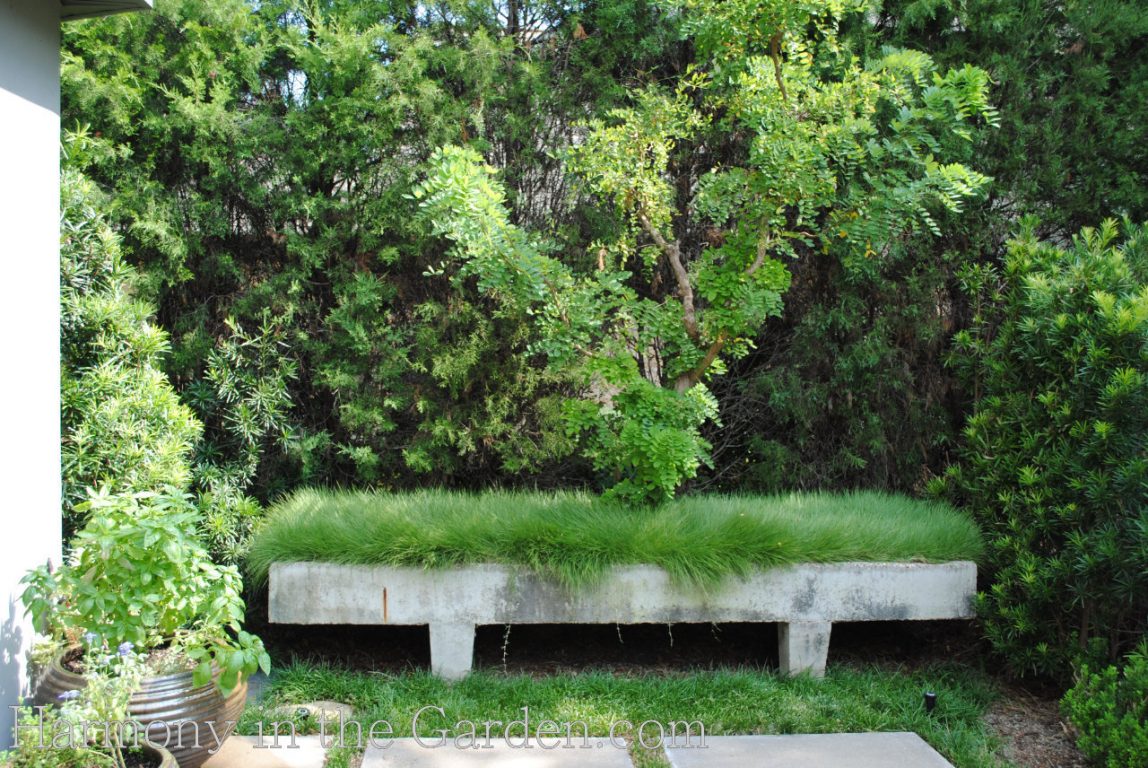 One of my favorite creative uses of grass is this bench in David Rolston's Dallas garden, topped with soft and mounding grasses.
Don't you just want to run your hands through it?  Or better yet, lie down and take a nap on it?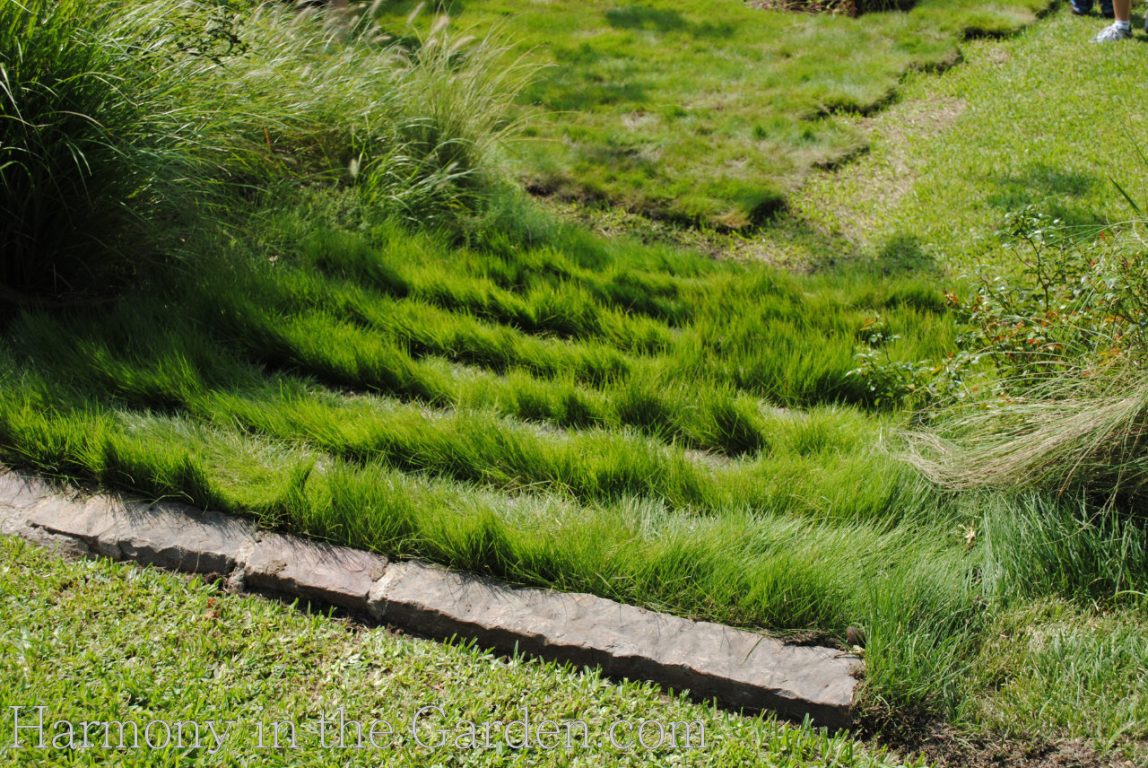 In another part of the David Rolston's garden are these casual and grassy stone steps that lead from one terrace to another.
Instead of using pebbles in between the ledgers, he's used grass to provide a softer landing both physically and visually.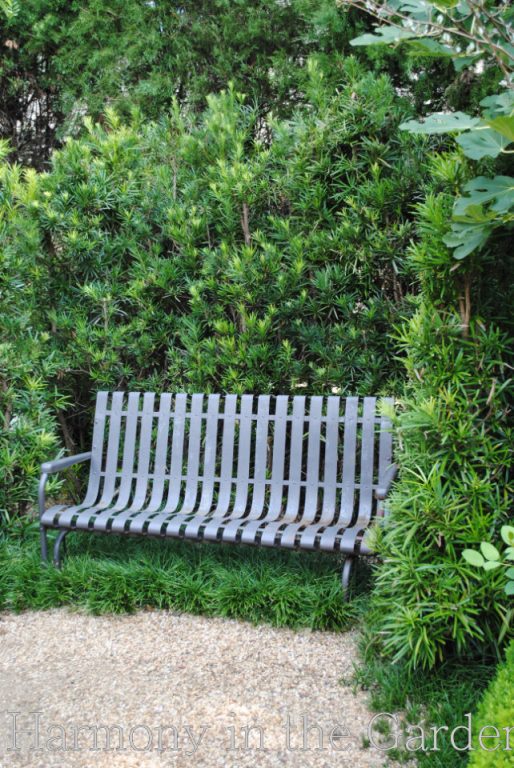 In another area of the Rolston garden is this private, hidden corner of the garden.
A bench is surrounded by walls of podocarpus, with a soft grass 'carpet' under it.
I'm not sure which bench of theirs I'd like to sit on – this one, or the above one topped with grass!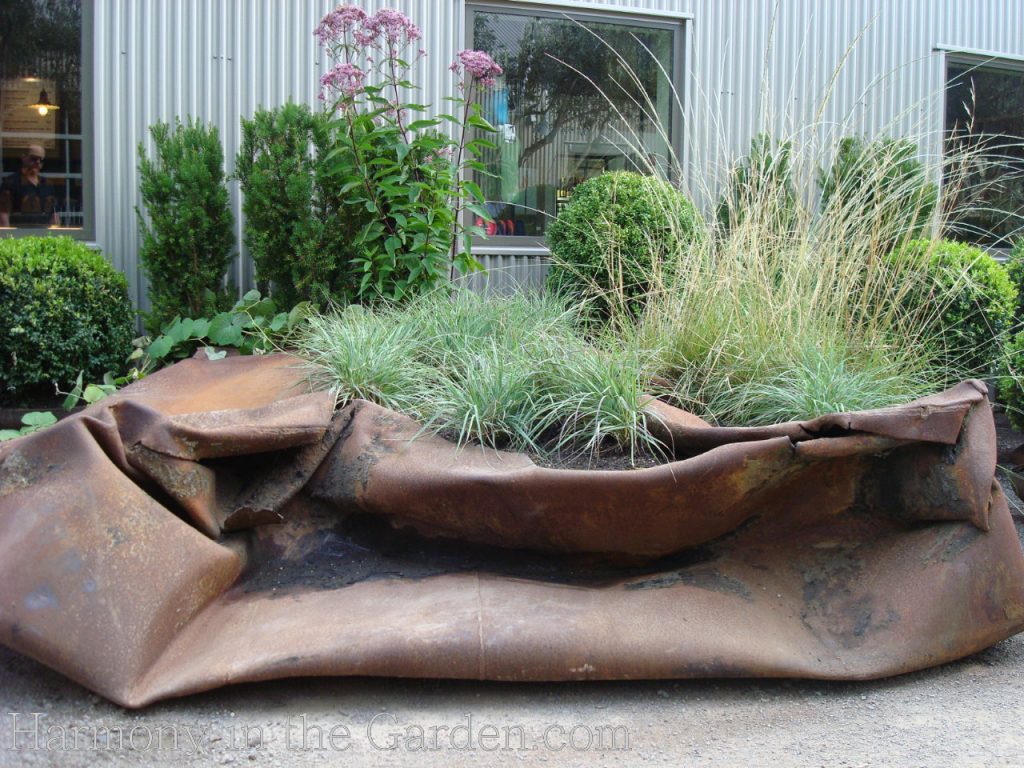 This planter, created by Gary Ratway and Mike Lucas for Cornerstone Gardens, is made using old gasoline tanks which have been unearthed from underground.
I'm so much happier seeing beautiful grasses spilling out of the containers, aren't you?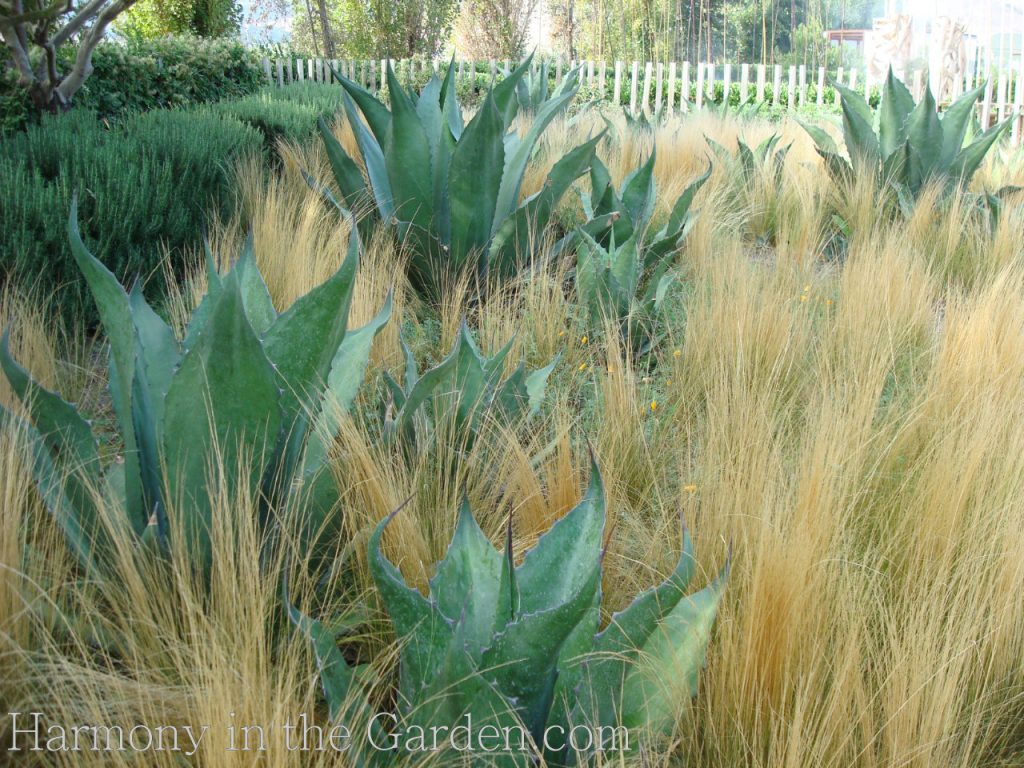 And, speaking of Cornerstone Gardens – I can't write a post about grasses without including my favorite combination of all:  The Garden of Contrast, created by the team of Oehme, van Sweden.
The simplicity of this combination is nothing short of genius.  The oversized agave, surrounded by the whisky 'broom-like' grasses takes my breath away every time I see it.
So next time you're at the nursery, instead of seeking out the more common perennials won't you also consider a grass or two? 
And send me a pic!  I'd love to see what creative combination you come up with!