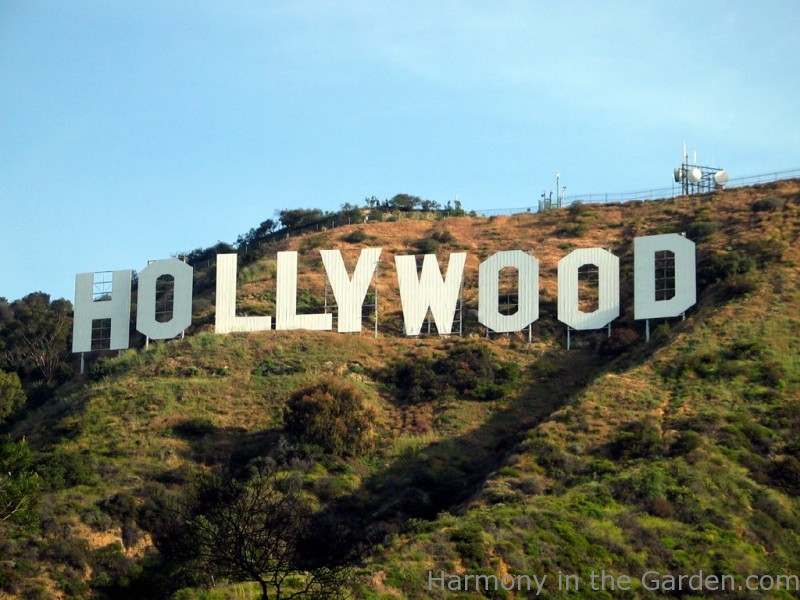 For the next few weeks I'd like to invite you to join me on my adventure in Los Angeles.  West Hollywood, to be exact.  Why am I here?  My daughter and I are touring colleges and getting to know the town she'll call home in a year.
What's that have to do with gardening, you may ask?  Not much, really.  Except that, as you no doubt already know, a gardener can't really go anywhere without noticing the plants and gardens around them.
I'm probably the only tourist in Hollywood who takes more pictures of plants than actors.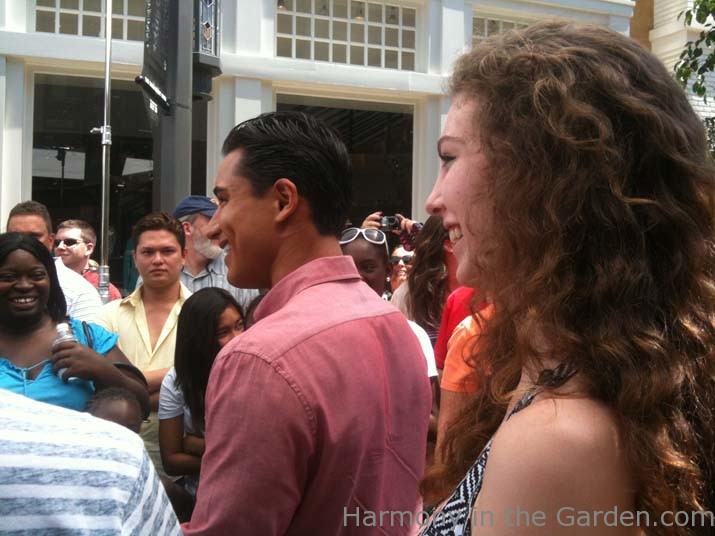 While my daughter is busy spotting famous people on the street, yelling "Mom – look! Mario Lopez!", I'm looking the other way yelling "Emily – look!  Eucalyptus ficifolia!"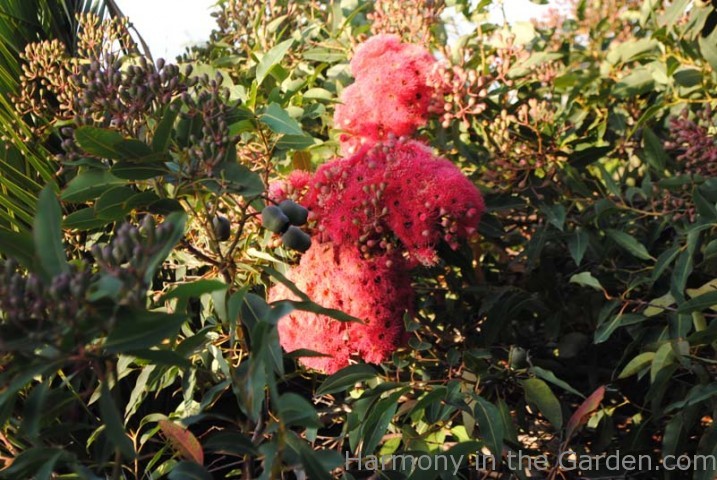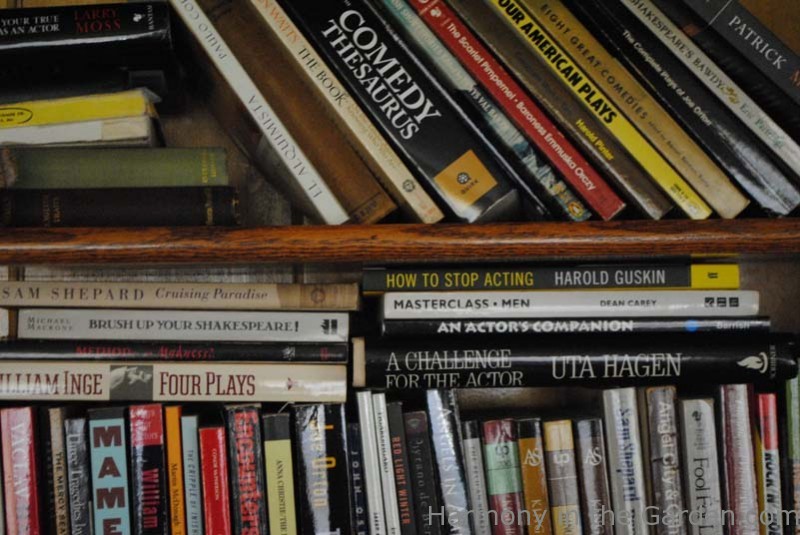 We're staying in an actor's flat while he's on vacation – an older building from the 1940's that his parents owned before passing it along to him.  In addition to acting, he's the landlord to four tenants below, and from what I've heard from everyone he seems to be beloved by all.  It's definitely an intimate family of sorts, here in this old and charming building.
I'd love to tell you the name of the actor, but out of respect to him, mum's the word.  Well, respect and a little fear (he's been in The Sopranos after all)…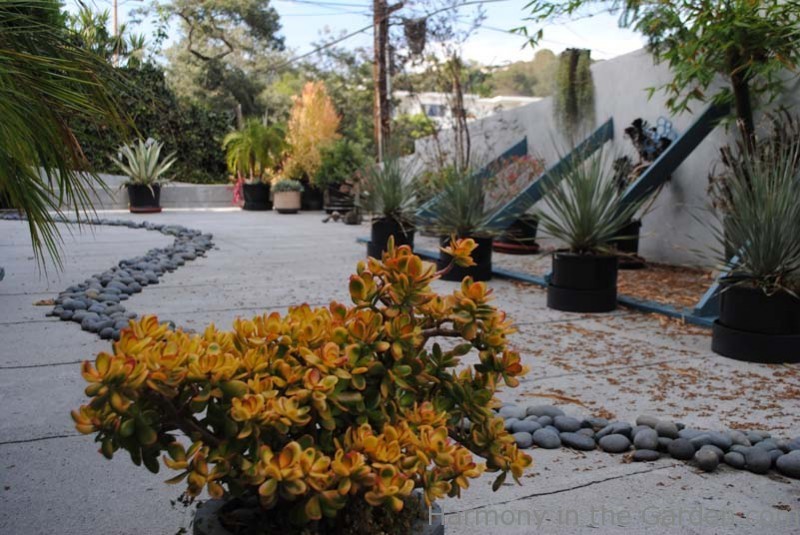 After walking up the steep flight of steps to the first landing I immediately noticed that a gardener lives somewhere around here.  Be still my heart!
It turns out one of the tenants is a landscape designer who brings his 'leftovers' to the building to share with everyone. I've yet to meet him, but fingers crossed…
That first landing puts you eye-level to the top of the garage's roof. Apparently there's a weight limit that prevents it from being turned into a giant patio for everyone to use, so instead, the designer has turned it into a Zen garden.  This is actually a brilliant idea, as tenants who access the stairs on both sides of the garden can enjoy it.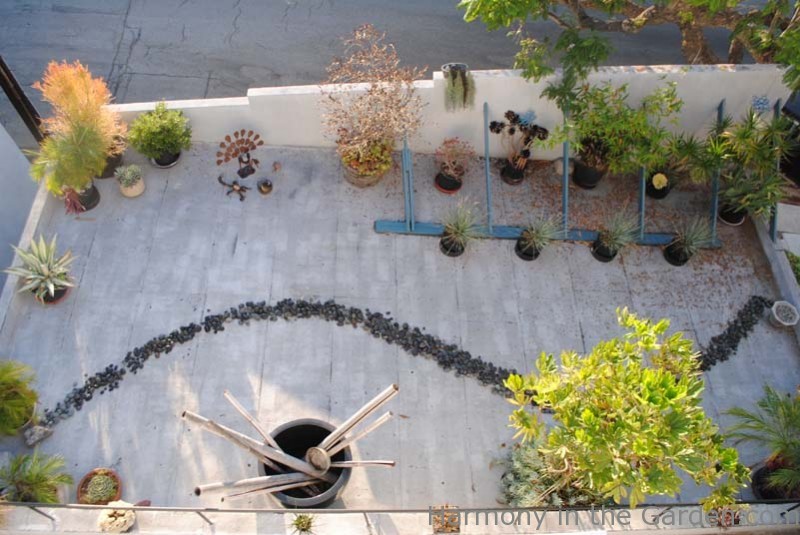 And since we're staying on the top floor, we get the added benefit of a birds-eye view!
So much better than a dreary garage roof, don't you think?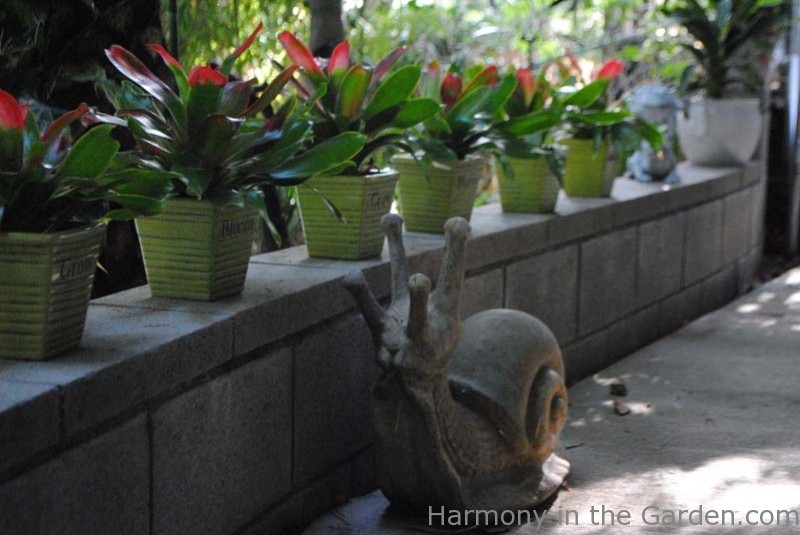 I love seeing the little touches this designer has sprinkled around.
Like this vignette outside of the laundry room.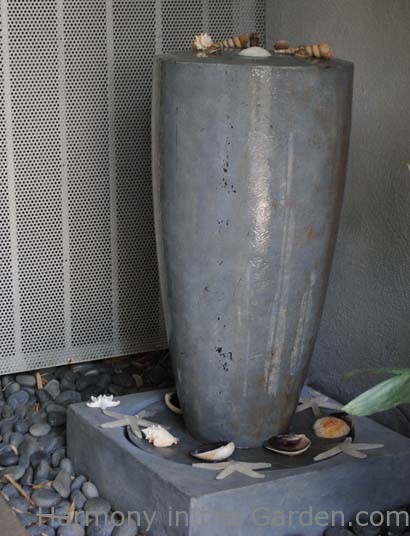 Or this fountain placed right outside of the gate, to be enjoyed by all.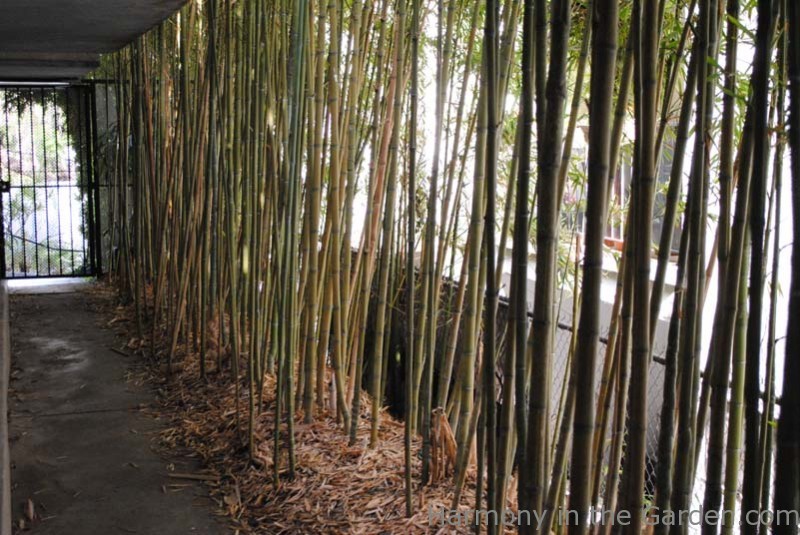 The neighboring apartment building is just a few feet away, but with the evergreen bamboo planted in this very narrow space, a sense of serene privacy is achieved.  Vertical gardening in every sense of the word!
Los Angeles just experienced a very unusual tropical thunderstorm yesterday, and I can tell you it was absolutely dreamy to sit underneath our covered patio and listen to the rain and wind rustle through the bamboo leaves.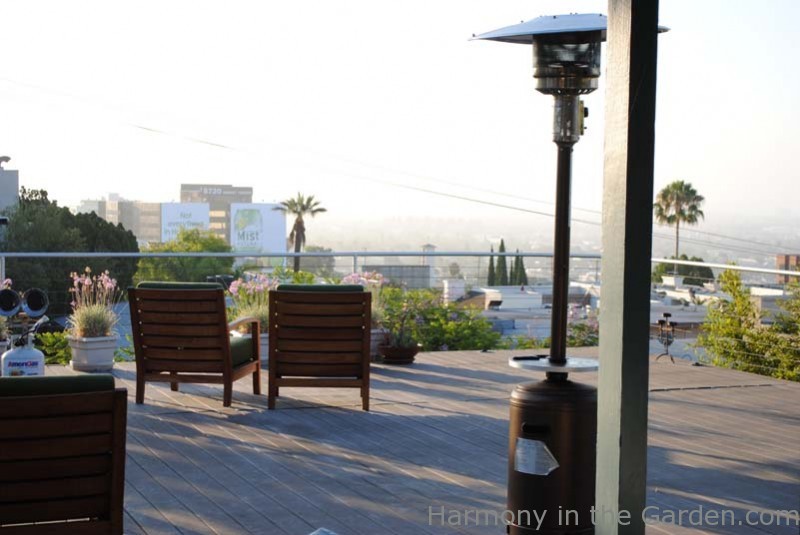 Speaking of our patio, look at this space – it's huge!  With views up to the hills in one direction and across town in the other.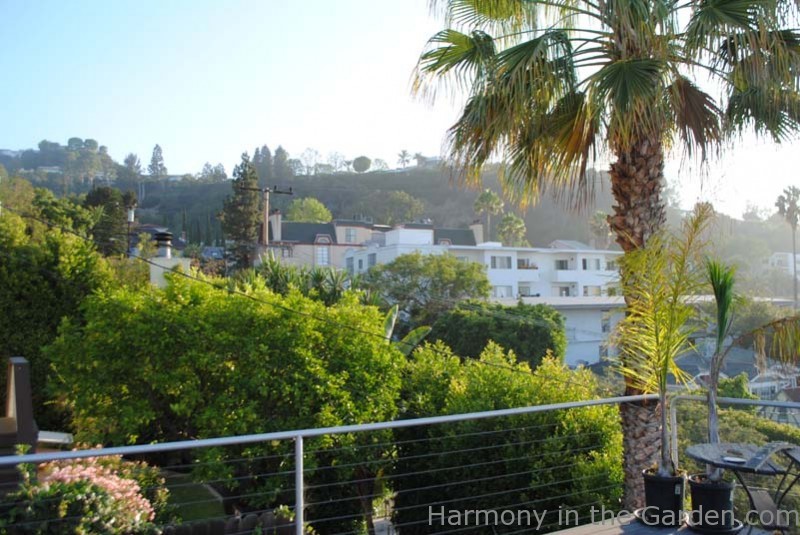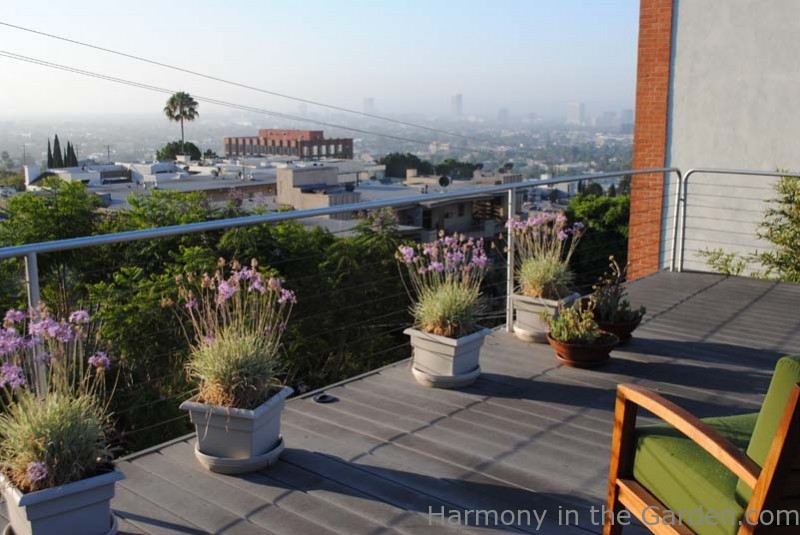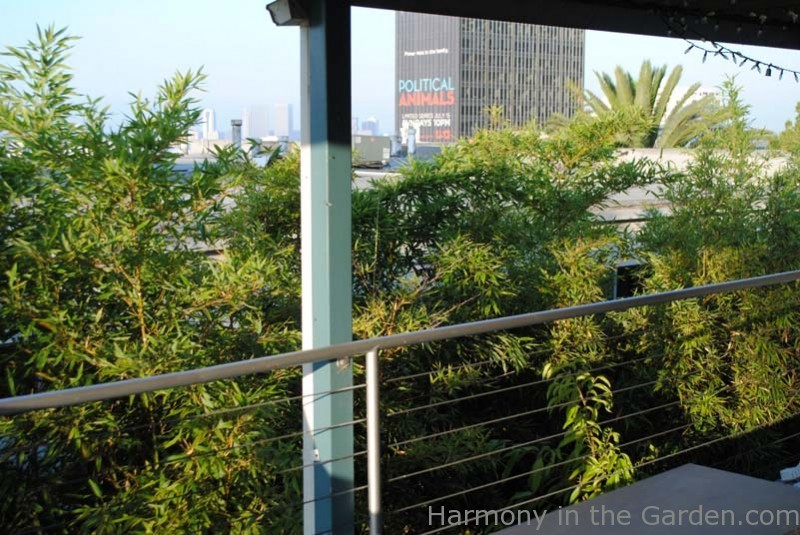 We're literally one block off of busy Sunset Boulevard, but it doesn't feel like it – thanks to the privacy of the bamboo and neighboring palms.
Except for the view of giant billboards, that is.  Still – what would you expect?
I should have a little more free time next week and am planning on visiting several gardens, including the world-renowned Huntington Garden.  I'll see you then!!