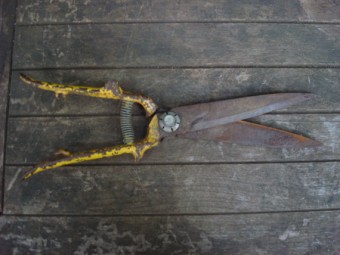 It's been a cold and frosty December, and this is the time when I begin to receive daily emails from people asking how and when to prune their perennials. Here in the Bay Area (USDA zone 9b) most of our gardens are still looking pretty good.  While some of the more tender annuals are long gone (see you next year coleus), a few of our perennials are fast asleep (anyone seen your phlox lately?), and for the most part our deciduous shrubs are hanging in there (spireas, mock oranges and hydrangeas are still covered with leaves and flowers). Heck – even some of our roses have a smattering of blooms!
However, in the next few months your garden will quickly begin to look very different – a little weary, straggly, leggy, and obviously ready for a long winter's nap.  While you may not be sure when, if, or how to cut your plants back if you examine them closely, you can learn to read their subtle clues.  Believe it or not, they're trying their hardest to tell you what they want you to do!
Take a look at this video to see first-hand some of the ways you can learn to 'read' your plants!
.