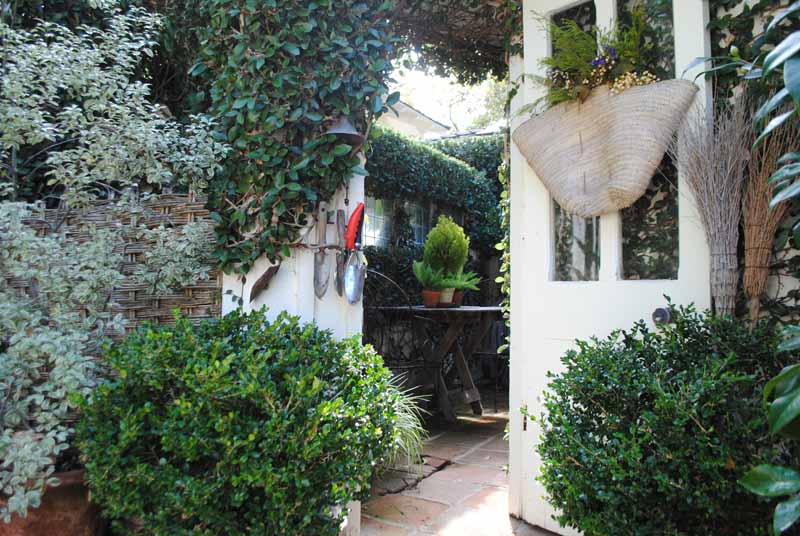 As part of my ongoing series, Gardeners and their Gardens, I'd like to introduce you to a garden I visited awhile ago in southern California.
I believe each garden is an expression of its creator's soul, and that if you pay attention, you can feel the blood, sweat and tears that went into it's creation.
You know that feeling when you walk into a garden, no matter how large or small it is, and you're taken by surprise, completely caught off guard by the feeling it stirs deep within you?  That's its soul, and it's something that can't be duplicated.

This is the garden of Lani Freymiller, and its rustic, yet elegant ,style took my breath away the moment I drove down the driveway.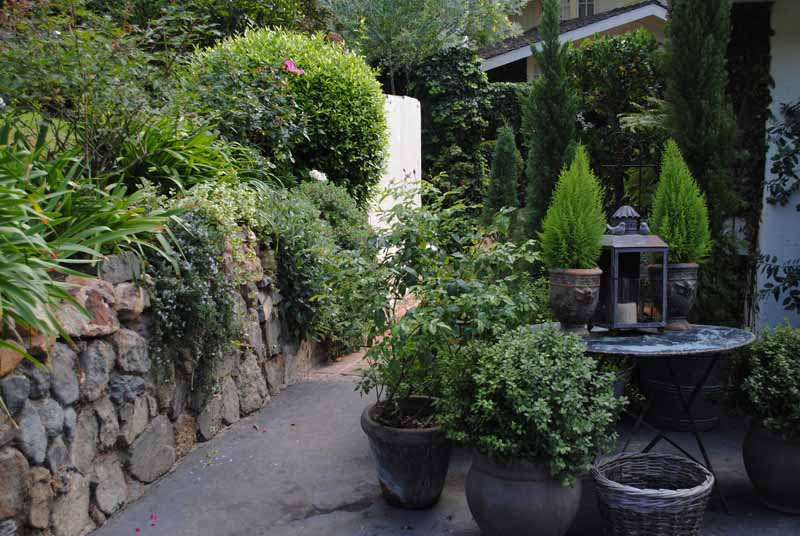 See the blacktop in this photo?  This is her driveway.  
Notice the vignette Lani has created on a traditionally utilitarian part of the home. I've never seen a driveway entrance this alluring.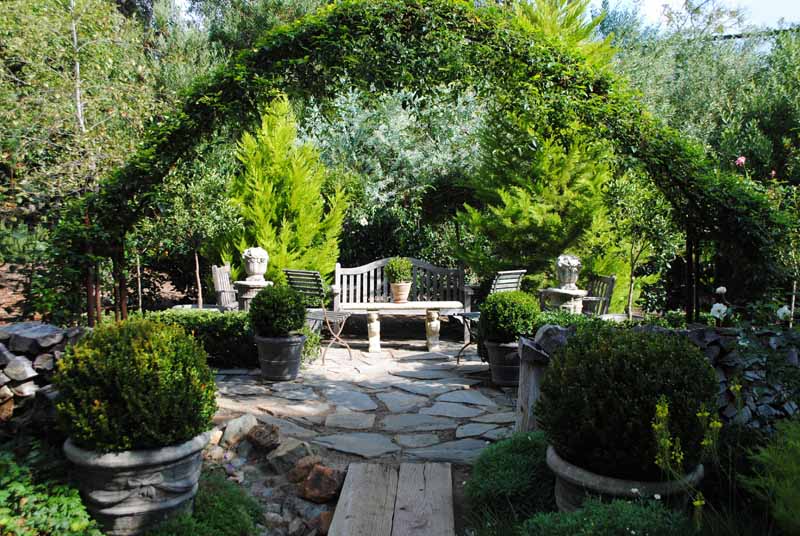 Lani uses a limited color palette in her garden (monochromatic), mainly choosing plants in the green family.  While it may seem simple to do, it isn't always so easy.
It can be quite challenging to create a successful monochromatic garden such as this, requiring a skillful blend of a color's subtle variations as well as foliage size, form, texture, etc.
Colors ranging from cheery chartreuse to the restful tones of dark green help create an overall feeling of lush serenity.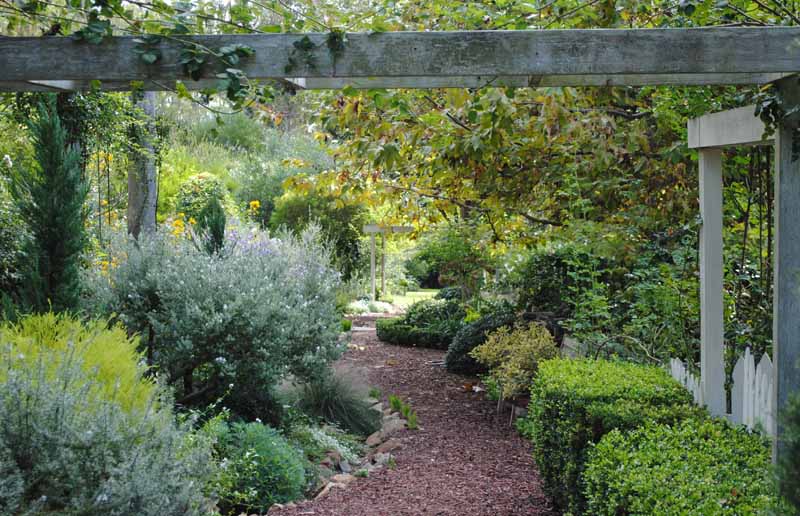 Many people are afraid to try their hand at creating a monochromatic garden for fear of it becoming boring – but you can see from these photos it's anything but!
To keep a limited plant palette exciting it's important to not only mix in various shades of green, but the occasional gray-green as well.
The silvery color helps break up the sea of green, adding much needed subtle (yet interesting) contrast.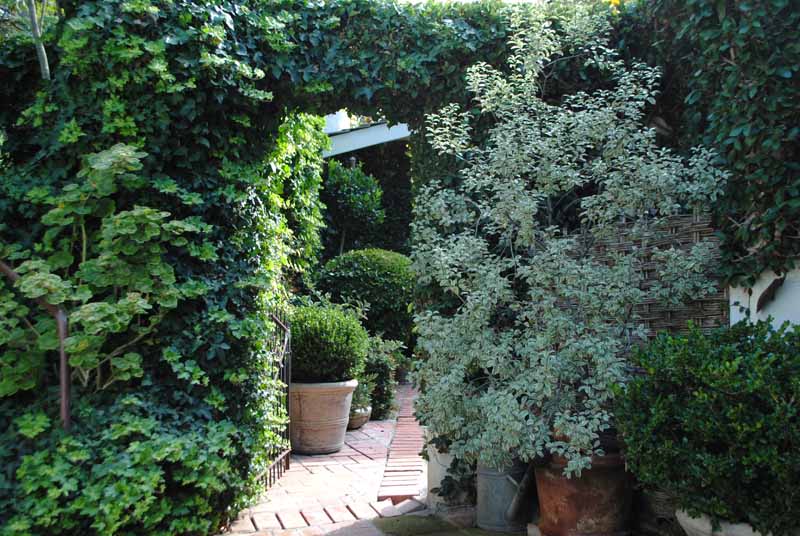 Silver is especially important when using a combination of very dark greens.
While dark greens are beautiful, creating a lush and elegant atmosphere, if you use too many they can begin to all blend together.
The gray-green of this pittosporum helps to add a jolt of excitement to this alluring combination.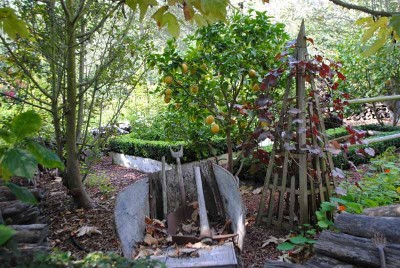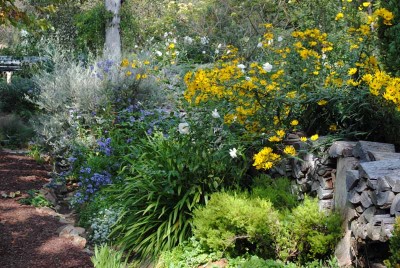 Lani isn't a purist, however, and in addition to all the greens in her garden she has strategically placed a few colors such as yellow and blue, to cheerfully mingle throughout.
The colors are placed near one another, such as the yellow flowers of the helianthus on the right side of the path which mirrors the yellow lemons on the left side, creating an overall effect of perfect harmony and balance.

Lani is an artist in so many areas of her life.  After meeting her for just a few hours it's clear she's a very special woman who has touched many, many people.
To give you an example, when she taught grade school she would have her students read Linnea in Monet's Garden.  At the end of the year, Lani took them to her garden to relive the experience of a Linnea in a true Provencial style garden.   Lucky, lucky children!
Many of these children remained friends with Lani through the years and as adults, have returned to the garden (some even getting married here!)  Lucky, lucky grown-ups!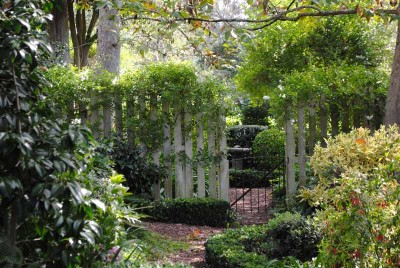 Throughout her expansive garden are many intimate garden rooms secretly carved out among the boxwood hedges, each containing seating areas and charming vignettes.
This garden is not one that you want to zip through, but rather one that you want to spend an entire afternoon (or two!) slowly savoring every detail.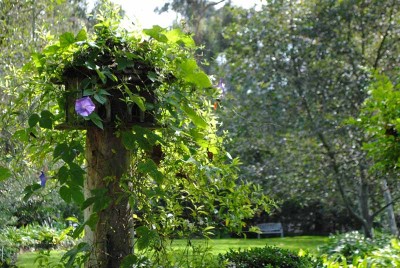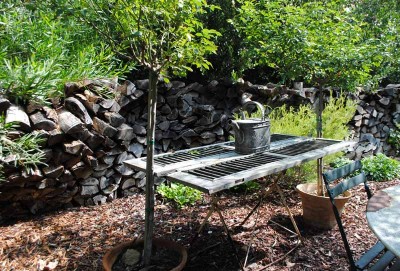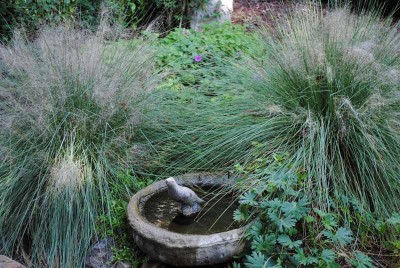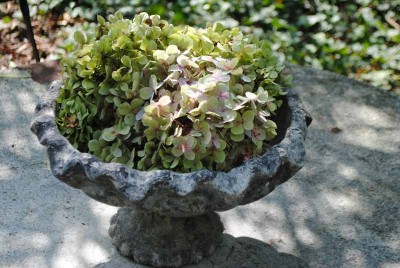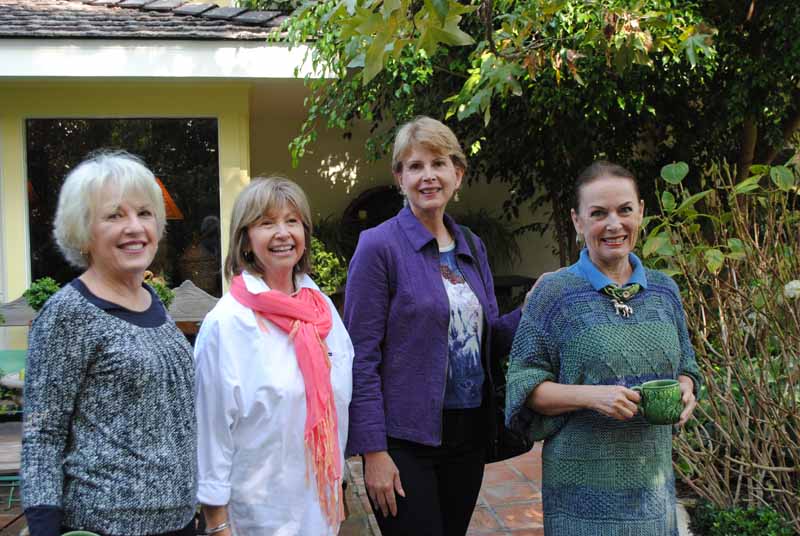 These are the lovely ladies whom I toured the garden with – all delightful, all very special to me.  From left to right: Phyllis Flood, Devonna Hall, Debra Lee Baldwin and Lani Freymiller.
I'm so thankful to have been brought into their world for the day!