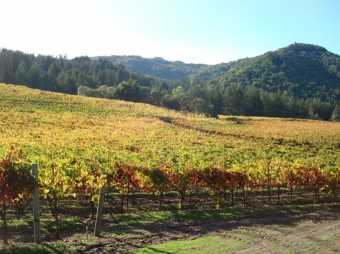 Nothing is more beautiful to me than Sonoma in the fall.  While spending this past weekend there, soaking up the breath taking beauty of the vineyards, we decided to spend an afternoon at Beauty Ranch, the ranch created by noted author Jack London. I wasn't sure what to expect, and left there totally amazed.
Sure, most of us remember him as the author of 'Call of the Wild' (among fifty or so other books) but did you know he was also one of California's first advocates of sustainable farming?
Seriously!  In 1905, Jack London purchased his first few hundred acres in Glen Ellen, knowing absolutely nothing about farming.  In a letter to a friend, he wrote:
."I bought the place to live and write in.  The region was a back-water district.  Most of the ranchers were poor and hopeless, no one could make any money ranching there, they told me.  I am rebuilding worn-out hillside lands that were worked out and destroyed by our wasteful pioneer farmers.  I am not using commercial fertilizer. I believe the soil is our one indestructible asset, and by green manures, nitrogen gathering crops, animal manures, rotation of crops, proper tillage and draining, I'm getting results which the Chinese have demonstrated for forty centuries."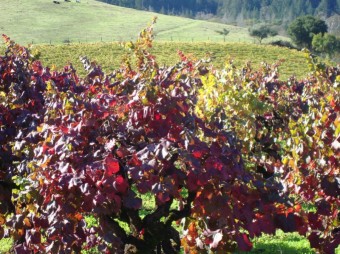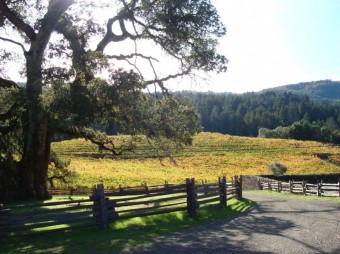 Over the next dozen or so years he bought hundreds of acres, accomplishing his goal of becoming a scientific farmer, a 'green' visionary (before the word 'green' meant anything but the color), creating the West's perfect model of sustainable farming.  He raised healthy and happy prize-winning breeds of pigs and steer, organically grew their own feed and recycled their manure to fertilize his fields.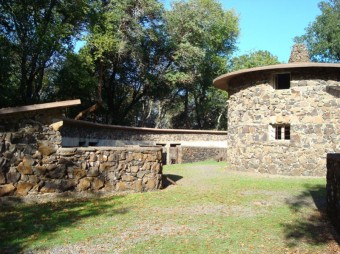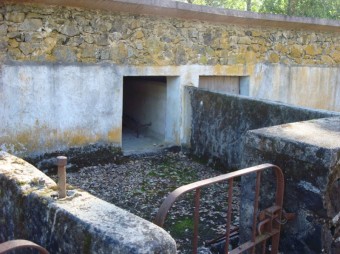 Jack London was sensitive to the needs of his animals, as well as the land.  In 1915 he created the 'Pig Palace' (a term the media used to mock his innovative idea) where his prized Duroc-Jersey hogs were allowed to roam in their own private indoor/outdoor pens, basking in the sunshine if they chose.  This pig-pen was also created with a circular, central feeding tower so one person could maintain all 17 pens – thereby reducing the required labor force needed to maintain close to a hundred animals.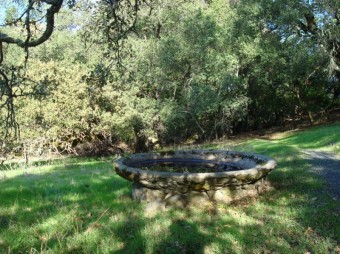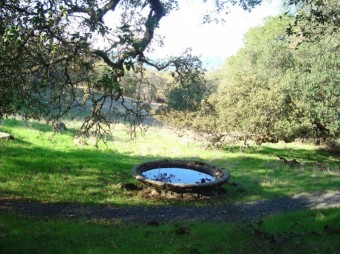 Jack also raised Bulls, which freely roamed the land.  I love the water troughs which are still present on the land….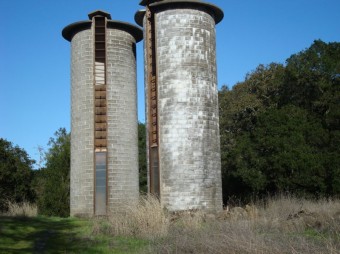 To house the feed he grew on the land, he created these two massive silos (the first of their kind on the West coast), cast of hollow-core concrete blocks and filled with recycled green silage from the shredded corn stalks.  The corn fed the pigs, while the stalks fed the dairy cows.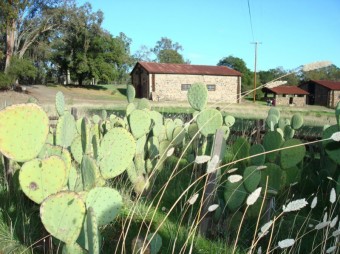 Jack and Luther Burbank were great friends – both admired and respected eachother's agricultural and horticultural efforts.  Mr. Burbank developed a spineless Prickly Pear Cactus (opotunia avalon) that he promoted as cattle feed, and which Jack decided to raise and use himself.  Unfortunately, this variety of cactus proved an un-reliable source of food as it required irrigation for quick growth, and some of the plants eventually grew back their spines.
These are some of Luther Burbank's original remaining spineless Prickly Pear cactus.  Another interesting feature is in the background of this photo.  The small, middle building is a manure barn, where animal waste was stored for later use as fertilizer on the fields of the ranch – a radical concept for the 'new' Western farmer at the turn of the century.
If you visit this Ranch, make sure you allow plenty of time to see the ruins of his dream house (called 'Wolfe House') which mysteriously burned a month before Jack was to move in.  It's a few miles from the working ranch, deep in a Redwood grove.  Along the way, you'll pass many of California's gorgeous natives….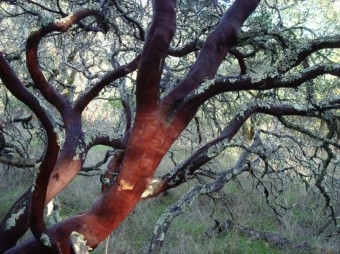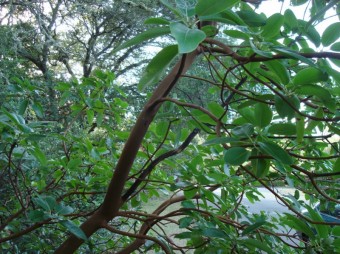 Towering Manzanitas (Arctostaphylos)…… as well as our native Madrones.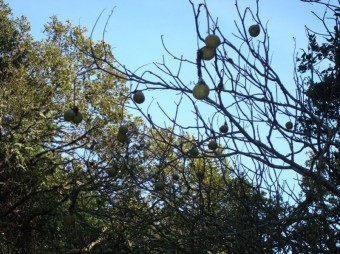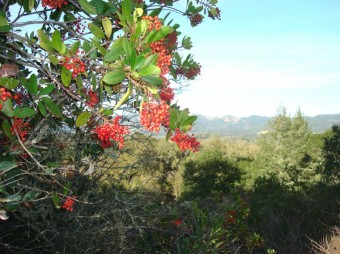 California Buckeye trees(Aesculus californica)……and our native Toyon (Heteromeles arbutifoliad)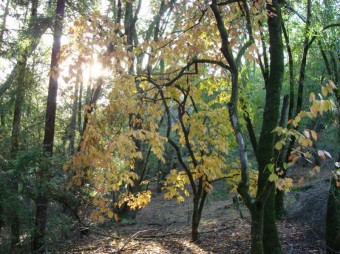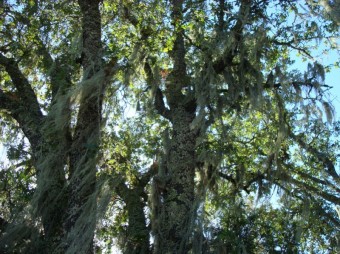 A native Dogwood, backlit by the sun…….and tons of Spanish moss dripping from the Oaks
The further you keep walking towards Wolfe House, it becomes a totally different climate.  Here, it's truly magical – the moist, cool air from the redwoods allow ferns, lichen and moss to grow on anything and everything which isn't moving…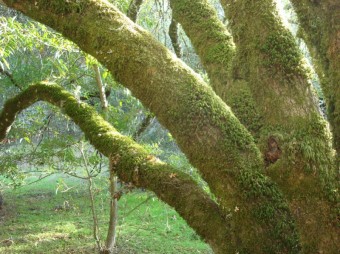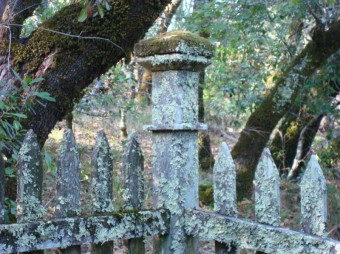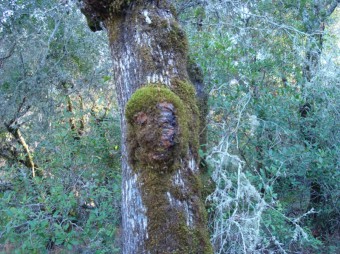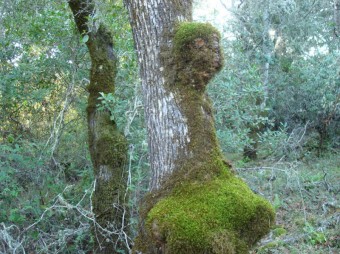 Is it just me, or is this the scariest clump of moss on a tree?  I swear, I see a face in it!!!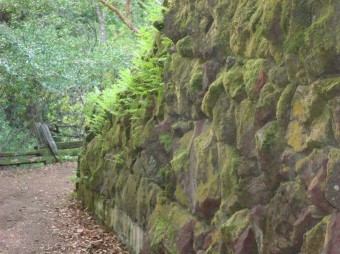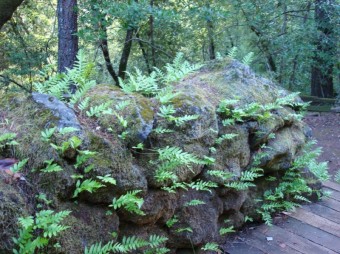 Once you reach the massive ruins of Wolfe House (15,000 square feet in all), you become aware of the absolute silence of the forest.  I am NOT making this up – the day we visited, we were the only people here, and upon arriving at the ruins, all we could hear was 'caw-ing' of a lone crow in the top of one of the Redwoods, it's cry echoing among the trees. Very surreal, indeed.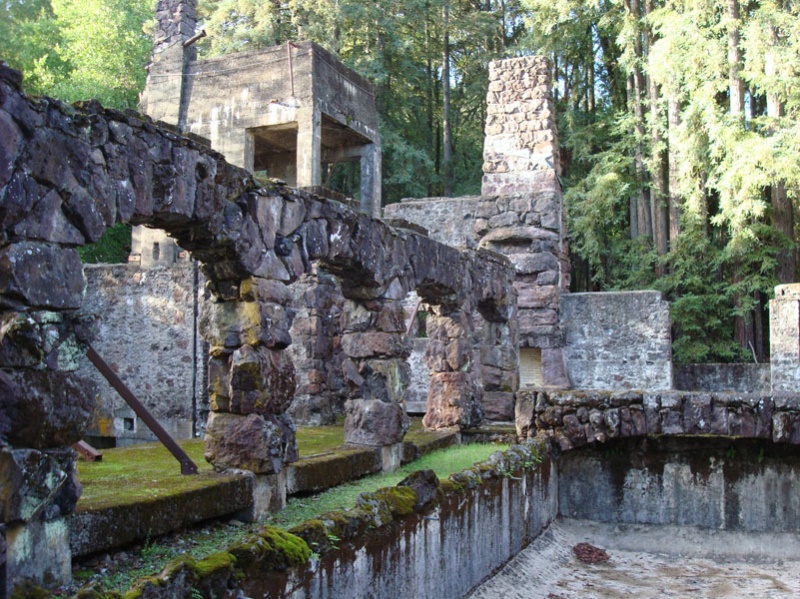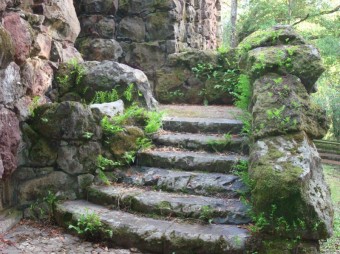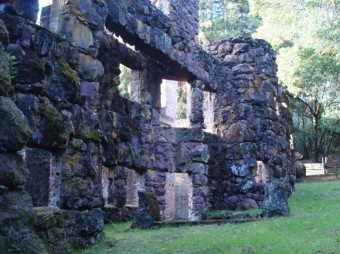 The most amazing thing of all?  This man's accomplishments were done within just a few decades, for he died when he was only 40 years old.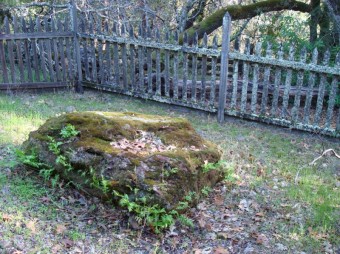 Just up the hill from the Wolfe House ruins, beneath this massive stone, is Jack London's grave.  Two months before his death, he wrote this poem, which I think sums up his brief, but impressive life:
'I would rather be ashes than dust.
I would rather that my spark should burn out in a brilliant blaze than that it should be stifled by dry-rot.
I would rather be a superb meteor, every atom of me in magnificent glow, than a sleepy and permanent planet.
The proper function of man is to LIVE.  I shall not waste my days trying to prolong them.  I shall use my time.'