.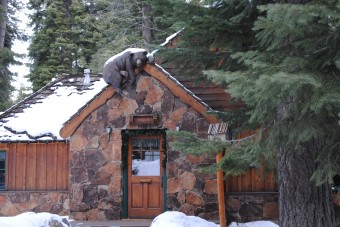 Living  here in California can be exhausting for a gardener – specifically here in the Bay Area, where our average Winter temperatures only dip down into the 30's.  Our gardens are pretty much year-round here and always in some state of 'workability' in the Winter, always staring you in the face asking when you're going to come on out and tend to it.
.
Right this minute, in fact,  I have many shrubs giving me a guilt trip as I walk out to get the mail – I swear I hear them saying "what can you possibly be DOING inside?  You KNOW there's work to do out here"  Now, mind you, I love my garden.  I love (almost) all aspects of taking care of my garden – but COME ONE…everyone needs a break now and then…I'm TIRED!  I'm really craving a bit of Cabin Fever right about now!
.
Part of me really envies those of you who live in snowy climates, as you get to take a break and sit back and catch your breath….sharpen your garden tools, clean your house, organize your drawers, read a book perhaps.  Or something we don't do nearly enough – just sit back and admire the structure of your garden.
.
I just returned from a week at my parent's home at Lake Tahoe – where I finally got the chance to just RELAX. While taking long walks in the forest,  I was struck by just  how beautiful nature is in the snow….how the snow highlights the structure of plants and trees and how dormant plants can really shine when there's so much WHITE everywhere.  Very interesting and beautiful, and very different from our typical colorful, green and busy Winter gardens back home.
.
It really became apparent how much Mother Nature's own landscaping influences the way we garden.
.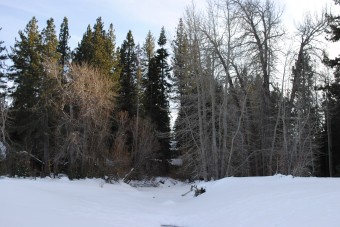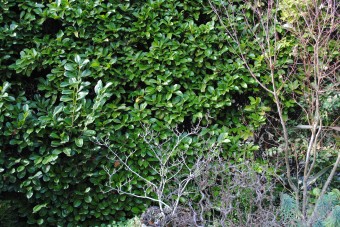 .
.
For instance, the combination of trees above is an example of how I've created my own garden…large evergreens in the back, with deciduous trees on the side and in the front.
.
.
Or, how the soothing repetition of the lake's ripples reflect our desire for swaths of mass plantings in the garden.
.
The the straight lines of these icicles mimic the lines of this Chondropetalum – one of my favorite plants…
.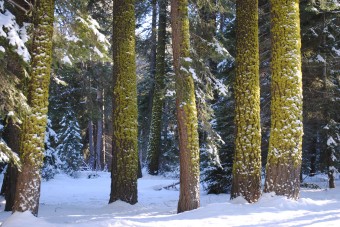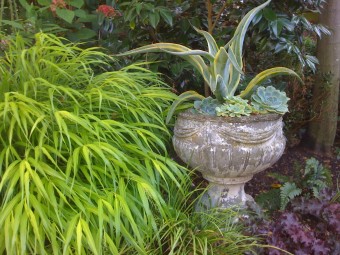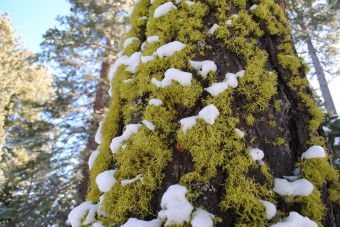 .
.
And no wonder I have so much chartreuse in my own garden…I've grown up collecting Wolf Moss from the trees of Lake Tahoe and have always adored the bright and happy color.  Nothing is more visually exciting than to walk in a winter-white forest and come upon this techni-colored band of trees!
.
.
.
When so much is covered up by the snow, you begin to notice different aspects of plants – like their form and color.
.
.
The way the white snow and blue sky sets off the yellow branches of the Pussy Willow is stunning – without all of the white around, the yellow color would surely be lost….
.
.
The same holds true for the red twigs of the native Dogwood…adding much needed color to the landscape.
.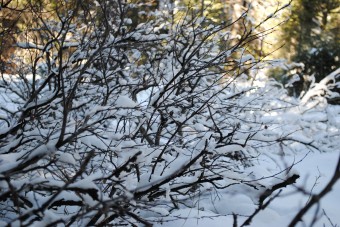 .
.
An ordinary tangle of branches all of a sudden looks quite artistic with the snow accenting it's structure…
.
.
.
.
.
.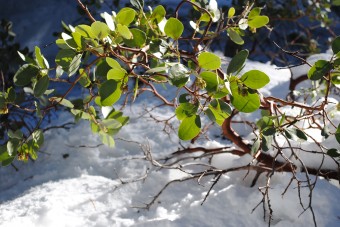 .
.
As does this oh-so-common native Manzanita…it's red bark really stealing the show this time of year.
.
.
.
.
.
.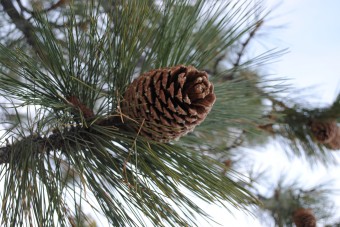 .
.
But Oy Vey!  It's the pinecones that really steal the show for me. The texture of the needles just glow in the sunlight, with these little bursts of brown happiness at the ends of their branches…
.
.
.
.
.
But it doesn't stop with plants – even common, every-day structures all of a sudden take on an inherent beauty and now's the time when you start to notice the detail in gates, pillars, bridges….
.
.
Ahhh….it was a nice break.  Pardon me, now as I must be going….I have a ton of gardening to do…..
.