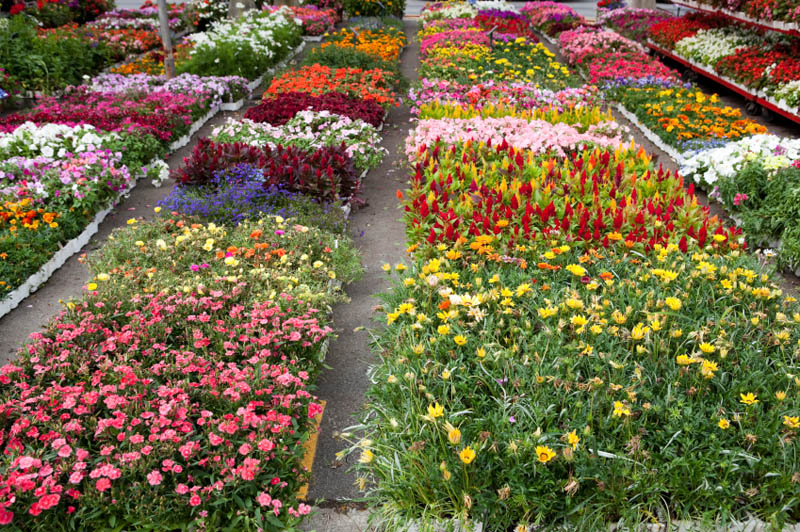 I was having a conversation with a new client the other day, and she was asking me how I go about designing a garden.  As we walked through her existing garden, she was afraid it was too early in the year for me to really get an idea of what it looked like, since so many of her plants were still dormant.  She was surprised when I told her that the timing was actually perfect, for it was now that I can really get a good look at what her garden looks like before her mass of bulbs and annuals begin to take over.
Whenever I design a new garden, with each plant I choose, I try and imagine how it'll look in the middle of winter.  I do this for a few reasons:  1) it's fairly easy to have a garden that looks great in the middle of spring or summer, but it's not so easy to have something interesting to look at in the middle of January, and 2) because we live in such a mild climate, there are tons of plants that we can choose from that'll look fantastic year-round.
This client of mine is especially excited about planting her garden, and has already paid several visits to the nurseries, loading up on flat after flat of spring annuals.  I completely understand the overwhelming urge to buy one of everything right now, as the rows of brightly colored poppies, ranunculus, anemones and pansies are all screaming for your attention.  But I've had to tell her to "slowly set your wallet down and step away from the cash register" until I've had time to finish her design!
Which brings up a really good point.  Before your garden begins to spring into action again this year, consider taking a good hard look at it right now.  Are you happy with it?  Or does it look more like a winter moonscape, with way too many deciduous plants.  If so, a few strategically placed evergreens will help solve this problem.
To help give you a little inspiration, here are a few of my favorite examples from my own garden, that help it look great year-round.
Foxtail Fern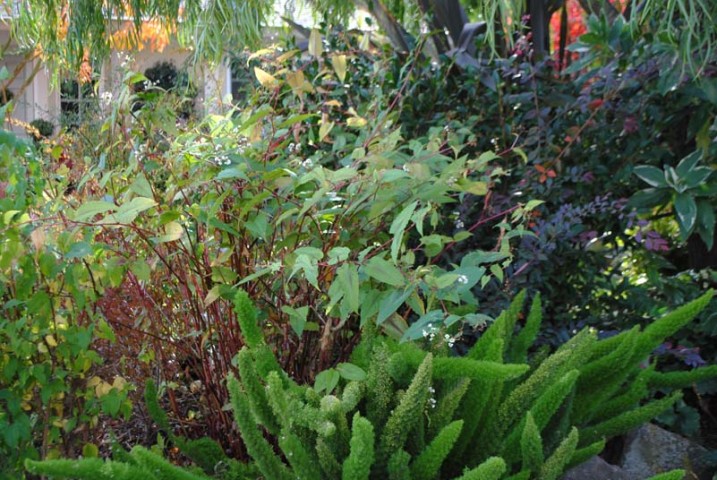 I'm a huge fan of the Dr. Seuss-like fronds of the Foxtail Fern (Asparagus meyeri).   I not only love its shape, but because it also does such a great job of filling in the gaps when I cut my Persicaria (the tall, green-leaved plant behind the fern) to the ground.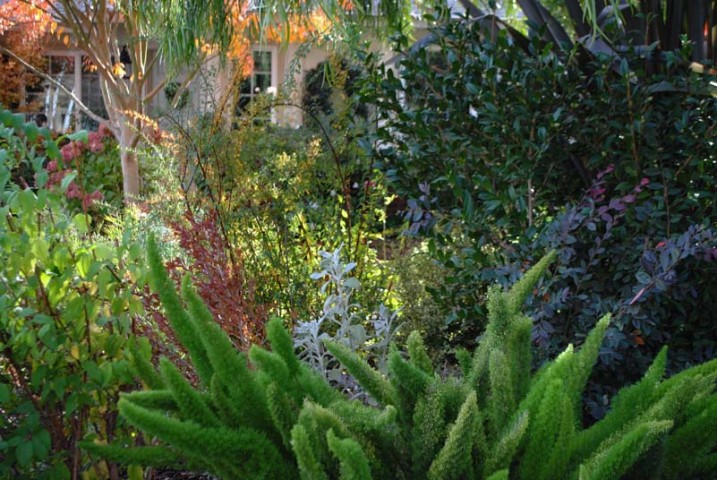 And once the Persicaria is asleep for the winter, the bed still looks good thanks to the fern.  Other evergreen plants that help fill in the whole are the nearby Loropetalum and Camellia.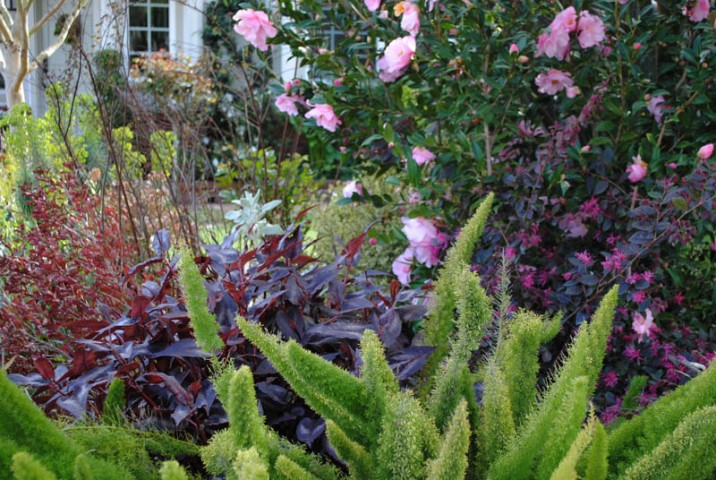 Once the Persicaria's deep maroon new growth begins leafing out in the early spring, look out!  The bright green of the fern's fronds, combined with the nearby burgundy foliage and pink, pink flowers of the camellia start the show all over again.

Euphorbia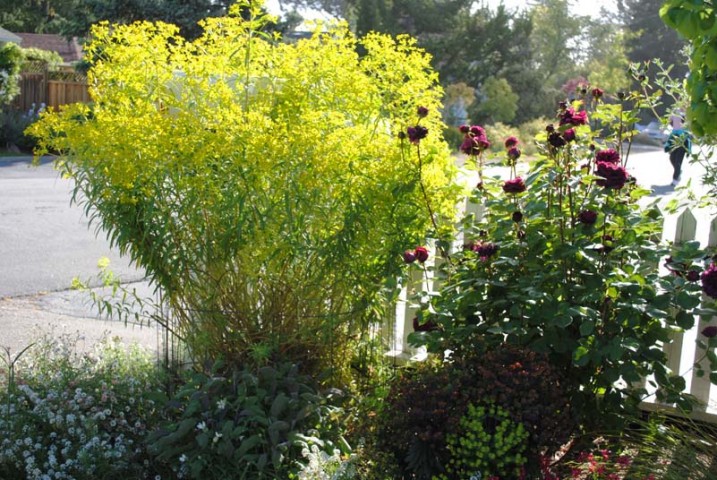 One of my very favorite plants of all is the giant euphorbia ceratocarpa, which towers over 6-feet tall and is covered with acid-yellow blooms from April through July.  It's cheery yellow blooms are breathtaking next to the deep purple flowers of  'The Prince' rose.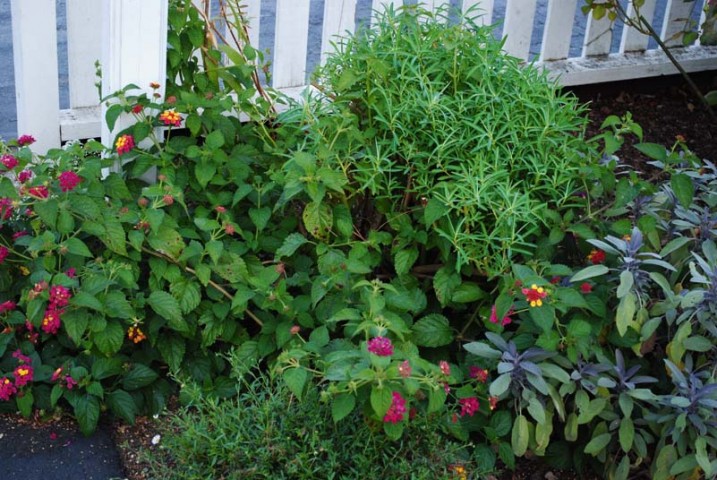 This euphorbia would actually continue holding its blooms through the entire summer but I always cut it back by July to prevent it from becoming too leggy.
Another reason I prune in July is the nearby blooming lantana and purple salvia (which is in full bloom at this time) will completely disguise the 'hole' left by the euphorbia's absence.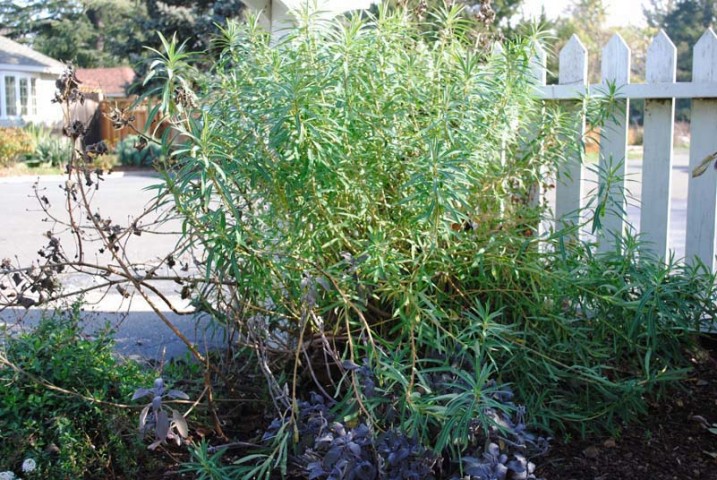 The tough and hardy euphorbia quickly begins to grow again, looking quite lovely throughout the entire winter, in turn masking the unattractive, dormant lantana.
A win-win!


Want to see a little more?  Click here to see how I disguise the hole left by a pair of giant deciduous Hakone grass.