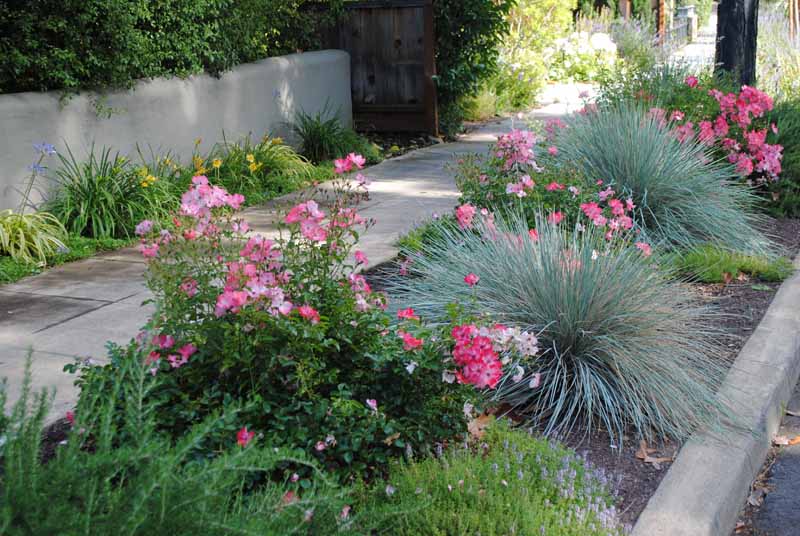 Let me state up front that I'm not a hater when it comes to lawns.
There, I've said it.
If you have a lawn and you or your kids actually use it, then it's A-okay in my book.
Especially if you don't saturate your garden with chemicals to keep your lawn weed free and in tip-top shape at all times.
However, in California's Mediterranean climate (where water is such a precious commodity), planting a lawn where it'll never truly be enjoyed doesn't make sense.
Why waste valuable water and energy when you can plant something that can provide edibles, flowers, year-round interest, and attract beneficial insects?

To help you get started down this lawn-free path, join me in this month's Garden Designers Roundtable, where the topic is 'Lawn Alternatives' for your garden.
For my part today, I'm focusing on the area between the sidewalk and the street, lovingly known as the hellstrip.  This area has so much going against it that it's hard to imagine anything thriving here.  Which is usually why people give up and just plant water-thirsty lawn.
1.  Why is this section called a hellstrip, anyway?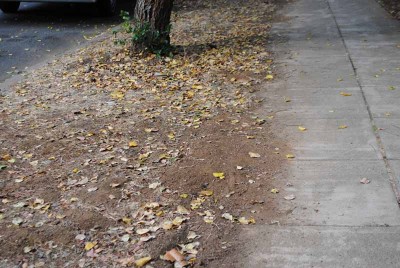 Well, one reason is that due to years of neglect and compaction, this rectangular patch of dirt typically contains little to no nutrients and has the consistency of cured cement.
Additionally, this area is surrounded by the hottest, heat-reflecting surfaces in the landscape – asphalt from the street and concrete from the sidewalk.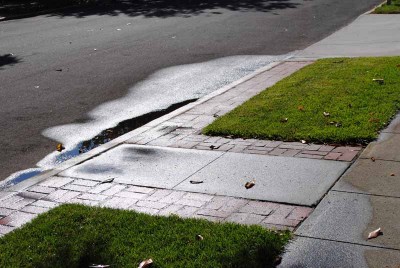 And, when planted with lawn, the shape of these rectangular strips are inefficient (and expensive) to irrigate, causing water to be wasted on the sidewalk and street.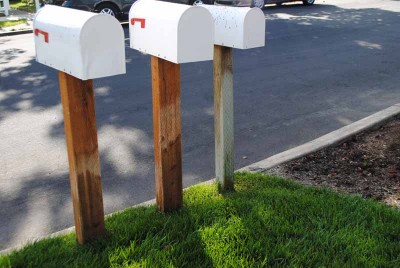 Another reason lawns are a crummy choice for this area is it's challenging to mow around the mailboxes or fire hydrants share this space.
To make matters worse, these strips are usually owned by the city but are expected to be maintained by the homeowner.
Just to be safe, before planting anything you might want to check with your local ordinances.  You'll probably hear the typical common sense suggestions not to plant anything too high or too large that might obstruct views of traffic or pedestrians.    So what's the solution?   Read on…..

2.  Designing your hellstrip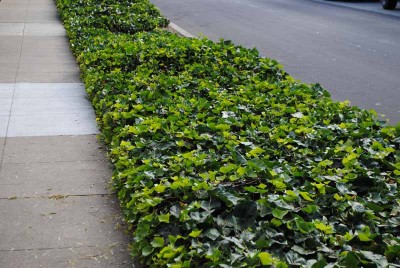 To begin, you'll first need to amend the heck out of the soil to replenish much needed nutrients.
Then comes the fun part – thinking  about your front garden and how you can extend it to the street.
I'm not talking about simply planting ivy and calling it a day (though that would be better than lawn since it doesn't require as much water).
I'm talking about using similar plants and colors that are already planted in your front garden and extending them all the way down to the street.

But keep in mind that the city owns this section of your garden and can do with it as it pleases.  You don't want to plant precious, expensive plants here but instead plant hardy, inexpensive ones that you can easily replace if needed. (click here for a sad, but true, story.)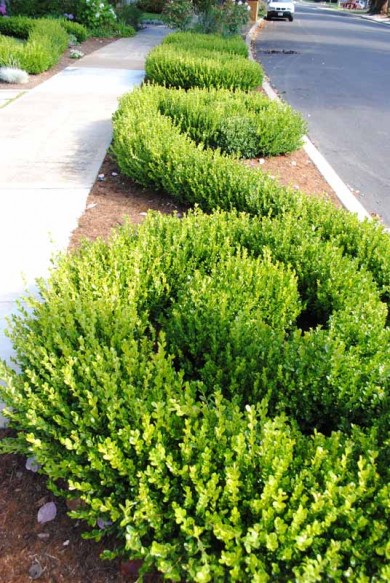 Keep a consistent style within this strip to help it blend in with the rest of your garden.
For example, if your garden's style tends to be formal, why not add a boxwood knot garden in this area?  Boxwood is a perfect choice as (depending on the variety) it's compact, evergreen, low maintenance, and doesn't chug tons of water.
When planting in this narrow strip, make sure you use plants that are friendly to legs.  No one wants to walk their dog and be impaled by an overgrown barberry's thorns!

Instead, choose plants that will remain a tidy size, and are soft if brushed against.
Examples might be smaller grasses such as melinis nerviglumis or pennisetum 'Red Bunnytails', the many varieties of carex (c. 'Evergold', or c. divulsa for example), mounding heucheras, or low-growing perennials.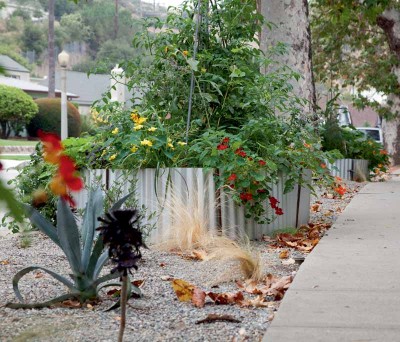 And don't forget edibles!
Since this area is generally plagued with blistering heat, why not take advantage of it and use plants that love the sun?
Edibles are a perfect choice, and while they may require as much water as a lawn does, they give you SO much more.
Take a look for yourself at Ivette Soler's very public and very edible hellstrip.
3.  Pathways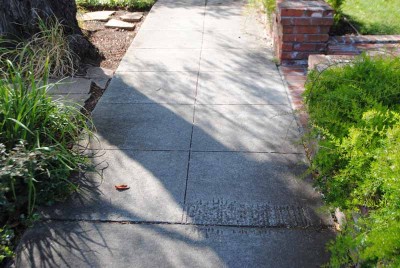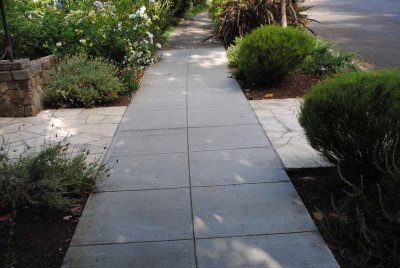 Keep in mind that you really should create some type of pathway from the street to the sidewalk.  Otherwise, how will people get to your front door?
Believe me when I say that people will take the shortest route possible to get from Point A to Point B, which usually translates into tromping through your newly planted area.  Create a wide and stable pathway, and you won't have this problem (yes, even on Halloween).
When creating the pathway, keep your garden's overall design consistent by using the same material on both sides of the sidewalk.  For example, if the path to your front door is brick, don't use flagstone in the hellstrip as it'll end up looking fragmented (especially considering the big swath of cement from the sidewalk that already bisects your pathway.)
Two hardscaping materials are plenty – don't add a third!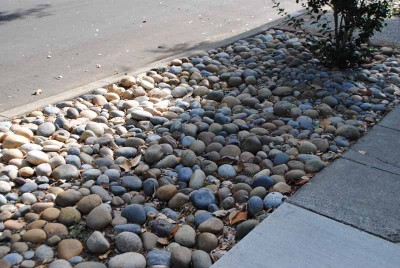 I also see a lot of river rocks as a no-lawn, no-hassle solution. While, yes, this is low-maintenance, it's also an ankle-twister.
Think about your poor visitors who pull up along your curb at night and step out of their car.  Not a good thing (especially if they're wearing sandals or high-heels!)
And finally, need more inspiration?  Here's a few more examples of hellstrips planted without lawn: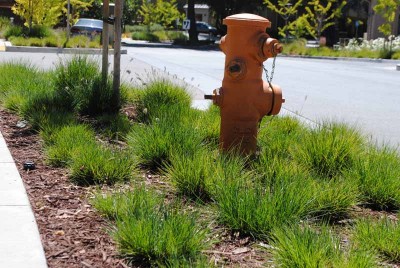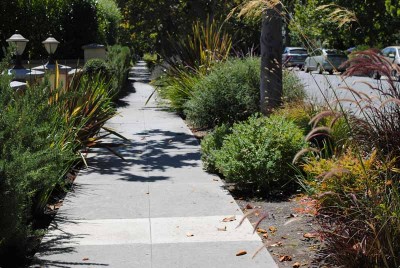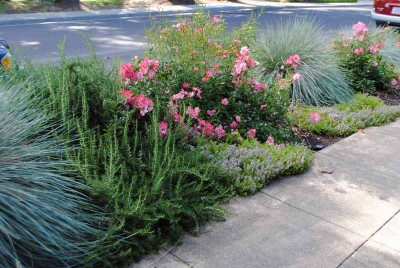 Nicely pruned to stay out of a pedestrian's way, low maintenance AND low water.  Do you still have lawn or river rocks in your hellstrip?  If so, what are you waiting for?   It's time to transform this final frontier of your garden!