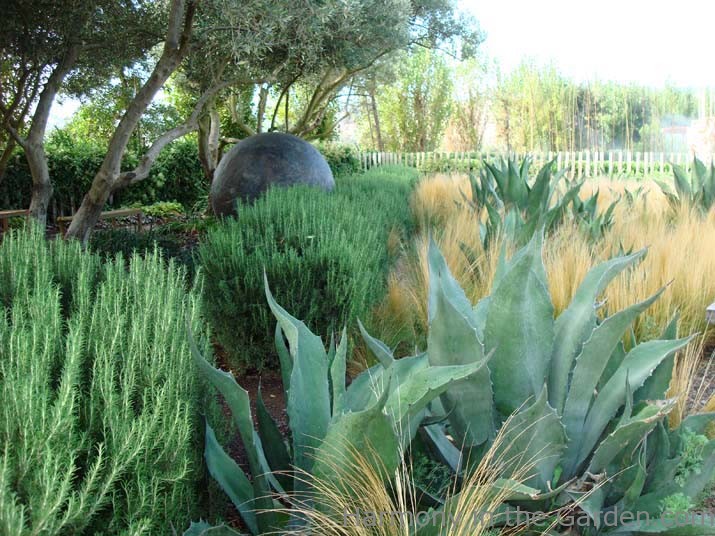 As a landscape designer and garden writer I see lots and lots of gardens. And while I'm a huge fan of personalizing your garden with whatever art captures your heart, lately I seem to be drawn to selectively placed, oversized sculptures.
I think this is because my own life is so hectic right now, and I crave the calming effect  these sculptures have on my whirling and tired brain.
My favorites are those larger-than-life sculptures that are strategically situated in the garden, without distraction from nearby plants, structures or any other elements.

Meadows or expansive stretches of lawn are ideal locations for bold pieces of art.  The negative space surrounding such a sculpture perfectly complements it, allowing the viewer plenty of time to peacefully take it all in, and to think.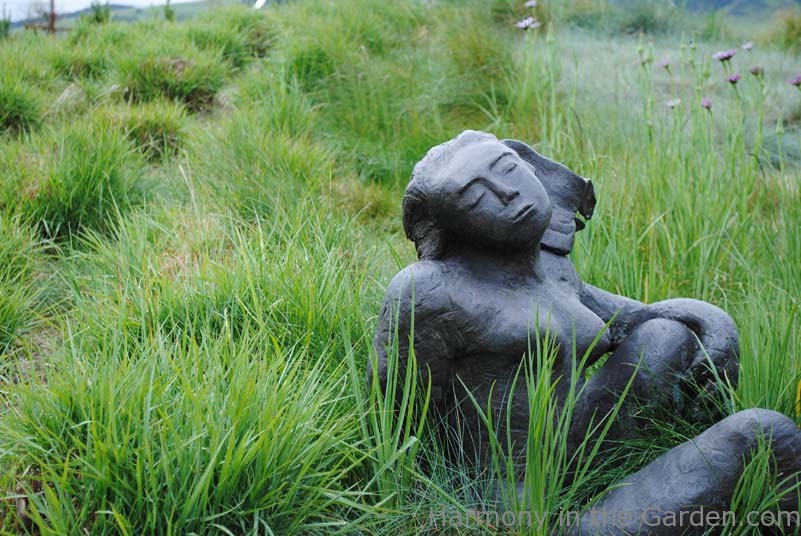 It's the scale and proportion of the art combined with large and open spaces that work so well together.
On the flip side, if you have a large garden open to the surrounding space beyond, think about how a small gazing globe would look – lost and out of place, right?
But a larger object, especially when elevated on a pedestal, stands up to the surrounding space beyond, neither competing nor distracting from its surroundings.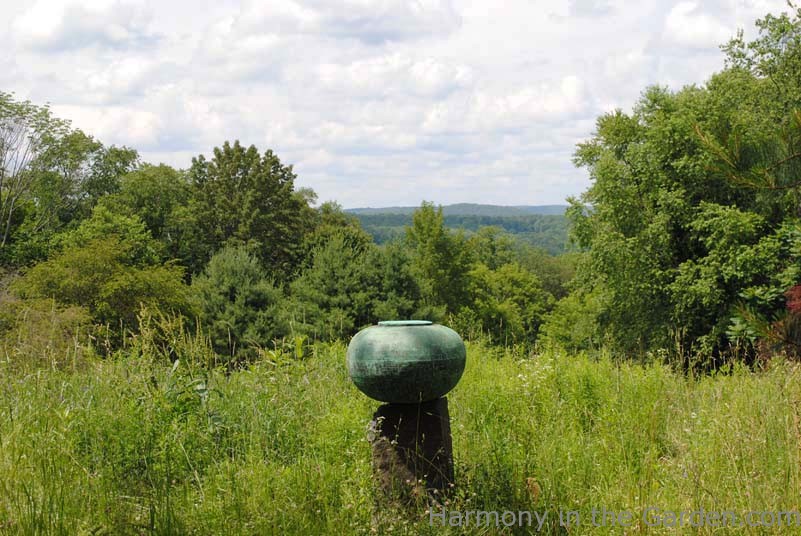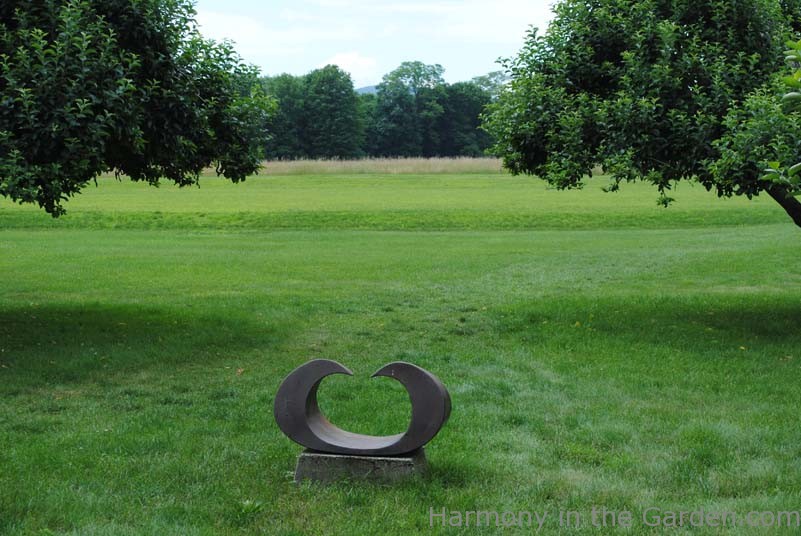 I especially love it when art imitates life, in a larger-than-life, overly-exaggerated sort of way.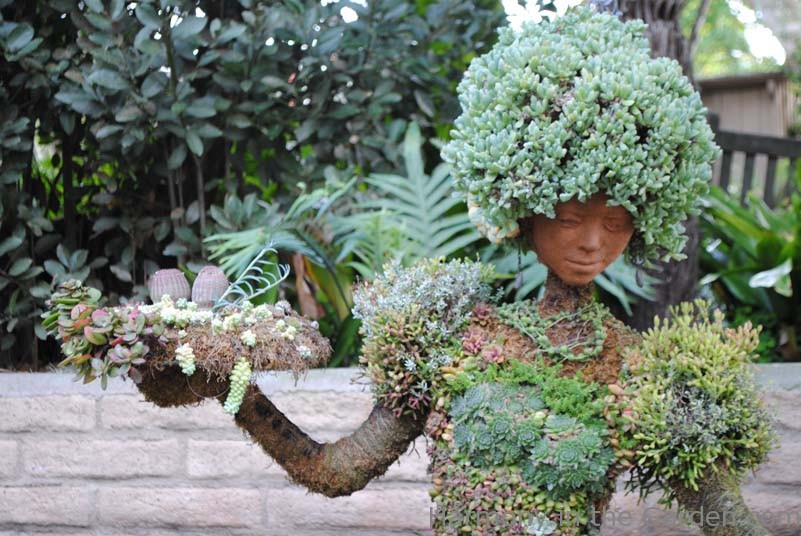 Like these colorful succulent musicians and dancers, created by Pat Hammer for the San Diego Botanic Garden.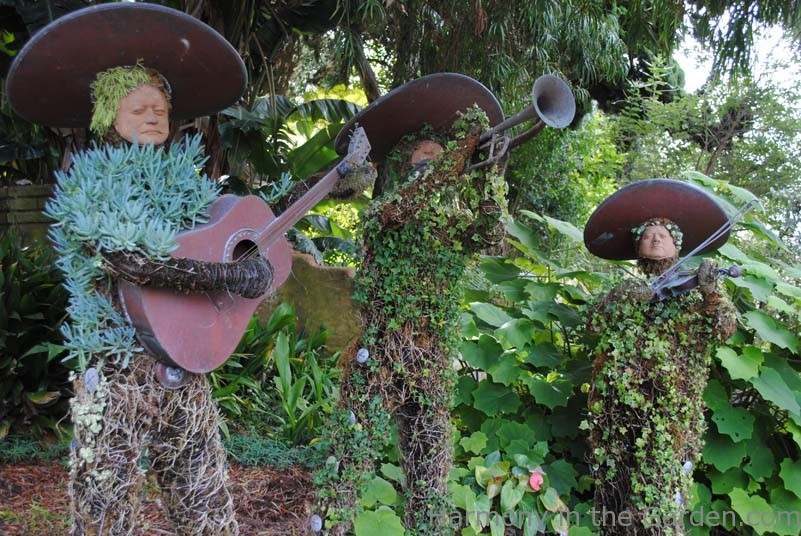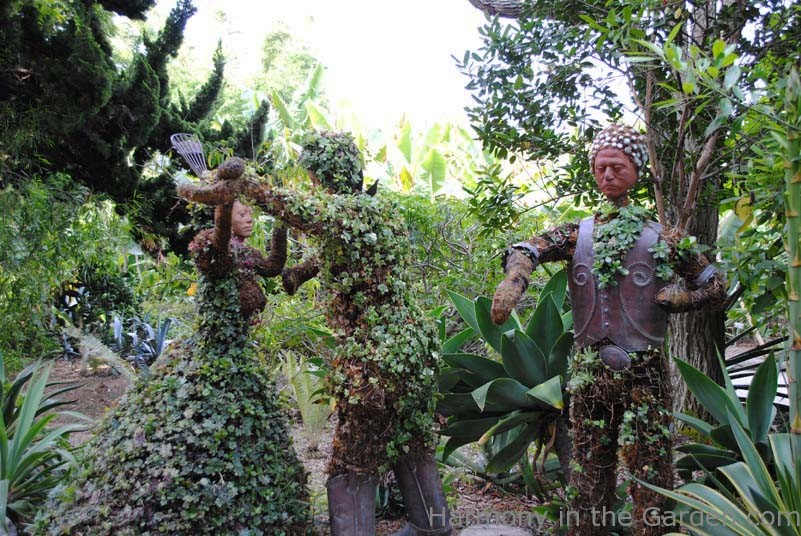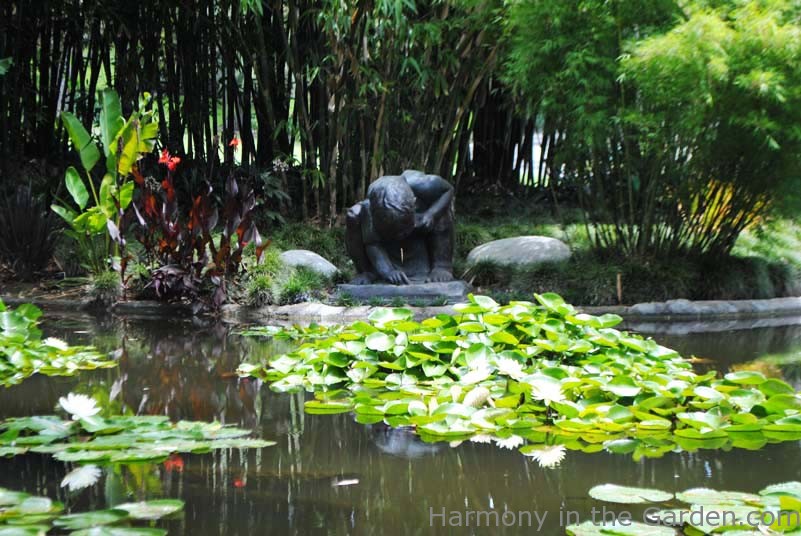 Or the bronze child crouched down examining everything the Huntington Garden's lily pond has to offer.
I must say, I found it particularly charming when directly across the pond was a little girl crouched in a very similar way, thrilled to see a turtle.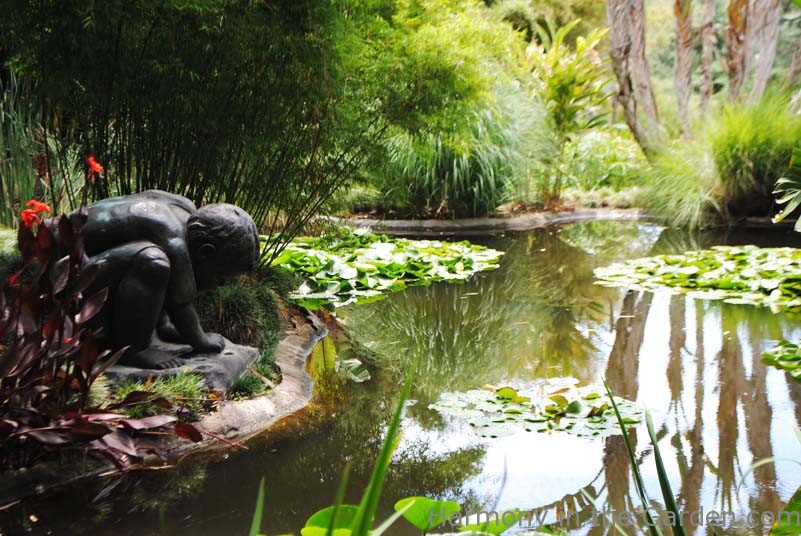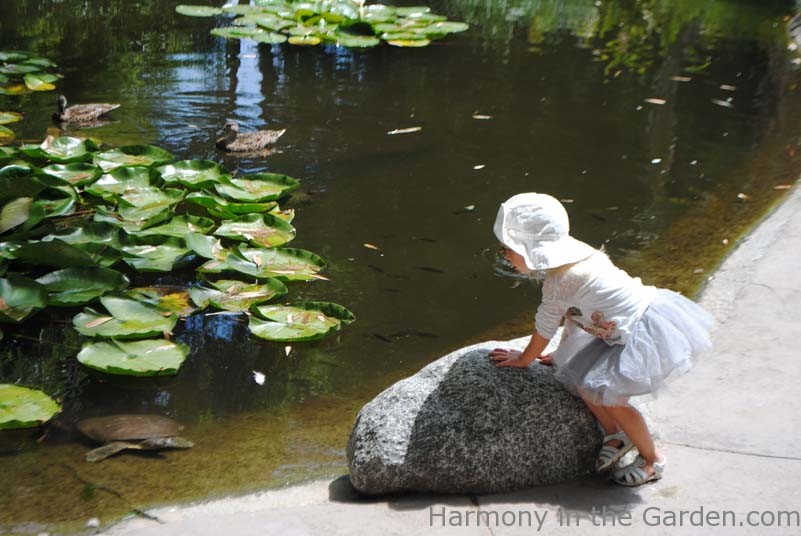 Sometimes my favorite sculptures are those that are purely whimsical.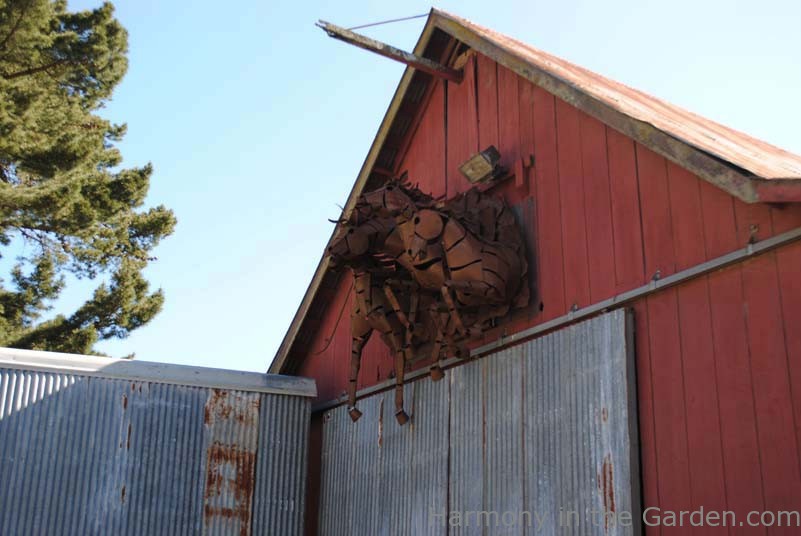 Like this herd of rusty horses bursting out of the top of this barn, discreetly tucked away at the back of Sun Studio's Pottery parking lot.
I love the fact that they're sorta hidden in an out-of-the-way area, just waiting for someone to discover them.
Such a delightful surprise!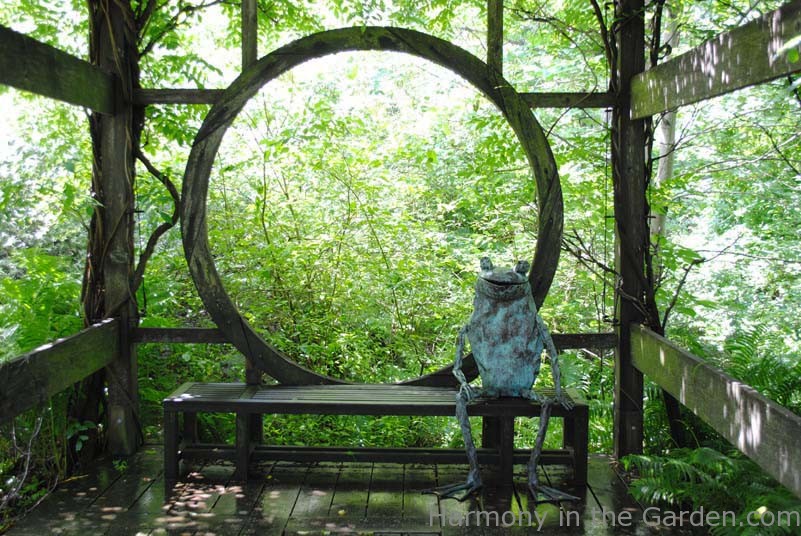 Or this frog at Stonecrop Gardens, just waiting for a child to sit next to him.
Normally I probably wouldn't fall in love with a frog like this, but the combination of the perfectly symmetrical little room he's sitting in and the sheer surprise of walking around the corner and seeing him here grinning away is nothing short of endearing.

Some of my very favorite sculptures of all, though, are those made by gardeners for their own gardens.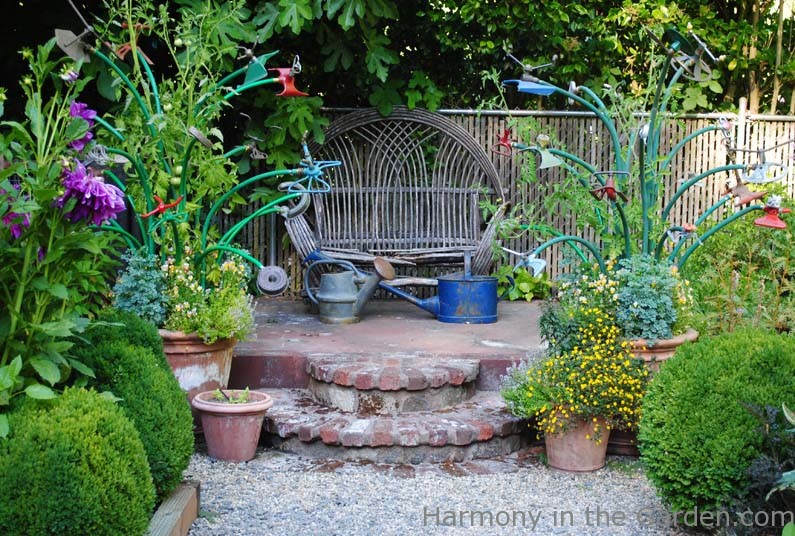 I've written lots about my favorite landscape designer and artist, Freeland Tanner, and never tire of seeing what new creations he's made for his Napa garden.
Like these sprinkler sculptures made from antique sprinkler heads.
Or the magic Freeland creates with empty terra cotta pots and a few garden tools.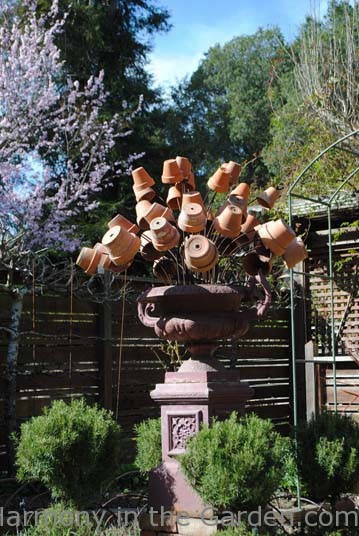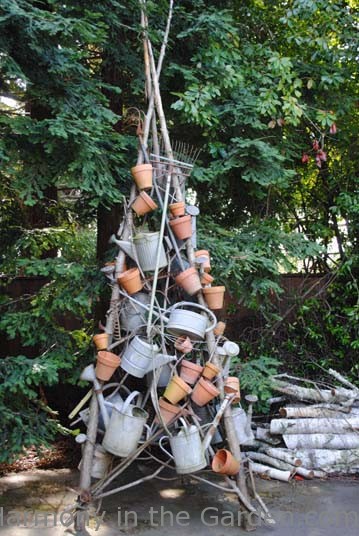 I'm curious – have you ever fallen in love with a piece of art in a garden?  If so, what was it and where?
I hope you've enjoyed my musings on sculptures in the garden!  Please make sure to stop by and visit the other members of the Garden Designers Roundtable to see what they have to say on the topic.
Susan Cohan : Miss Rumphius' Rules : Chatham, NJ
Jenny Peterson : J Petersen Garden Design : Austin, TX
Deborah Silver : Dirt Simple : Detroit, MI
Pam Penick : Digging : Austin, TX