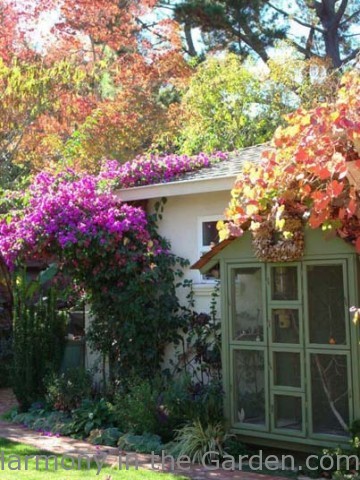 In this month's Garden Designers Roundtable, we have the honor of writing about our own personal gardens.
While this may seem like an easy post to write, it's actually been quite difficult for me.   How can I possibly share my garden with you in a way that conveys all that it means to me?
While trying to think about what I'd write I was suddenly overtaken by the need to lie down on my soft and comfy patio sofa for a while to take a nap help me think.
As I lay there with my eyes closed, I could hear my canaries happily singing their little hearts out in the aviary my husband built a few years ago. Mixed with their songs, my oversized wind chimes gently bumped together in the soft breeze causing deep, melodic sounds to resonate throughout the garden.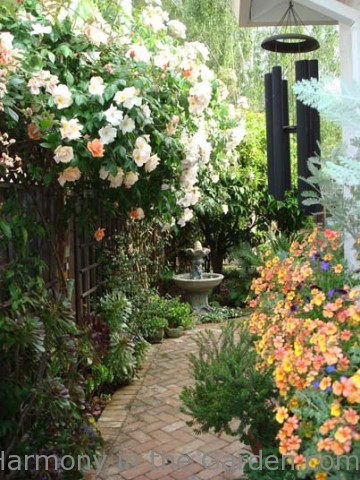 I inhaled the intoxicating scent of the blossoms from my nearby orange tree, mixed with the nearby philadelphus and star jasmine that's just now coming into their own.   It's with these soft sounds and delicious scents that I drifted off to sleep.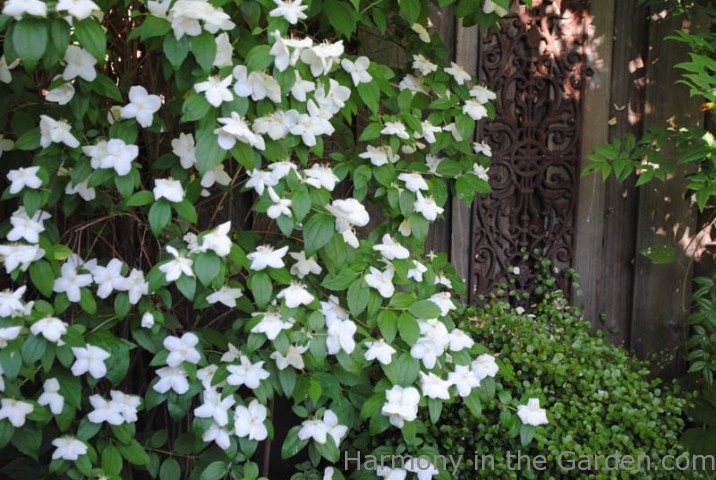 When I awoke, it dawned on me that this is truly a garden that I've created just for me.  It's warm and comfortable, filled with my very favorite scents and sounds that make my heart sing.  Everywhere I look there are mementos of my own childhood as well as my daughter's.  There are flowers that came from my grandmother's home, structures my father made, and stone walls lovingly created by my mother. It's an intensely personal garden and one that I'm happy to share with you….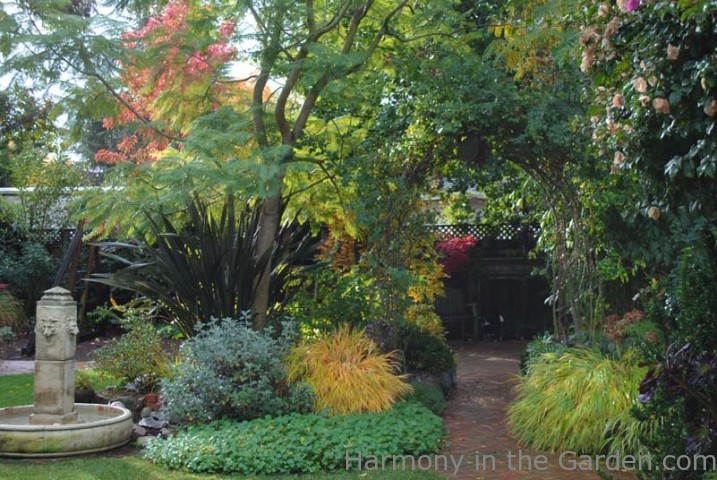 I've been a part of this garden since I was 10 years old.  Fifteen years ago, after my parents moved away, we bought this home and garden and I've been reinventing the garden ever since –  keeping some of what my parents created while adding my own touches.  Nestled in the heart of busy and crowded Silicon Valley, surrounded with houses that are just a little too close, my goal is to create a garden that feels secluded and private – a place where I can lose myself for minutes or hours.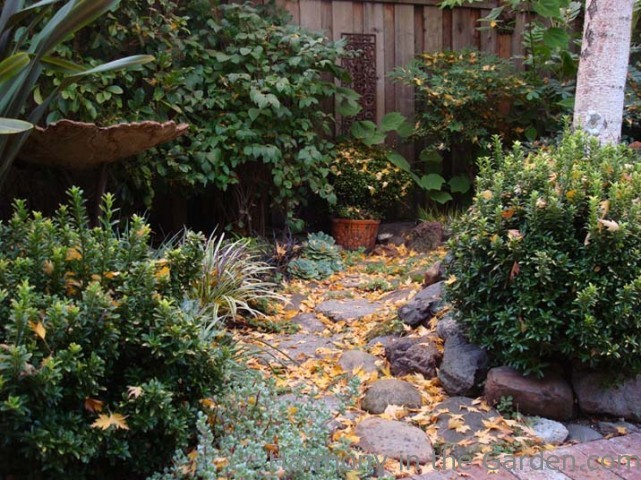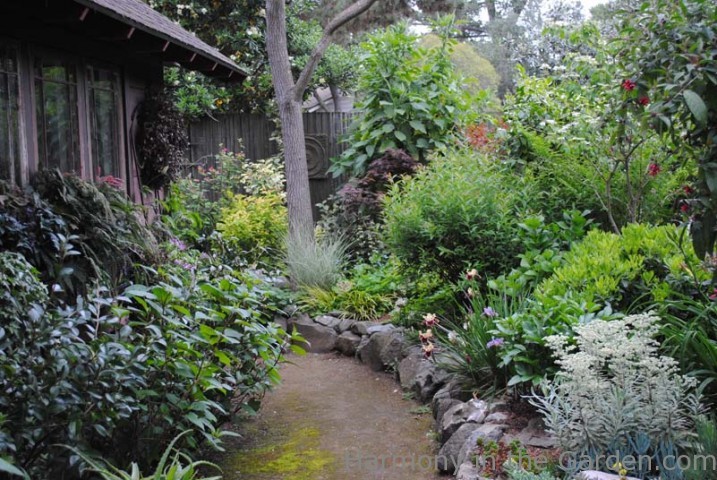 Because my garden is on the smaller side I've had to make every inch count if I wanted to include everything I desired.  By incorporating meandering pathways, broken up with the occasional seating area, I've been able to incorporate many different areas (whether fun or functional) without having my garden look disjointed.  The side paths are casual by nature, mostly loose set stone or pea gravel. However, the unifying element is the the main connecting pathway consisting of mortar-less brick.  Having a consistent material for this pathway helps tie together the many designated areas: the play structure area, the vegetable garden, my office, my aviary bed, as well as five separate seating areas.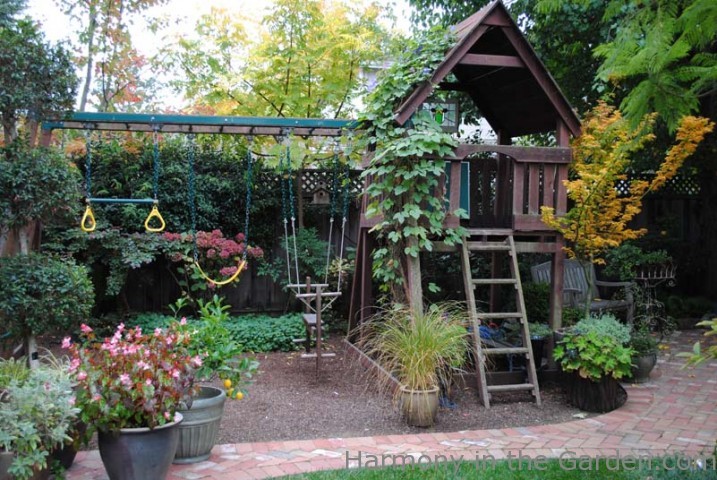 Towards the back of my garden is the play area for my daughter and her cousins.  My father built this play structure by hand many years ago when I first moved back home.
And yes, it still gets used.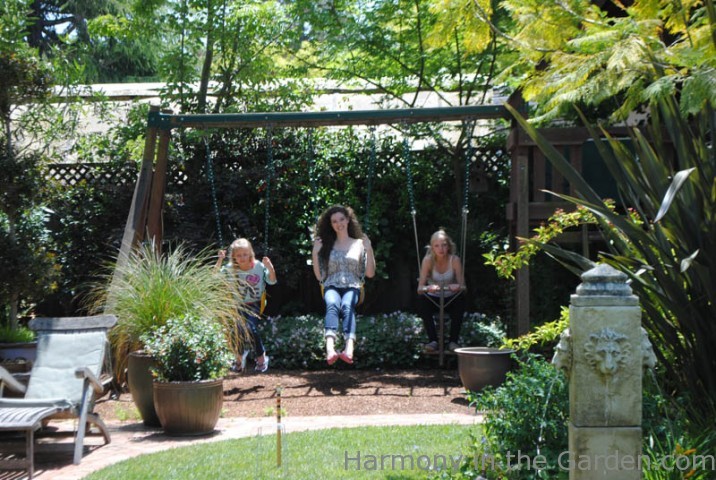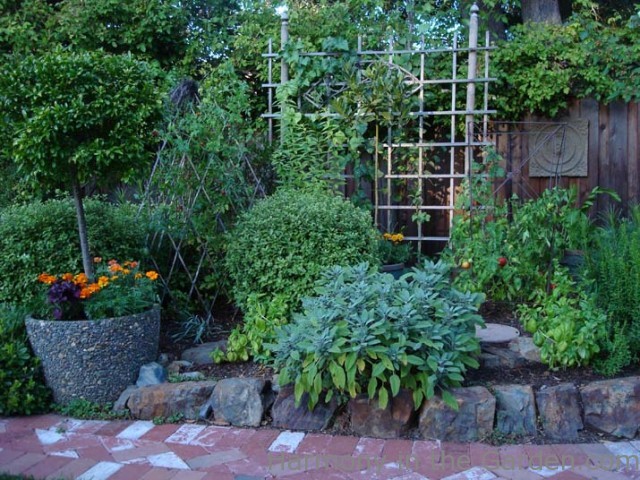 My small raised vegetable garden, surrounded by a low stone wall built by my mother, is where I've grown beans, peas, tomatoes, squash and potatoes.  I've always wanted my daughter and stepson to taste a freshly picked tomato or to experience the joy of digging treasures out of a potato patch.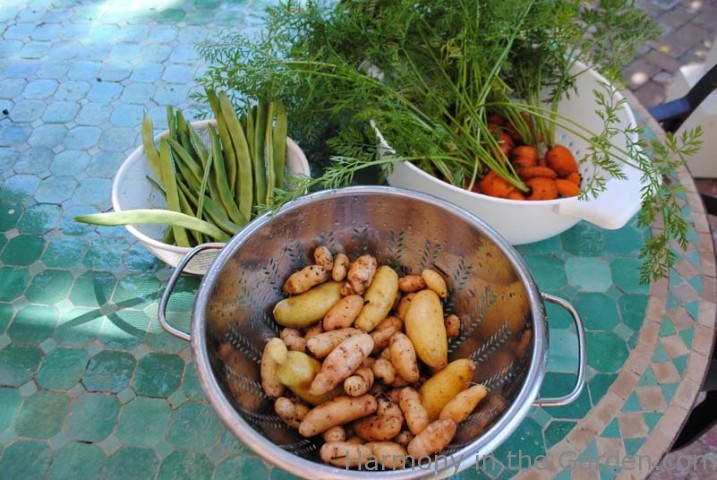 To this day, my daughter still begs me to grow potatoes – which, of course, I do.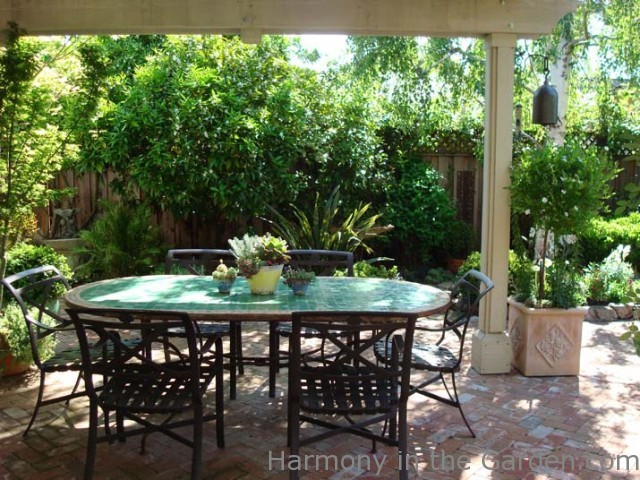 Throughout my garden are several different seating areas, including my main patio, a smaller patio and places to comfortably lounge.
I emphasize the word comfortably because I can't tell you how many times I've been to a garden where there's either no seating whatsoever or it's uncomfortable at best.  Isn't the point to sit down, relax and enjoy all of your hard work?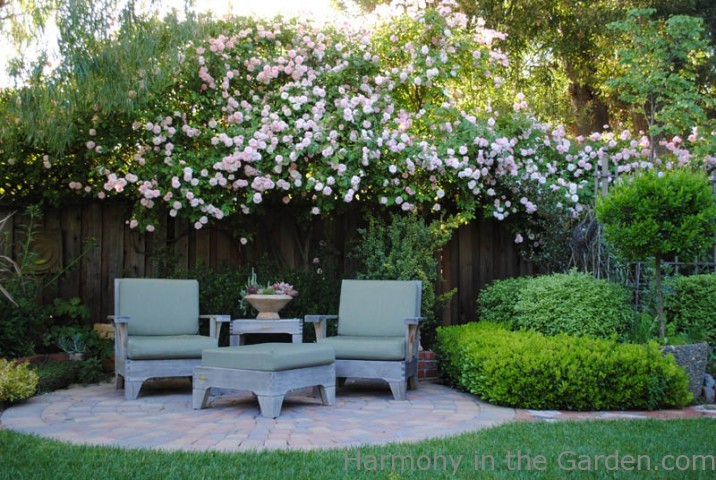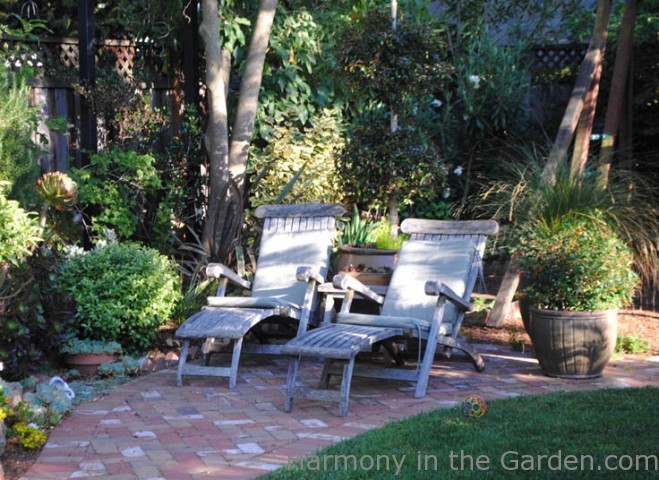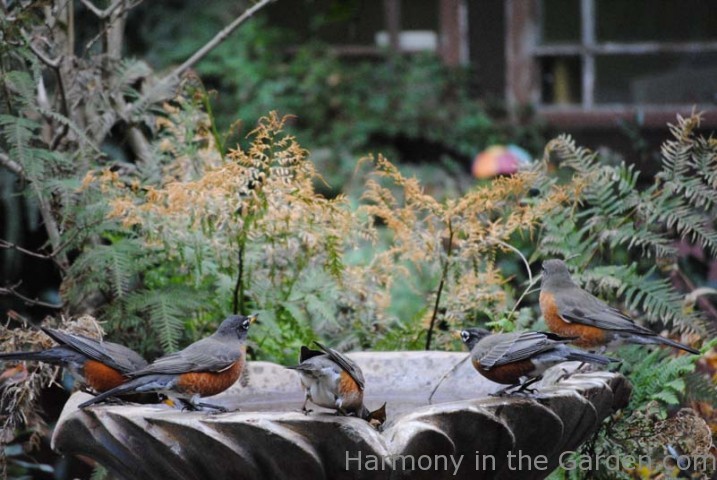 I've created this garden as a sanctuary not only for my family, but for wildlife as well.  I've been richly rewarded over the years by the many birds that have visited and raised their young here.  Each spring, I anxiously look forward to discovering the new places in which they've made their nests.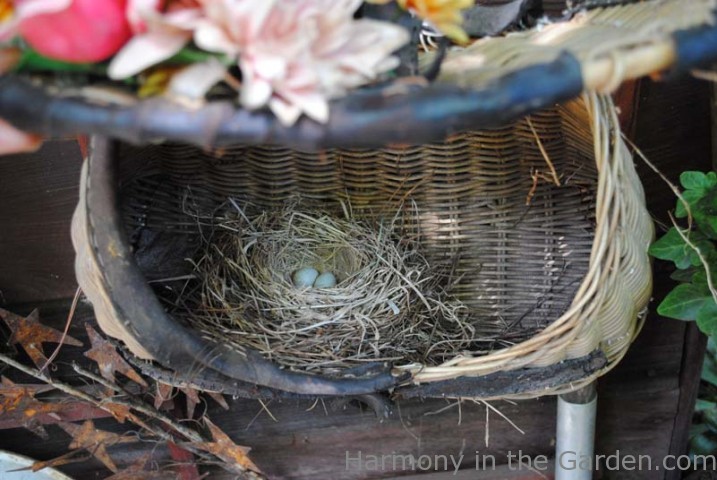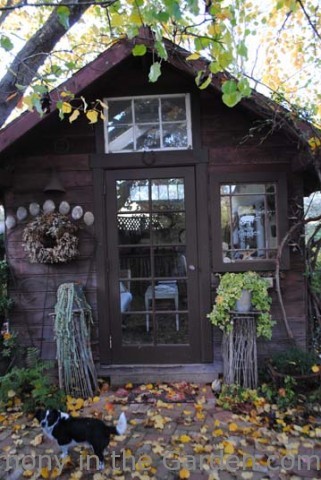 The jewel in my garden's crown, however, is my office – lovingly built by my husband one summer when he was 'in between jobs'.  Originally an old farm shed dating back to the thirties, this formerly windowless and somewhat depressing structure was initially cleaned up by my parents and turned into a place to have sleepovers when I was young.  Later in life, it became a storage unit for all of our junk, that would once a year magically turn into a 'haunted house' for my own kids' Halloween parties.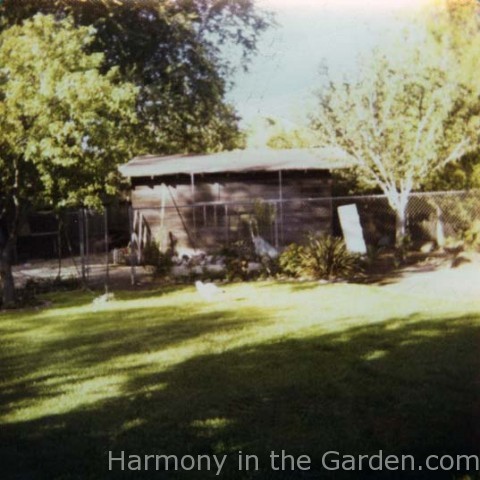 After the haunted house was no longer needed, my husband graciously offered to transform it into my office.  The last thing I wanted, though, was something 'new and shiny' in my garden, so he carefully kept the remaining exterior while pitching the roof and added a myriad of antique windows that would somehow show up every few days.  (He originally agreed to install three, but I convinced him that seven would look so much better.)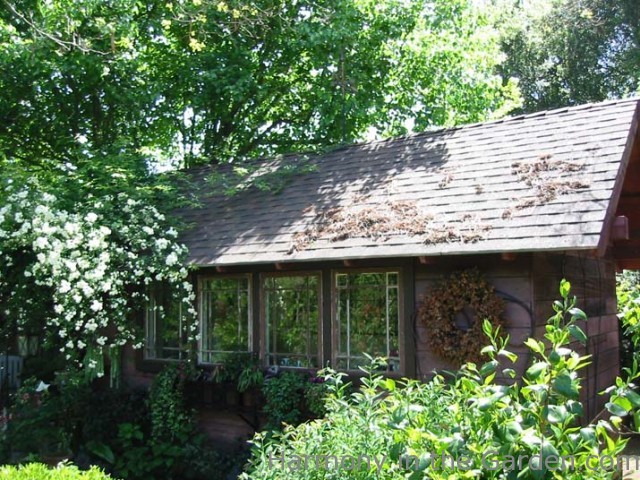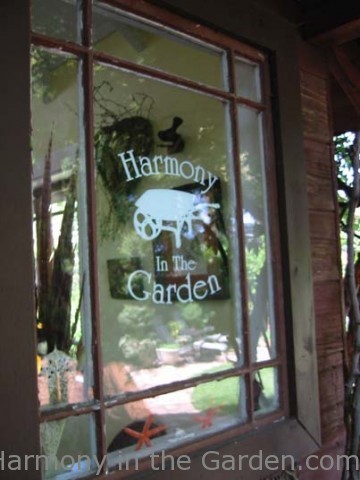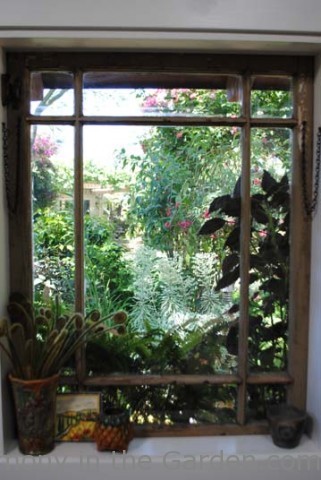 I love this little space of mine and have filled it with memories of my past, things from my great-grandmother, grandmother, parents and cherished friends.
When beginning a design, nothing inspires me more than to sit at my desk while looking out of my windows at my garden, listening to my fountain and canaries sing away.
My garden isn't a designer's showpiece at all, but rather a designer's diary.  It's my heart and soul, a place to remember, a place to play, experiment and show my personality.
And I love it with all my heart.
Please take a moment today to stop by and tour the gardens of the other Roundtablers – its sure to be interesting!
Susan Morrison : Blue Planet Garden Blog : East Bay, CA
Pam Penick : Digging : Austin, TX
Mary Gallagher Gray : Black Walnut Dispatch : Washington, D.C.
Jocelyn Chilvers : The Art Garden : Denver, CO
Deborah Silver : Dirt Simple : Detroit, MI
Debbie Roberts : A Garden of Possibilities : Stamford, CT
Christina Salwitz : Personal Garden Coach : Renton, WA
Andrew Keys : Garden Smackdown : Boston, MA
Rochelle Greayer : Studio G : Boston, MA