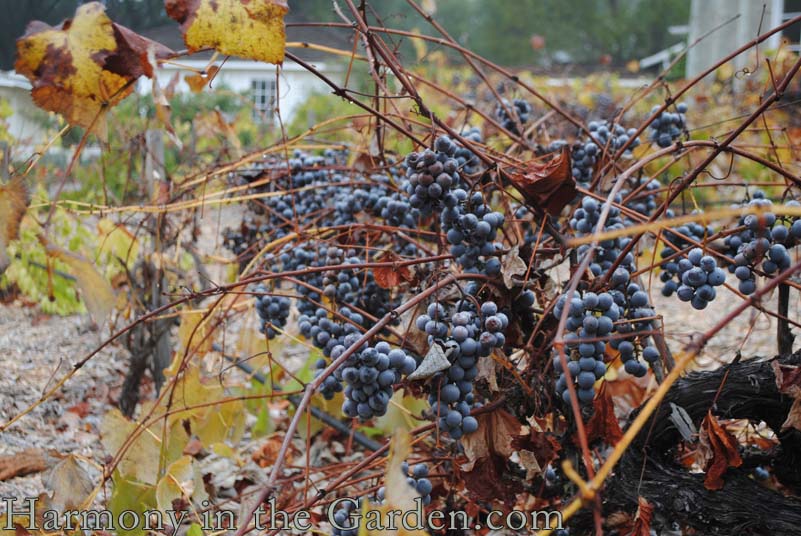 We all tend to collect our memories somewhere – scrapbooks, journals, photo albums, memory quilts, recipes or family movies (just to name a few).  But for many of us, our gardens are what carry us through the years, bringing back fond memories through sight, scent, touch and taste.
Personally, I can't help but think of my grandmother whenever I see a towering delphinium.  And the sound of palm fronds 'clapping' in the wind instantly transports me to one of my favorite beaches in Hawaii.  In fact, just last week I was at a client's garden, picking some of her Concord grapes to overnight to my father who just had knee surgery.  Whenever he tastes a Concord grape, he reminisces about his grandmother's garden and the summers he spent with her, plucking the inky black grapes that hung from her arbor.  I had hoped the familiar taste would give him a moment of joy in his painful recovery, which (I'm happy to say) it did.
One thing I love most about my job and designing gardens for others, is creating something that has the power to transport them to someplace special.  I've seen many ways in which people incorporate memories into their gardens, and plants are – hands down – at the top of the list.  Rare is the client who doesn't have at least one plant they'd like to see incorporated into the design for whatever sentimental reason.  And it's always my honor to do so.
The topic for this month's Garden Design Roundtable, is Memory and Plants, which is right up my ally.  My own garden is one giant memory bank, and as I walk around I can't help but notice all the ways in which my past is woven throughout…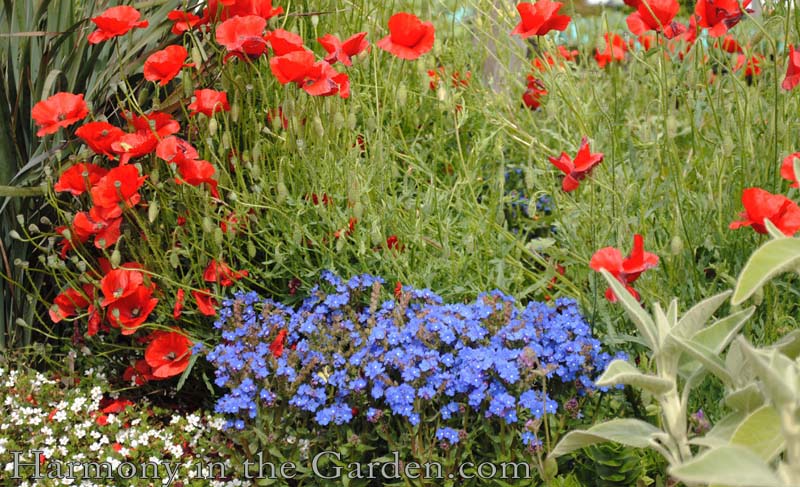 A hot Greek island comes to mind every time my red poppies are in bloom.  Smuggled home from a trip to Greece, were a few seeds from the zillions of poppies that were blooming on every hillside.  And each spring, I'm reminded again of that wonderful country.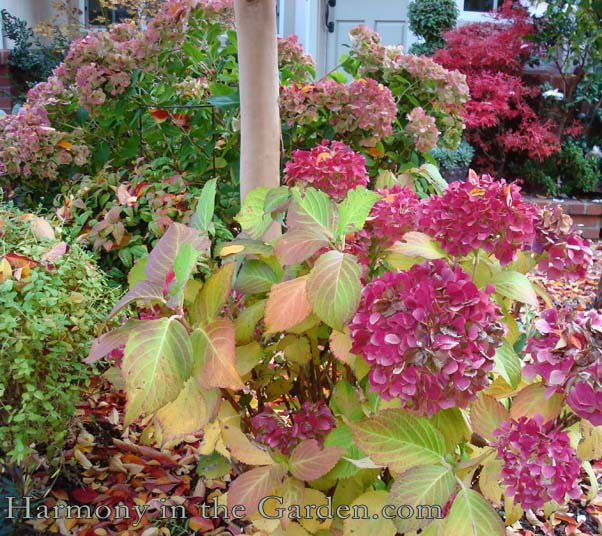 One of my favorite hydrangeas is an unnamed variety that blooms white, then fades to beautiful antique shade of rose.
My ex-husband gave it to me after our divorce, having dug it out of our original garden before selling our home.  We've always had two things in common – our daughter and gardening, which, I'm happy to say, have been strong enough bonds to strengthen our friendship through the years.  The hydrangea, planted outside my front door, is a reminder of the healing power of plants.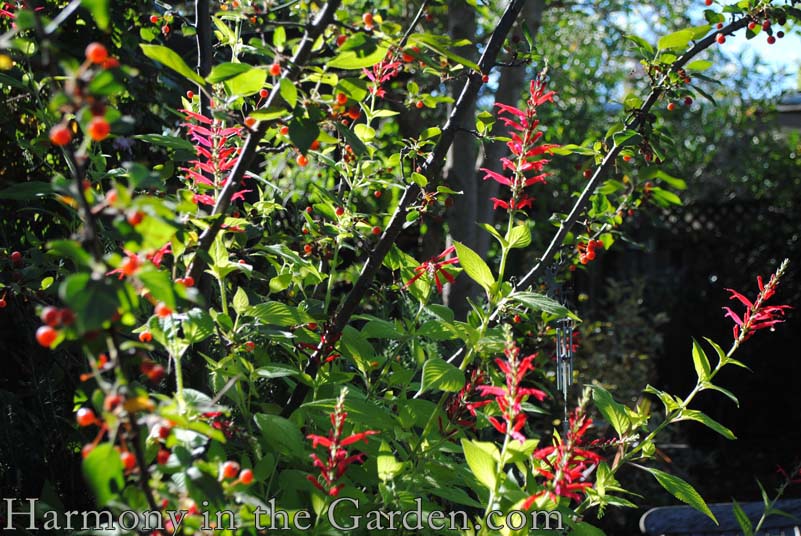 My daughter is reminded of her childhood every time she plucks a leaf from the Pineapple Sage growing in the garden.  Ever since she could walk, she's loved snacking on the fruity leaves of this perennial herb.
After my divorce, I tried to make the transition as easy as possible for my daughter, by planting some of her favorite plants from our previous garden.  13 years later, I can still find her standing next to the towering salvia, picking a leaf or two to munch.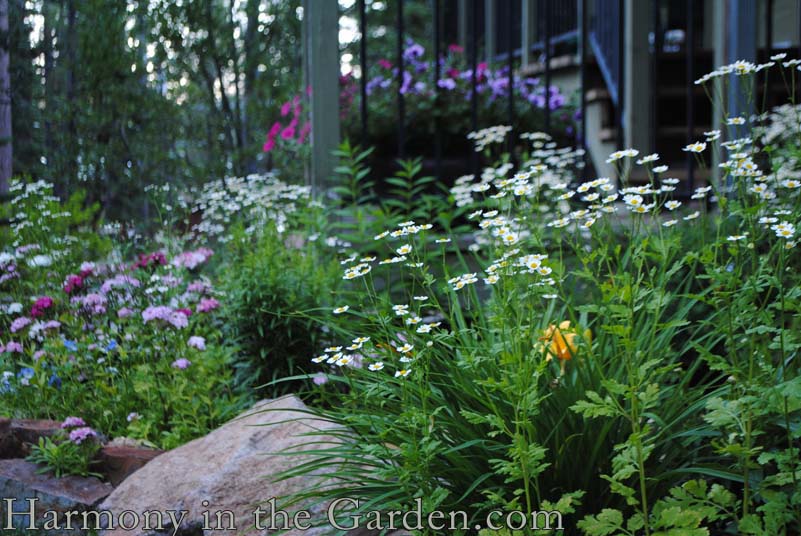 Feverfew re-seed throughout my garden with wild abandon and represent some of my happiest memories of all – my grandparents' home at Lake Tahoe.   Without fail, each spring brings me predictable excitement once I spot the first leaves emerge.  Gently crushing a few leaves between my fingers and deeply inhaling their peppery fragrance, transports me back to my childhood, even if just for a moment.
And thanks to their prolific re-seeding I always end up with more than I need.  More often than not, I try to incorporate them into the gardens of my clients in hopes of spreading the joy these little troopers bring throughout the long, hot months of Summer.  Once my clients hear the story of where the little plants originally came from, they love them just about as much as I do.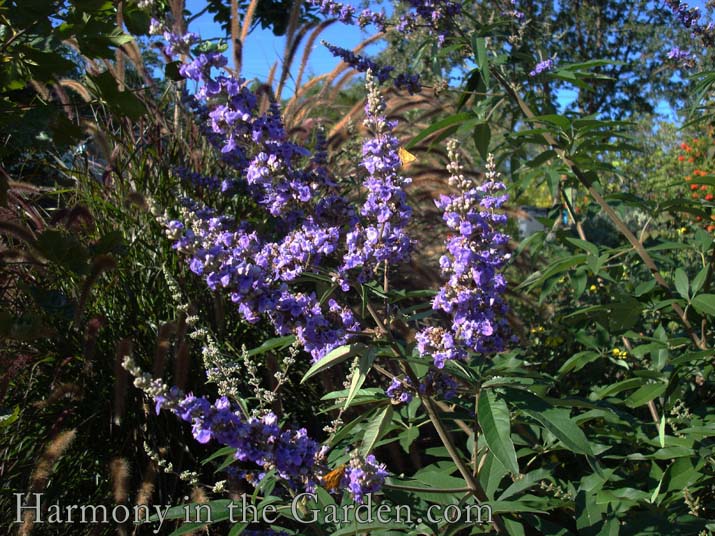 Since I've always lived in mild-climate California, as has my family, it's been fairly easy for me to re-create these memories in my garden.  It's not always easy, though, when someone comes from another part of the country, which seems to be the case with so many of my clients.
I'm asked time and time again to 'please plant lilacs (or peonies, for that matter) to remind me of home', and I'm always so sad to inform them that in our temperate Zone 9, these plants will barely bloom.  Luckily, there's so many alternatives that are, at least, somewhat similar (see post here).  While the alternatives won't give you the exact scent or precise look of your original memory-plant, they can be pretty darn close.  And sometimes close is good enough!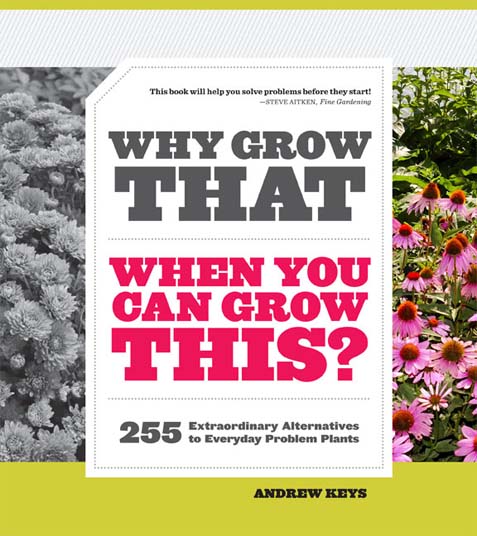 One of our Roundtablers, Andrew Keys, has written a fantastic book on this very topic, called Why Grow That When You Can Grow This?  I've read this book cover to cover, and can't wait to share with you an interview that Susan Morrison and I had with Andy last week (coming soon!!)  Suffice it to say, that after reading this book, I now have an entire page of notes filled with plant alternatives that I can't wait to try.  For example, for my clients who request their gardens be filled with the lilacs of their Eastern memories, I might instead suggest Korean spice viburnum, ceanothus (conveniently nicknamed California Lilac) or the Chaste tree (like in this photo).
Andy's witty comparisons of hum-drum plants and their superstar alternatives  has been an absolute joy to read.

Thanks for stopping by!  And don't forget to stop by the other members of the Roundtable today, to read their thoughts on Plants and Memory:
Andrew Keys : Garden Smackdown : Boston, MA
Deborah Silver : Dirt Simple : Detroit, MI
Genevieve Schmidt : North Coast Gardening : Arcata, CA
Jocelyn Chilvers : The Art Garden : Denver, CO
Lesley Hegarty & Robert Webber : Hegarty Webber Partnership : Bristol, UK
Mary Gallagher Gray : Black Walnut Dispatch : Washington, D.C.
Susan Cohan : Miss Rumphius' Rules : Chatham, NJ
Susan Morrison : Blue Planet Garden Blog : East Bay, CA
Thomas Rainer : Grounded Design : Washington, D.C.
Rochelle Greayer : Studio 'g' : Boston, MA