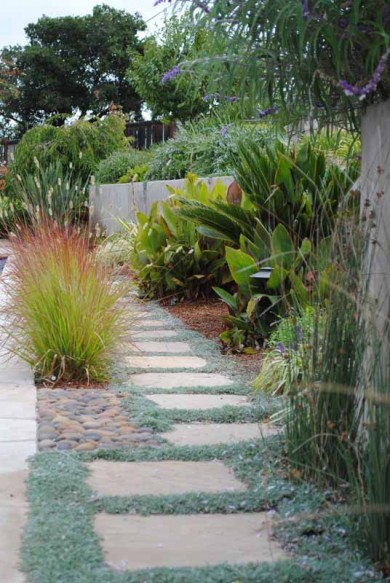 The topic for this month's Garden Designers Roundtable is From Here to There, which I'm interpreting as pathways.  This is a most excellent topic as it's one that seems to overwhelm most of my clients.   While most people have a general idea of the style of garden they want, colors they like, etc. they're not sure how to go about designing pathways and choosing its material.  Traditional or non-traditional?  Formal or informal? Flagstone? Brick? Decomposed Granite?  Mortared? Loose-set?  Ack!!!
Here in California, with our laidback lifestyles, casual pathways are what most of my clients want throughout their gardens.  Which is a good thing, because casual is what I'm all about and what I do best.
Today I thought I'd share some of my favorites, along with their pros, cons and general design tips in hopes they inspire and help you decide which pathway is right for your own garden.
Decomposed Granite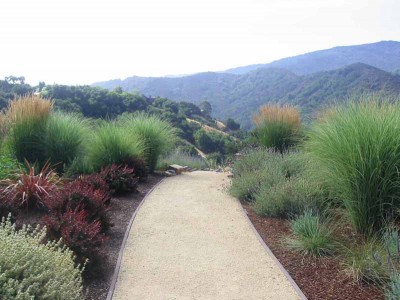 There's something inherently calming about the soft crunch of decomposed granite underfoot.  The look is casual elegance at its best.
However, be aware that even though it's compacted to a cement-like hardness, the finely ground stone can still stick to the bottom of your shoe (or your pet's feet) and can get tracked into your home, scratching your hardwood floors.  I've heard this over and over again from people who love the look but hate the hassle.
It really works best in large properties, placing a different type of material closer to the patios and doors.
Brick: mortared or loose-set?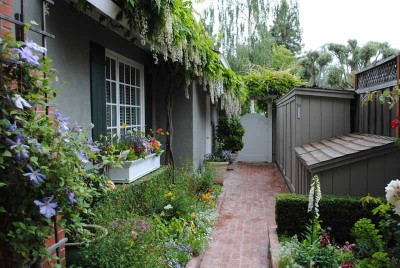 Brick is another timeless classic, blending with most any garden's style.  Bricks come in many different forms: new, tumbled, brick made to look old, etc.
One of the main advantages of brick is that it's a very stable surface and works well in areas where there's a lot of traffic (such as this heavily used side yard where garbage cans, wheelbarrows, etc. are regularly wheeled).
The pathway in this photo is made with mortared, tumbled brick.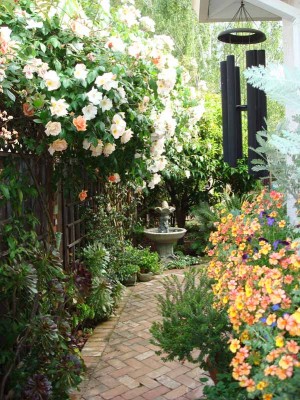 The brick in this photo is loose-set, meaning it's tightly installed over compacted layers of gravel and sand, using no cement to hold the bricks together.
I love this look as it's a little more 'old world' in my opinion, and looks a little more elegant.
I've had this style of brick throughout my garden for many, many years and contrary to what many people might think would happen, there are no loose bricks whatsoever.  When properly installed, this style will last just as long as bricks held together by cement.
Stone:  mortared or loose-set?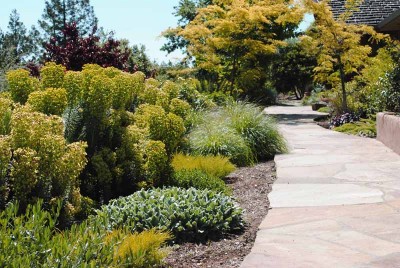 Ahhh….stones.  Probably my favorite type of pathway of all as there's so many styles, shapes and colors.
When mortared together they form a very sturdy surface (similar to the bricks above), but keep in mind that stones vary in texture.  Highly textured stones may be a little more difficult to wheel things over versus those with smoother surfaces.
I know this, as one of my new clients has a family member who uses a wheelchair and they don't want to feel like they're four-wheeling every time they wheel across the patio.
It's the loose-set stones, however, that really get me excited because that's where you can begin to inject a lot of personality.  Loose-set pathways also tend to be less expensive and easier to install, making them ideal for DIYers to tackle on their own.  Sometimes the stones are set into the soil a few inches and sometimes they're installed with a dab of cement under them to give them a little extra staying power.  They're typically installed with a few inches of soil between each stone, perfect when planted with ground covers such as 'elfin' thyme, dymondia, baby tears or even lawn.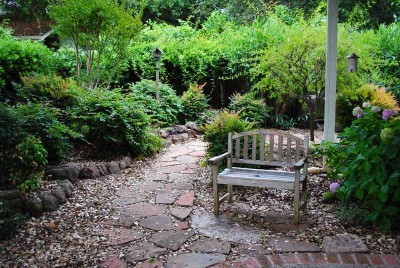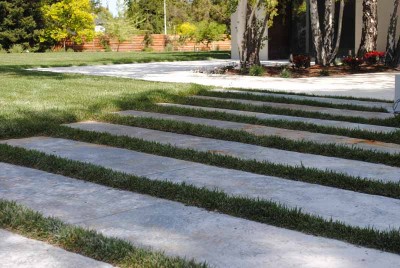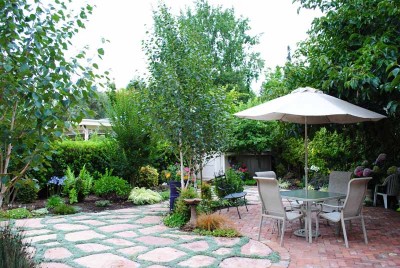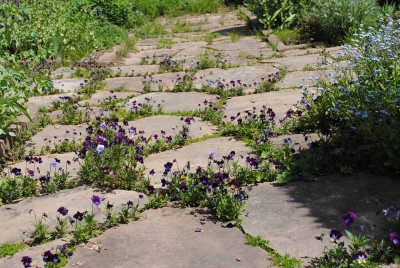 Au Natural Pathways – plain 'ol dirt and grass!
This is the most casual pathway of all, whether it's a mown strip of lawn or a simple dirt pathway.  But even though the style is casual, that doesn't always mean it's not at home in a formal garden (as shown in the last photo).

The following are ways to inject a little more personality into your pathway.  Whether you're using flagstone, bricks or pebbles, there's bound to be a way you can take your pathway up a notch!

Tip:  Have your path lead to a focal point!
When walking down a path, you want to end up somewhere, right?  I so often see pathways that lead directly into a wall or fence, and I wonder what's the point?  Instead, consider placing a bench or other focal point so there's an actual destination in mind when wandering through the garden.
To help a pathway blend in with the garden, I always try and have nearby plantings softly blur the edges.  Whether planted in between the stones, or hanging over the edges of the path by a few inches, I make sure to design the pathway wide enough to accommodate these 'softeners'.
Phew!  Sorry for the long post but I had so much to share with you!
Please make sure to stop by my fellow Roundtablers to read they're interpretations of From Here to There – and thanks so much for stopping by!
Debra Prinzing & David Perry:  A Fresh Bouquet
Pam Penick : Digging : Austin, TX
Scott Hokunson : Blue Heron Landscapes : Granby, CT
Jenny Peterson : J Peterson Garden Design : Austin TX
Susan Cohan : Miss Rumphius' Rules : Chatham, NJ
Susan Morrison : Blue Planet Garden Blog : East Bay, CA
Jocelyn Chilvers : The Art Garden : Denver, CO
Lesley Hegarty & Robert Webber : Hegarty Webber Partnership : Bristol, UK
Christina Salwitz : Personal Garden Coach : Renton, WA