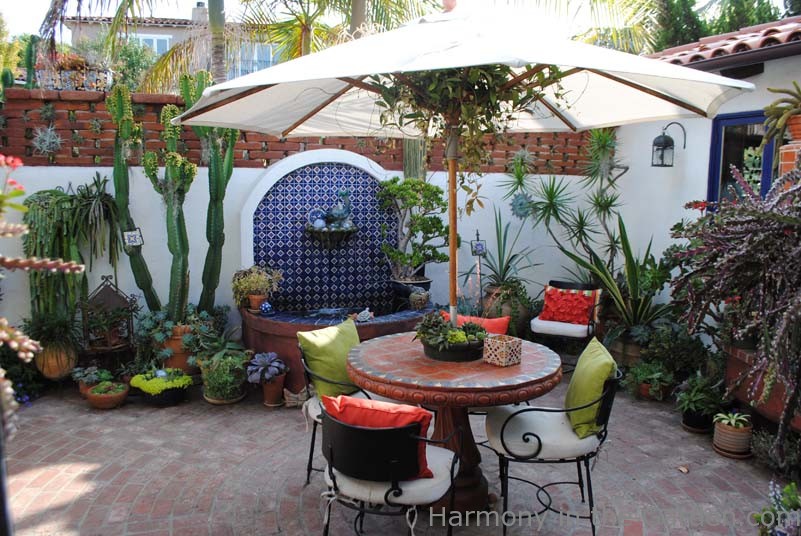 I've been wanting to write about this garden for a long time, and have finally found the perfect opportunity with today's Garden Designers Roundtable topic 'Focusing on the Details'.  
While touring gardens last year with Debra Lee Baldwin, she insisted I meet her good friend, Jim Bishop.  And, if I was really lucky, I might even get to see his garden.
Thank heavens it was my lucky day.  Jim Bishop is pretty amazing – he's not only an incredibly talented garden designer, but he's also the President of the San Diego Horticulture Society.
The garden he's created has been a labour of love for several years, and is one of those special places that you want to just spend an entire week exploring. It's a fairly large garden, close to an acre, and reflects both his love of plants (succulents, in particular) but also his love of detail.  In fact, it's the detail that really makes this one-of-a-kind garden what it is.    It's true what they say –  the devil's in the details.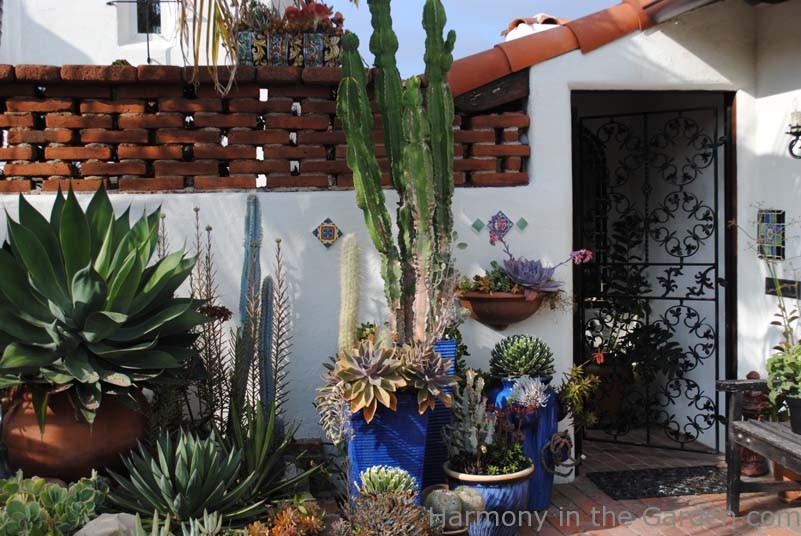 As you approach Jim's home, you enter through an unassuming doorway leading to an intimate and  private courtyard.
But even before you walk through the door, from the little details on the walls (the tiles, pots and plants in complementary colors) you know this is gonna be good!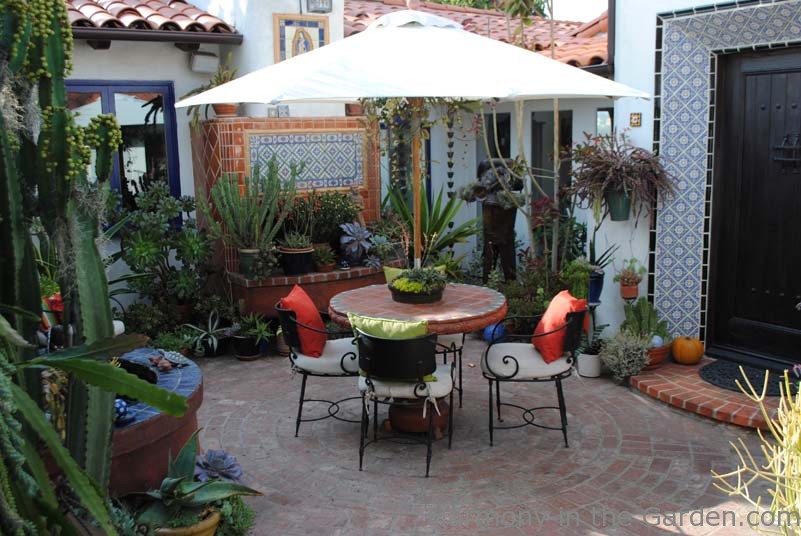 Oh, it's more than good.
While most courtyards are charming enough, it's the details in this courtyard that make you say a silent prayer that he has all afternoon free so you can take your time absorbing everything.
Color reins supreme in this courtyard, from the bright persimmon and lime green pillows to the cooling blues that run throughout. In fact, it's the blues that really seem to be a uniting thread woven throughout the garden.
Come with me to see what I mean…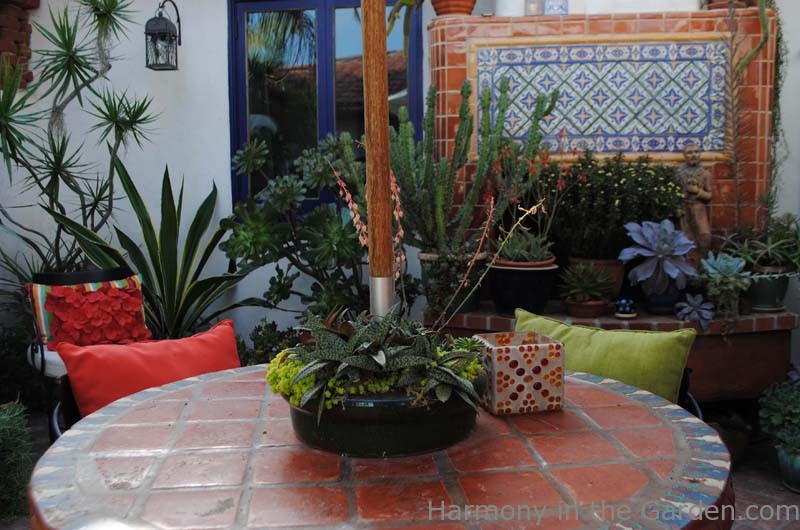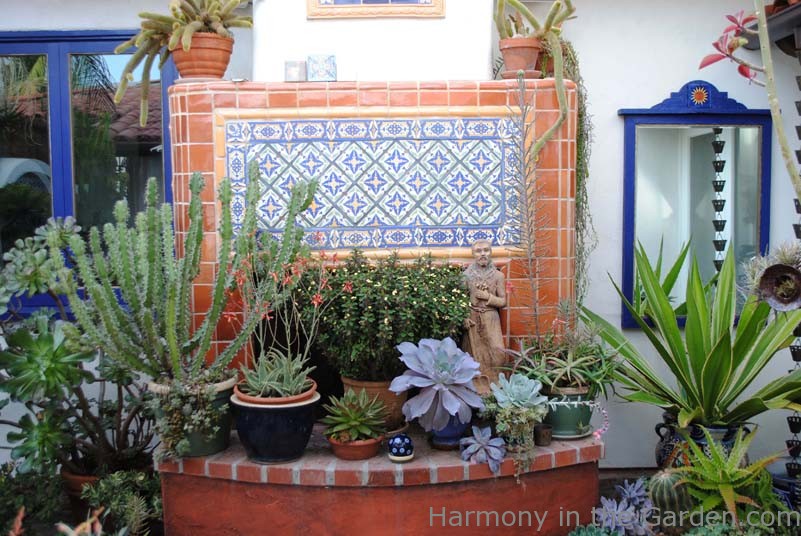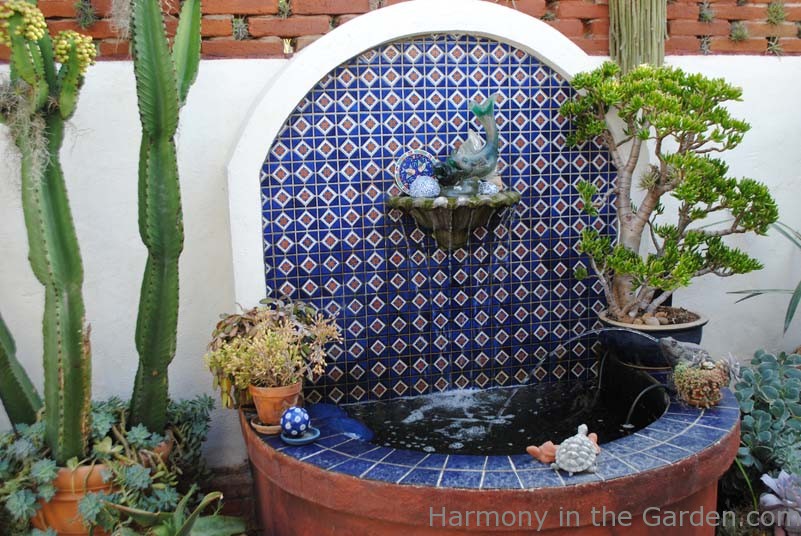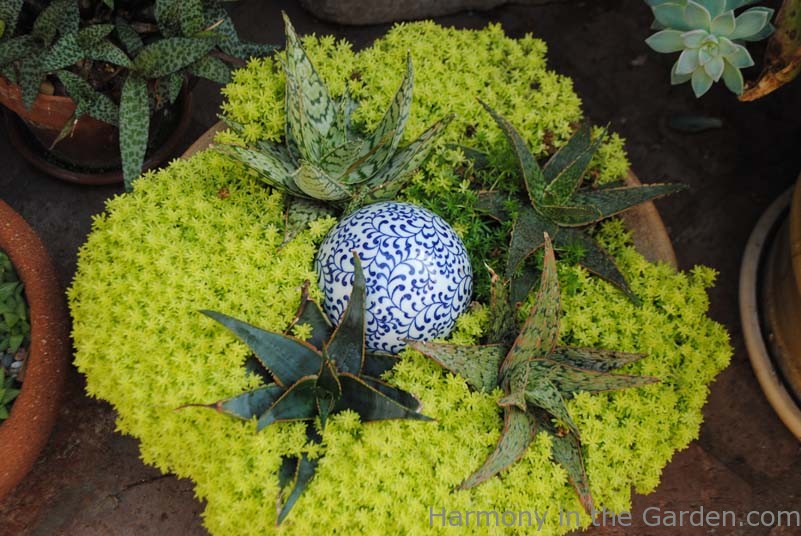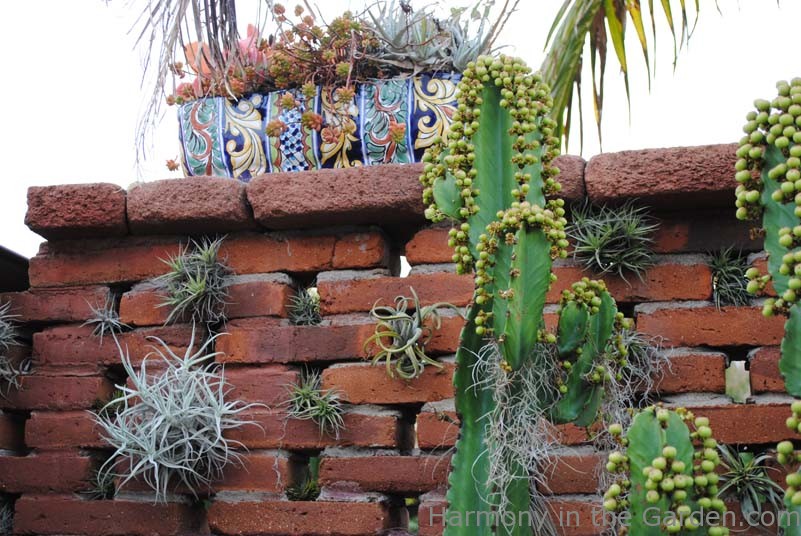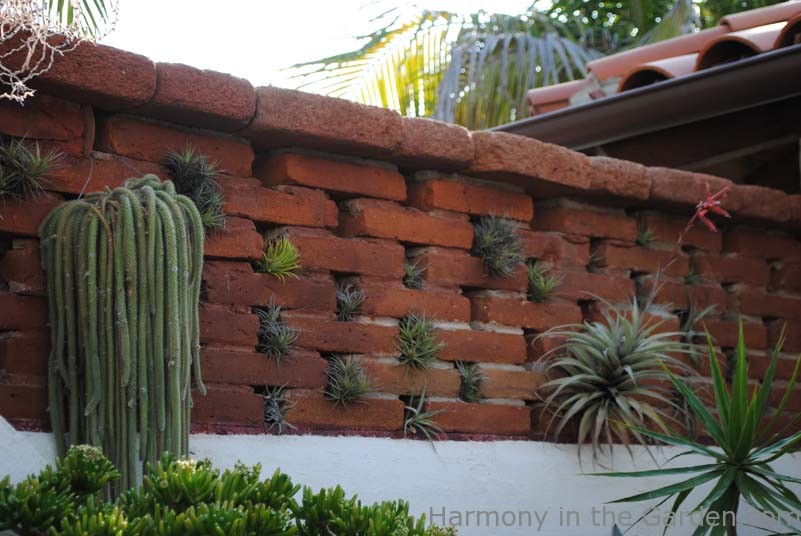 And what courtyard would be complete without a little fun?  Can't you imagine these Tillandsia Mariachis double-billing with the Succulent People of San Diego Botanical Garden?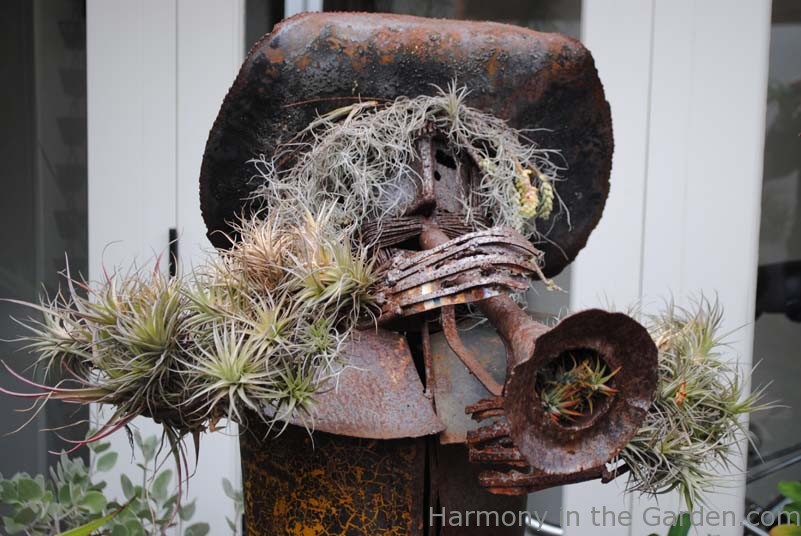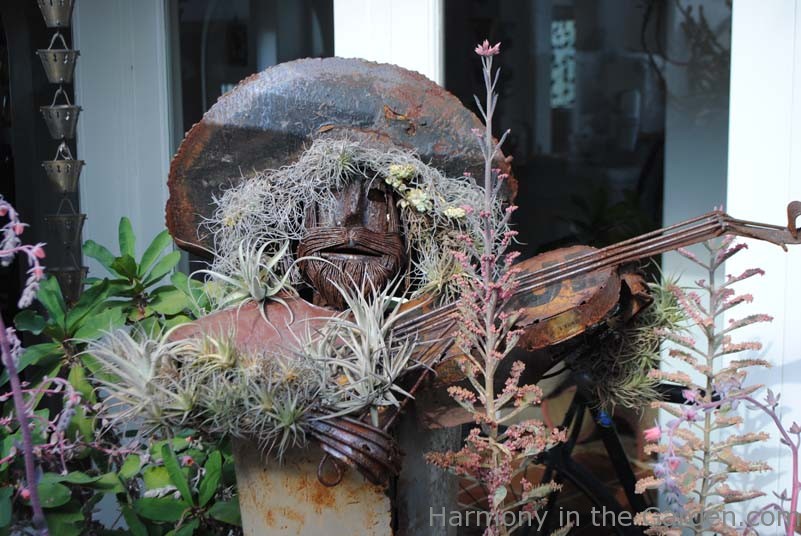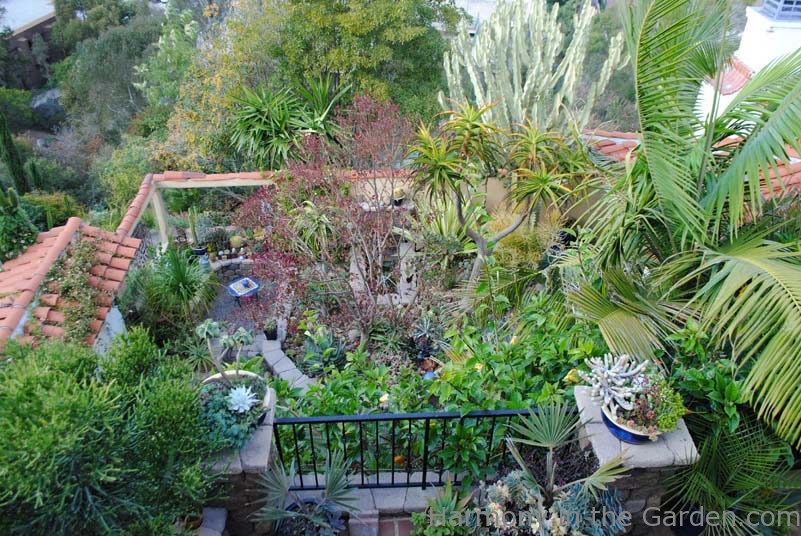 But it doesn't end at the courtyard -there's more!
Jim's back garden consists of a series of terraces to help cope with a fairly steep slope.  Slopes are something that are daunting to a lot of gardeners, but Jim's solution of having two large patio areas combined with traversing paths throughout not only make it easy to roam, but enjoyable as well.
Again, it's Jim's attention to details that make even the farthest reaches of this property full of surprises.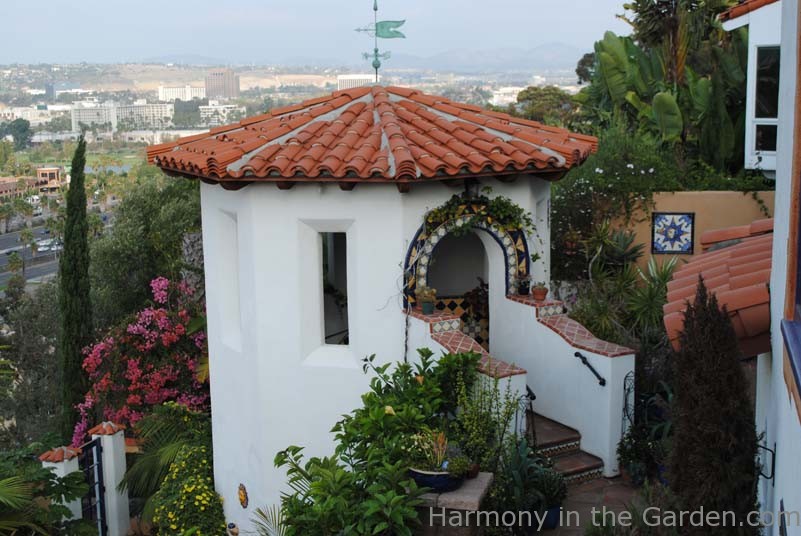 Spanning two of the levels is one of the most charming little garden buildings I think I've seen.  As you enter, you take the narrow, winding stairs down to the lower level with little windows allowing you to peek through to the garden below.
But again, its the details like the vine trained over the tiled archway, the cluster of potted plants at the base of the stairs, even the weathervane that take this building from an 'A' to an 'A+'.
That's what details do for a garden.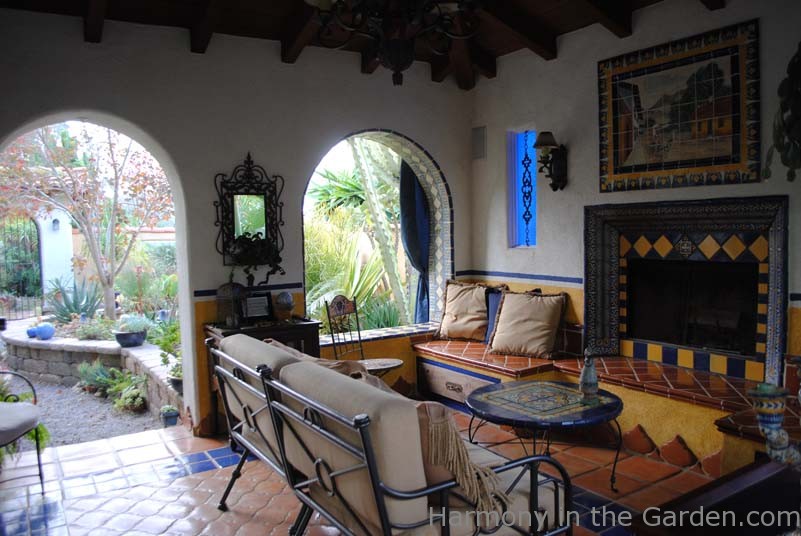 At the base of this structure is an open air room, complete with everything a garden room should have – lots of comfy seating and pillows, a warm fire and plenty of views into the garden.
But again, notice how the color blue makes its way from the courtyard in the front all the way down into this room.  An important detail that should it not be included might result in a colorful, but slightly chaotic space.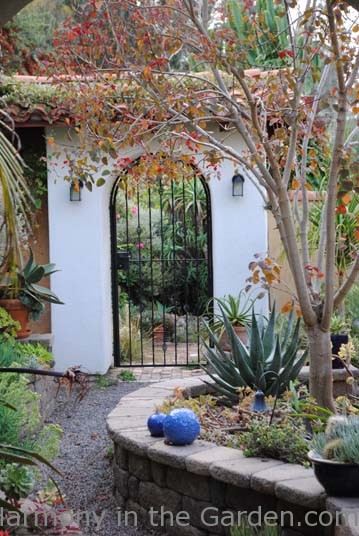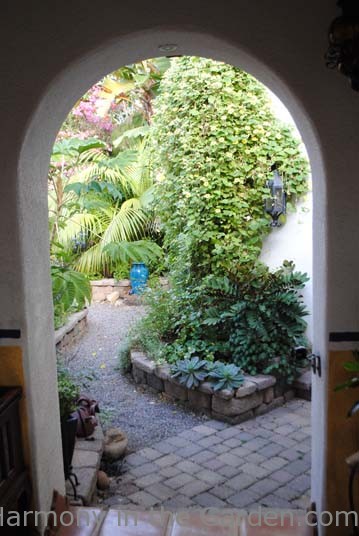 There are two exits from this room, each leading in opposite directions into the garden.
But it's the color blue again that entices the viewer along, beckoning them away from the comfy seating.

Depending on which exit you take into the garden, you'll find a series of winding steps that lead you around the perimeter and through the garden.  As anyone knows who gardens on a slope, it's not the easiest thing to create a manicured, tidy garden since maintaining it is a nightmare. So Jim's solution is to let the plants spread and roam as they please.
But to keep things interesting, he's included lots of detail along the way….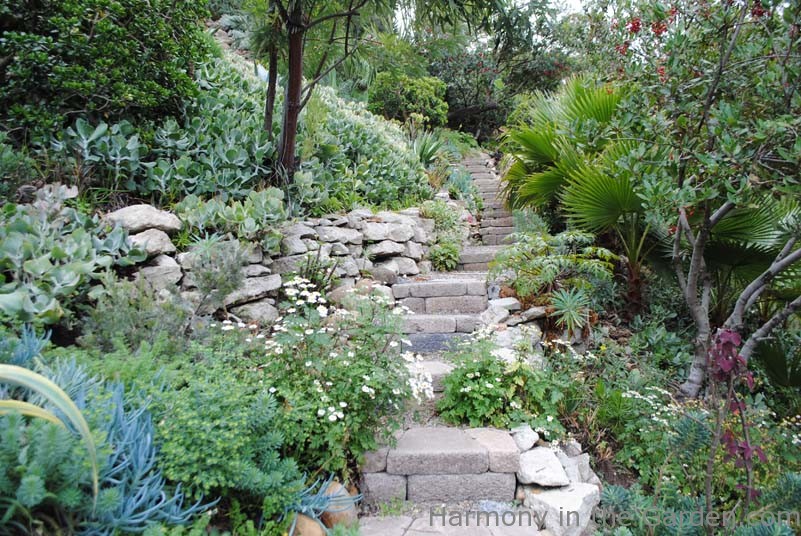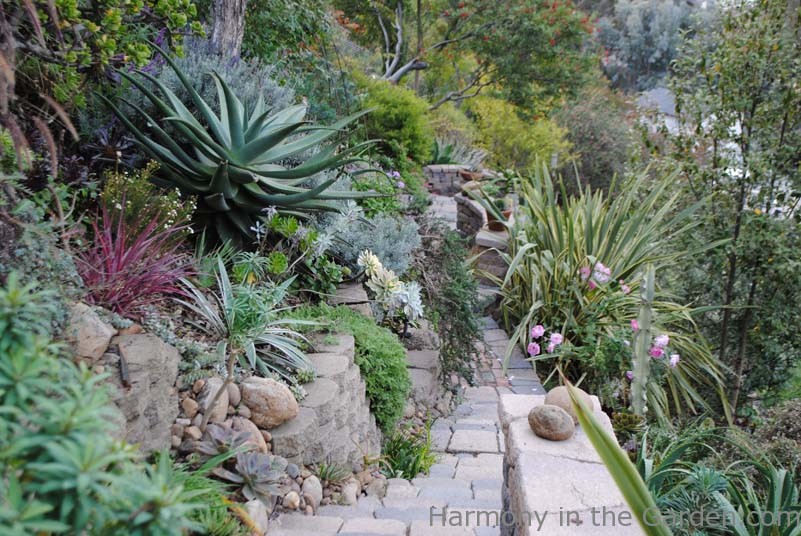 Through the pathways Jim has clearly had fun finding places for his blue bottles, blending them with the stones to create colorful retaining walls.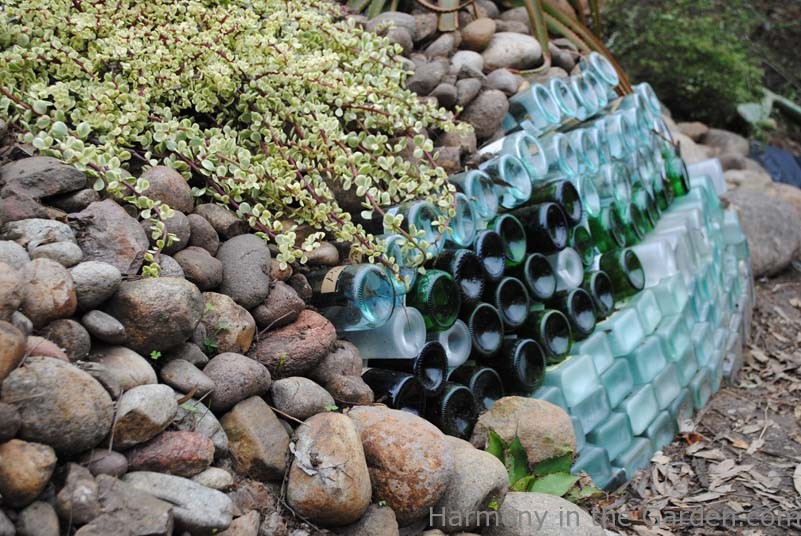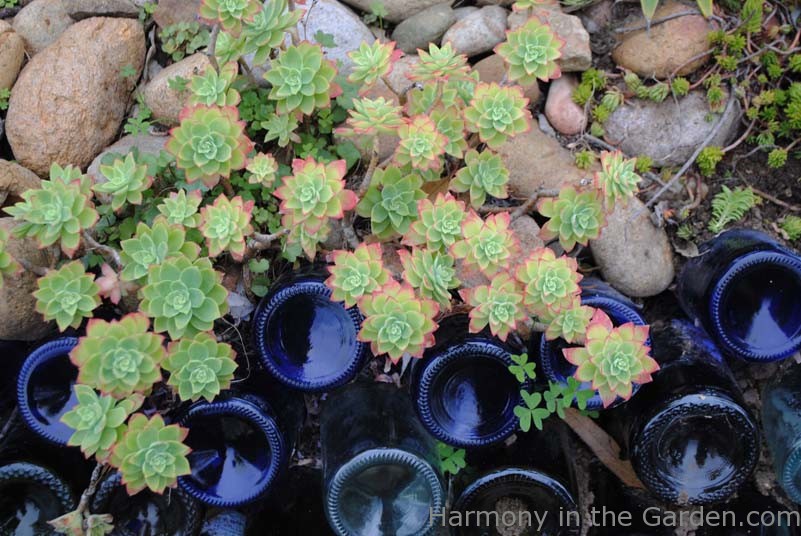 In addition, he's taken this opportunity to place the treasures he's found while remodeling his historic home in discreet spots along the way.  It's always such a surprise to round the corner and find an antique tile or sculptural sconce.  Again, it's all about the details.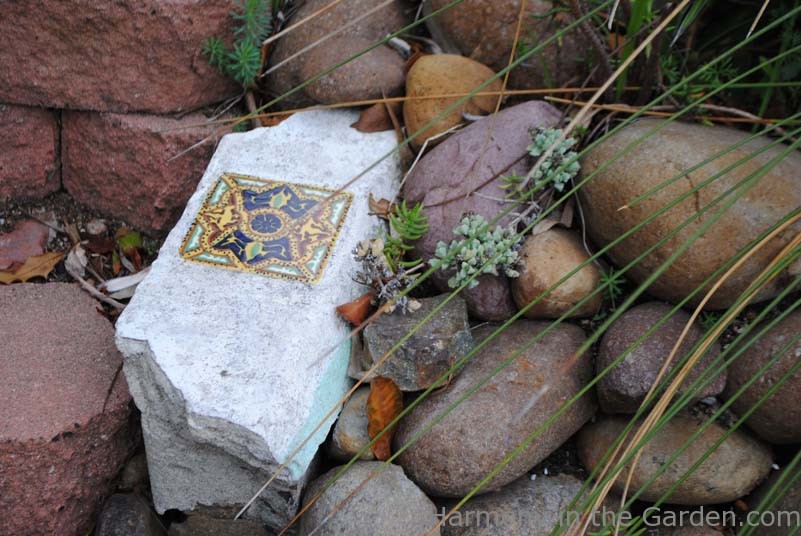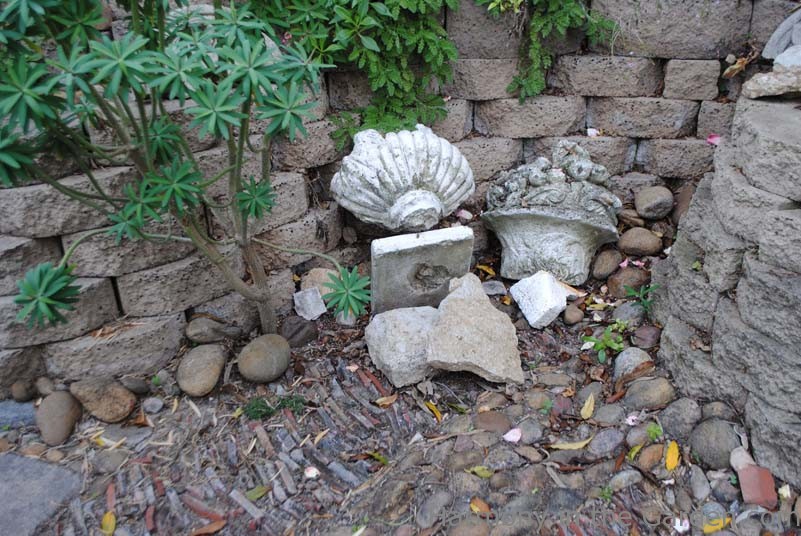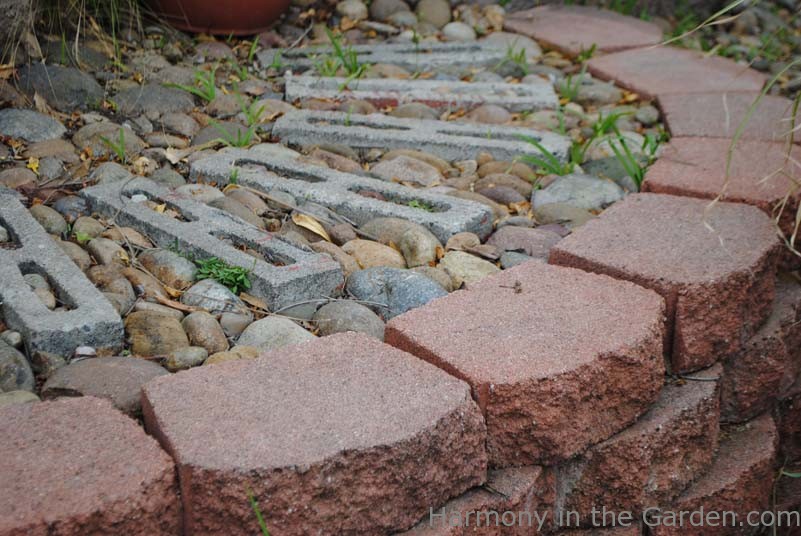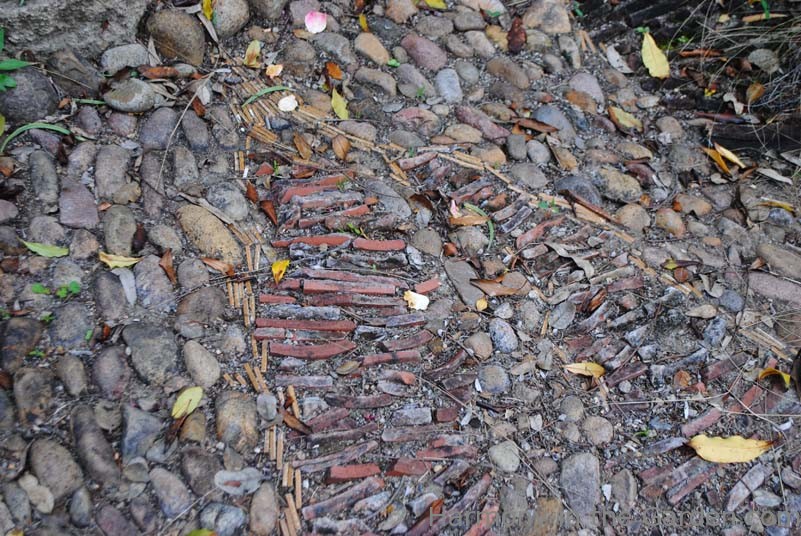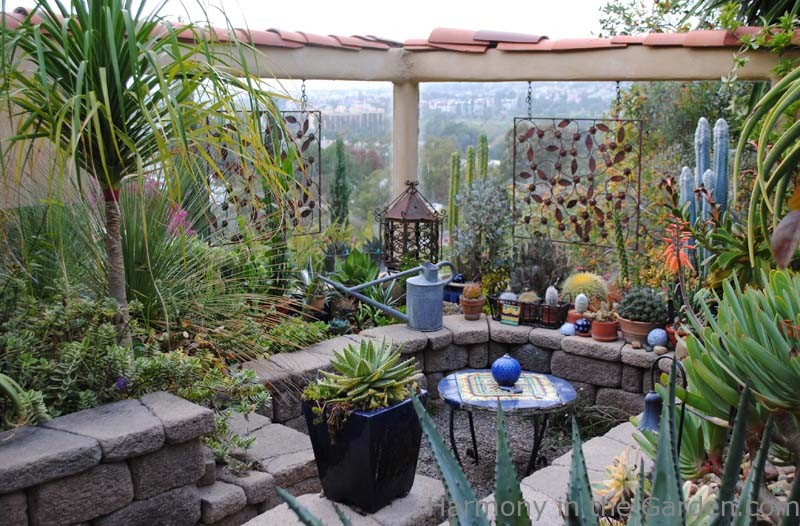 After walking back up the steep stairs, you'll find yourself on the next patio – a perfect place to catch your breath and take in the view.
Spot the blue?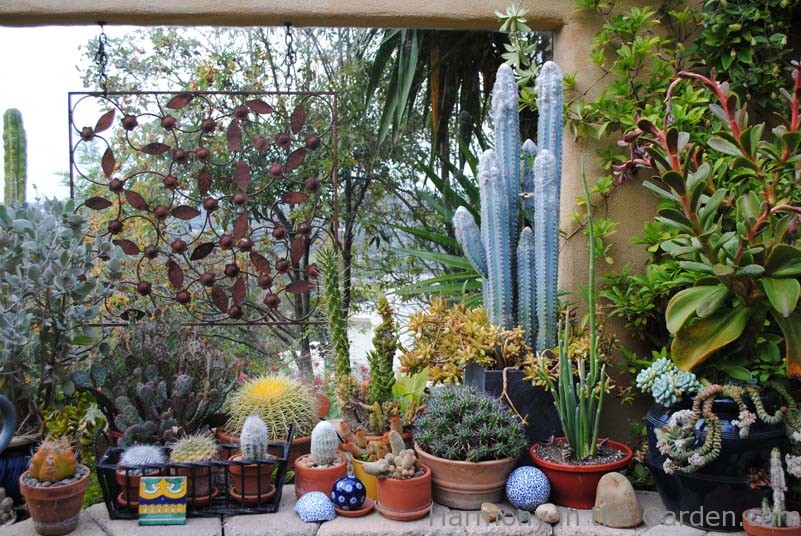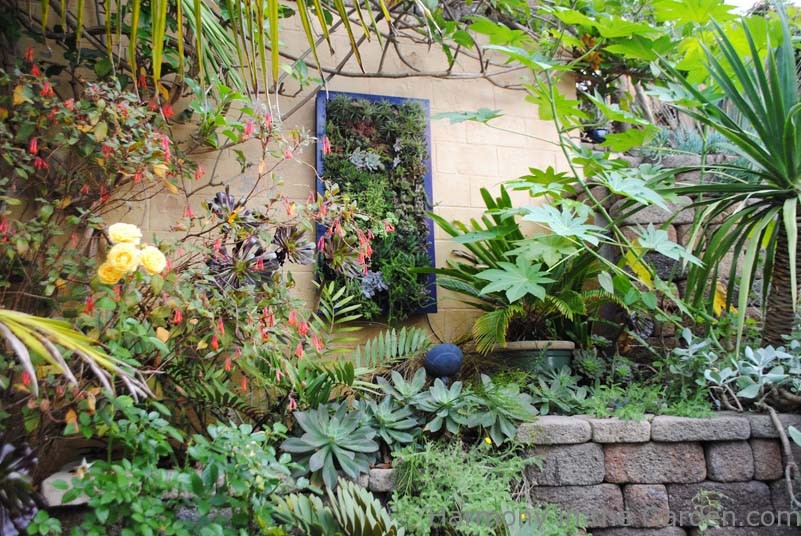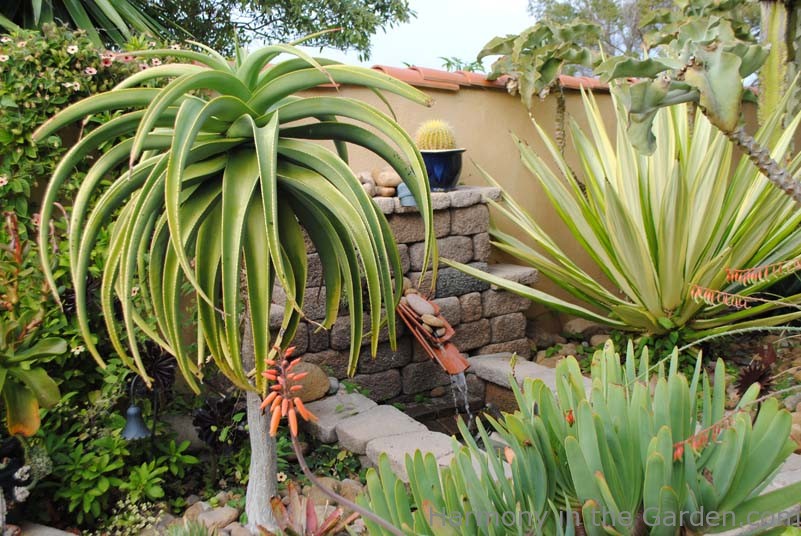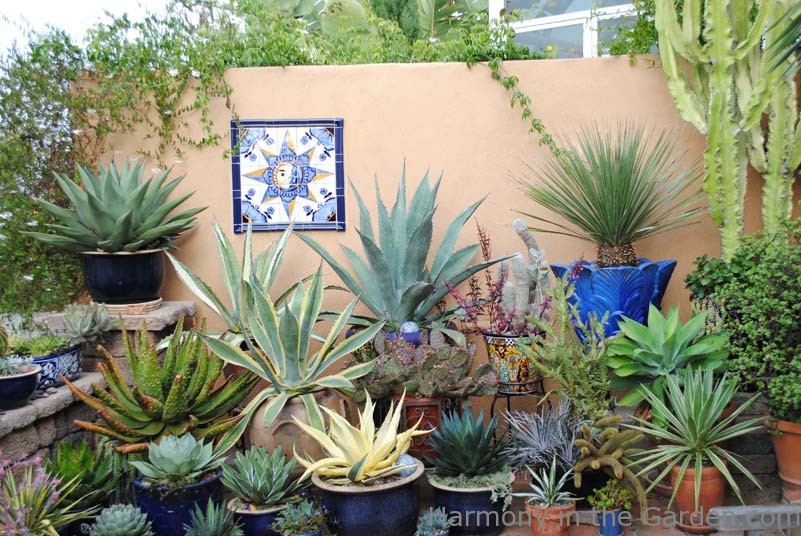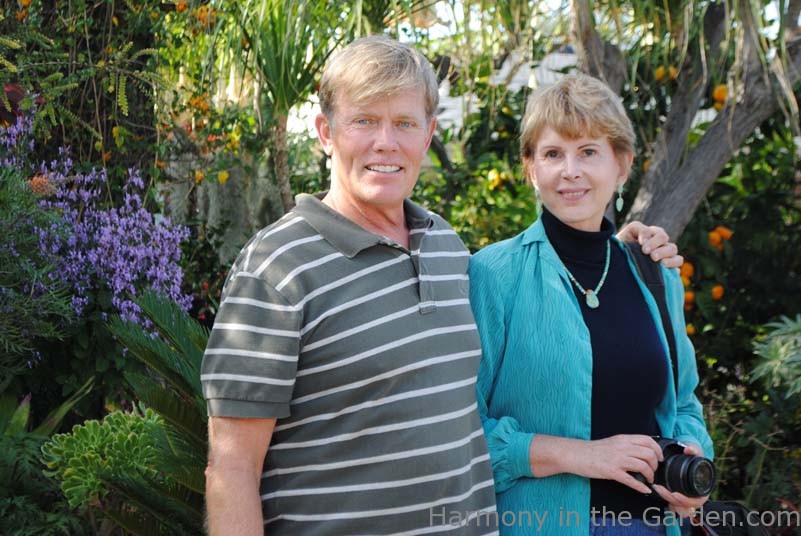 Thank you, Jim and Debra!  And thank you for your long conversations that day, allowing me plenty of time to quietly sneak away without seeming rude so I could lose myself in this treasure of a garden.
Please make sure you stop by the other participating members of the Roundtable today to read their thoughts on 'Focusing on Details'!

Susan Cohan : Miss Rumphius' Rules : Chatham, NJ
Lesley Hegarty & Robert Webber : Hegarty Webber Partnership : Bristol, UK
Deborah Silver : Dirt Simple : Detroit, MI
Debbie Roberts : A Garden of Possibilities : Stamford, CT
Christina Salwitz : Personal Garden Coach : Renton, WA
Scott Hokunson : Blue Heron Landscapes : Granby, CT