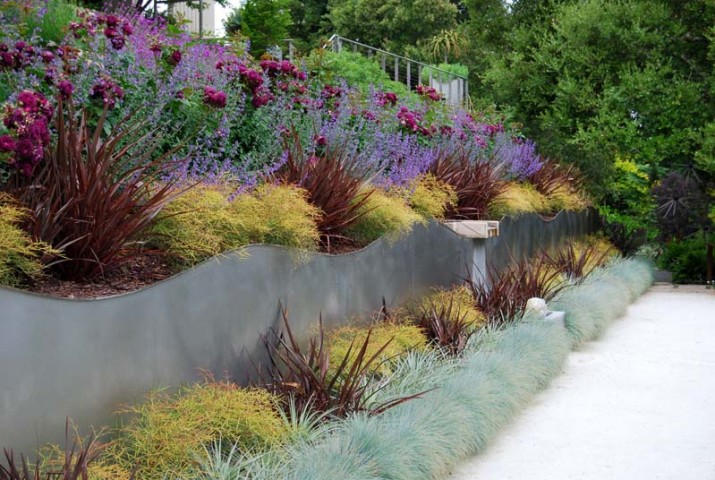 The topic for this month's Garden Designers Roundtable is Garden Travel/Best Gardens.  While I immediately thought of the many beautiful gardens I've seen on my travels, there's one that I've recently had the pleasure of visiting, and one that I can't get out of my mind.  It's a private garden here in Northern California, created by Jarrod Baumann, a most talented young landscape architect with his firm Zaterre Landscape Architecture.

What makes this garden so special, is the amount of creativity Jarrod has infused in every aspect of the design.  It's clearly a collaboration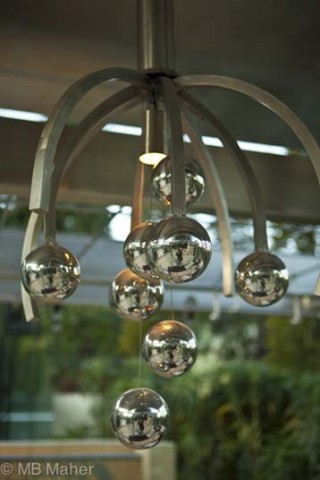 between a highly imaginative designer and a trusting and willing client, and the personal touches are evident throughout.  Sometimes high-end gardens can look a little 'over designed', failing to reflect the personality of the homeowners.  Definitely not the case here.
This is a garden that was patiently created over the course of three years, slowly developing one layer at a time.  Instead of implementing everything at once, this intentionally slower process meant both the clients and designer had plenty of time to think about the garden.  To think about what they wanted, about what could be, about what was important to them.  What they came up with was a garden with the perfect mix of Contemporary, Art Nouveau and Art Deco.  Sleek lines infused with sensuous and soft curves, using materials in a most unexpected way.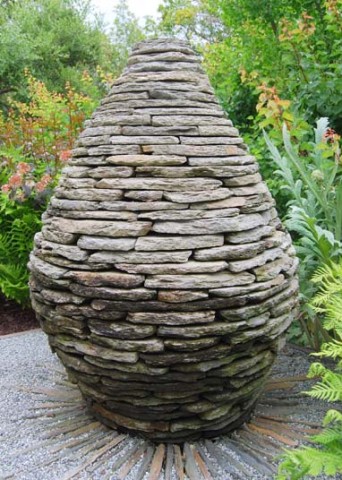 As the relationship between Jarrod and his clients grew, it became easier to introduce personal touches throughout, such as the cairn – a nod to their Scottish heritage – or subtly striking metal orbs hanging from majestic oaks.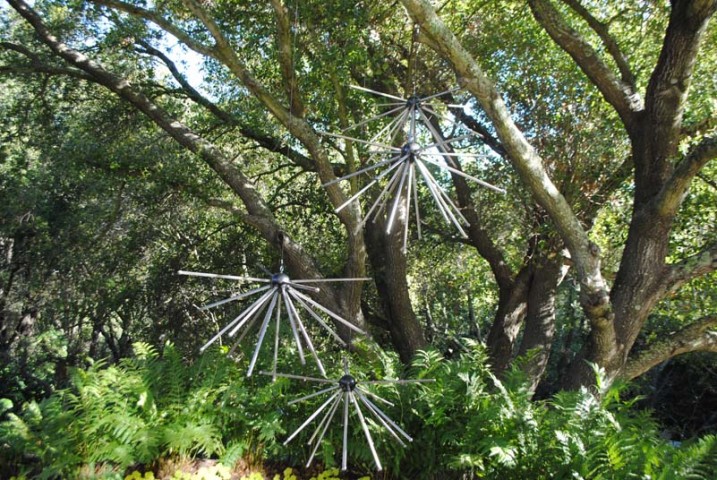 The easiest way to take you through this garden is to start at the beginning and explain what you're about to see (thanks, in part, to Mitch Maher and Marion Brenner, two fabulous photoraphers!)
The Streetside Garden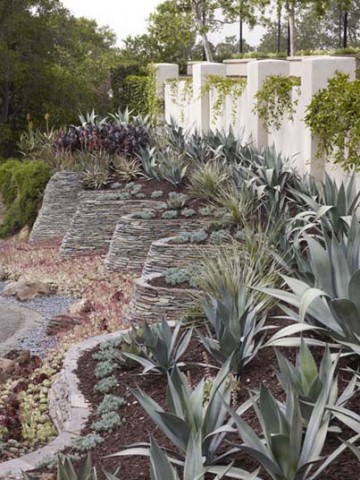 So often the strip of earth that runs parallel to the street is often neglected, left alone to fill in with whatever natives and weeds can survive on little to no irrigation.
When visitors make the trek up the windy hills to this garden, however, they're hit with a sinuous, stacked stone wall (ala Andy Goldsworthy), brimming with succulents and cactus.

Phormiums that flank the front door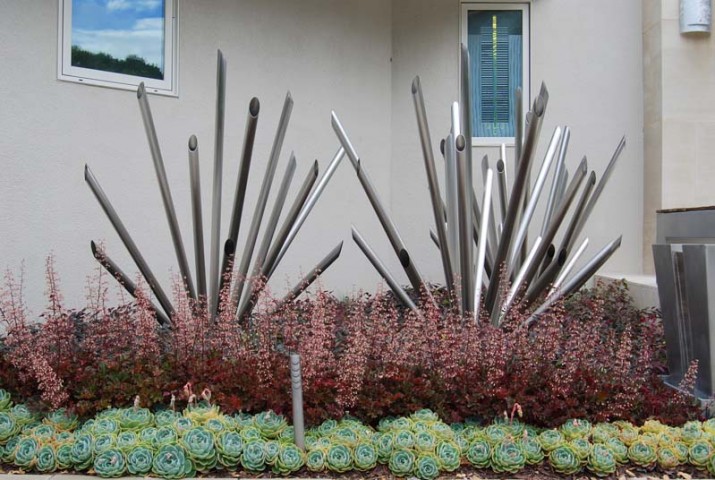 Once you enter the gates, drive up the hill where you won't find any typical foundation plantings.
Instead, you'll find a mix of swaths of color punctuated by stainless steel phormiums.

The Terraces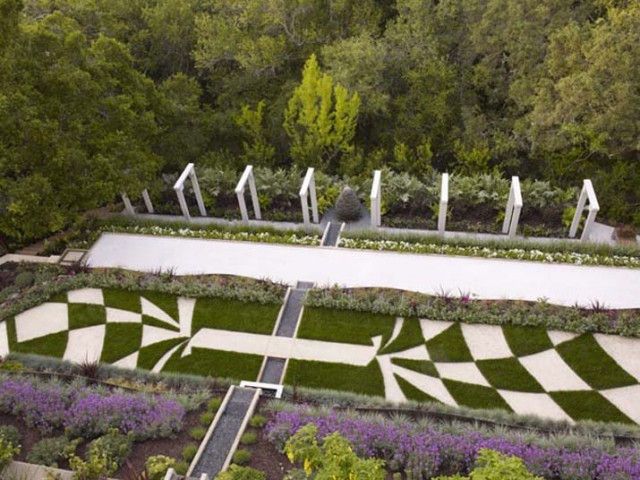 This garden is built on a fairly steep hillside.  To make the difficult terrain beautiful yet functional, Jarrod created 3 main terraces:  the Tapestry Garden, the Bocce Court, and the Inari-inspired Arbors.
All three terraces are bisected with a water trough feature running perpendicular through them.


Terrace #1: The Tapestry Garden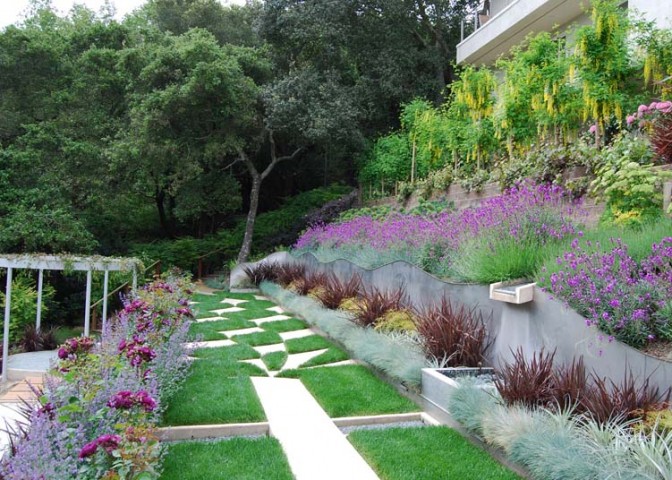 Terrace #2:  Bocce Court with Contemporary Tea House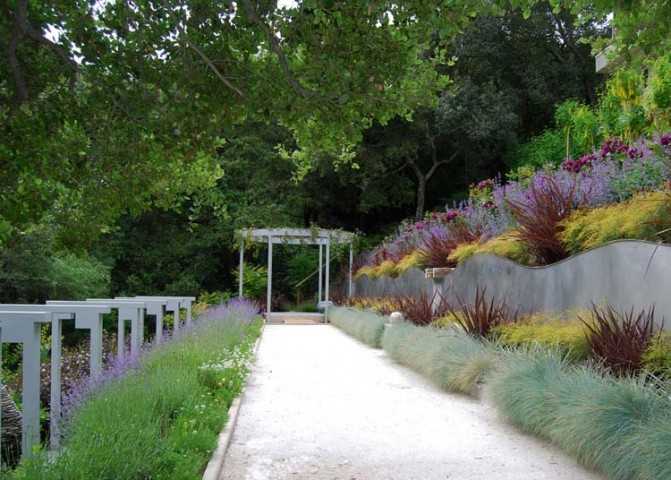 Terrace #3  Inari-inspired Arbors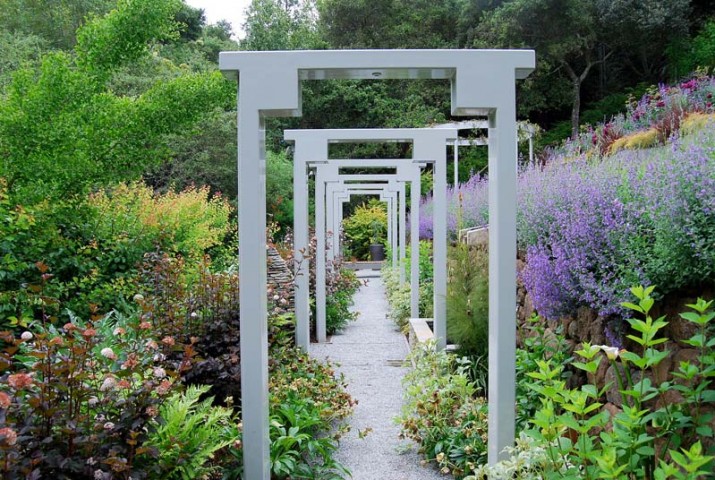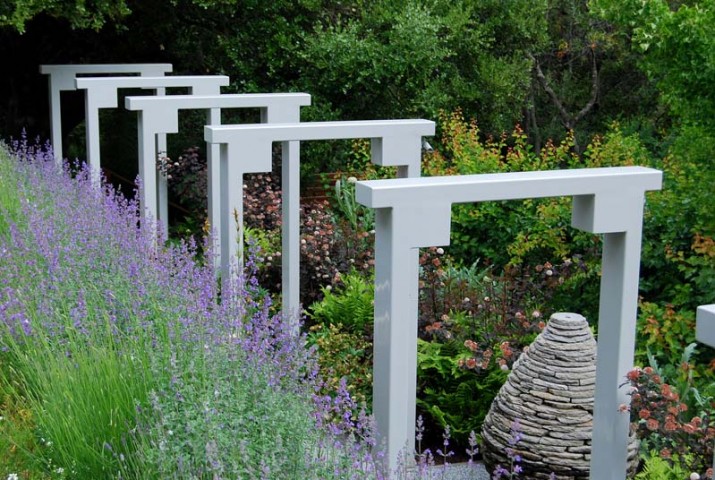 The Wind Room
Having a hillside garden can mean cold and windy evenings.  Wanting a cozy retreat to enjoy year-round, Jarrod created this glass encased 'Wind Room', complete with the elements of fire and water, of course.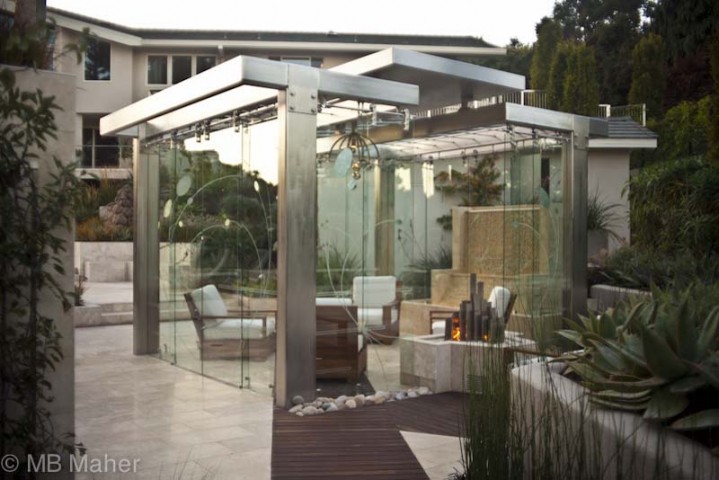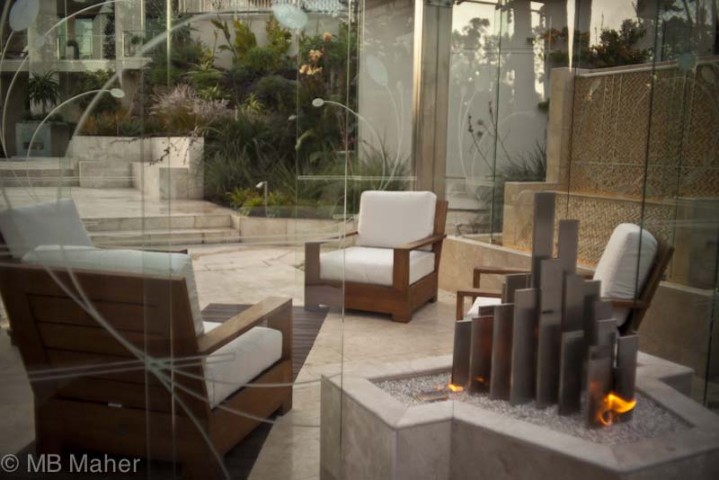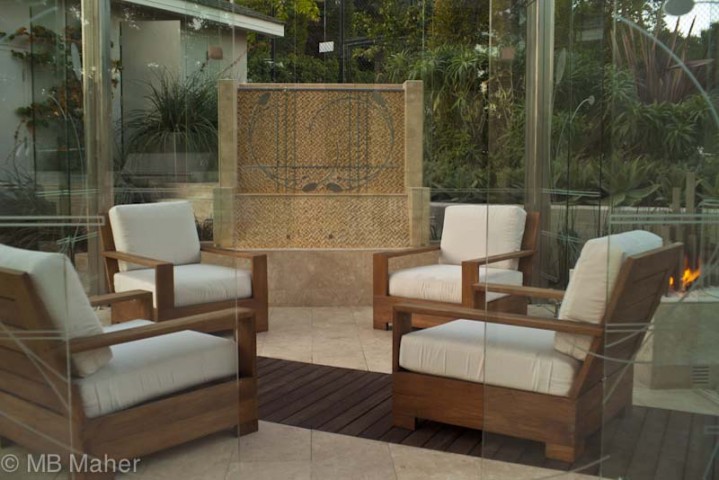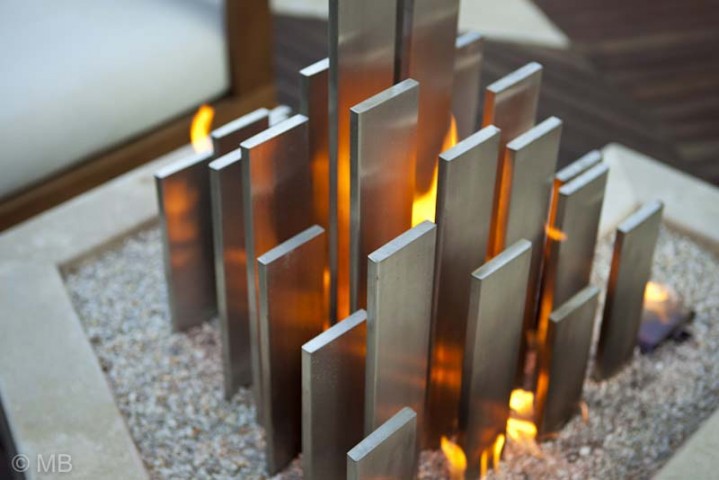 The Shade Garden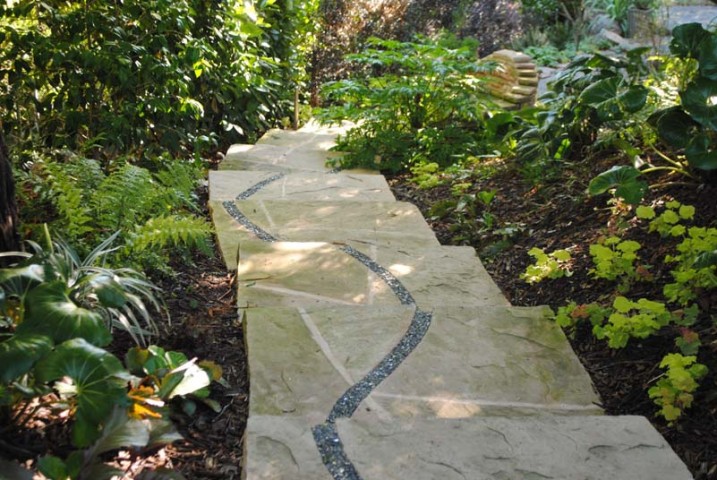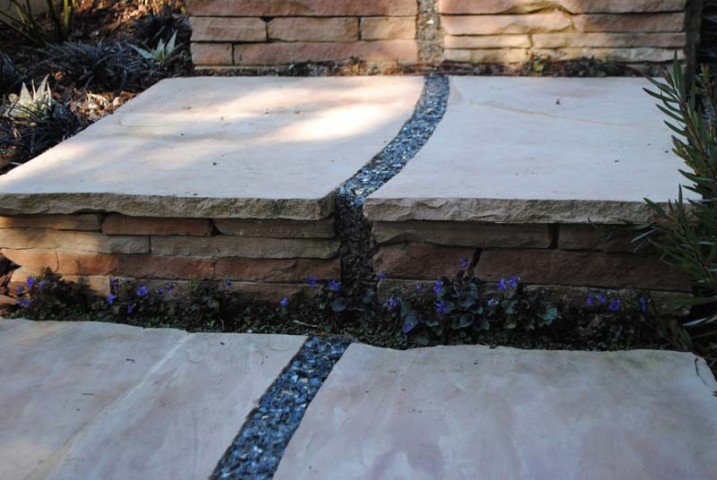 To reach the bottom of the terraces you'll meander through the shade garden, traversing comfortably wide stone steps embedded with a river of crushed glass running through them.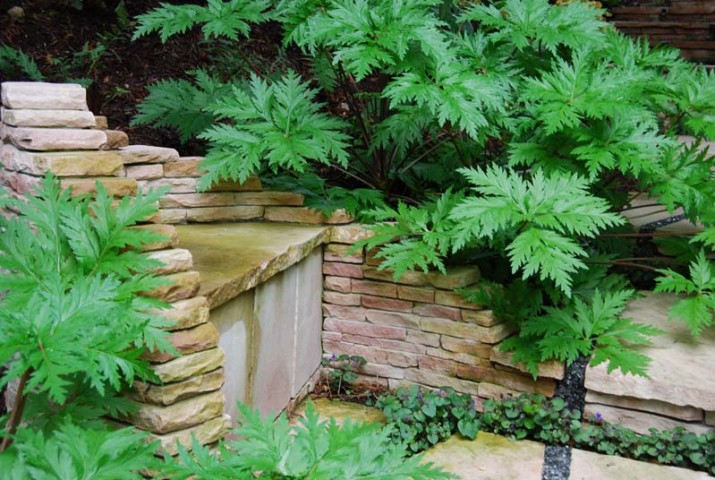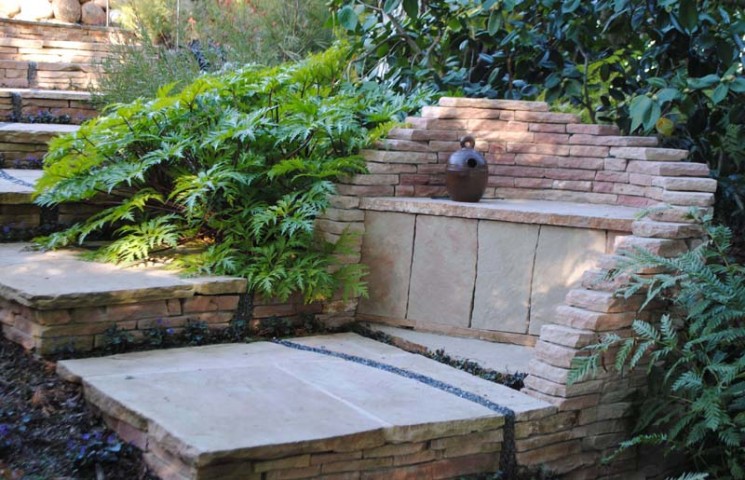 Rounding the corners, discreet stone benches peek out of the wall just waiting for someone to sit and rest awhile.  It's this attention to detail that makes this garden such a delight.

The Zen Garden with Chicken Coop
At the bottom of the terraces sits the Zen Garden, bisected in the middle with one of the most beautiful chicken coops I've ever seen, complete with a succulent roof.  One one side of the coop is a delightfully curvacious black swoosh, and on the other side is another shape, distinctly different.  This side of the Zen garden is in the shape of the San Francisco Peninsula, with Los Gatos represented by a stone on which the owner can sit and contemplate.  How cool is THAT?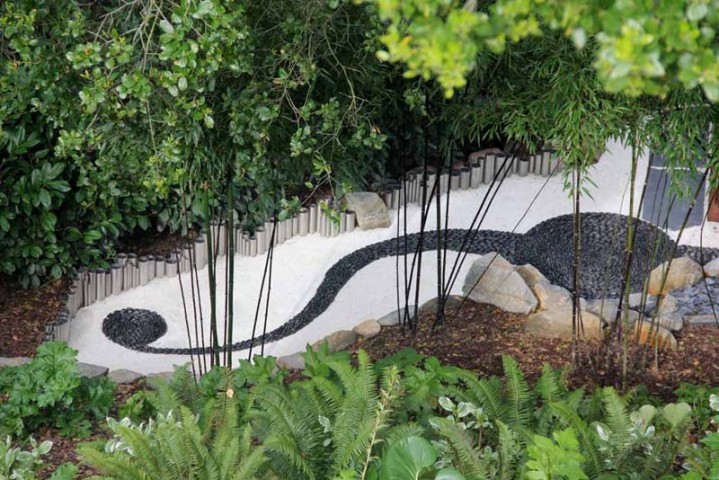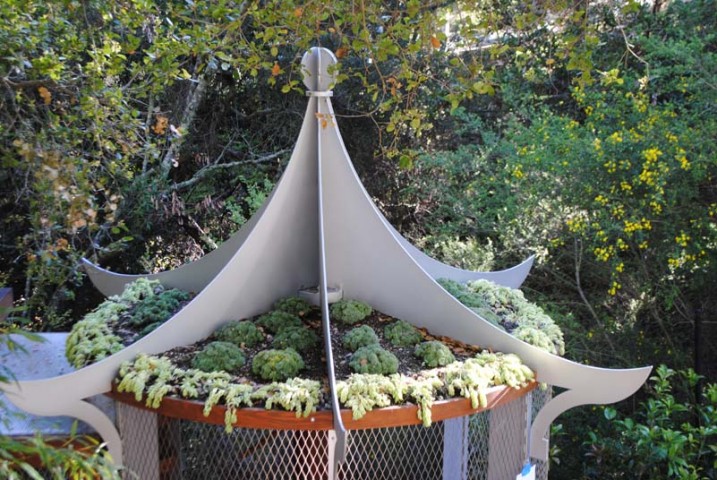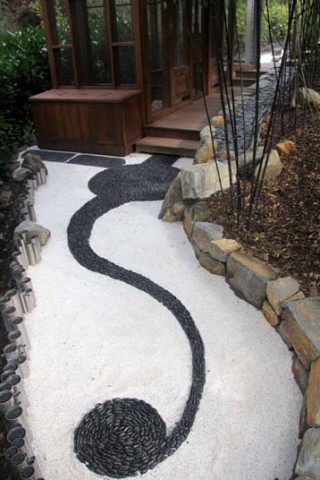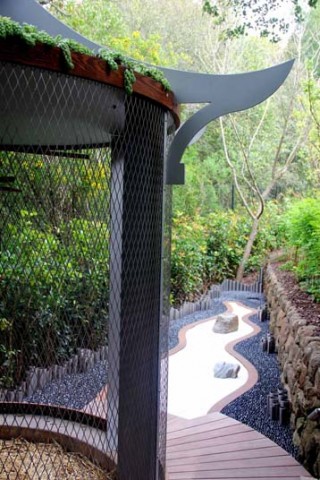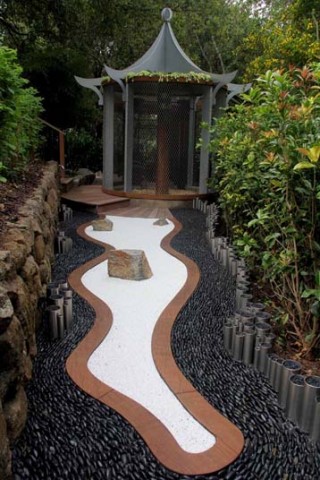 I truly hope you've enjoyed experiencing this garden as much as I did.  And please stop by the other Roundtabler's to visit some of their own favorites, including our featured guest this month, Fern Richardson who writes the popular blog, Life on the Balcony.
Fern Richardson : Life on the Balcony : Orange County CA
Susan Morrison : Blue Planet Garden Blog : East Bay, CA
Susan Cohan : Miss Rumphius' Rules : Chatham, NJ
Scott Hokunson : Blue Heron Landscapes : Granby, CT
Rochelle Greayer : Studio G : Boston, MA
Lesley Hegarty & Robert Webber : Hegarty Webber Partnership : Bristol, UK
Genevieve Schmidt : North Coast Gardening : Arcata, CA
David Cristiani : The Desert Edge : Albuquerque NM