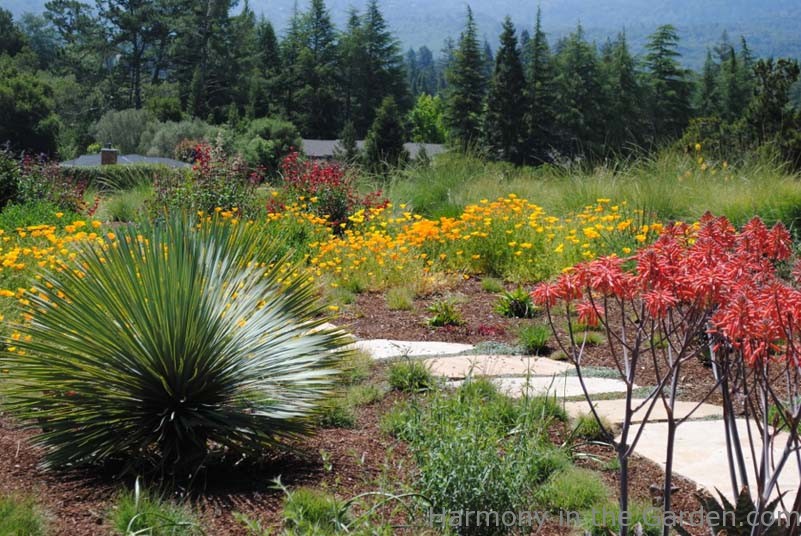 The natives are coming, the natives are coming!    Each passing year brings more and more native plants to our California nurseries, and I couldn't be more pleased.
In response to this growing demand, even the smallest nursery these days seems to have a section dedicated to native plants.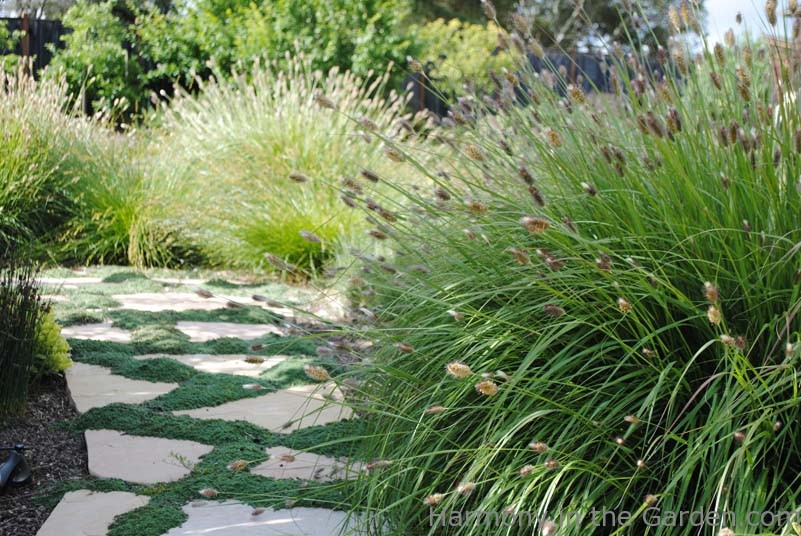 However, there are some clients who are still a little hesitant whenever I suggest using a native plant for fear their garden will begin taking on an different aesthetic, look 'too messy', 'too grassy' or 'dead in the summer'.
While it's true that some native plants go dormant in the summer (after all, it's their natural defense against our wicked combo of hot sun and no water), is that really such a bad thing?  Shades of gold are beautiful in the garden.
Of course, no one wants an entire garden that goes dormant in the summer, but who says it has to?  There are plenty of native plants that are evergreen and/or bloom in the summer adding many seasons of interest.   And with careful plant selection you can find the perfect plant that will blend in with whatever style garden you desire.  Here's a few examples:

Cottage Garden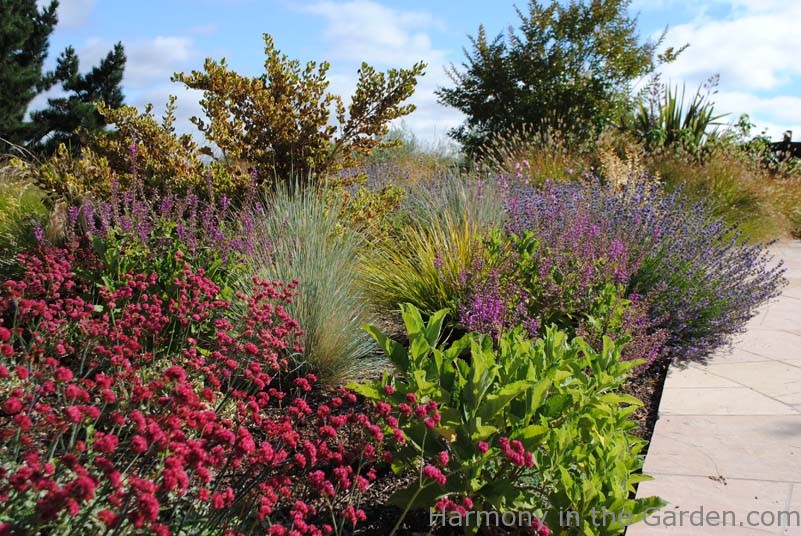 For a cottage style garden, filled with prolific flowers in a riot of color, consider including one of our native Buckwheats (Eriogonum).  One of my favorites is the the 'Red Buckwheat' (Eriogonum grande rubescens) with its ruby-red flowers bringing in every butterfly in town.  It's demure height of 1 x 3 makes it ideal for the front of the border.  Oh, and did I mention it thrives on neglect and is deer resistant – perfect!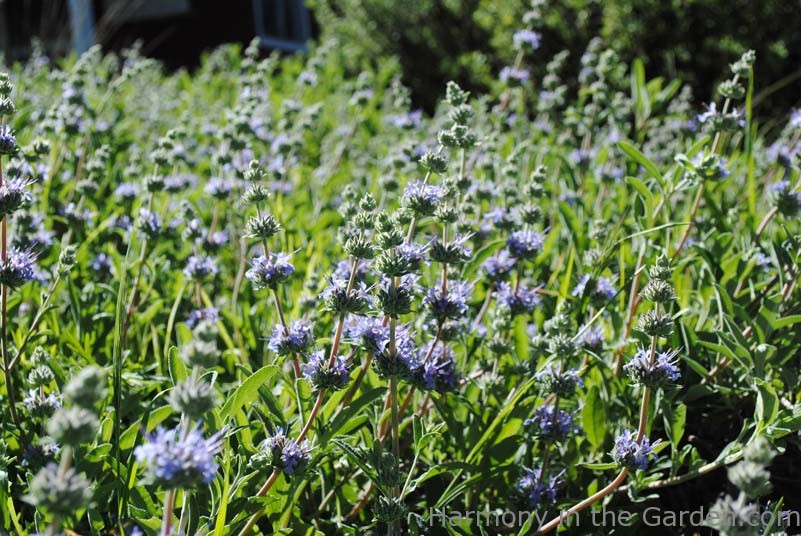 Another favorite among hummingbirds, Cleveland sage (Salvia clevelandii), is a large shrub that remains semi-evergreen in our mild climate.  The whorls of lavender flowers bloom spring through fall, and sometimes even in the winter.  Brushing by this plant's delightfully scented, silvery foliage emits a powerful 'hiking in the hills' smell, too.  Yum.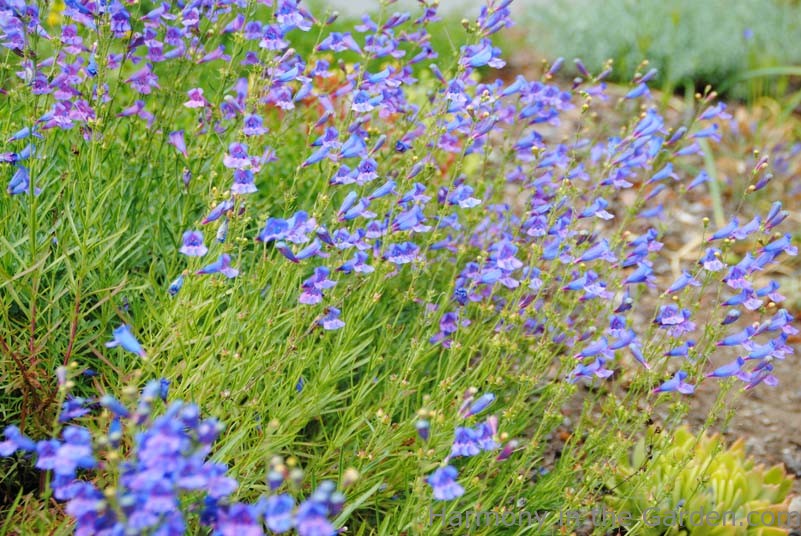 Tired of hybrid penstemons overcrowding your garden beds?  I rarely plant those giants any more, preferring instead to use our native Foothill penstemon (Penstemon heterophyllus'Blue Springs').  The iridescent light blue/pale lavender color combination and it's tidy size (2×2) means it'll fit into any size garden, providing months and months of blooms.

Contemporary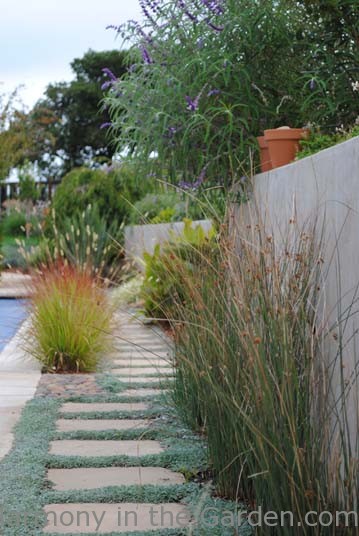 Prefer a contemporary vibe in your garden?  Consider the sleek vertical lines of the California gray rush (Juncus patens).  With tough and wiry gray-green stems, this plant provides year-round vertical interest and is especially attractive planted in narrow spaces.
Mass plantings in drifts, emphasizing blocks of color and form, are another common trait of contemporary gardens.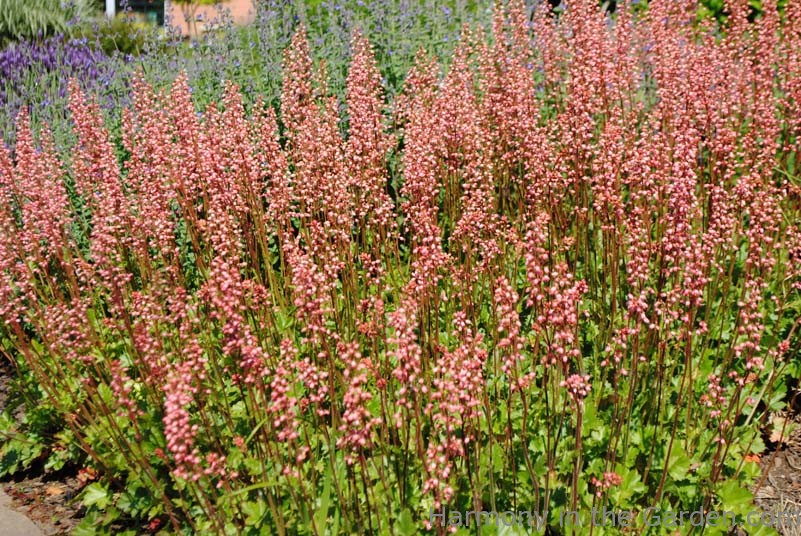 For weeks and weeks of color,  consider using one of our many native alum roots (Heuchera).  Two of my favorite are Heuchera 'Wendy', with its pink blooms in the summer, or Heuchera maxima with its spring blooming white flowers.  Both are tough as nails, yet when the tall and airy wands of flowers appear, they add an ethereal quality to the garden.

Mediterranean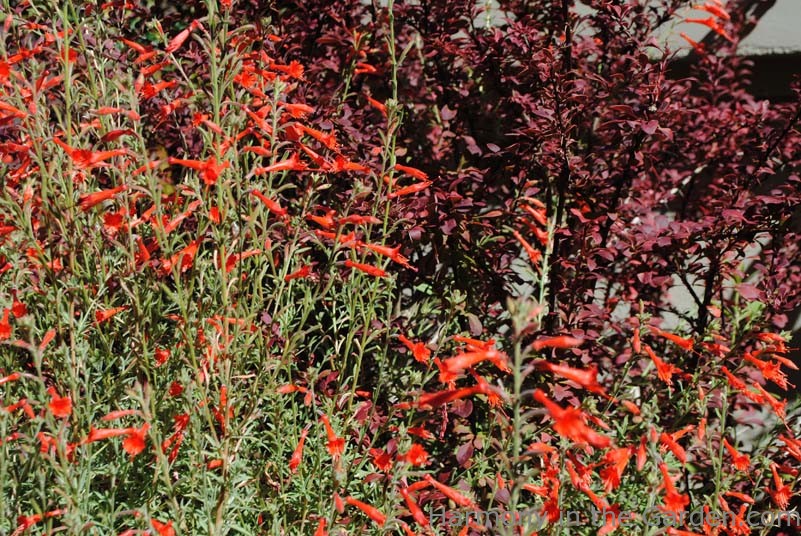 Mixing native plants into a Mediterranean garden is one of the easiest to do, as this combination is a match made in Heaven.  Not only do the typical hot and spicy colors of a Mediterranean garden perfectly complement many of the colors of our native plants, but their watering requirements are very similar.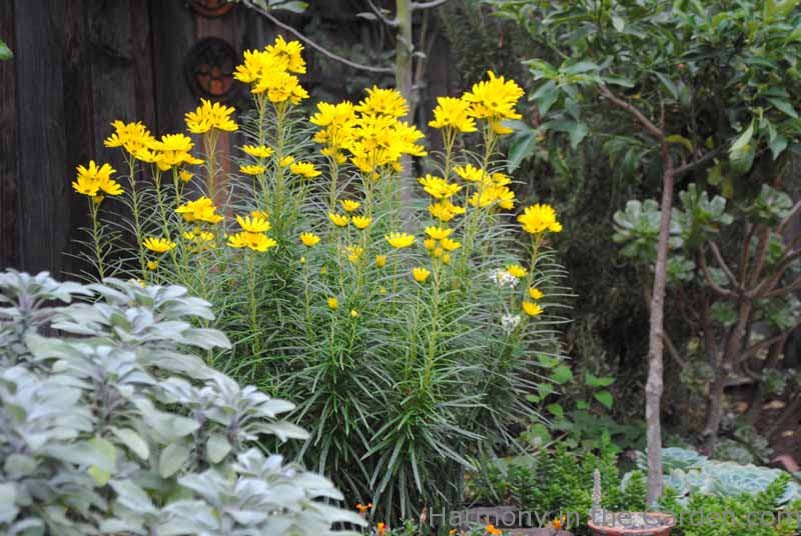 If your existing garden is filled with non-native Lion's Tails, Phlomis and Phormiums, consider mixing in a few natives with similar colors; such as the fall blooming Helianthus angustifolius 'Mellow Yellow', or the fiery red California fuchsia (Zauschneria californica).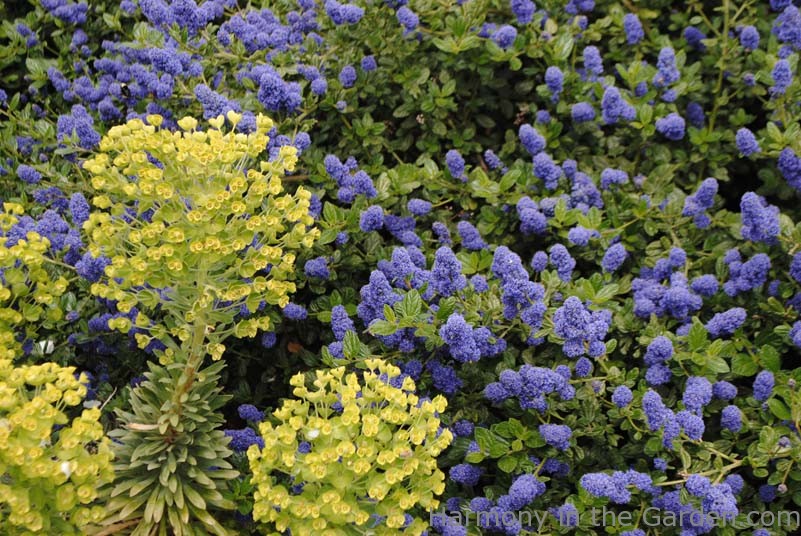 To help temper all of these hot colors, mix in one of our native ceanothus shrubs.  Ranging in colors from white all the way to deep purple, these evergreen shrubs are one of the first to bloom in the garden.  The deep blue varieties are my favorite, not only causing people to stop in their tracks but they're a vital source of pollen for many insects.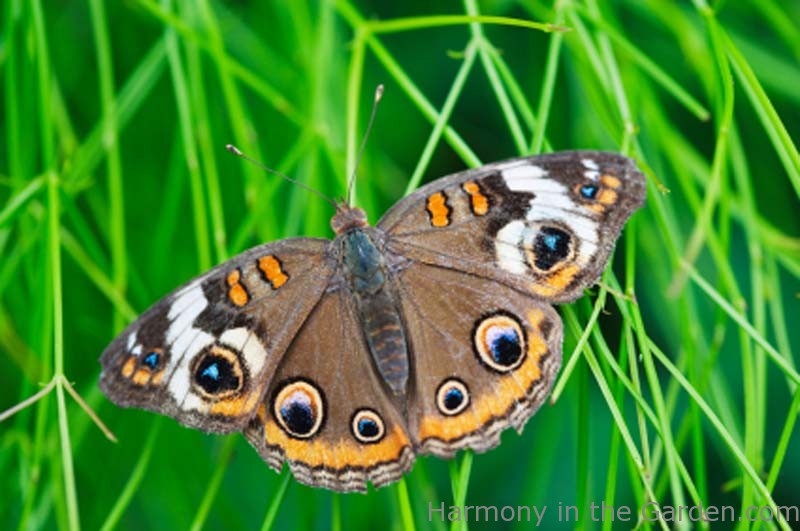 Need more convincing? Natives are a vital source of food for local wildlife.   No matter where you live, urban sprawl is a real concern as it slowly displaces natural habitats.  Planting natives in your garden is one way you can help provide essential food and shelter for this displaced wildlife.
Months of colorful blooms, less water usage, increased wildlife to your garden – what's not to love about natives?
I know many of my readers live in California, so I'm wondering – what are your favorite natives to use in the garden?

And if you'd like to see one of my favorite California native gardens, please visit the garden of half of the writing team Town Mouse and Country Mouse .
To learn more about designing with natives, please take a moment to read the thoughts of the other members of the Garden Design Roundtable:
Thomas Rainer : Grounded Design : Washington, D.C.
David Cristiani : The Desert Edge : Albuquerque, NM
Susan Morrison : Blue Planet Garden Blog : East Bay, CA
Pam Penick : Digging : Austin, TX
Mary Gallagher Gray : Black Walnut Dispatch : Washington, D.C.
Lesley Hegarty & Robert Webber : Hegarty Webber Partnership : Bristol, UK
Genevieve Schmidt : North Coast Gardening : Arcata, CA
Douglas Owens-Pike : Energyscapes : Minneapolis, MN
Debbie Roberts : A Garden of Possibilities : Stamford, CT
Scott Hokunson : Blue Heron Landscapes : Granby, CT