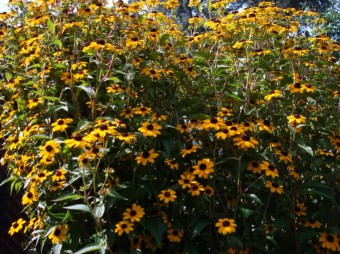 Well – this is officially my 1st Garden Bloggers' Bloom Day entry and I'm so excited!  This is a wonderful tradition started by May Dreams Gardens and is a chance for Garden Bloggers everywhere to show you what's going on in their own garden on the 15th of each month.
.
September in California usually doesn't really feel like Fall yet (it typically doesn't until late October – even though the stores already have pumpkins and Halloween decorations for sale).  September usually means 3 things: back to school, way-too-early holiday decorations and surprise heat waves.  These stores trick the novice gardener into thinking "Ahhh…Fall is on it's way – I think I'll plant some lettuce now" just in time for a few more days of 100+ temperatures to destroy their cool season vegetable crop.
.

Anyway – back to my garden.  Because of our unusually mild Summer this year, my garden is still blooming it's head off with flowers that typically peak in the earlier part of Summer, combined with flowers just coming out for their Fall show.
.
I'll start with the Sunny parts of my garden…..
.
Probably one of the main stars of my September garden is this Rudbeckia triloba pictured above.  It blooms for about 8 to 10 weeks, and then provides food for a zillion little yellow finches that come down and just massacre the plant – eating not only it's seeds but stripping off it's leaves.  It's a sad, but predictable, public execution that's played out in my garden each year.
.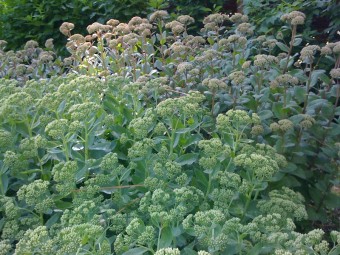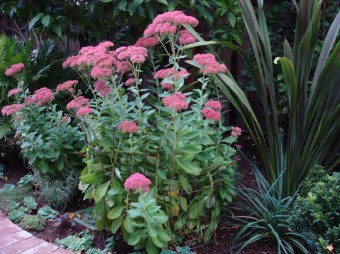 The other star in my Fall garden is Sedum 'Autumn Joy'.  This plant is just incredible.  It's a perennial which, in March, starts putting out it's blue-green foliage which grows quickly into a tidy little mound.  By June, it's about 3′ tall, with the greenish 'broccoli florets' all over it (personally, I like it best in this stage – LOVING the subtle colors).  On cue, just as September 1st rolls around it begins to turn it's pink-reddish tones, deepening to a dark red by October.  It'll hold it's blooms well through Fall, and depending on what type of Winter we have, even until December or so.  The flowers will turn brown, and some of the leaves will have turned yellow and fallen off, but it provides really pretty Winter 'structure' (as well as seeds for the hungry birds).  It'll get whipped into a broken mess by the first really windy Winter storm, so just cut it down to the ground.  It'll just be a few months until the whole process starts all over again.
.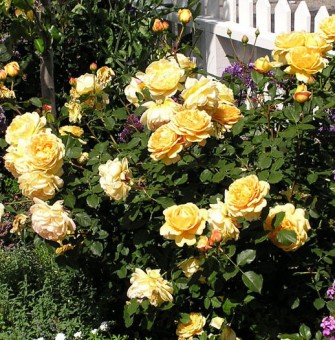 .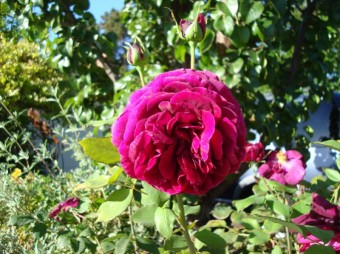 .
.
.
.
.
.
.
.
.
.
I'm usually not a huge rose fan, so if they're going to be in my garden they'd better have repeat blooms as well as be disease resistant (we get powdery mildew and black spot here BIG TIME due to our cool Summer evenings from the ocean air blowing over the mountain range).  The roses pictured here are 'Golden Celebration' and 'The Prince' – both by David Austin, and both fabulous.  'The Prince' has that delicious old-world fragrance, while 'Golden Celebration' will give you about 500 blooms in one Summer.
.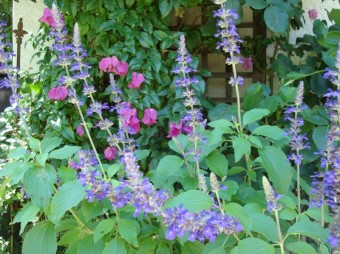 .
Salvia 'Mystic Spires' is another awesome plant.  When I originally bought it, I thought 'no WAY will this survive our Winters' – even though the tag said it was a hardy perennial.  It just looked too tender!  I'm so glad to say I was wrong – this one is about 3 years old now, and hasn't stopped blooming for 2 months.  Butterflies and bees just love this one (as do hummingbirds).
.
.
.
.
.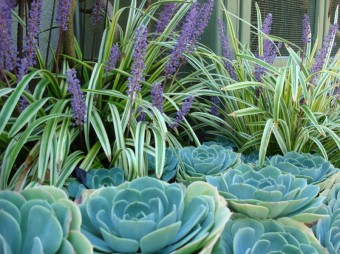 .
Liriope 'Silvery Sunproof' is one my favorite 'miracle plants'.  It'll grow in both the sun AND the shade (I'll show you a picture of that later…) and really comes into 'its own' right about now.  The purple spikes, combined with it's variegated foliage are a knock-out, and just keep on blooming all the way through October. I prune mine to the ground every other year (in late February) and it bounces right back.
.
.
.
.
.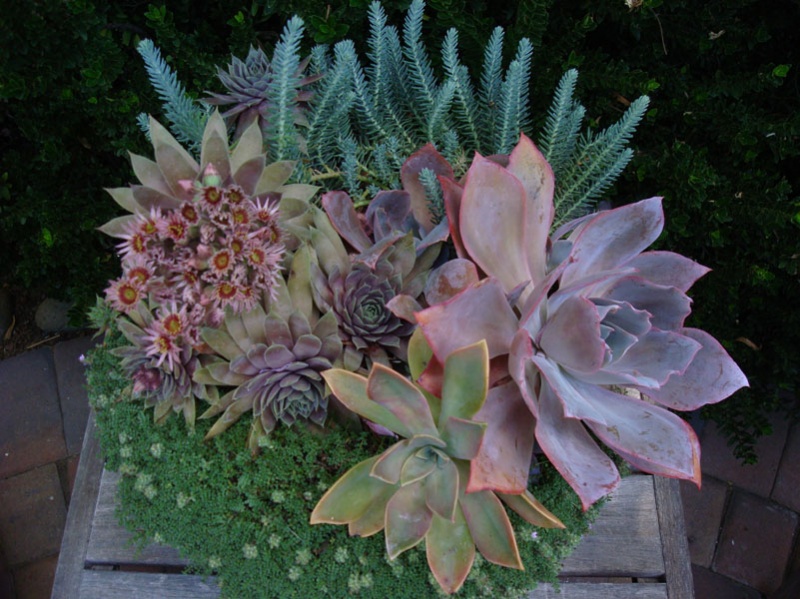 Succulents blooms too!  I just had to show you this HUGE photo of my succulent pot, because on the left side is an escheveria that's covered with little blooms.
.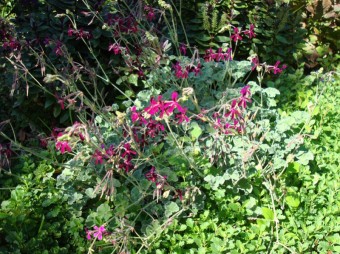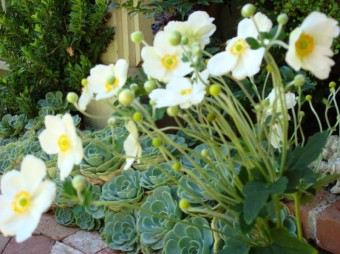 .
.
.
.
.
.
.
.
.
.
.
.
On the left is a hardy-as-heck cranesbill Geranium, who's name I lost a long time ago.  I'd love it if someone out there could let me know the name of this!  And on the right is the common Japanese Anenome.  WATCH OUT for this one – it can be super invasive!  I've seen it invade someone's lawn, and they've never been able to totally get rid of it!  But it sure is beautiful!
.
Now on to the shadier part of my garden……
.
.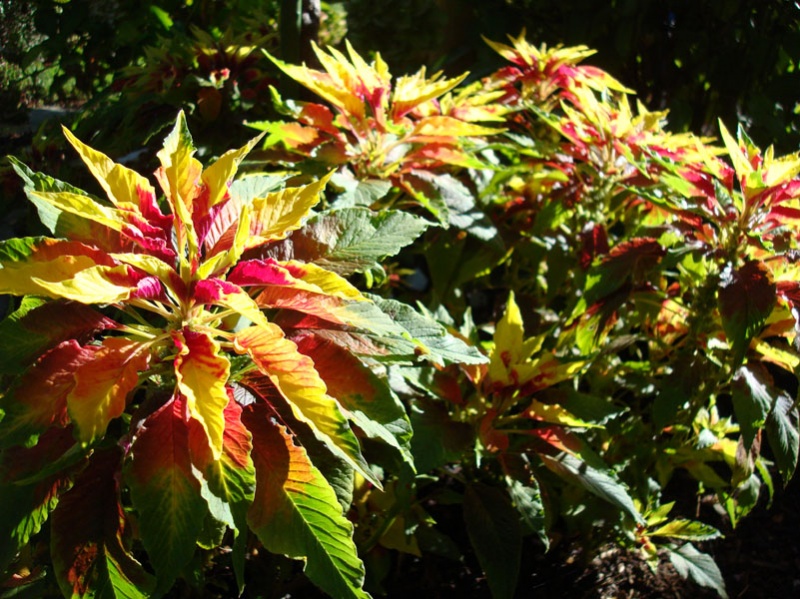 As my daughter would say, this Amaranth has got some 'Mad Skillz'….  I'm not sure if technically this counts as a bloom, but it does today!  Unfortunately, this was one of those un-marked wonders at Target, saying something like 'Amaranth family' on the tag…..with no variety listed.  It's just an annual, but what an annual it is!
.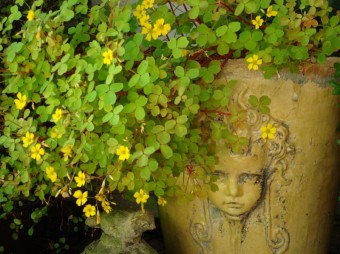 This is an Oxalis 'Sunset Velvet' that's about 5 years old.  It literally blooms year-round here, with pinching back only necessary a few times a year to keep it bushy.  Even when we get a light frost, this Oxalis goes unscathed.  Another bonus?  You can make a ton of cuttings from this plant.  Just stick a stem in some potting soil, keep it moist for awhile, and you've got a new plant!
.
.
.
.
.
.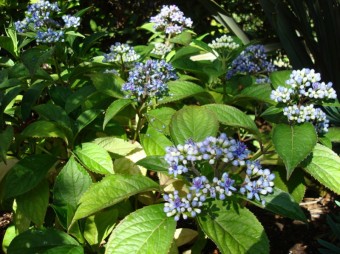 .
Dichroa febrifuga is sometimes known as the Evergreen Hydrangea – even though it's not in the hydrangea family.  In the Fall it has either pink or blue flowers (depending on the acidity of your soil – just like hydrangeas) which hang on for 6 to 8 weeks.  It's a super sturdy shrub, fairly un-phased by anything (except too much sun)..
.
.
.
.
.
.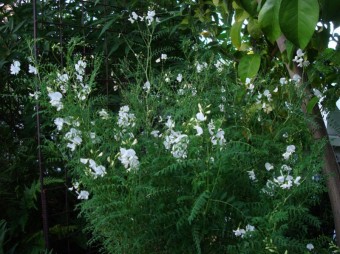 Swainsona galegifolia – isn't this a beauty?  It's rarely seen out here, but hopefully will become more and more common.  It's been blooming for the past month with little sweet-pea like white flowers, and will do so until October or so, with another flush again in the Spring.  It's an Australian native, therefore doing really well in our Mediterranean climate.  It needs to be pruned back by 1/2 to keep it nice and full.
.
.
.
.
.
.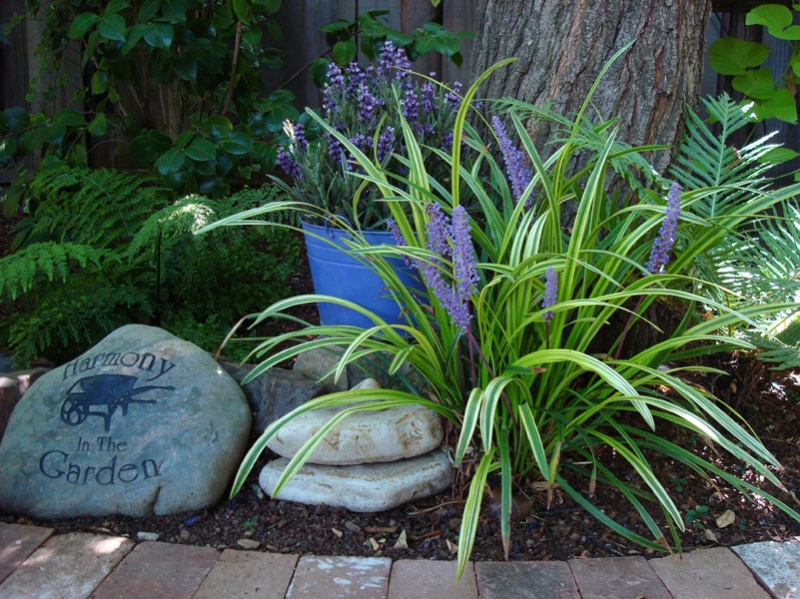 .
Okay – remember earlier I told you I'd show you another photo of the Liriope 'Silvery Sunproof' in the shade?  This is it.  This plant receives almost no sunlight at all, and still blooms it's head off.
.
* The plant in the purple pot blooms 24/7, though that's because it's plastic.  Yes, I have a plastic plant in my garden – mainly for the sheer purpose of defying those who are horrified at such a thought.  Such a rebel, I know…..