.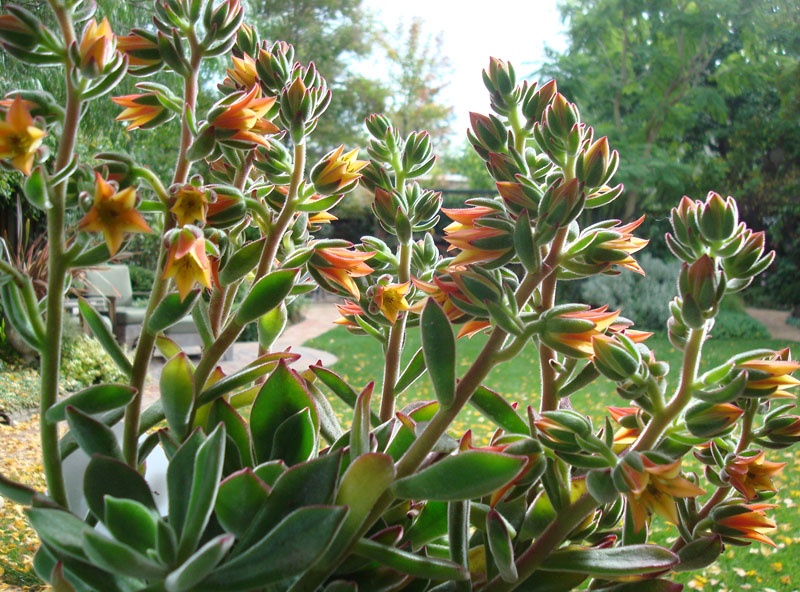 …
"Autumn is a second spring when every leaf is a flower."   ~Albert Camus
.
It's November 15th and it's time for another fabulous Garden Bloggers' Bloom Day! For those of you not familiar with what 'Bloom Day' is, it's an amazing tradition started by May Dreams Gardens and is an opportunity for Garden Bloggers across the world to show you what's going on in their own, personal garden – on the 15th of each month. My own patch of earth is located in Los Altos, California (USDA Zone 8B).
.
November…ahhh…the last month where our mild-Winter gardens push out one last round of blooms.  We've usually had our surprise heat-wave by now (which we did a few weeks ago…just in time for Halloween) coaxing any remaining buds into bloom.  This year is no exception, in fact I seem to have more blooms than ever, as this Escheveria 'Ruby' demonstrates!
.
This month, I seem to be favoring the oranges and yellows…gee, I wonder why?
.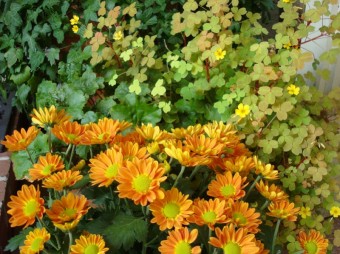 I always seem to have a love/hate relationship with chrysanthemums.  While I tend to not like their smell, or their common-as-dirt, uniform-as-heck appearance, there are the occasional varieties (like this ….) which grab my heart.  And as each year passes, they get bigger and bigger and are always a welcome sight in my late blooming garden.  This one pairs especially well with the Oxalis ….., creating a lovely mix of foliage as well as color contrast.
.
.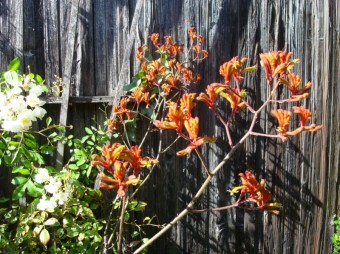 Another favorite of mine is this Anigozanthos 'Orange Cross'.  As do most Kangaroo Paws, this one blooms his head off, but is especially vibrant this time of year – a welcome addition, adding height to my garden as well as color.
.
.
.
.
.
.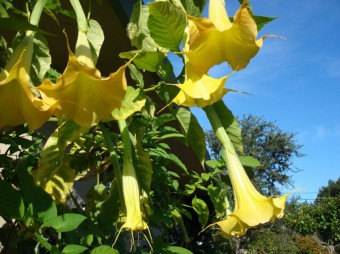 .
My 'Charles Grimaldi' Brugmansia is coming into it's 4th flush of blooms this year.  This color is one of my favorites and the smell is absolutely intoxicating.  Yes, it does freeze here once our few, but deadly, 28-degree nights hit.  But it always re-bounds in the Spring.  It's not usually cold enough to kill it entirely – and since it grows so fast, if you're patient enough you'll be kindly rewarded!
.
.
.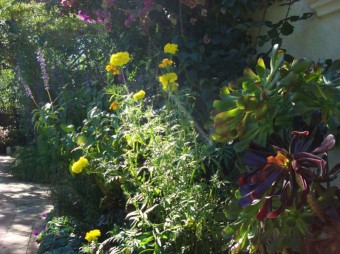 Marigolds are another one of my love/hate plants.  I hate the fact that people bash these flowers RELENTLESSLY!  And I hate when people plant them all lined up like good little soldiers along a pathway.  But take a look at this variety.
These are super tall, only slightly fragrant, and have a very open, airy, old-fashioned feel to them.  They're some of my favorites. I wish I knew which variety they were, but they were in the clearance section, all scraggly & sickly looking…but shown a little love and look what they've done!
.
Okay – it's time we move away from the oranges and yellow and onto something more vibrant!
.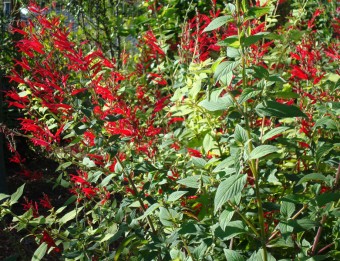 Like this Pineapple Sage (Salvia elegans)!  This Salvia literally explodes in color in early November – to all hummingbirds' delight.  When my daughter was young, this poor plant couldn't grow any taller than 2′, because she and our pet rabbit constantly ate the leaves, thereby stunting it's growth.
Now that the rabbit's gone, and she's not so interested in chowing it, the plant can grow to a towering 5′ high.
.
.
.
.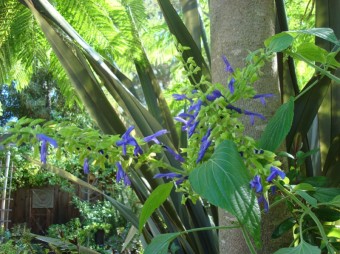 Here's another late blooming Salvia mexicana 'Limelight' which begins it's display in the Fall.  It's got these beautiful chartreuse bracts, covered with the vibrant blue flowers…a truly stunning addition to a shadier spot in your garden.  This plant can reach a towering 7′ tall, adding incredible drama to your garden.  Mine prefers shadier conditions, and I always have to remember to stake it's brittle branches.  Which I did NOT do this year..and a few weeks ago we had a freak wind storm which did major damage to this poor plant.  At least I have a few branches remaining to show you!  No worries, though, as it's tough as nails and will rebound again next year.
.
.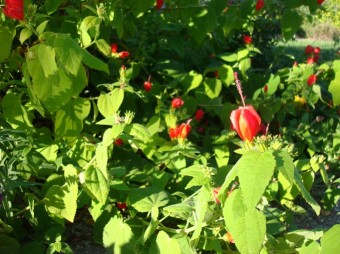 .
Here's another of my Fall favorites – the Turk's Cap (Malvaviscus arboreus).  This, too, begins it's heavy bloom late in the year, dotting the shadier areas with it's bright lights.  It's flowers will hang on until December…or the first strong wind which tends to knock down it's towering 6′ branches.  But just cut it to the ground, and it bounces right back again in the Summer.
.
.
.
.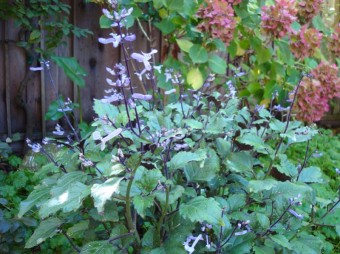 .
Here's a tender, but prolific bloomer.  It's the Plectranthus 'Mona Lavender'. While it wouldn't last through one of our milder Winters, I just bring it indoors and it overwinters just fine!  It's really pretty un-fussy about it's conditions…it's not super thirsty, prefers morning sun, and blooms non-stop for several months – all the way to the first frost.
.
.
.
.
And last, but not least, the parade of Roses…
.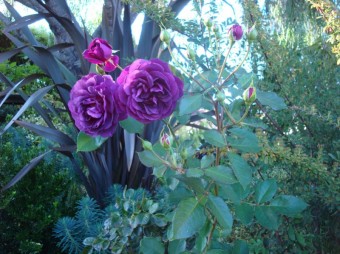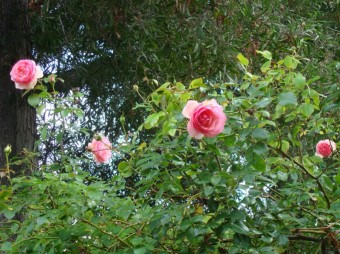 ..
…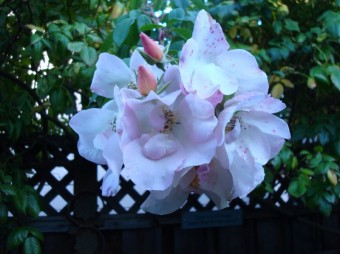 .
The roses seem to be having another flush of flowers, also. Including the deep-grape colored 'Ebb Tide', the pink, iridescent 'Eden', and my 'Climbing Sally Holmes'.  All of them are putting on a show right now, much to my delight…
.
.
.
.
.
Thanks for stopping by my garden this month – and I'll see you in December!
.
.