.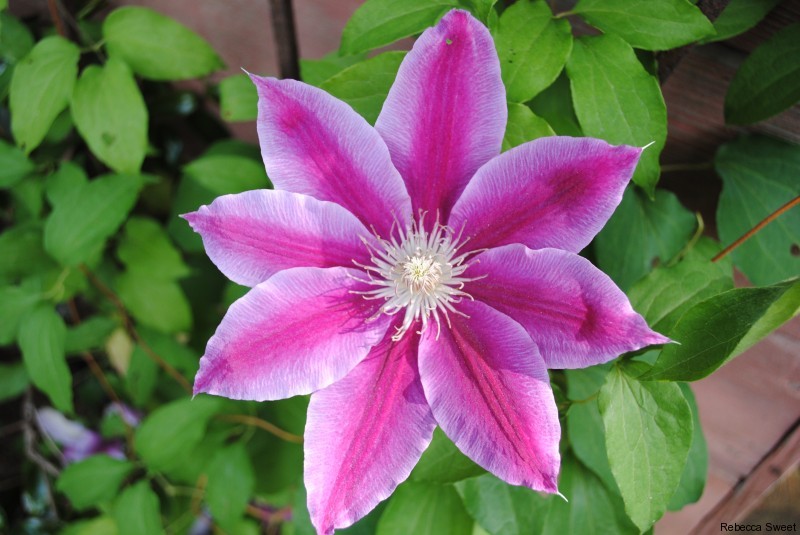 It's Garden Bloggers Bloom Day again – an event created by May Dreams Gardens where fellow bloggers around the world share what's blooming in their own gardens on the 15th of each month.
.
Woo Hoo!  The lusty month of May – when all the garden is flush with bright green leaves, flowers, birds and bees. Life is LIVING this month and not a day goes by when you can't step outside without seeing something 'x-rated' happening in the garden!  The doves, the sparrows – heck, even the crows are busy lusting it up!
.
And then there's the flowers – all screaming out for attention, all wanting to be pollinated, and all wanting some insect love!  Here's what's blooming in my garden this month…..
.

.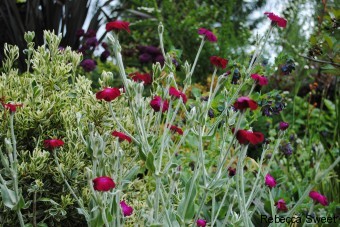 Lychnis coronaria – the Grand Dame of Re-seeding.  My one little plant has managed to re-seed itself all over the place, even down the street!
.
I love this totally drought-tolerant little lady. Nothing gets her down – no snails, no drought, no deer!
.
.
.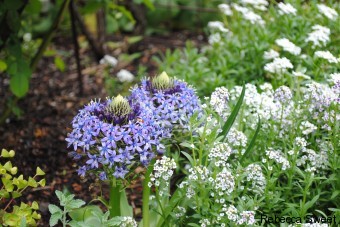 .
Scilla peruviana is a mediterranean bulb that comes up each year, bigger and better than ever.  It produces huge purple flowers which last for weeks, then quietly fades away until next year where it sends out double the blooms!
,
.
.
.
.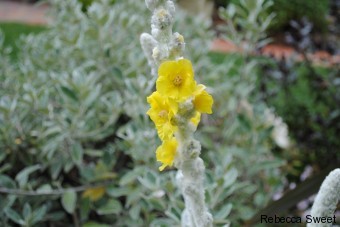 I'm loving my Mullein (Verbascum thapsus) – not only for it's sulfur yellow flowers which grow on spikes up to 6 FEET TALL, but also because it's huge, silvery leaves are evergreen in my climate giving me year-round interest.
,
I've heard this plant's nickname is the 'Roman Candle' – in the old days Romans would dip one of these long spires into wax and use it to light their way!  Poor flowers….
.
.
.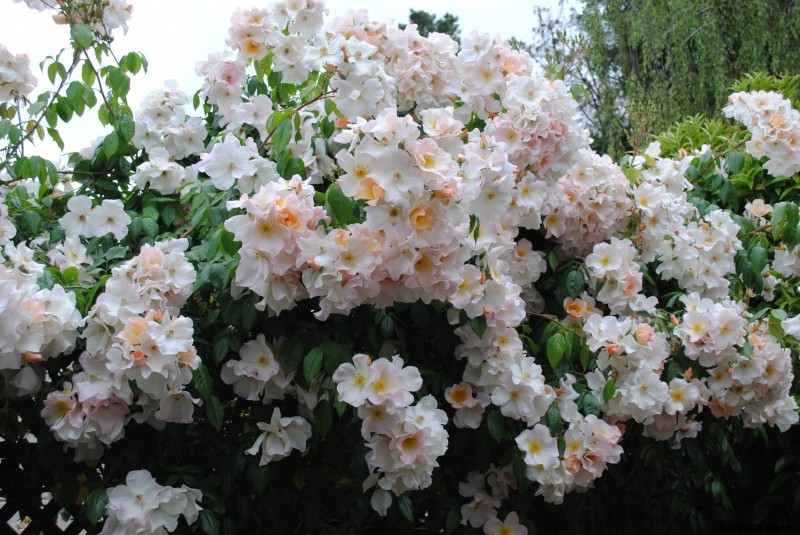 .
.
And then there's my roses.  Each trying to outdo eachother.
,
I'm thinking my 'Sally Holmes' wins First Prize again this year.  This rose is about 20 feet long and will intermittently bloom it's head off for the next 6 months!
.
.
.
'Golden Celebration'                                                             'Ebb Tide'
.
'French Lace' (lasts FOREVER in a vase!)                         'Fourth of July'
.
.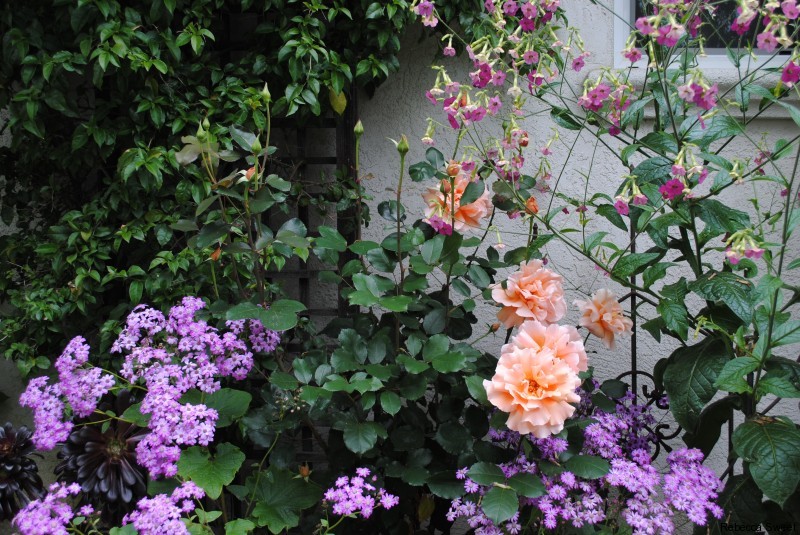 .
I love this bed!
.
There's the purple Cineraria, the Nicotiana mutabalis (from Annie's Annuals) and my 'Just Joey' rose.
,
Together – they're gorgeous!
.
.
.
.
I just had to show a close-up of 'Just Joey' and the giant, 8′ Nicotiana mutabilis!
.
.
Even my wee escheverias and sedums are getting into the act, putting out their 'Welcome Signs'
.
.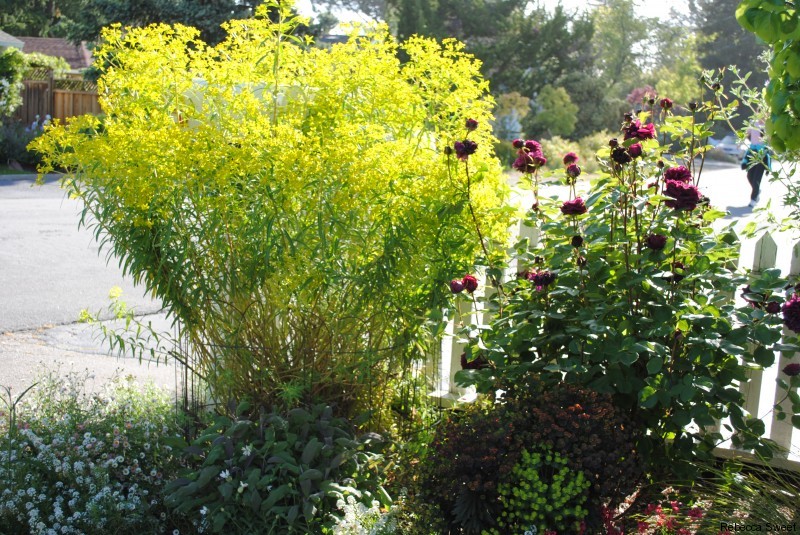 .
But my very favorite has to be my humongous Euphorbia ceratocarpa, which does a fabulous job of hiding the mailbox!
,
I can no longer find this Euphorbia in any of the nurseries, but luckily it's long-lived & it re-seeds so every so often I find a seedling to pass along.
.
.
.
.
Happy Spring everyone!
.
.