.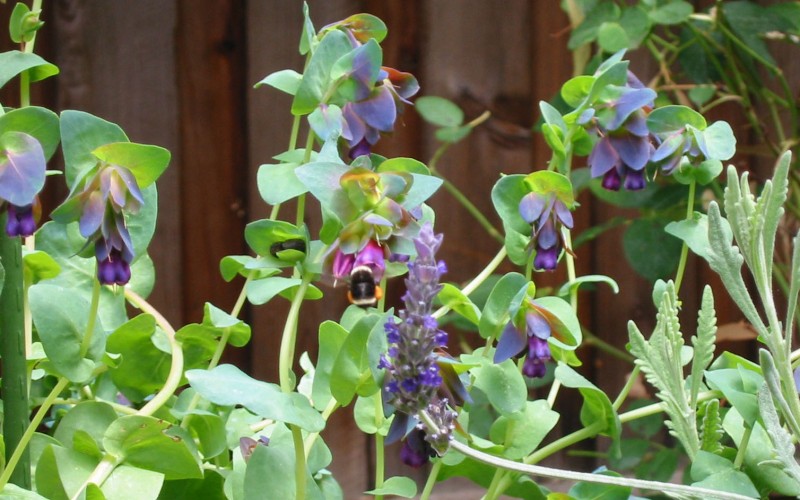 Is it me or are these months just FLYING by faster and faster?  Wasn't it just yesterday that I posted February's bloom day pictures?  Though it seems that way to me, to my garden it's definitely been 4 weeks…Spring has arrived and flowers are finally starting to bloom!
.
If you're new to Garden Bloggers Bloom Day, it's an event created by Carol with May Dreams Gardens – where garden bloggers everywhere post pictures of what's blooming in their own gardens on the 15th of each month.  Make sure you stop by her site to see what else is growing around the country right now – it's the perfect thing for Spring inspiration!
.
.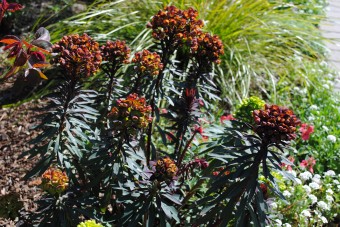 .
Euphorbias are my very favorite plant of all…especially the dark maroon ones.  This variety is 'Blackbird' – and I've found it to be one of the hardiest among the dark varieties…plus, it doesn't spread quite as much as the 'Efanthia'.
.
.
.
.
.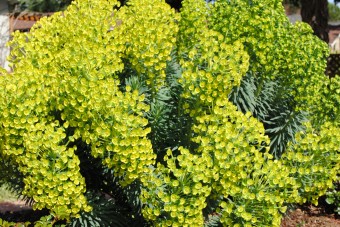 .
And then there's my trusty Euphorbia wulfenii…where would my garden be without it's giant chartreuse puff-balls?  I've only had 2 clients who didn't like these – saying they looked too 'Dr. Seuss-ish'.  It was SO HARD for me to design their gardens without including them! Plus they're so unbelievably drought tolerant and deer resistant…they're perfect for our area!
.
.
.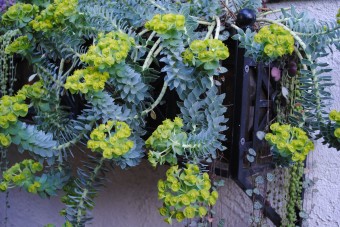 .
I also love my Euphorbia myrsinites, which is the perfect plant to have trailing over a windowbox like this one…in our area it's pretty much evergreen, too.  But it's in the Spring that it really puts on a show, draping it's sexy blue-green stems all over the place….
.
.
.
.
.
.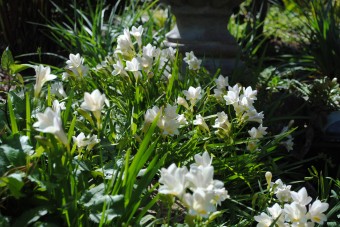 I have a love/hate relationship with Freesias.   It's a good thing they look this good or they'd be goners.  For one, I can't smell them (if you've read my 'Honest Scrap' post you'd remember I don't have the gene that allows me to smell Freesias – I'm not making this up!)  Also, they look so darn crummy once their flowers fade…sitting there like a bunch of weeds.  I bought these many years ago at a neighborhood garage sale…little old ladies were selling baggies of bulbs for .25 cents – little did I know they'd end up taking over my garden each Spring! (the bulbs…not the old ladies)…
.
.
.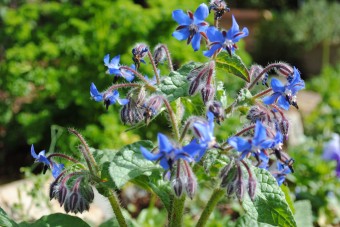 My Borage is finally starting to bloom – hooray!  This is one of the more unusual herbs which is tough as nails and returns each year (thanks to it's prolific re-seeding), and thank goodness it does!  The little blue star-shaped flowers have a 'walnut' like taste and are perfect for salads.  Though I must admit, they rarely make it into the kitchen before I eat them all…
.
.
.
.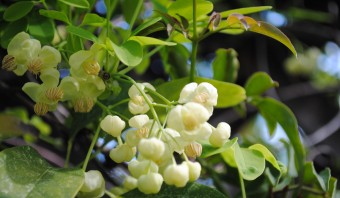 These are the teeny, tiny flower clusters of my Akebia quinata 'Alba' vine, which is evergreen in my Zone 9 garden.  It has thousands of these flowers for just a few weeks, but when it's in full bloom it truly is a sight to behold.
.
There's another variety with maroon flowers, but I haven't had very good luck with it – the white seems much hardier.
.
.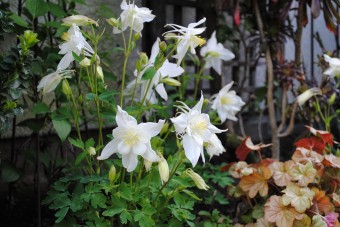 .
There's something about pure white Columbines that look so 'fresh' in the Spring…and these are no exception!  These will produce tons of flowers over the next 6 weeks or so…
.
.
.
.
.
.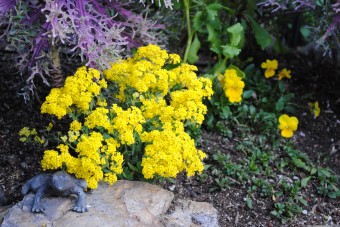 .
I'm so excited to find this variety of Alyssum – called 'Basket of Gold'.  My mother grows this in her brutally hot Zone 7 garden and it's thrived endless 100 degree days without any signs of wilting.  I've planted 3 of them in my garden this year and can't wait to see how they hold up….they're evergreen in my zone, too!
.
.
.
.
.
.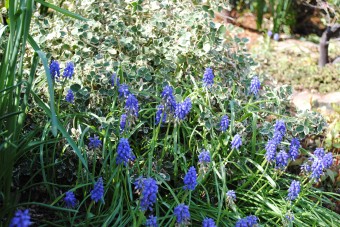 Here's another bulb which I always vow to rip out – not because it's ugly (which it most certainly is NOT) – but because it ends up looking like a weedy mess (similar to Freesias) for months after the blooms have faded.
.
But when I see their happy flowers popping up in and around my 'Emerald Gaity' Euonymous, that manic little voice in my head says 'just leave 'em alone..there's always next year'….
.
.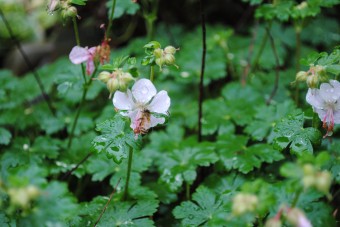 This is one of my all time favorite plants – the simple Geranium cantabrigiense 'Biokovo'.  It's the most reliable of the cranesbill geraniums (for me, at least) forming an EVERGREEN mat which slowly spreads making it PERFECT at the feet of leggier plants.  It loves partial sun, and will just KICK OUT the flowers for most of the year.
.
This has even survived temperatures that have dipped down into the teens – it pouted for a few days, but then perked right up again!
.
Thanks for stopping by and Happy (early) Spring!!
.