.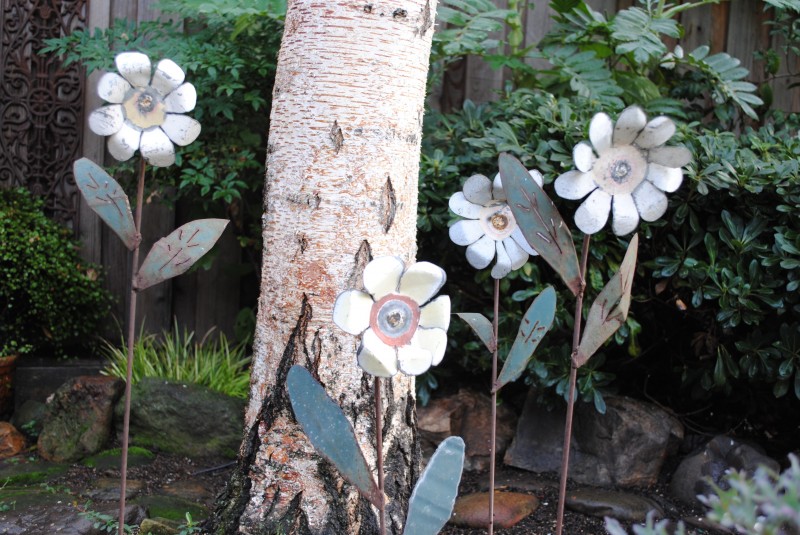 With most of the country being hit so hard this past month with unusually frigid weather I thought it might be a bit rude to talk about the blooms that are currently in my Northern Californian garden.  Yes, I know that's the whole purpose of the Garden Bloggers' Bloom Day event, (a wonderful monthly celebration of gardens, created by Carol over at May Dreams Gardens) so instead, I thought I'd show a different type of flower that's blooming in my garden….
.
Like many of you, I have a zillion 'flowery' things in my garden…from stepping stones….
.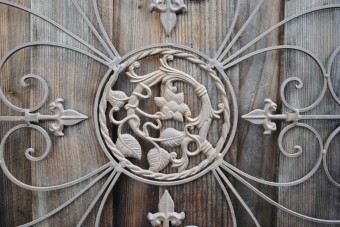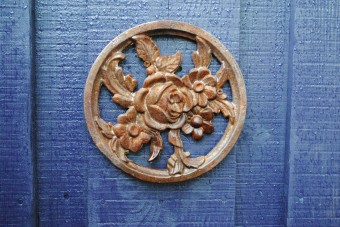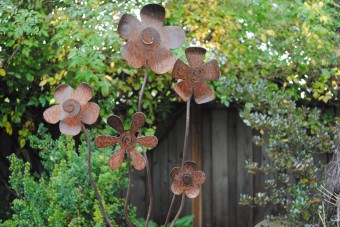 .
.
…to wrought iron flowers hanging on fences and gates, or simply standing proud in a garden, waiting for Sweet Peas to scurry up them ….
.
.
.
.
… flowers on arbors and carved on a potting bench…
.
…and flowers immortalized in cement or brass…  They're all beautiful, they never need watering, and they look good 24/7!
.
.
Okay…I can't resist …here's just a few 'real' flowers to show you that are looking particularly good in my garden right now…
.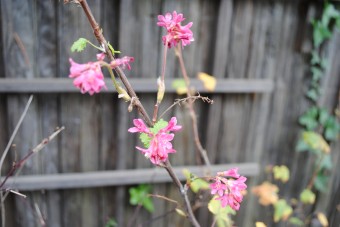 .
.
California's native Ribes sanguineum is just now starting it's Winter show of color…the blooms look especially beautiful on it's bare stems this time of year!
.
.
.
.
.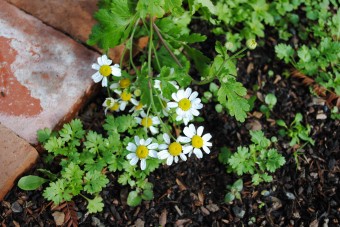 .
.
Every Summer I have scads and scads of these Feverfew (seedlings started many years ago from my grandmother's Lake Tahoe garden)…but this one just never went to sleep for the Winter and is still kickin' out the blooms!
.
.
.
.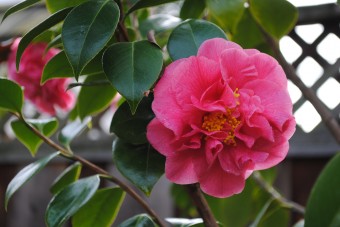 .
.
This is one of my favorite scented camellias -'Scentsation'.  Actually, I don't know why people say regular camellias don't smell – I think they all have a wonderful smell – very earthy, like beets!  But this one is particularly fragrant…not beet-like at all, but rather sweet…
.
.
.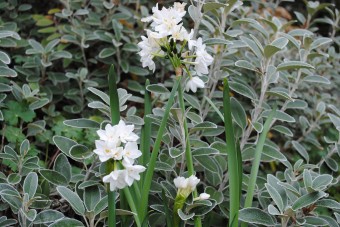 .
.
Speaking of fragrant!  The Narcissus are just starting to pop up, scenting all the air around them….these look particularly beautiful popping up through the Senecio greyi 'Sunshine'.
.
.
.
.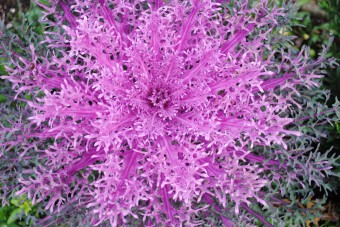 .
This purple flowering Kale is the epitome of the perfect purple Winter flower!
.
.
.
.
.
.
.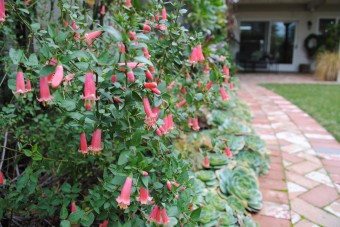 .
Okay – I know I keep submitting photos of this Correa pulchella…but c'mon..can you blame me?  It's THAT amazing!  Blooming from December all the way through April!
.
.In fact, I love this plant so much I've made a little video about it (starring my canaries!)…
.
Have a look – and thanks for stopping by!
.
.
[http://www.youtube.com/watch?v=A4sdBFbeUWw]