.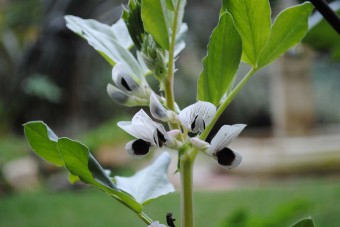 Wow – here we are again – another fabulous Garden Bloggers' Bloom Day! For those of you not familiar with what 'Bloom Day' is, it's a wonderful tradition started by May Dreams Gardens. It's an opportunity for  Garden Bloggers everywhere to show you what's going on in their own garden on the 15th of each month.  My garden is located in Los Altos, California (USDA Zone 8B).
.
It's been a rainy, rainy month but the past week has seen the sun peeking out, causing a whole HOST of activity going on in my garden!
.
Take my Fava Beans, for example.  With their gorgeous white and black flowers opening up daily, I'm sure to get a huge crop of beans this year!  Even if I didn't love the beans (which I DO), I'd plant this for the flowers alone – such an unusual color combination in a flower.
.
.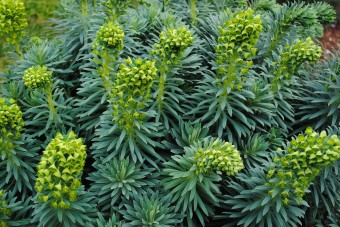 My Euphorbia wulfenii is finally starting to unfurl it's chartreuse flower bracts…this is truly one of my top 3 favorite plants for our Mediterannean climate.  It's gorgeous flowers hang on for 6 to 7 months at a time – and the color can't be beat!  It goes so well with orange or deep purple…
.
.
.
.
.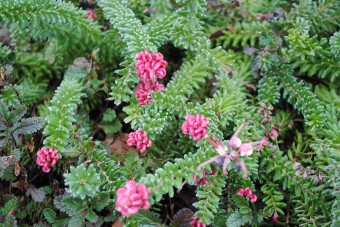 .
Grevillea lanigera 'Mt. Tamboritha' is a mouthful to say…but it's so worth it.  This sprawling groundcover winds itself in and around my other plants, tipped with these deep pink buds which unfurl to a little explosion of tendrils….it's the cutest thing going on right now!
.
.
.
.
.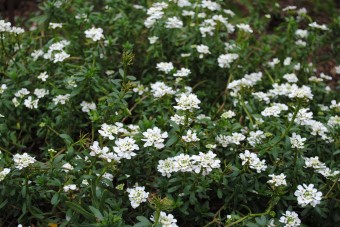 .
Another late Winter favorite of mine is regular 'ol Candytuft.  This variety is 'Purity', which is a little taller than the regular, and seems to be much more hardy in this area, reliably returning each Spring.
.
.
.
.
.
.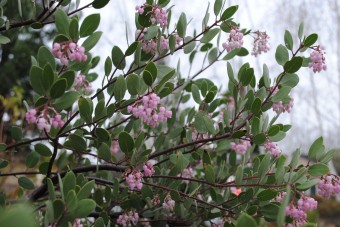 .
Truly, one of the most amazing shrubs around is our native Manzanita.  The variety I like to plant in residential gardens is 'Howard McGinn' – it's evergreen and in the Spring it's COVERED with these tiny, little pink flowers which hang on for weeks at a time.  Absolutely lovely!
.
.
.
.
.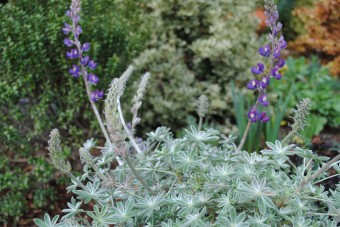 .
Another favorite native is a new one in my garden – the Lupinus albifrons.  This requires excellent drainage so I'm hoping it'll last in my clay-based garden!  I've ammended the soil so much over the years, I'll keep my fingers crossed that it's enough for this little guy!
.
.
.
.
.
I absolutely ADORE this Corsican Hellebore (Hellebore argutifolius).  It's lime-green flowers light up this shady spot of my garden starting in January and lasting all the way through May.  And look how AWESOME it is paired with the deep burgundy of the Ajuga and the gold variegation of the 'Emerald n Gold' Euonymous.  One of my favorite combos, to be sure!
.
.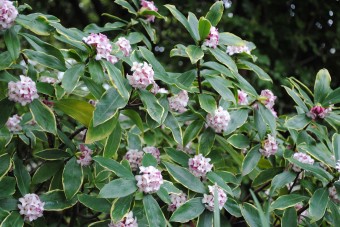 .
For late Winter smell nothing beats the Daphne!  My personal favorite is the 'variegata' with it's gold tipped leaves.  Yes, it's finnicky, but once it's happy in it's spot- leave it alone and don't change anything and your Daphne will reward you with a garden full of scent!
.
.
.
.
.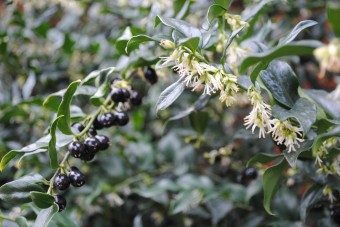 Okay – I lied.  There's definitely something else that rivals the smell of Daphne – and it's this subtle beauty – Sarcococca rustifolia (aka: Sweet Box). I always try and plant this near doorways so come late January you're hit with the most amazing, sweet smell – almost like Jasmine.  This is a particular favorite of my mailman who enjoys it's smell each day…..
.
Plus – it grows in deep shade, it's evergreen, deer don't eat it and it's drought tolerant.  What more could you want in a plant?
.
.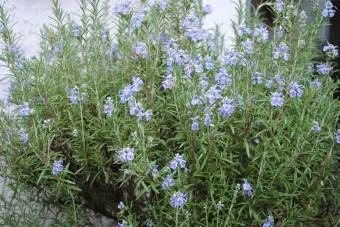 .
I like to plant Rosemary 'Arp' near kitchens…that way it's super easy to sneak outside and snip some when cooking.  Most people forget about Rosemary for gorgeous Winter color – whether it's the light blue flowers of this variety, or dark blue, white or even pink of others…rosemary is an evergreen shrub which I can't live without!
.
.
.
.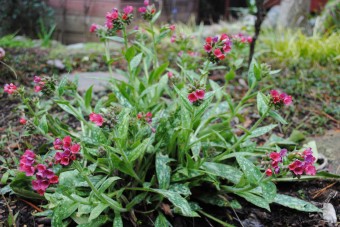 .
Pulmonaria is SUCH a sweet little perennial (it's evergreen in our climate)…kicking out these cute little flowers on top of having the coolest variegated/blotchy leaves!  I've also had this plant re-seed, increasing my Pulmonaria joy!
.
.
.
.
.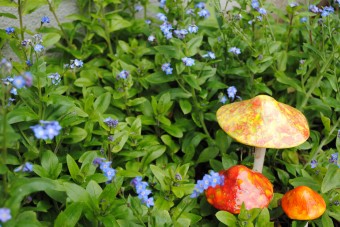 .
.
Ah….I can't forget the Forget-me-nots.  They're a mainstay of my Spring garden, re-seeding every year, every where!  I just love these flowers – and anxiously await the first blooms of my Cecile Brunner rose to pair them in the sweetest little bouquets, which always signal the start of Spring!
.
.
.
Thanks for joining me today in my garden!