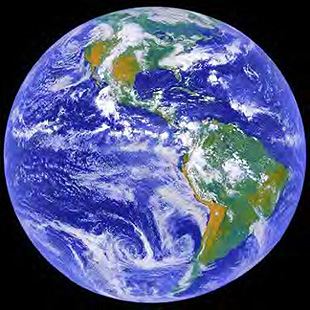 Earth Day is April 22, and I've been invited to participate in a blogging event hosted by Jan Huston Doble's blog Thanks For 2 Day, where garden bloggers are writing about ways in which we're making 'greener gardens'.
I've decided to write about two of my very favorite organic garden products:  Haven's Authentic Brand Soil Conditioning Tea and John & Bob's Soil Optimizer.
.
.
1) Haven's Authentic Brand Soil Conditioning Tea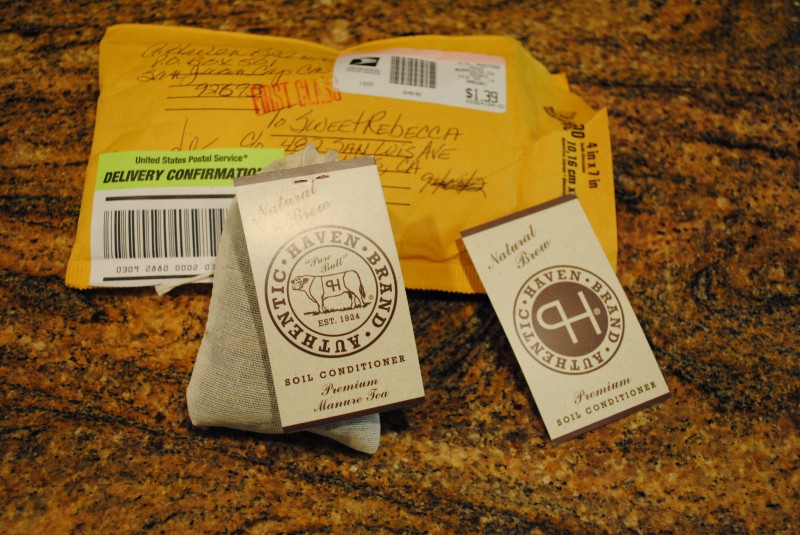 The first is one that I lovingly call Moo Poo Tea.  It's really called Haven's Authentic Brand soil conditioning tea.  But Moo Poo Tea is definitely more fun to say.
What is it?  It's the by-product of natural grass-fed cows raised free of antibiotics, growth hormones and pesticides.  The rancher who created this product, Annie Haven, was kind enough to send me some samples which I said I'd gladly test for her.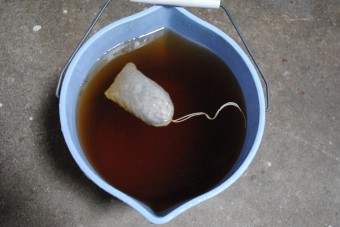 When I opened the envelope, I was amazed at how darn cute these oversized tea bags were (yes, they're intentionally oversized to avoid any possible mix-up with your regular Earl Grey tea bag! Ewwww….)
I must admit that due to it's simplicity, I was a bit skeptical.  It seemed simple enough to do – just brew a teabag in a 5-gallon bucket for several hours.  Then over the course of about 3 days, use what you need directly on your houseplants or outside plants.  There's no smell whatsoever, and all you need to do is cover the bucket when you're not using it.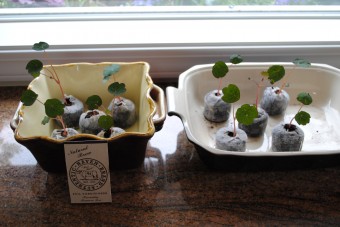 I had been wanting to start some nasturtiums from seed, so I figured the timing was perfect!  I split the seeds into 2 categories:  1 fertilized twice with the product, and 1 without any additional fertilizer.
This is the 'before' photo.  Both sets of seedlings have been given only water, and both sets look the same.
,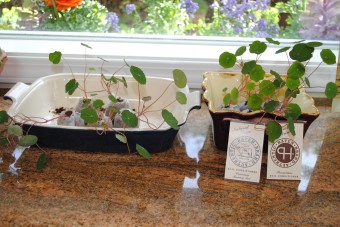 It's now been about 10 days and I've given the batch on the right-hand side 2 doses of 'tea'.
While the plants aren't blooming yet, you can clearly see the difference in growth habits!  One has thicker, lush growth on sturdier stems, while the other is lanky with sparse foliage.
This is a 'test in progress' as I only planted them in the ground about 3 weeks ago.  I'll keep you all up to date with the progress of my test batch, as I'm sure the results will be dramatic!
Click here to read some amazing history about Haven's ranch – makes you proud to be using their tea bags, that's for sure!
2)  John & Bob's Soil Optimizer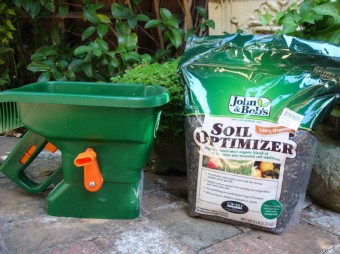 As some of you may know, Fine Gardening magazine came to my home a year ago to photograph one of my client's gardens.  I had about 5 months notice, and was NOT going to be caught with my OWN garden looking sub-par.  So, I asked around at my local nursery (Yamagami's – one of the BEST in the Bay Area) and was told about a product that's been showing amazing results in conditioning the soil.  It's not cheap but I figured I'd give it a try.  All I can say is HOLY COW THIS STUFF IS AMAZING!
Because I'm the furthest thing from a scientist, I'll just quote the back of the package: "…this true humus is mined from a unique deposit of leonardite in New Mexico.  This deposit has been composting for thousands of years, making it far more concentrated and richer than surface-decomposed humus…while particially decomposed humus products still have to continue composting after application, John & Bob's Soil Optimizer begins to recondition at the molecular level as soon as it is watered into your soil.  After treatment, your soil will store and release nutrients and water to plant life much more efficiently."
I used it ONCE in January (taking advantage of our Winter rains to thoroughly soak it into the ground) and 3 months later noticed a huge jump in the growth of my garden.  After 9 months, my garden was still going strong – with plants that are typically pale and needing food by now, looking vibrant.  I plan on using this product only twice a year (their recommendations), versus the 'other' man-made products which recommend using their products every few weeks.
Another bonus?  It couldn't be easier to use – just fill a rotary spreader, set it to the recommended setting, and you're done in just minutes.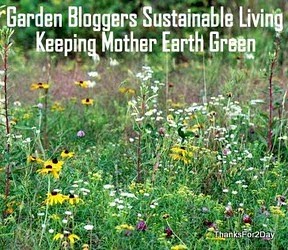 Won't you consider trying something different in your own garden to make a difference this Earth Day? I encourage you to visit the link above to see what other folks around the country are doing to make a difference….
.