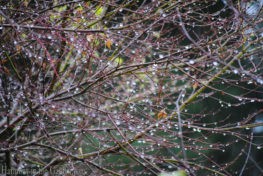 The other day someone asked me if I thought California's Governor would declare that we are no longer in a drought.  And if so, would I continue to focus on creating low-water gardens.
While I'm rejoicing with all the rain that we've had, the question caught me by surprise.
Of course, I'm going to continue with my low-water designs! For me, gardening with the drought in mind is a way of life.
The fact remains that we live in a summer-dry climate where water should always be viewed as a precious resource.  So I'll continue doing my happy dance with every drop of water that falls, knowing full well that dry days will always be lurking around the corner.
That being said, here is the second part of my seasonal drought-tolerant plant picks (click here for Part 1 and Part 2)

Leucadendron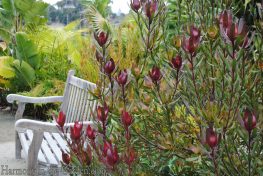 Nothing beats a winter blooming leucadendron for causing people to stop dead in their tracks and start taking photos.
The colorful blooms range from soft yellow to vibrant orange and red, lasting months at a time, and are great cut flowers to bring in the house.
Yet people are often hesitant to plant these Australian shrubs as they have a reputation for being a bit fussy.
I've found several varieties to be quite hardy in our Zone 9 climate, often surviving temperatures that linger in the low to mid-twenties.
The trick is to make sure they're planted in fast-draining soil.  
If their roots become water-logged, it's the surest way to cause an established plant to die right before your eyes.
When I plant them, I like to either use a hefty amount of pumice in the dug hole (see article here) or plant them on a slightly raised berm if possible.  I only water them once every few weeks in the summer until they're established, and then I cut them off completely. I might give them a drink once a month if we're having a particularly hot summer, but other than that they get no additional water.
Truly, you have to be cold-hearted when it comes to watering these shrubs if you want them to survive!


Leucadendron 'Safari Sunset'
I took this photo at the end of January, and it looks like something you'd see in the summer, doesn't it?  'Safari Sunset' is one of my favorite varieties when space allows, quickly growing to 6'x6′.  The flowers are in their prime right now, ranging from red to orange to yellow.
But even when not in bloom, I adore the red tinges of color on the leaves and the stems throughout the year, helping to create beautiful color echoes with surrounding plants.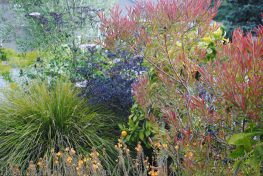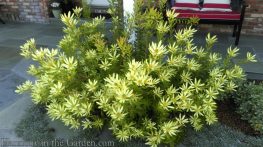 Leucadendron 'Little Bit'
A smaller variety that I've had fantastic luck with when planted in residential gardens is 'Little Bit'.
This one grows to about 4'x4′, though, as with other leucadendrons, they can be kept smaller with regular pruning (often providing more blooms, too!)
I planted this near a client's front door so they're greeted with bouquets of cheery yellow blooms every time they walk up the pathway.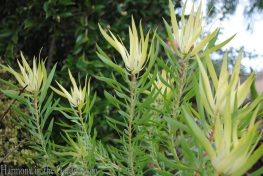 Leucadendron 'Golden Tips'
This is another stunning yellow-flowering variety that's a bit shorter, growing to just 3′ x 5′ wide.
I particularly like using plants with yellow winter blooms as they give an illusion of warmth to an otherwise chilly garden.
Click here for more ways to warm a winter garden.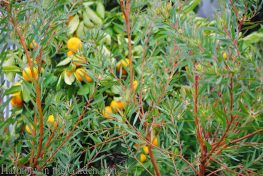 Leucadendron 'Chief'
Another tall variety, growing to 8'x8′ with a wispy habit, 'Chief' is also prized for its colorful stems.
If you need to keep it smaller, you can prune it by 1/3 after it blooms (but no later than summer or you'll cut off next year's flowers).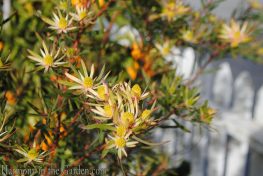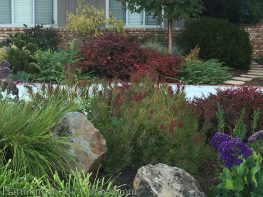 Leucadendron 'Winter Red'
A shorter variety, 'Winter Red' grows to 4′ x 6′ wide with the most amazing red 'flowers' (aka: bracts) that last for many months.
Here in my client's garden, the dark red color harmonizes beautifully with the surrounding maroon from the berberis and loropetalum.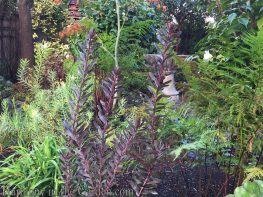 Leucadendron 'Ebony'
This is a relatively new one for me and, unfortunately, is next to impossible to find.  But if you're lucky enough to stumble upon one in the nursery, snatch it up!
Here in my garden, it adds a beautiful deep maroon color (sometimes appearing black in low light).
In the distance, you can see a young 'Golden Tips' growing.  I can't wait to see the play of colors when they're both mature and blooming.

Nandina
I know, I know – most people groan when I mention nandina.
While they're not nearly as flashy as leucadendrons or grevillea, when it comes to adding color to the dreariest of February days, nandinas are one of my go-to shrubs.
And unlike some of the Australian plants that I've been writing about, nandinas aren't fussy at all.
In fact, as many people know, they're next to impossible to kill, often found happily surviving in totally neglected parts of the garden.
They're fine with next to zero additional water, happily growing in full blazing sun or heft amounts of shade, and are hardy down to Zone 6.  I realize they can be quite invasive in certain parts of the country, but in our area with limited water, they're very well-behaved.
However, unlike the tall, gangly, and leggy varieties that many of us have inherited with our older homes, there are many varieties on the market that have unique colors and sizes.  For example, varieties like 'Lemon Lime' with lime-green foliage year-round, or 'Flirt' that only grows to 2'x2', or 'Plum Passion' with unusual deep plum foliage for part of the year.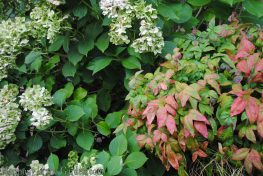 Nandina 'Firepower'
One of my all-time favorites, 'Firepower' knows when to play it cool, letting neighboring plants take center stage.
Throughout most of the year, this 'Firepower' in my garden sits tucked under a towering hydrangea, adding a few subtle tones of blush here and there.
But once winter arrives, LOOK OUT!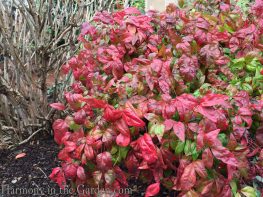 The cold temperatures set this shrub on fire, daring all who walk up my pathway to not gawk.
Just yesterday, in fact, I watched the FedEx guy walk up and stop in his tracks to stare at this plant, seeming to collect his thoughts before dropping off my package.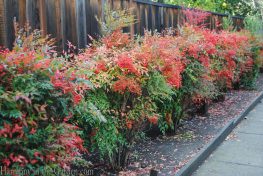 Nandina 'Compacta'
For years I've admired this stand of nandinas, growing along the outside of a fence that borders a sidewalk.
In the blazing hot sun, no less.
And every year, without fail, they put on a show of color with bright red foliage and huge clusters of berries.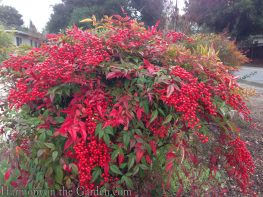 One of the things nandinas offer are profuse amounts of bright red berries – just in time for the holidays!
This photo shows just how bright the berries of some varieties can be.
I'm not sure which variety this is – it's another old and neglected specimen in the neighborhood that continues to thrive with no love.
And no, this pic isn't photoshopped!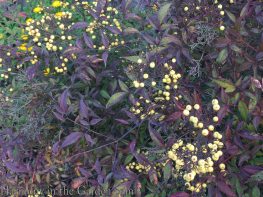 Nandina 'Alba'
But not all berries are red!
'Alba' has maroon tinged winter foliage interspersed with creamy white berries – a lovely alternative to the profuse red varieties.
To read more about winter berries in the garden, click here.

Inspiration by Invitation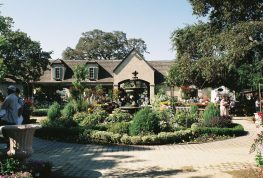 On another note, for those of you who live in Northern California, take a look at the fantastic event that's happening next weekend, February 11th, at Livermore's Alden Lane Nursery.
I'm delighted to be speaking about Simple Strategies to Wake a Weary Garden (perfect for this time of year, isn't it?)
There's lots of other speakers, classes, and lunch, too, so please check it out and I hope to see you at this gorgeous nursery!