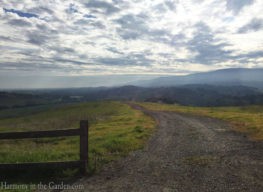 I'm excited to share with you the second installment of my drought-tolerant seasonal superstars.
Winter is the time when I tend to receive the most emails from past clients, who are surprised and delighted with how their gardens look during this typically bleak time of year.
Even though our Bay Area winters are mild compared to the rest of the country, we do get consistent temperatures that dip into the mid-twenties, along with bouts of heavy frost.
Luckily, many of my favorite plants handle these temperatures just fine and are indispensable in carrying the garden through these colder months.
It was hard for me to narrow my list down to just a handful so I thought I'd share them with you in two separate articles. Here's the first – the stalwarts of my winter garden designs:

Grevilleas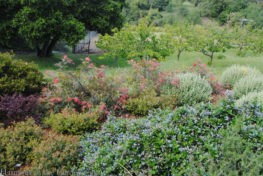 Grevilleas have quickly become my favorite go-to family of flowering shrubs for baking hot, full-sun areas of the garden. Many varieties, in fact, have proven to love the Bay Area just as much as their native Australia, often looking just as good in the winter as they do in the spring.
In addition to year-round blooms, I can't imagine another shrub that attracts more hummingbirds than the grevillea.
Here are the varieties that I've had the best luck with in our climate:

Grevillea 'Superb'
The aptly named 'Superb' has been a showstopper in my garden for years, blooming off and on throughout each season.
Quickly growing to 4'x4' (sometimes a bit larger) 'Superb', like most other grevilleas, wants full sun, fast drainage, and little supplemental water once established. Given these conditions, you'll be rewarded with hundreds of large, 6″ flowers of soft coral and orange.
In the hottest summer months, I deep-soak grevilleas every other week or so, and rarely (if ever) add fertilizer. In fact, they've learned to thrive in areas with poor soil, and because of that they resent overly nutrient-rich soil (in particular, alkalinity) and will result in yellow foliage. If this happens to yours, iron sulfate and sulfur can sometimes help.
Grevilleas respond well to pruning, so don't worry about cutting back a wayward branch.   Pruning, in fact, is a great way to encourage even more blooms to form at the tips of the new growth, so prune away!

Grevillea 'Peaches and Cream'
Similar to 'Superb' is 'Peaches and Cream,' growing a bit wider and with spectacular apricot and cream colored flowers.
Even when not in bloom (which isn't often) the green, oversized fern-like foliage provides a welcome lush color that helps it to stand apart from the the many gray tones that are often found in low-water plants.

Grevillea 'Long John'
Don't tell 'Superb,' but 'Long John' has knocked it out of first place in my garden, and is now my favorite variety of all.
It's a large plant, quickly growing to 10' x 8', but if you have the space in your garden I would highly recommend planting one!
Its unique foliage looks like very long, thin pine needles that create a wispy see-through effect in the garden.
But despite its size, the airy nature of this plant helps to prevent it from appearing too bulky in the garden.   The flowers are a dark rose-pink color that attracts hummingbirds as well as tons of beneficial insects and bees.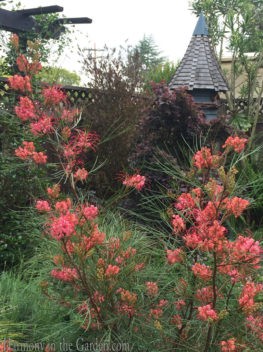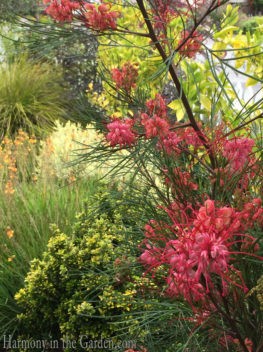 Grevillea 'Jade Mound'
This ground cover has an entirely different appearance than the previous grevilleas mentioned.  It has stubby succulent-like foliage, which grows close to the stem, and small, pale pink flowers.
I use them often in my gardens, placing them along the front of the border where they'll bloom almost continually with little water.
Growing to 1' x 4', they gently drape themselves around other nearby plants, making them indispensable in my garden designs.
For more in-depth information on varieties of cold-hardy grevilleas, click here to read a fantastic article by Pacific Horticulture.

Westringias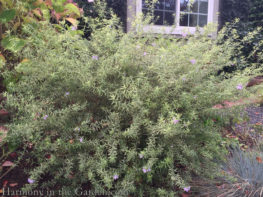 Another horticultural gift from Australia are the many varieties of Westringia fruiticosa (sometimes called Coast Rosemary.)
With various sizes ranging from ground covers to large and imposing shrubs, these evergreen plants never fail to elicit 'oohs and aahs' from visitors to my garden.
Not because they have showy flowers (they're small, though plenty) but because of its soft and delicate looking appearance that looks fantastic every day of the year.
The effect is like a cloud in the garden that takes center stage on a bleak winter day when perennial and deciduous plants are nowhere to be found.
Similar to grevilleas, westringias survive on very little water once established. In my gardens, they receive water once a week but could most likely survive with less – perhaps every other week if necessary. They prefer full sun, but I've also had good luck with them in part shade.

Westringia 'Wynynabbie Highlight'
This is one of my favorite varieties (though somewhat hard to find) and grows to a dense and compact  4′ x 4′.
It has variegated cream and green leaves that are a little tighter in growth habit, resulting in a full and lush shrub.
Throughout the year it's covered with tiny mauve-pink flowers that look like little stars on this puffy cloud of a plant.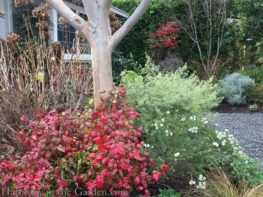 Here in my garden, you can see how it creates a full and soft backdrop that complements the bright red winter colors of my Nandina 'Firepower' and the dark green foliage of the Chamelaucium 'Mathilda.'
This combination is fantastic in the winter months, not only providing color but scent from the Chamelaucium, as well.
Click here to read more about my favorite winter-scented plants.

Westringia 'Gray Box'
I sometimes use 'Gray Box' as an alternative to boxwood as it has a similar shape, growing to a tidy 2' x 2' sphere.
Planted at the front of a planting bed, it provides a structured gray border and is a nice alternative to the more common green boxwood or euonymus.
Even though it's very drought tolerant, I've found this variety can handle more water than others, in case you have a damp area in your garden.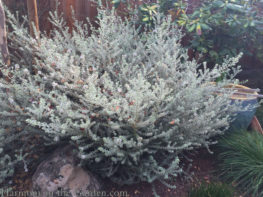 Westringia 'Smokey'
Another variegated westringia, this time with cream and gray-green foliage.
However, when viewed from a distance, it creates more of a silver effect in the garden.
'Smokey' grows to a full 4'x 4' (sometimes a bit larger) with scads of little white flowers off and on throughout the year.

Westringia 'Mundi'
When I need a gray ground cover that'll thrive in full sun with little water, I reach for Westringia 'Mundi'.
Quickly grows to a dense 1.5' x 4', 'Mundi' will gently soften harsh edges or drape itself around ornamental boulders in the garden.

Foxtail Fern (Asparagus densiflorus 'Meyeri')
'

Meyeri

'
I sometimes refer to this as my 'Dr. Seuss' plant, and have had it growing in my garden for decades.
Consistently bright green year-round, and always pest-free, this low-water evergreen is one of my favorites for adding color, structure, and fun to the garden.
In fact, the little boys who live across the street love this plant and will often grab a 2' long frond to use as weapons in their pretend sword fights.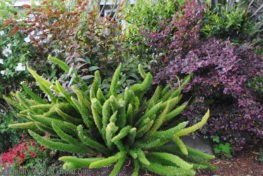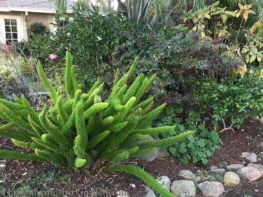 This foxtail fern is an important part of my front garden bed, not only adding crazy structure year-round (as in the photo on the left) but also holding together my dormant winter bed together when not much else is happening (in the photo on the right that I took just a few days ago.)
Once or twice a year I'll remember to pull out to half-dead or wayward fronds to keep it today, but other than that I don't do a thing to this plant (one of the many reasons why it's one of my favorites!)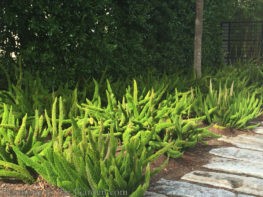 These plants are sometimes called 'asparagus' ferns, but it's important not to confuse this well-behaved  variety with its invasive cousin, 'Sprengri' (you might remember them as those ubiquitous houseplants in the 70's.)
'Meyeri' are very slow growing, but with a little patience, they'll eventually grow to 2 1/2' x 4'.
Whether planted as a single specimen or in a drift, foxtail ferns will provide you with a constant cooling green color, as well as be a conversation piece.

In the next few weeks I'll write the second part of this article, with even more of my winter workhorses (here it is – click here to read!)
In the meantime, however, I'd love to know what some of your favorites are so please share!