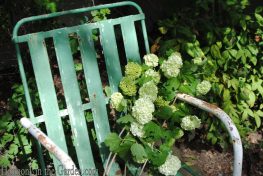 As I write the latest installment of my drought-tolerant series, yet another storm is heading our way.  Its been a soaking wet, record-breaking winter this year, with most counties having now lifted their mandated water restrictions.
But there's still a few cities that realize this annual rainfall won't last, and continue to mandate strict water restrictions.
Santa Barbara, for example, has recently banned watering residential lawns to help achieve their city-wide goal of 40% water reduction. (Click here to read an interesting interview about our drought, conducted last week by the New York Times).
Why am I telling you this?  Because even though we've had more than enough rain this year, it would be short-sighted of us to think this is California's new norm.  While I'm thrilled to see my garden bursting at the seams right now after quenching its poor, parched roots, I'll continue to plant low-water plants.  And should we have another fantastically wet winter this coming winter – great!  But should we return to our low-water norm, my gardens will continue to flourish.
So here we are, heading into spring where color is everywhere right now. It was next to impossible for me to choose which plants to highlight, so I wanted to focus on the most reliable spring bloomers that will put on a show – drought or no drought!

California Lilac (Ceanothus)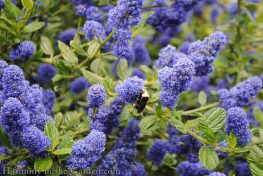 You may have noticed the eye-popping blooms of ceanothus cropping up all over town right now, in various shades of purple and blue.
This California native never fails to welcome the very first days of spring with a show-stopping performance that lasts for weeks at a time.
And after weathering months of cold weather, the bees and hummingbirds appreciate this early source of nectar.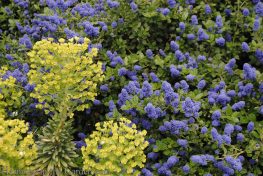 When paired with chartreuse blooms of the Euphorbia wulfenii (another early blooming beauty) the result will cause your heart to skip a beat.
In return for offering so much to your spring garden, ceanothus simply asks for fast drainage, a sunny site, and very little (if any) supplemental water once established.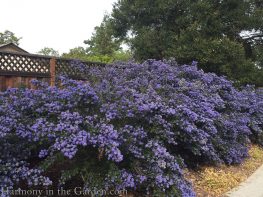 Taller varieties of ceanothus, like this 'Julia Phelps,' are ideal for screening a bare fence or adding height to the back of a garden bed.
One thing I've noticed is that varieties with larger leaves are more appetizing to deer than those with teeny tiny leaves.
I've had pretty good luck keeping Bambi away with 'Blue Jeans,' 'Concha,' and 'Julia Phelps.'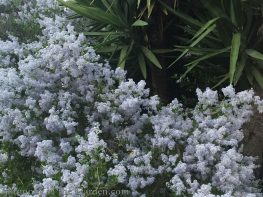 The puffy, pale blue flowers of  'Remote Blue' offer a nice alternative for those who prefer softer colors in their gardens.
Its smaller dimensions are also easier to fit into residential gardens (growing to a manageable 4-5′ tall.)
For more information, take a look at the Las Pilitas website – one of the best resources for California natives.

Pink Flowering Currant (Ribes sanguineum)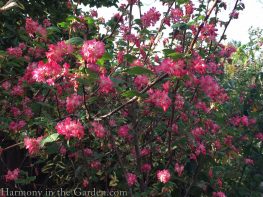 Another California native, Ribes sanguineum, bursts out of its brief dormant period with loads of pendulous pink flowers.
Thanks to its airy growth habit, dainty leaves, and delicate clusters of flowers, this shrub looks equally at home in native gardens as it does in those with a more traditional or formal design.
Preferring part shade with little supplemental water makes this a fine choice to plant under oaks.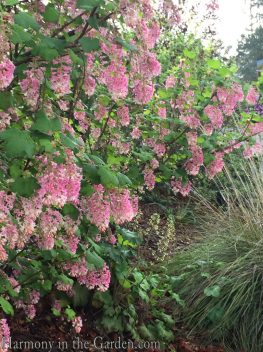 Another one of my favorites is the 'Claremont' variety with oversized clusters of pale pink flowers that gracefully dangle from slender stems.
Snowball Bush (Viburnum opulus 'Roseum')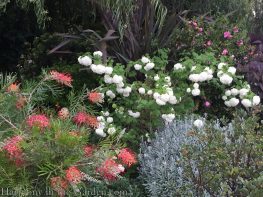 Whenever I see a snowball bush in full bloom, I'm reminded of the one that grew in my grandmother's garden.  It's still there, in fact, 30 harsh winters later and manages to thrive with very little TLC.
These are tough shrubs, yet with a little supplemental water and the occasional pruning to thin out older canes, your reward will be dozens of white snowballs dancing above the middle-layer of your garden.
'Roseum' is my favorite variety as you not only get the namesake snowballs, but in the fall you'll be rewarded with foliage that starts off in soft shades of butterscotch, and quickly turns crimson shades of red.

Ornamental Pomegranate (Punica granatum)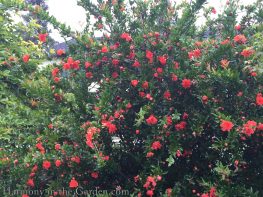 Many of us are familiar with ornamental pomegranates, a favorite in low-water Mediterranean gardens.
Available in a wide range of sizes, from 10′ all the way down to 2′, this deciduous shrub makes a splash with its mid-spring show of orange-red flowers.
But besides the common varieties that are often seen growing wild at the back of a garden, are a few others worth seeking out.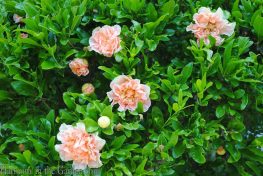 'Toyosho,' with its soft apricot blooms, is a star in my spring garden with loads of very full, double flowers that last for several weeks.
This one is trained as a standard and has happily lived in a large container for 15 or so years now, never failing to put on a show.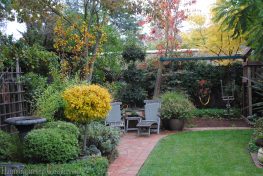 In fact, 'Toyosho' gives my garden another jolt of color once fall arrives, with foliage that turns a bright shade of gold.
As I prepare dinner in my kitchen, I love seeing this glowing ball in the fading evening light.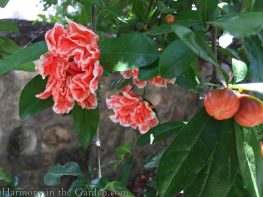 Another unusual variety is 'California Sunset' (also called 'Madame Legrelle') with double coral-red flowers softly edged in white.
Bountiful blooms, shiny green foliage, low-water and reliable performers, ornamental pomegranates are deer-resistant, too!

Fringe Flower (Loropetalum)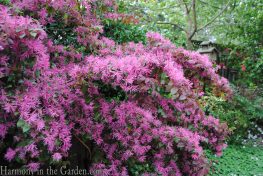 Even though loropetalum is common in our area, it deserves a spot on my list of favorites for its early spring burst of color.
I've had a love affair with loropetalum for years, relying on its year-round foliage in various shades of burgundy to add pops of color in ornamental borders.
While it needs a little more water than those listed above, it can thrive on as little as a weekly watering in the hot summer months.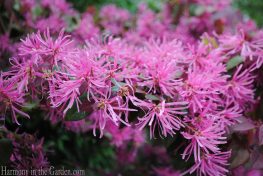 It's easy to see how it got its common name of Fringe Flower!
Some of the newer varieties have proven to be a little challenging to establish in the garden, but I've noticed they have a higher success rate when planted from 5-gallon sizes.
One of the most reliable is Loropetalum atropurpureum, with burgundy foliage that morphs to a dark olive green in the summer.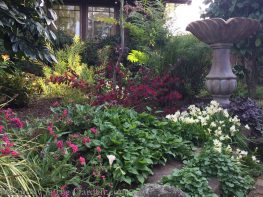 As its name indicates, 'Ever Red' adds a beautiful cranberry red color to my garden.
While it's supposed to grow taller (6'x6′ or so) this one has remained relatively compact in this particular spot, topping out at about 3'x3′.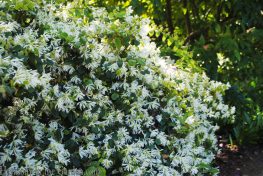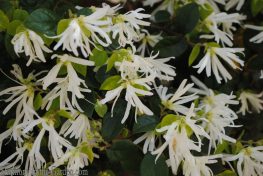 But if shades of pink aren't your thing, that's okay as the elegant white blooms of 'Snow Panda' is just as profuse a bloomer as any of its showier cousins.  Growing to 8-10′, it's perfect for the back of a part-sun border.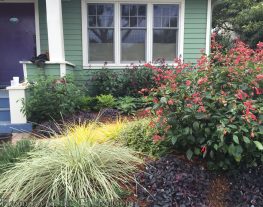 And speaking of ceanothus and loropetalum, remember the article I wrote last year about designing the garden for Sunset Magazine?
Well I'm happy to say the garden is featured in this month's issue of the magazine!  Included is a detailed planting plan featuring their new varieties of some of my favorites.
Make sure to check out the variegated foliage of the ground-hugging 'Highlight' ceanothus and the draping habit of 'Purple Pixie' loropetalum to name just a few.
I'm curious – what's blooming in your garden right now, that survives year after year with or without rain?