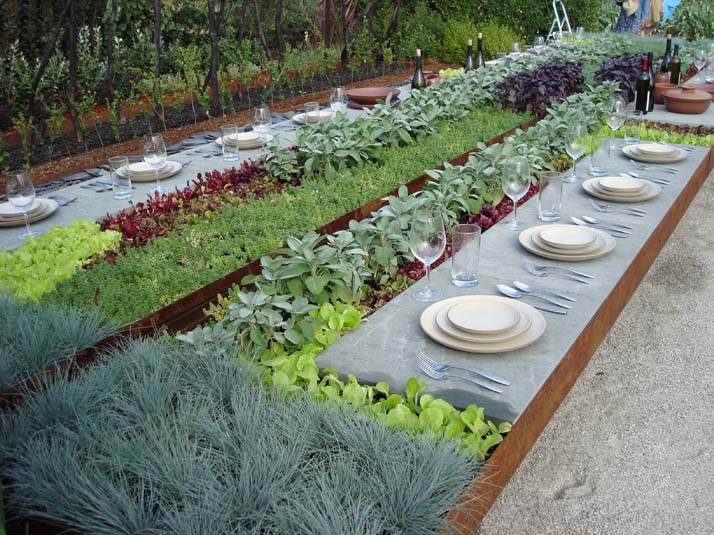 As we head into fall, with winter on our heels, it might seem odd to write about 'Dining Alfresco' (the topic for this month's Garden Designers Roundtable discussion).
While cozying up indoors this winter, why not make plans for creating an outdoor area in your own garden next spring?
Entertaining large gatherings, or just enjoying a quiet moment for yourself, with a little creativity and planning there's bound to be a style that right just for you.
.
When designing gardens, the request for creating an area to entertain is always at the top of a client's 'wish list', and for good reason.  The desire to enjoy nature while nourishing one's body is powerful – whether it's a small nook or a large open space.   'Dining alfresco' doesn't necessarily mean you have to have a large, formal patio, either.  It can be as simple as a chair and table placed in a corner of a garden.
To Cover or Not To Cover?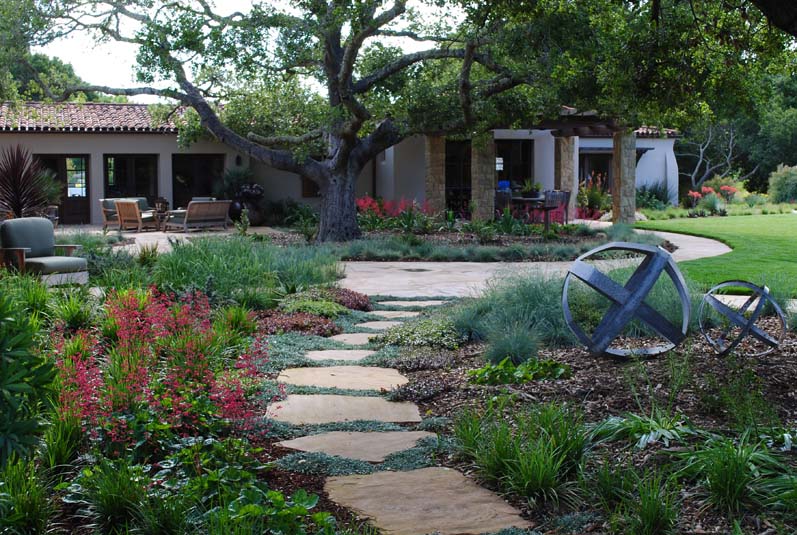 .
Dining under the natural canopy of an ancient oak tree is probably the dreamiest way to dine alfresco. Dappled shade, beautiful view, cool temperatures…
,
But most people don't have this luxury, and instead opt to seek a little shelter some other way.
/
/
Adding an umbrella is quite often the simplest way to create a little shade while dining outdoors.  Of course you want to make sure you choose one with weather-resistant fabric, like Sunbrella, but why not take it one step further and choose an interesting color or shape as well?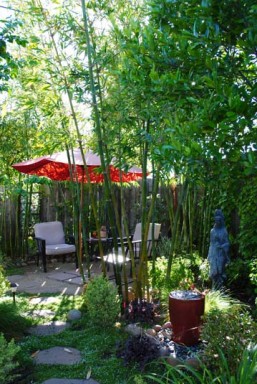 .
/
/
.
If you have a generous budget, one of my favorite places to find outdoor umbrellas to match any style you can possibly think of is The Santa Barbara Umbrella Company.   On the flip side, if you're looking for a reasonably priced, high quality umbrella you can't beat Pottery Barn's selections.
/
/
.
If a little more coverage is desired, and you have a larger space, then an arbor is the way to go.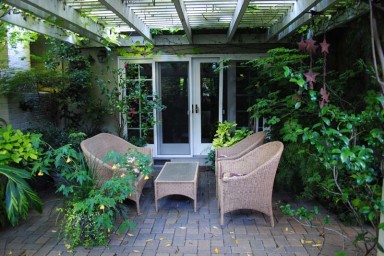 /
I usually prefer arbors with open slats versus solid covers.  While they're not as 'weather-proof' as arbors with solid roofs, there's better air circulation, which is especially important if you live in a hot and humid area.
The slats also let in beautiful, diffused light which casts interesting shadows on your patio.
/
/
A cover isn't always necessary, though. There's something to be said about dining out in the open, with nothing but the sky overhead.  Even if its just temporary, (moving your kitchen table onto the patio, for example) try and include an area where you can go and sit in the sun on a warm spring moring…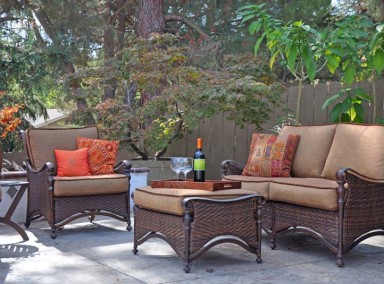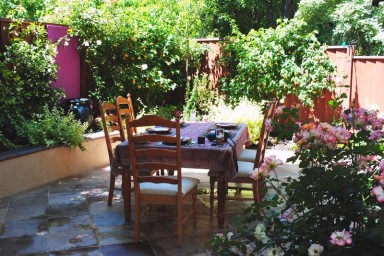 Thinking Outside the Box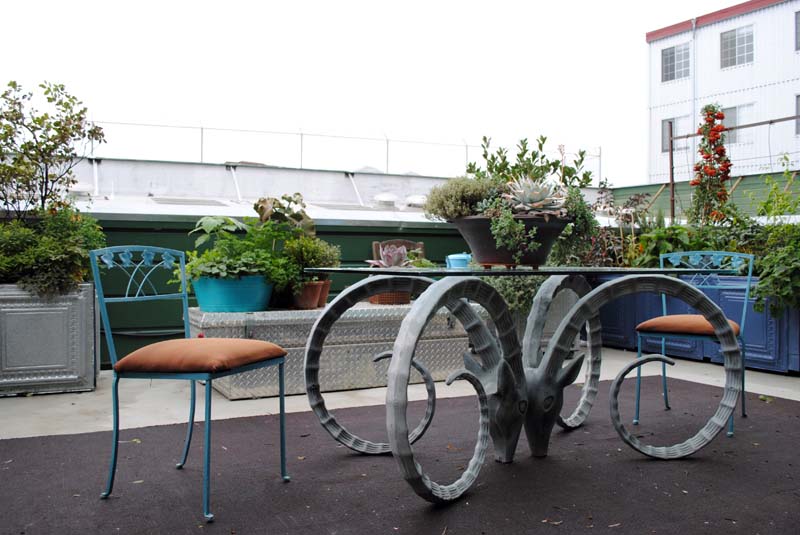 Sometimes you need to be extra creative in order to create a beautiful space for outdoor dining….as is the case with Baylor Chapman's balcony.
When gardening in a small space every inch counts!  Every pot, every plant and especially the furniture needs to look fantastic since all will be viewed up close on a daily basis.  This table was purchased in a second-hand shop!  I can't believe someone would get rid of something so fantastic – such a score!!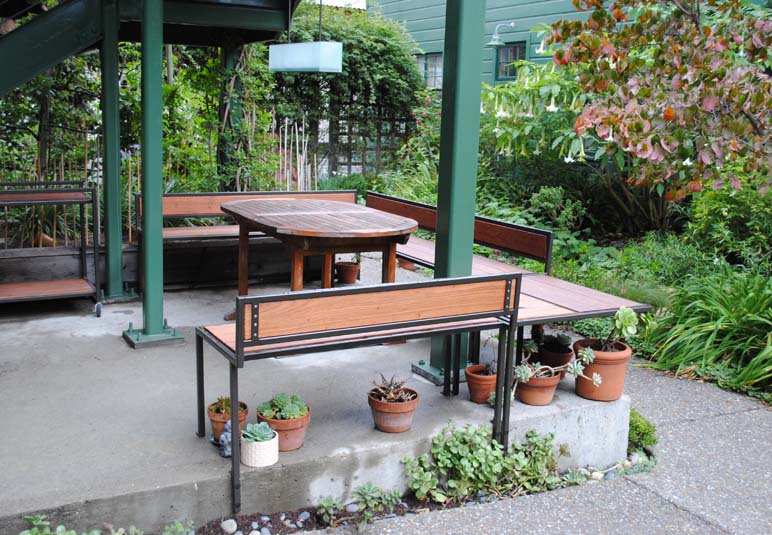 /
The residents in this shared courtyard created this contemporary and highly functional outdoor eating area under the stairwell.  Not only does is use a space typically considered 'unusable', but it also provides a protective overhang as well.  (The custom bench was built by  by Lawrence LaBianca ).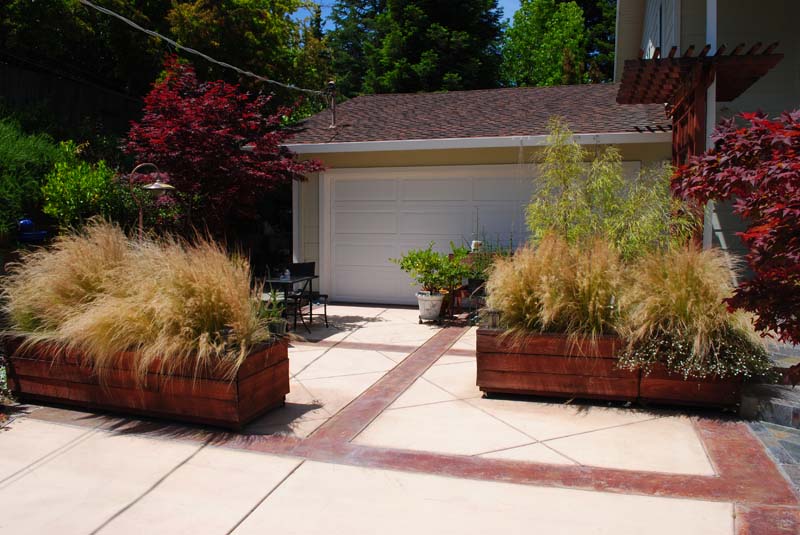 /
This homeowner had an unusually long driveway which she never used.  Instead of letting it go to waste, a private area was carved out using planter boxes and potted maples.  Voila! – the perfect spot for alfresco dining! (It helps that  she lives in an area of the culdesac where she doesn't directly face her neighbors, or a busy street).
/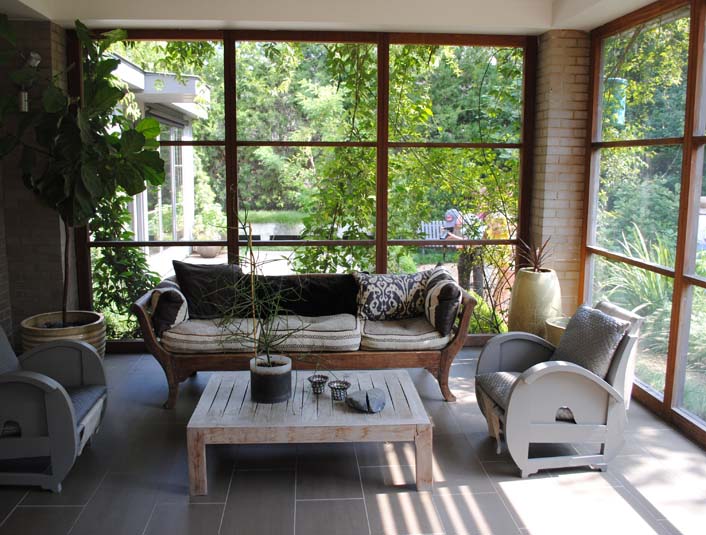 /
This incredible room is completely enclosed, which is sometimes all a person can do if they want to dine outdoors year-round and they live in a climate that's less than ideal!
.
(Even if the weather were ideal, I still think you'd find me in this room most of the time….)
/
/
/
Don't forget the view from the inside of your home, too!  One more reason to give careful consideration to the style and color of fabrics you choose.  You don't want them to clash with the color and decor of your home's interior.
It's the little touches, such as lighting, that make dining outdoors extra special.  You don't have to invest in expensive outdoor lighting (though it's truly lovely if you do!).  A simple strand of plug-in parisian style lights or layers of outdoor candles cast an equally (if not more) romantic glow to your evening dining.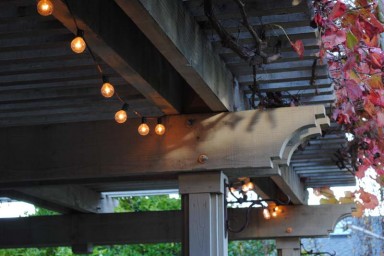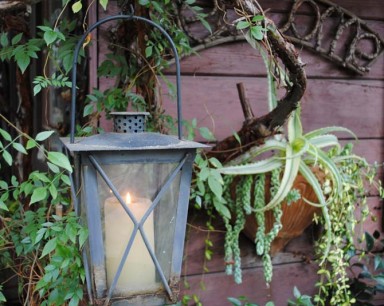 I hope I've inspired you to do a little planning these coming months, and find a spot in your own garden (or balcony) where you, too, can dine alfresco!
.
Please join my fellow designers in their perspectives on Dining Alfresco…
Lesley Hegarty & Robert Webber : Hegarty Webber Partnership : Bristol, UK
Shirley Bovshow : Eden Makers : Los Angeles, CA
Susan Cohan : Miss Rumphius' Rules : Chatham, NJ
Susan Schlenger : Landscape Design Advice : Hampton, NJ
.
Please join me over at the Fiskars Gardening Blog to learn how to force tulips in our warmer neck of the woods!  It's not too late to put some in the fridge!!