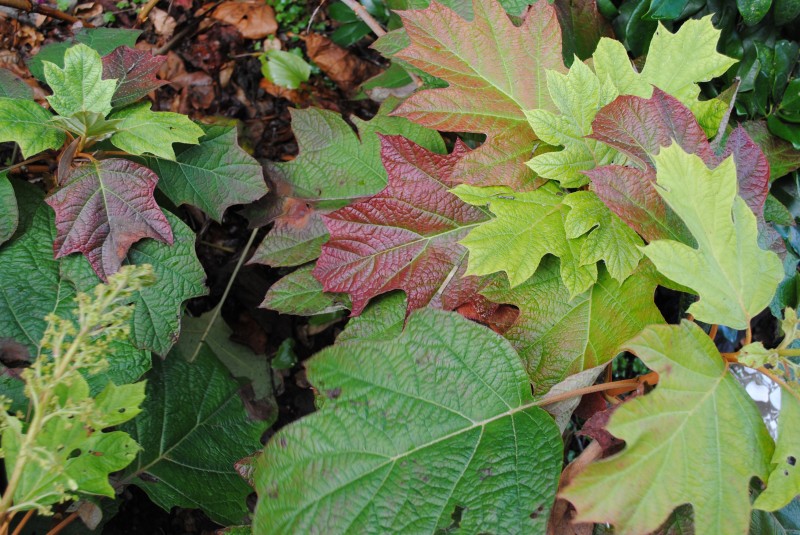 What is the 'Garden Designers Roundtable'?  First started in December 2009, a small group of us thought it would be fun, as professional landscape designers, to each write an article on the same topic (Do Designers Practice what they Preach), but each written from our own point of experience from different parts of the country.
It was an idea that was very well-received, so we wrote about another topic (Celebrating Regional Diversity), expanding our group with a few more designers.   Realizing this was so much fun, we decided to make it a monthly event, inviting 12 designers from our newly formed 'Roundtable'.   It won't always be the same 12 people, but will rotate among a group of 30 or so of us, as well as the occasional guest blogger.
Foliage is the topic for this month's Garden Designer's Roundtable, and what a topic it is!  I could write an entire book on Foliage, how on earth can I whittle it down to just one post?  I could write about my favorite foliage colors, shapes, or great color combos?  Where to start, where to start…
I know!  I'll offer a little insight as to how I use foliage in my designs for maximum impact!
1.  Mix it up with shapes
There are so many incredible leaf shapes and textures available (spikes, hearts, round, skinny, fat, teeny, huge, fuzzy, bumpy) so keep it interesting by mixing several together.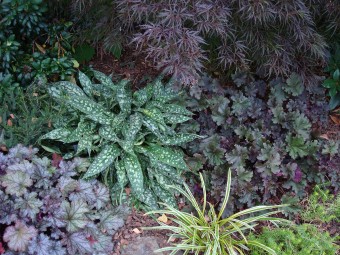 This combination has a ton of foliage shapes going on; the lacy texture of the Japanese Maple, the spots of the lance-shaped Pulmonaria, the ruffled Heuchera leaves and the spiky variegated Acorus.
Does it look like 'too much'?  Not to me!  It's actually a very cohesive and engaging grouping. Imagine this combination if the leaves were all the same shape – it wouldn't be nearly as interesting, would it?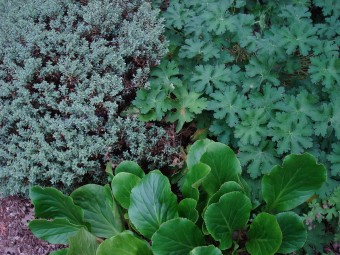 This combination is totally different – not because it doesn't have a mix of foliage shapes, but because it's colors are all in the same green family.
Normally an all-green grouping might be a tad boring, but because the shapes of the leaves are so different it really works!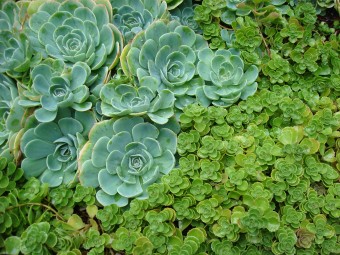 .Another way to mix foliage is to have the forms mimic one another – as these two plants do.  Each is a rosette – only one is large and grey while the other small and green.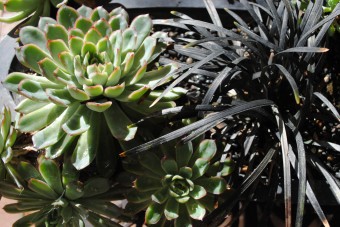 And when you mix two totally different foliage shapes (and colors) together like this…you really make a statement. Black Mondo grass always looks fabulous against anything that's light grey or chartreuse…especially when it's strappy foliage is emphasized as well as it's color.
2.  Mix it up with Variegated Foliage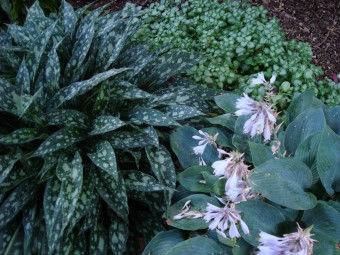 Placing more than one variegated plant next to each other can be a bit risky, but when done right it can result in a stunning combination.
Many would think that placing two variegated plants so close together other would look chaotic, but because the foliage shapes are so drastically different (one leaf is quite large, while the other is small), and the third plant is a solid color which acts as the 'neutralizer', it works!
This combination also works because the colors are in the same green/grey family which creates a soothing effect, despite all the variegation going on!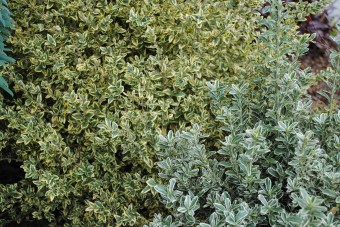 This example, however, doesn't work.
For one, the foliage shapes are too similar in size.
For another, the colors aren't really blending very well with eachother.   Pass the Excederin…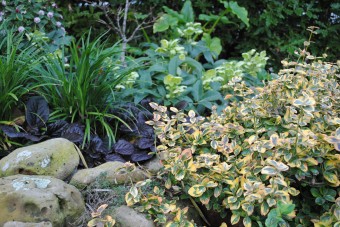 Sometimes all you need is just one single variegated plant to really make a combination pop, as is the case with this 'Emerald n Gold' Euonymous mixed with the deep burgundy Ajuga and Corsican Hellebore.
3.  How to use (or not use) spiky plants
This type of plant has got to be the toughest sell for many of my clients.  So often, when I suggest a Phormium I hear "Oh…I like them and all, but can't really see them in my garden" or my favorite, "They always look so angry!"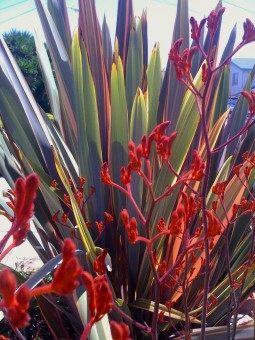 But when I show them how gorgeous they can look when placed just right, they end up loving them as much as I do! Especially when their leaves are back-lit by a setting sun…
When using plants of this size and shape, it's important to plant softer, billowy plants near or at their feet.  By doing this, you still get the contrasting structural element (necessary to keep a garden interesting), yet it'll soften its stark appearance.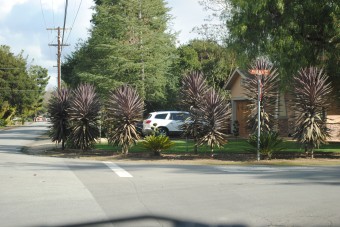 Another trick with spiky plants?  USE THEM SPARINGLY!
They're accents, not a method for keeping intruders out of your garden!  Can you say prison yard?
4.  Using foliage to accent a container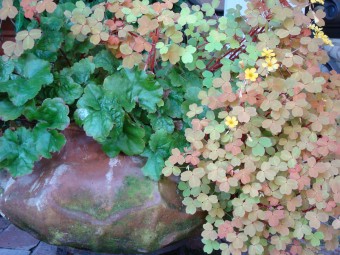 When choosing a plant for a container, I like to have at least one of the colors or shapes echo an element in the pot.  In this example, the soft burnt orange shades of the Oxalis, as well as the circular shape of the leaves, mimic the colors and shape of this pot.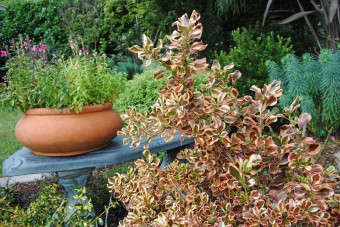 When talking about uniting foliage and containers, I'm not necessarily talking about the plant that's in the container.  he foliage of a complementary plant can just as easily placed near the container for a beautiful color echo, as is the case with this Coprosma 'Pink Splendor'.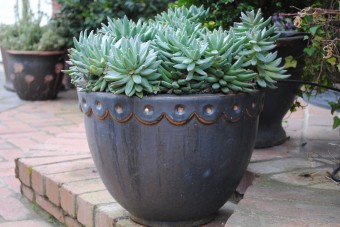 I love the 'one plant per pot' concept.   By planting a single variety in a container, you have the opportunity to really make an impact, ensuring the foliage of a particular plant doesn't get lost with its neighbors.   And when the the plant and the pot fall within the same color range, a very serene feeling can be created.
Until then, please make sure to stop by my fellow designers at the Roundtable to read their thoughts on foliage!
Andrew Keys with Garden Smackdown
Christina Salwitz with the Personal Garden Coach
Debbie Roberts with A Garden of Possibilities
Ivette Soler with The Germinatrix
Pam Penick with Digging
Shirley Bovshow with Eden Maker's Blog