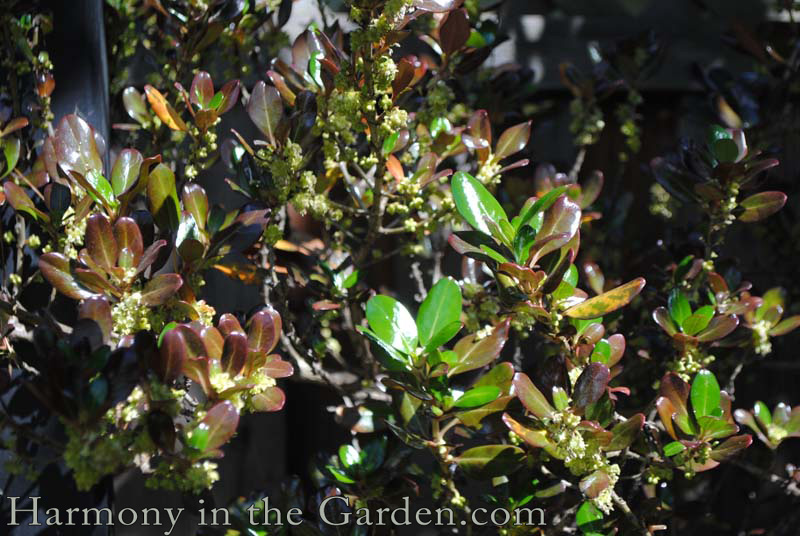 When spotting the smooth and shiny foliage of a colorful Coprosma, it's only a matter of seconds before my client asks 'What IS that plant?'
Commonly known as a 'Mirror Plant', a Coprosma's foliage looks like someone meticulously shellacked each perfectly shaped oval leaf.  Yes, they're that shiny.
Finding foliage with smooth and reflective surfaces isn't always easy, which is just one of the reasons why I'm such a fan of these evergreen shrubs.
Contrast the mirror-like foliage with a nearby rough and crinkly Leatherleaf Viburnum or Rodgersia, and the result will be a textural delight.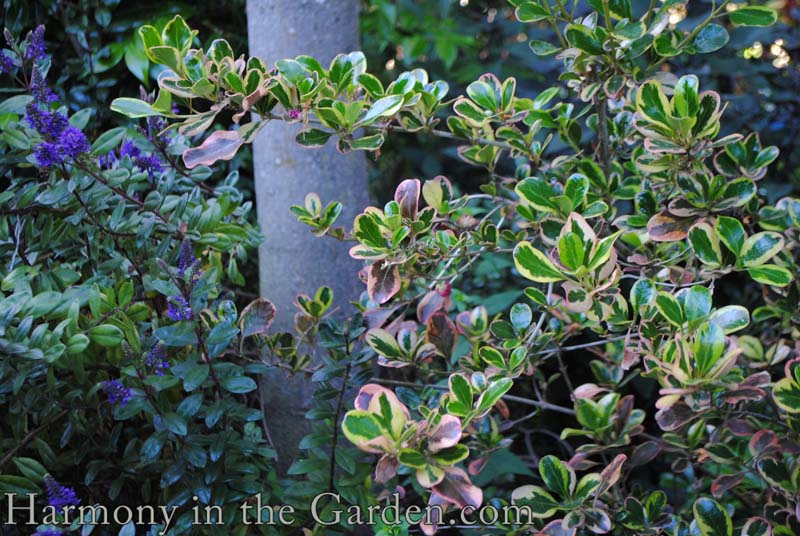 But besides the unusual texture, the colors are what really get me excited.
Mirror Plants have variegated leaves with colors that change dramatically throughout the seasons.  This kaleidoscope of colors is what makes them indispensable for creating wow-factor color combinations that shine (no pun intended) throughout different times of the year.
Alas, they'd be perfect if they were just a little hardier, able to survive cold, cold winters.
But they're not, preferring instead to live where winters are mild (20 degrees and warmer).  But in my Zone 9 garden, they're perfect.  Especially since they're drought tolerant once they're established, relying on very little supplemental water during our dry summer months.
Oh, and they're deer resistant, too!
Here's a few of my favorite varieties and how I like to use them in the garden.

Coprosma 'Pink Splendor'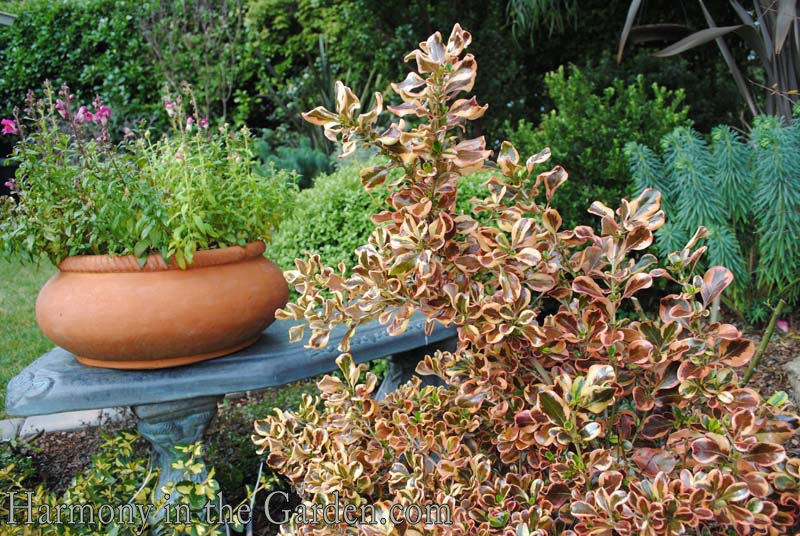 This is my go-to shrub when I want something to put on a colorful performance throughout the year.
Topping out at about 5×5 (though I usually see it closer to 3×3 in my area) this variety is at its best in colder temperatures and full sun, turning the foliage into a colorful kaleidoscope.
With shades of pink, orange, green and cream contained within each leaf, the foliage begs to be paired with a terra cotta pot.

However, if you'd like to tone down the warm colors just a bit, all that's needed is a little manipulation!
Coprosmas will grow just as happily in partial shade as they will in the sun, however the colors in their foliage will be muted.   So, if you want softer shades, give the Coprosma more shade.  In my own garden, I like the soft peach tones that develop in the leaves and how they highlight the nearby fall colors of the Viburnum, Hydrangea, and Eupatorium.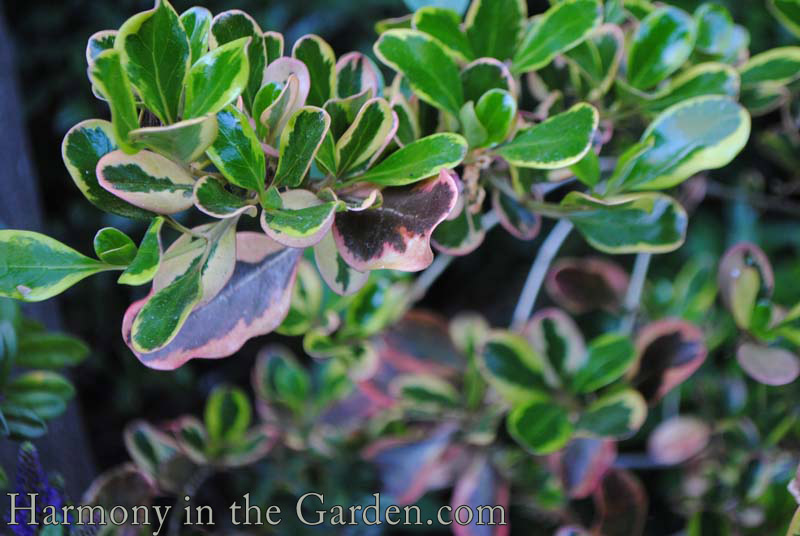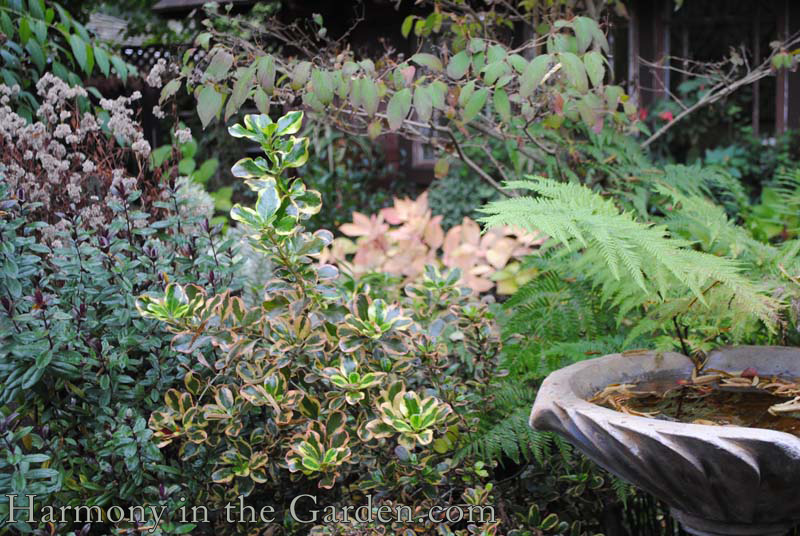 Coprosma 'Roy's Red'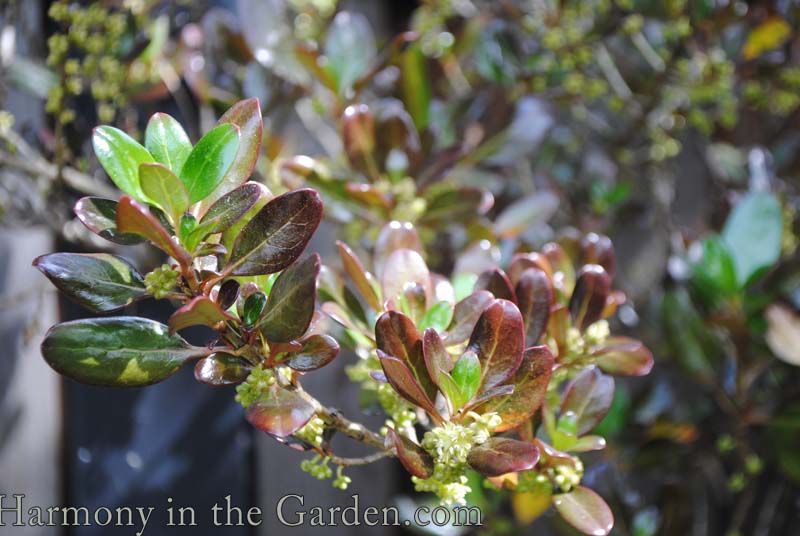 Another colorful chameleon, the winter foliage of 'Roy's Red' is tinged with silky chocolate, bronze and olive green colors.
In mid-summer, however, the tawny colors give way to deep olive green.  This lush color is such a welcome site in the glaring summer sun, providing a 'visually cool' element to the garden.
'Roy's Red' is a taller variety, topping out at about 6'x3′.
I love plants with dimensions like these (taller than wide) as they're ideal for placing along the back of the border in tight spaces when you want height but not width (see below).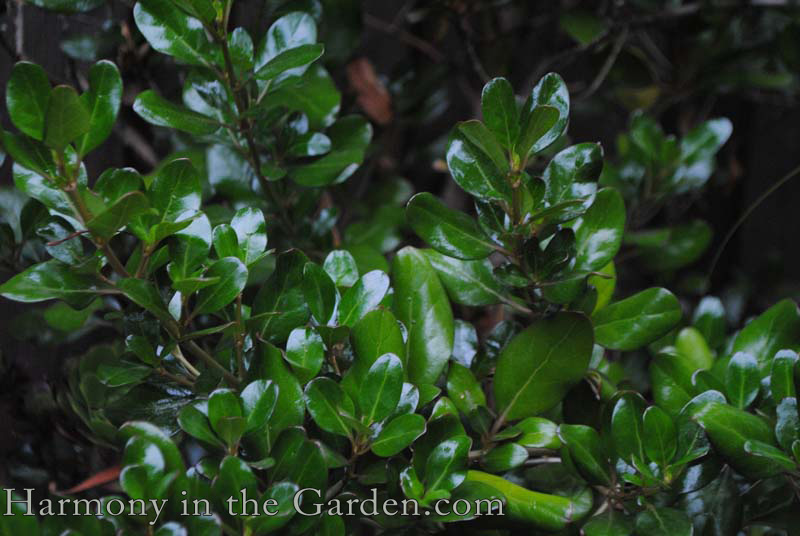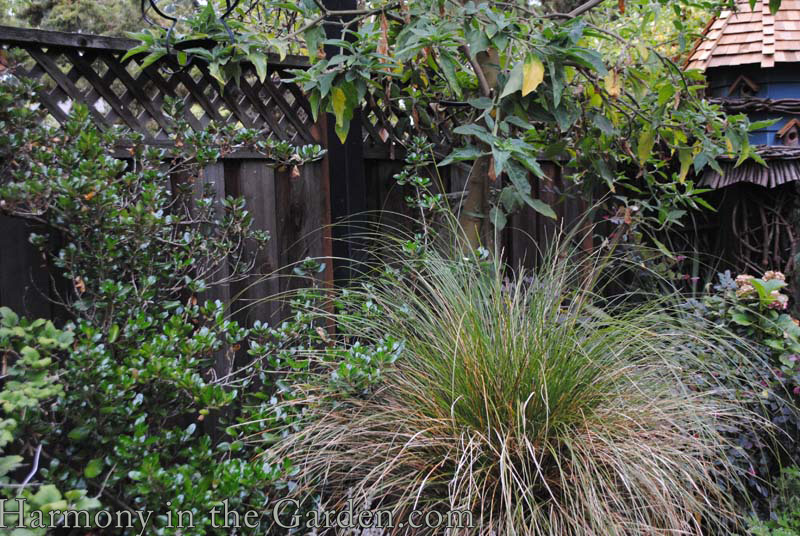 Coprosma 'County Park Red'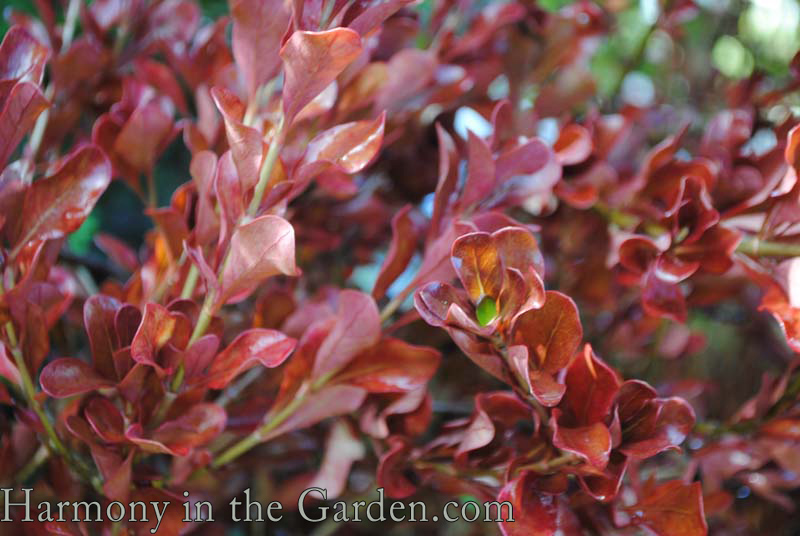 Now this coprosma definitely deserves to have 'red' in its name as it puts on a very long-lasting fiery show once cold winter temperatures hit.
Whereas the 'Roy's Red' (above) loses most of its color mid-summer, 'County Park' retains much of it throughout the year.
It's compact 3×3 size make it perfect for anchoring the middle of a border, which I've done below.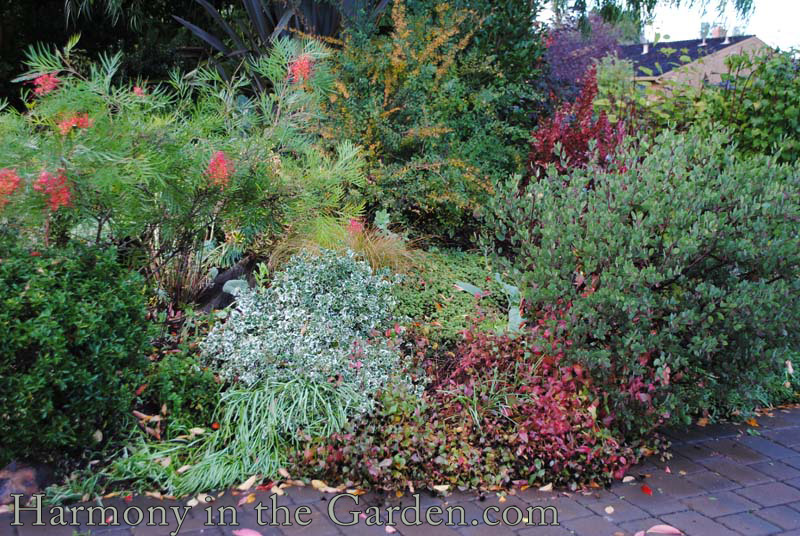 With the goal of creating a colorful bed lasting well into January, I combined 'County Park Red' (top right) with Grevillea 'Superb' (left) and Creeping Plumbago (bottom).
I love the long-lasting color echoes provided by the foliage, flowers, and fall colors.

Coprosma 'Karo's Red'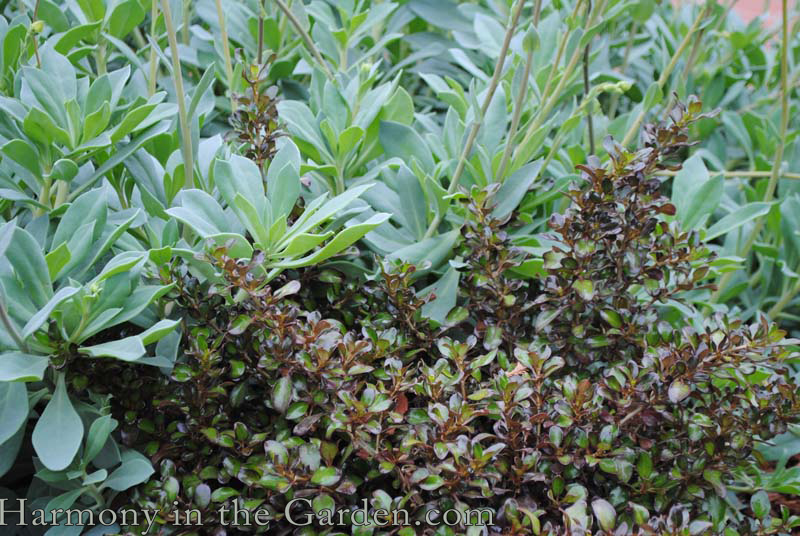 It seems red is a favorite color among Coprosma breeders, even though the colors are more chocolate brown than anything. But hey – who am I to say anything.
'Karo's Red' grows to a tidy 3×3 mound and has smaller oval leaves than the ones mentioned above.
These dimensions give it a more dense and compact appearance, perfect for the mid-border.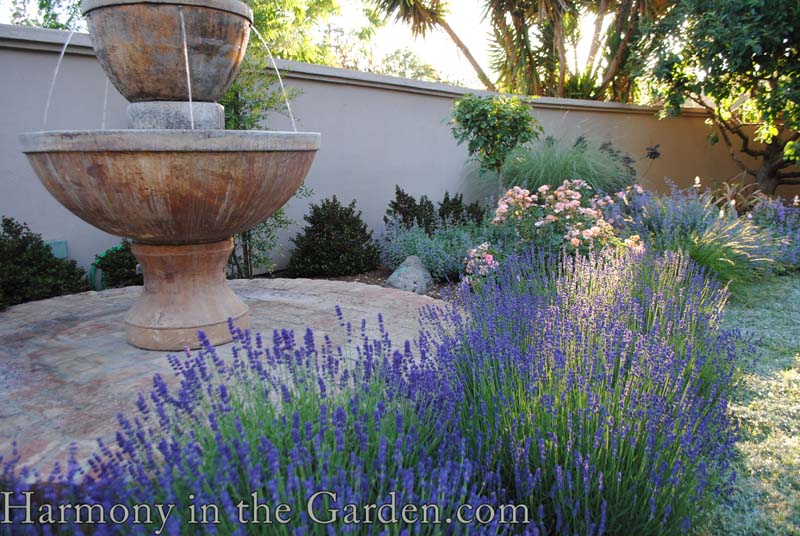 Here in my client's garden, we planted 'Karo's Red' along the base of this stucco wall in the hopes that it will soon fill out to create a colorful and 'shadowy' ribbon while waiting for the taller plants to fill in.
Though the garden is just a little over a year old, the Coprosmas are filling out nicely.
**(exciting news – I just found out that this garden will be featured in the upcoming October issue of Sunset Magazine!)

Coprosma 'Tequila Sunrise'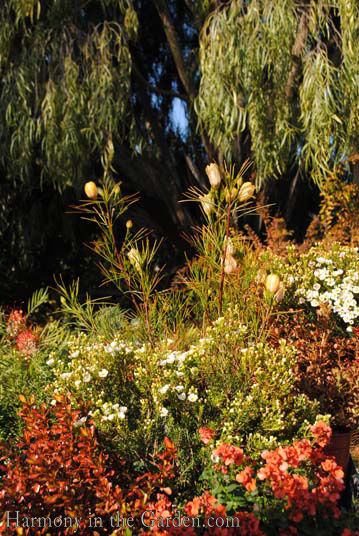 Anytime the word 'tequila' is in a plant's name you know it's gonna be a party.  This Coprosma is no exception.
Another variety with smaller leaves, the bright orange and red colors definitely make a statement in the garden, especially when combined with a coral colored Diascia.
Over time, this Coprosma will grow to about 4′ tall with an unusual pyramidal shape.  I like to keep mine pruned to a smaller size, however, as shown in the photo to the left.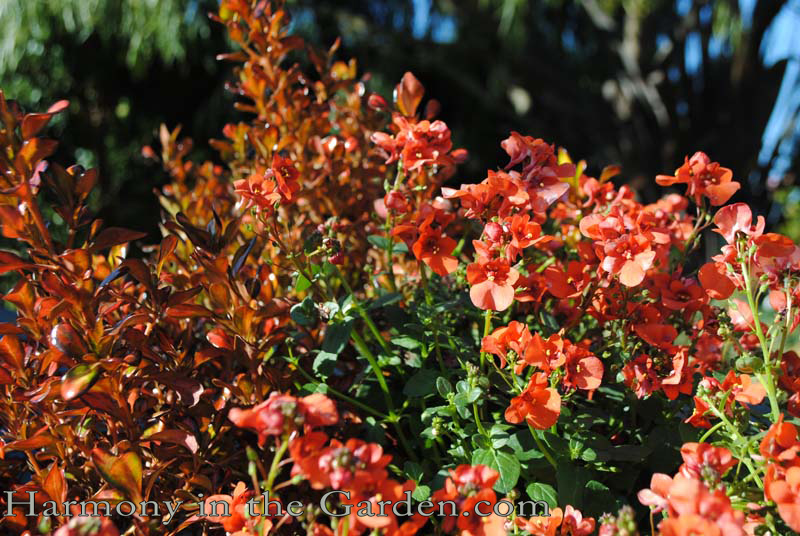 I realize there are many more Coprosma varieties of there so I'd love to know some of your favorites.  I always have room in my garden for 'just one more'.