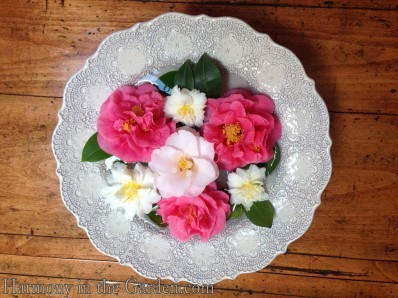 This is the time of year when camellias, the workhorses of my winter garden, get their moment in the sun (so to speak).
I haven't always been a huge fan of camellias, but over the years one of my favorite gardening friends has successfully enlightened me.
Thank heavens I've seen the light as I now have dozens of camellias in my garden.
When its cold and bleak outside I'm so thankful for these bright spots of color.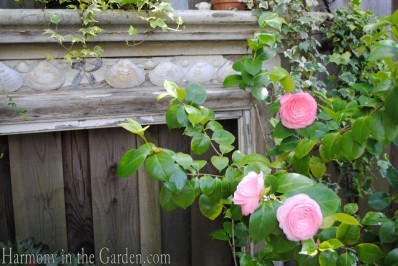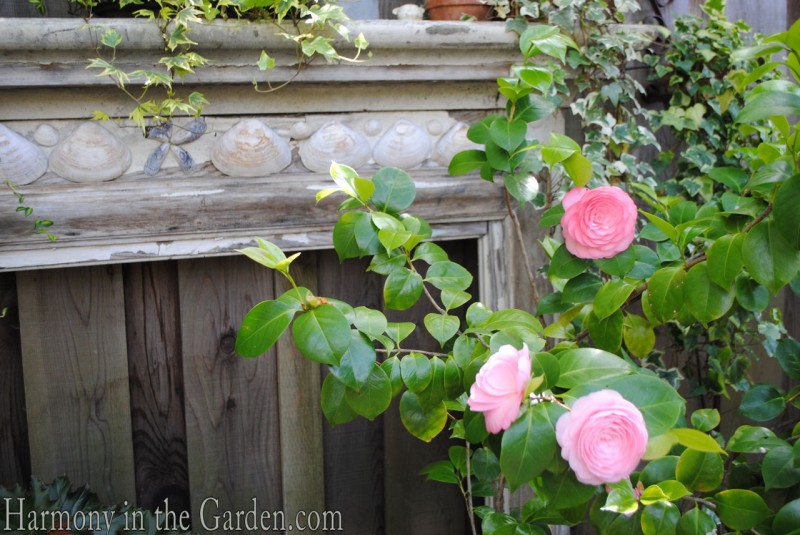 I have both types of camellias in my garden:  the japonicas and sasanquas.  What's the difference?
The japonicas are those camellias that grew in our grandmother's garden – the biggies.  They're larger all the way around; larger in size with bigger leaves and bigger flowers.
These camellias are happiest in shade and are ideal when you want a large winter-blooming evergreen shrub.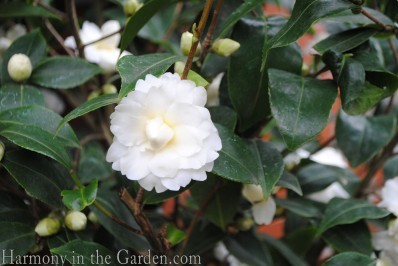 Sasanquas, on the other hand, are smaller and more delicate than the japonicas.  They have an open and airy appearance, with smaller leaves and smaller flowers.
They can also handle more sun than the japonicas and tend to bloom in late autumn.   Both varieties, however, need a few hours of sun in order to bloom.
When someone tells me their camellias never bloom, the answer is almost always because it's planted in too much shade.
Here are some of my favorites that grow in my garden:

Sasanqua varieties: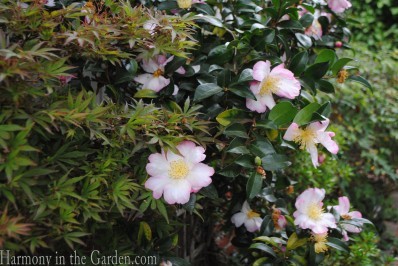 Camellia s. 'Apple Blossom' is the first camellia to begin blooming in my garden, starting as early as October.
Each creamy white flower is edged in the palest pink and looks like – you guessed it – an apple blossom.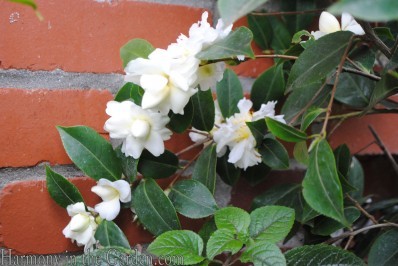 Camellia s. 'Buttermint' is new to my garden and has quickly risen to the top of my favorites list.
I'm smitten with its soft, buttery yellow blooms.  The 2-inch double flowers are smaller, but the sheer number of blooms on this shrub make it a standout in my garden.
It's a smaller variety, 6'x4′, making it ideal for skinnier spaces.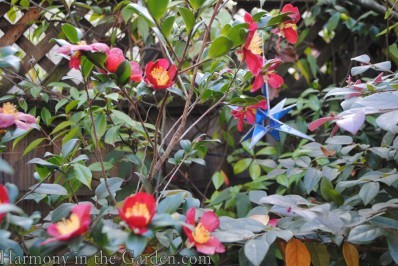 I typically don't have a lot of red in my garden, but camellia s. 'Yuletide' is a welcome exception.
Each December it's reliably covered with cherry-red blooms, just in time for the holidays.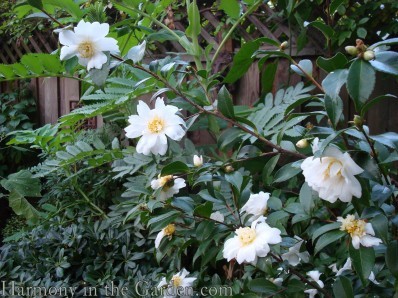 I include camellia s. 'Setsugekka' in more of my designs than any other variety.
I always seem to have the perfect spot for it's semi-double crisp white blooms.
This variety is another early bloomer, starting in October, and signals the beginning of fall.

Japonica varieties: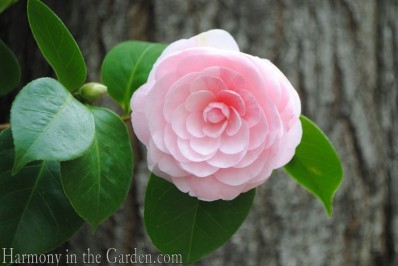 Just look at the symmetrical blooms of camellia j. 'Pearl Maxwell' – it doesn't look real, does it?
The soft, shell-pink blooms begin making their appearance in early spring and are truly a sight to behold.

Another must-have is camellia j. 'Scentsation', one of a very few that have a sweet fragrance.
I like to float flowers in a shallow bowl of water to perfume my home.
Don't get me wrong – I love the earthy beet-like scent of other varieties, but sometimes it's nice to have something sweet smelling in the garden. Especially in winter.
This upright growing shrub begins blooming in December, lasting well into February.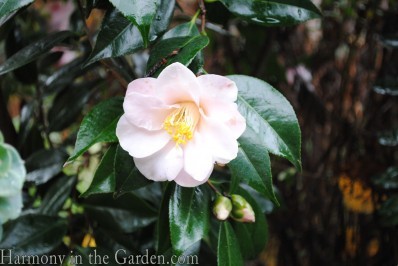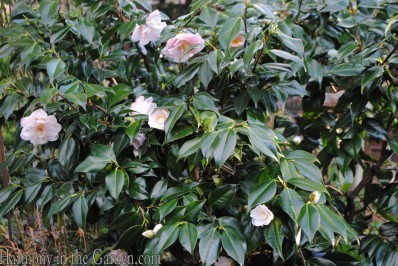 The soft, shell pink semi-double blooms of camellia j. 'Magnoliaeflora' (above) are the epitome of elegant.
This variety has some of the deepest, darkest green foliage in my garden and in certain lighting it seems to have a dark blue tinge to it.  It's amazing.

The large, full blooms of camellia j. 'Debutante' (above) always remind me of a peony – especially its tight, unfurling buds.  This is a larger variety, growing to 8-feet tall and wide, and blooms in early winter.
I have a few more spots to fill in my garden, so I'm curious – what are some of your favorites that you might recommend?