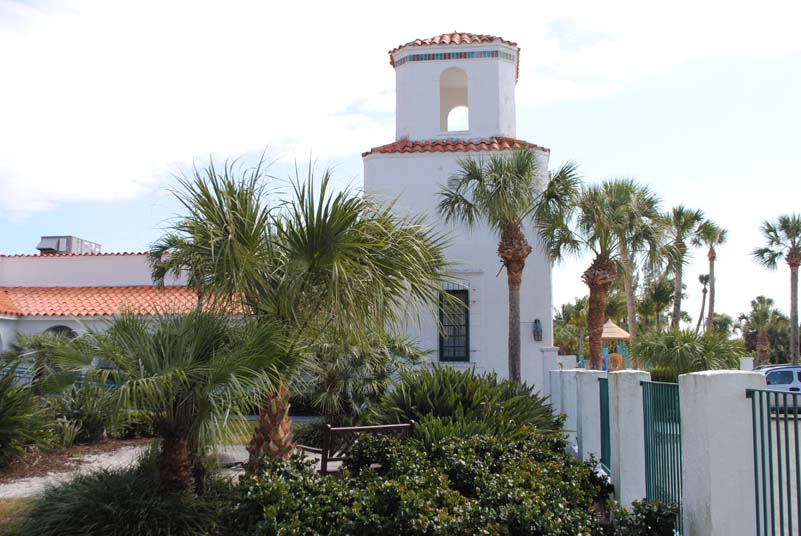 I just returned from a quick trip to Boca Grande, a tiny little island off of Florida, where I spoke about vertical gardening to the island's local garden club.  Without a doubt, one of the perks of my job is the chance to see new things and meet new people – something I wouldn't trade for the world.  Whether it's a local group or one as remote as this, I always leave feeling more enriched than I did when I arrived.
I'm writing this to share this mostly unknown island with all of you in hopes that you may one day get the chance to visit this magical place.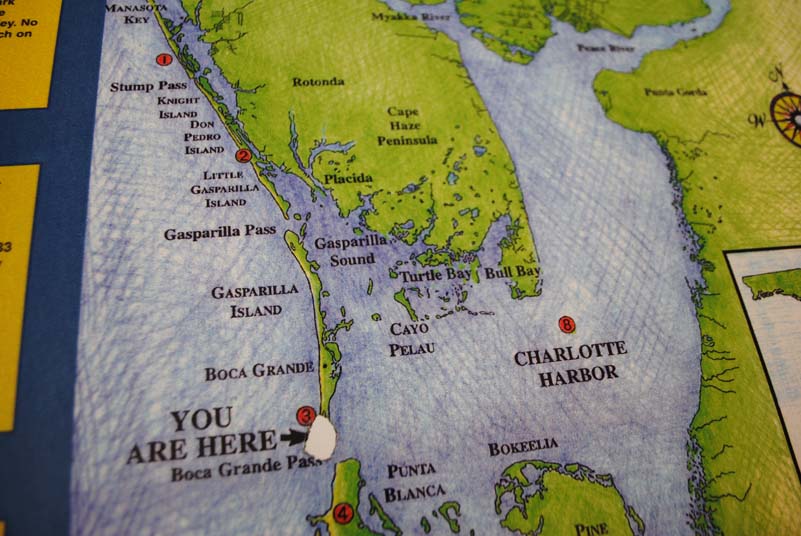 First – where the heck is Boca Grande?
It's a little, skinny finger of an island halfway between Ft. Meyers and Sarasota.  Getting there from California isn't easy.  In fact, getting there from anywhere isn't easy, which is probably why it's remained in such pristine, old-world condition far removed from the rest of the world.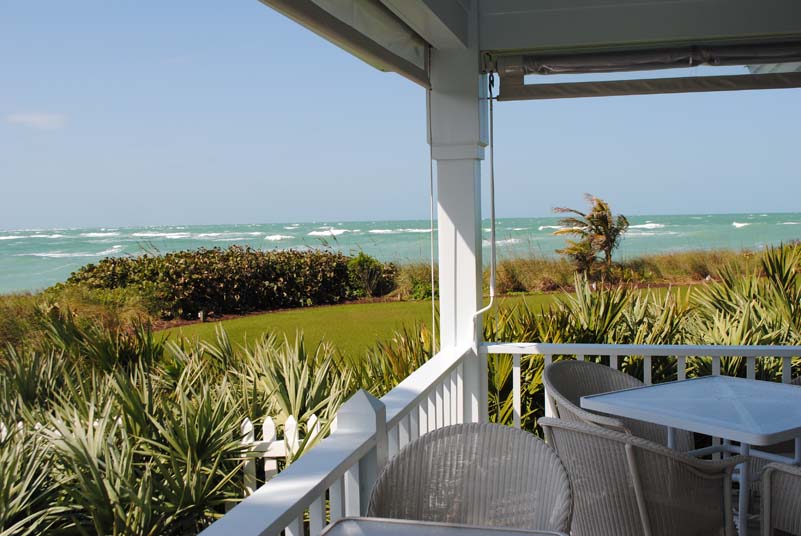 When I say 'finger of an island', I'm not exaggerating – the island is only 7 miles long and ½ a mile wide.  And in some spots you can stand in the middle of the street and see both the Gulf of Mexico on one side, and the Charlotte Harbor on the other.
Because the island is so small, the mode of transportation is primarily bicycles and golf carts.  In fact, when my host drove me to the garden club center, she remarked that this was the first time she'd ever driven her car to the club!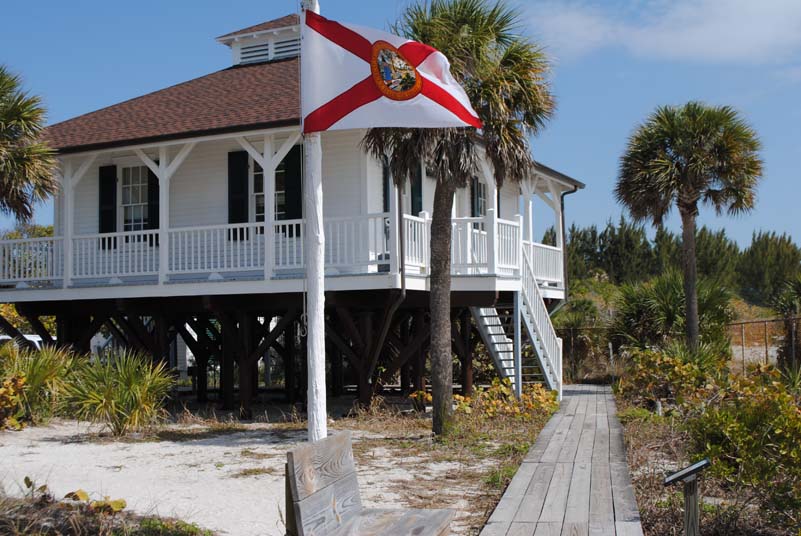 Doors are left unlocked, everyone knows one another, and the town rolls up its sidewalks just after dinner.  The residents are passionate about keeping their town the way it is, and work hard in conservation efforts both to protect their native wildlife and to protect their town's ambience.
There's one tiny post office for everyone, no fast food chains, mom-and-pop shops, four churches, and golf course views that would melt your heart. To say the sense of community is strong here is an understatement.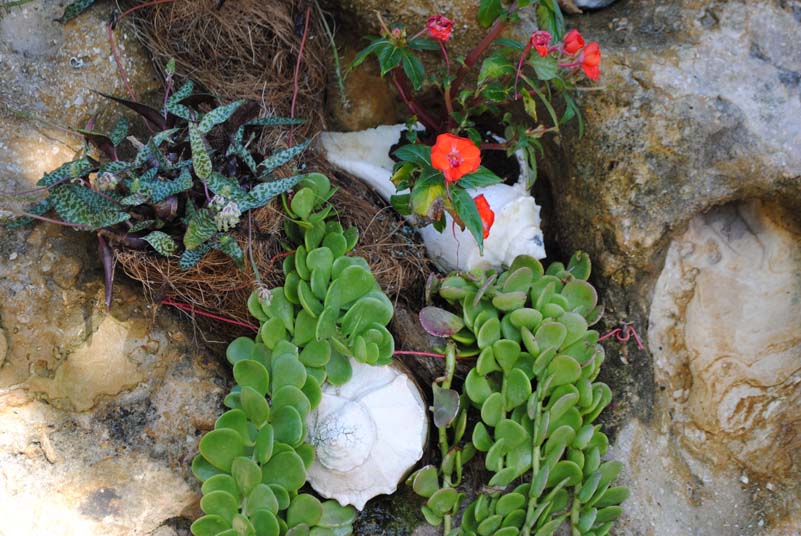 As I mentioned earlier, meeting new people is one of my favorite perks of my job, and here's a perfect example why.  After my talk, a man came up to me and asked if we'd like to visit his garden to see the vertical garden he's been creating the past year.
Of course we jumped at the chance, and after a short ride found ourselves in his magical paradise.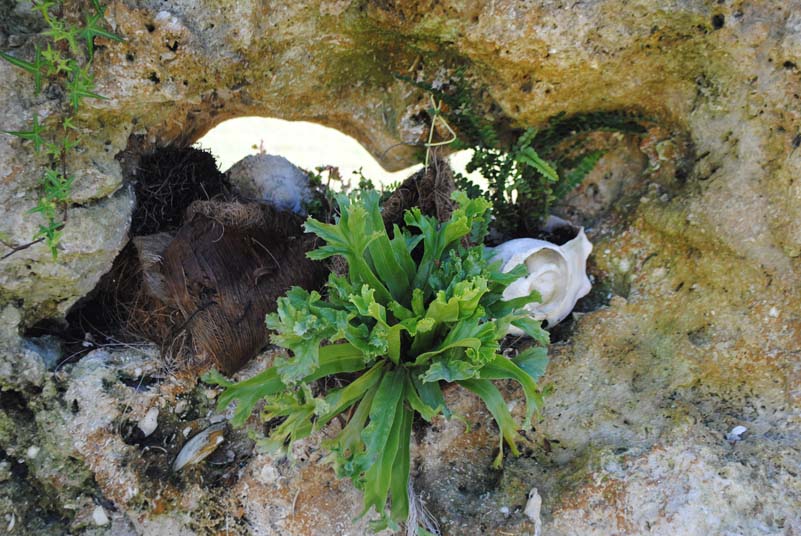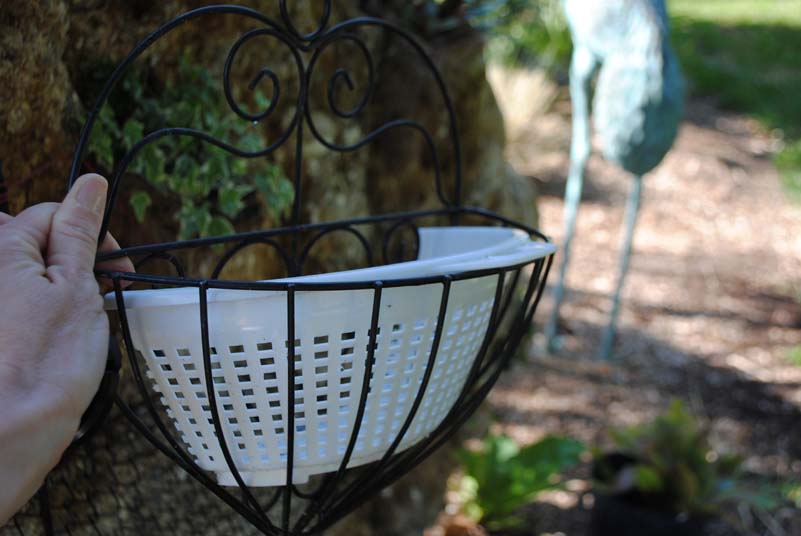 In an attempt to create intimate spaces in an overwhelming 2-acre garden, he decided to use two mammoth pieces of limestone with each one functioning as an anchor to help define a garden bed. The oversized boulders have naturally occurring divets throughout, which he thought would make fantastic holding areas for various plants.  A collection of shells found on the beach served as the containers for his plants, tightly secured with wire into the rock crevices.  And if a shell wouldn't work, he discovered that an inexpensive colander cut in half and covered with coir worked just fine.  He even used a few coconut shells to hold the soil and plants firmly in place.  I just love the creativity and passion that gardeners have!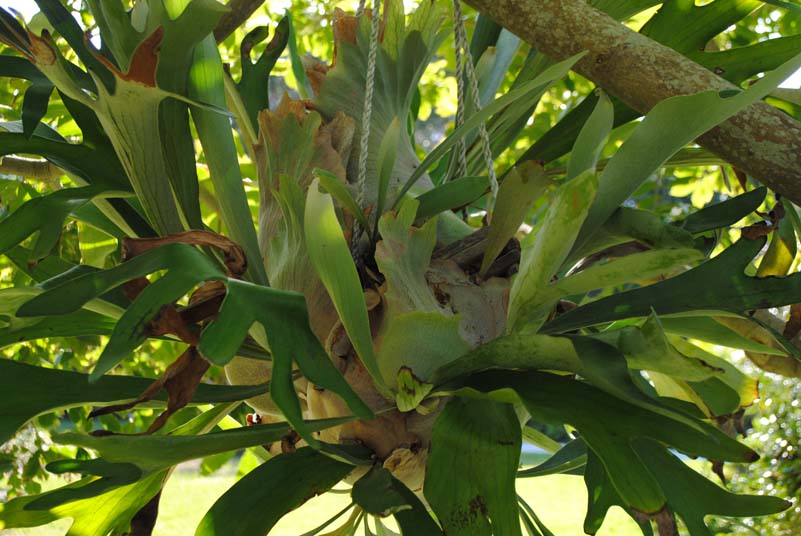 He then showed me his collection of very healthy hanging Staghorn ferns.  When I asked what he did to keep them so happy he said all he did was spray them with water once a week and feed them banana peels.  Seriously!
He stuffs an old banana peel in the middle of the plant every few months that apparently provides all the nutrients the ferns need.  Amazing.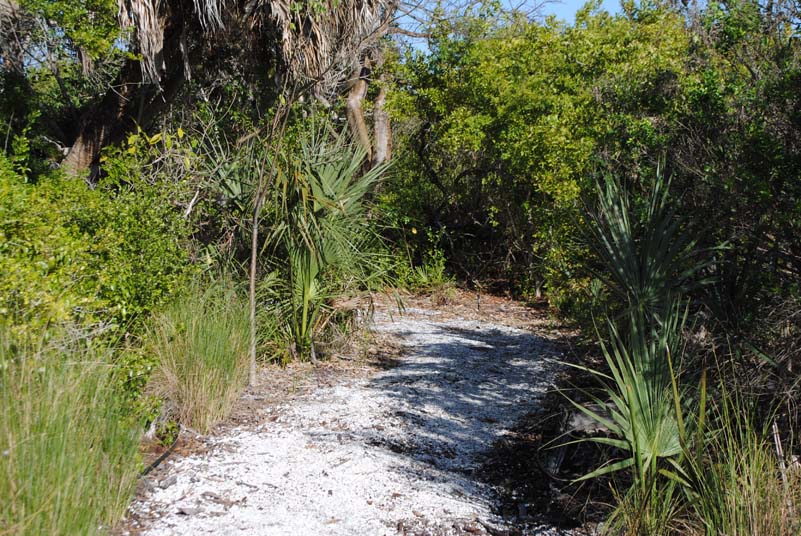 Then things got really fun.
With a lowered voice, he asked if we wanted to see a 'secret garden'.  Well who wouldn't?  He made us promise not to disclose the location, as we had to sneak onto the property to see this mysterious place (it's been closed for years and years due to conservation efforts that seem to have mysteriously stopped).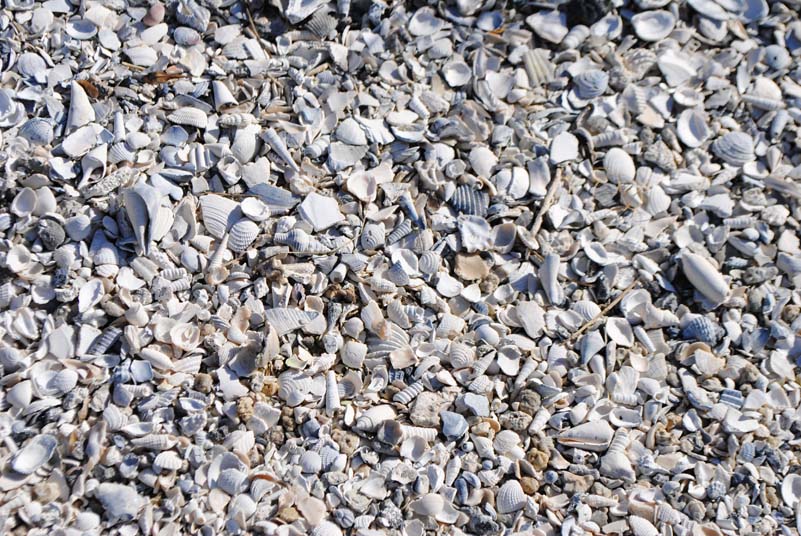 After tromping through spongy grass and pathways made from zillions of little bleached shells we arrived at what our guide called Florida-untouched.
He showed us giant osprey nests safely perched in stark white trees, 100-year old shell mounds created by the early Calusa Indians, and rare native orchids that only grow on the trunk of this particular native tree (unfortunately, he couldn't remember the tree's name) were just some of the things he loved pointing out to us.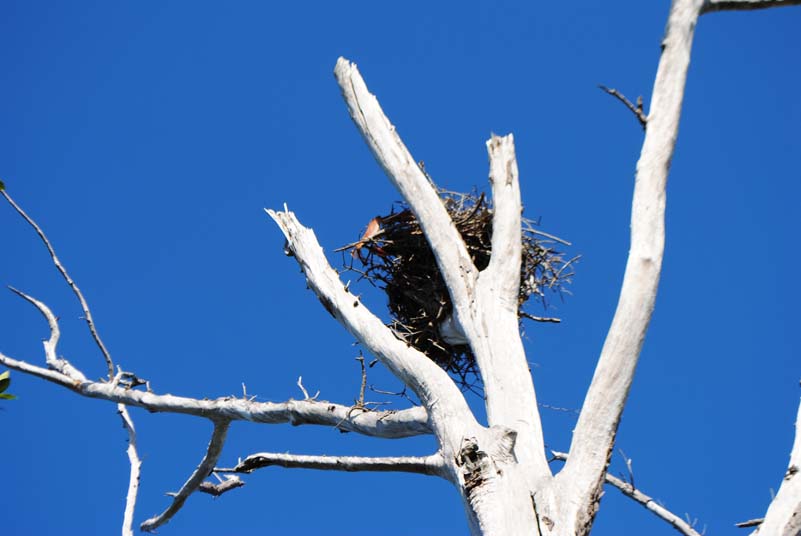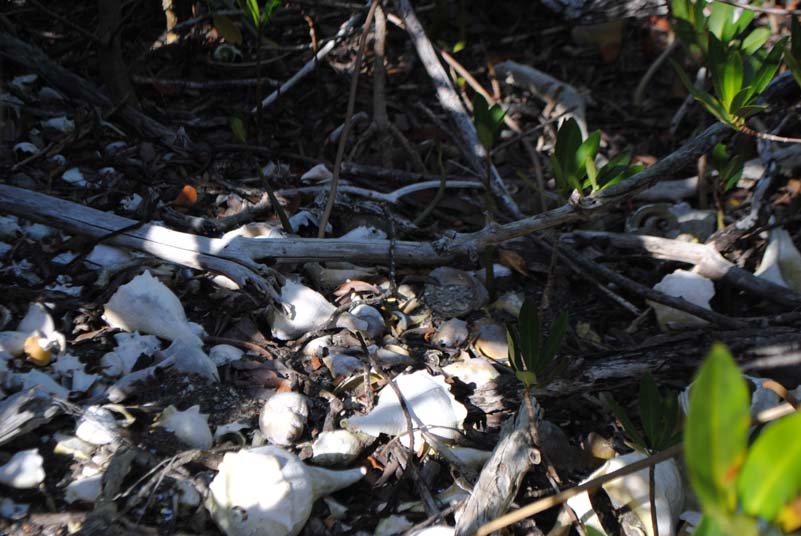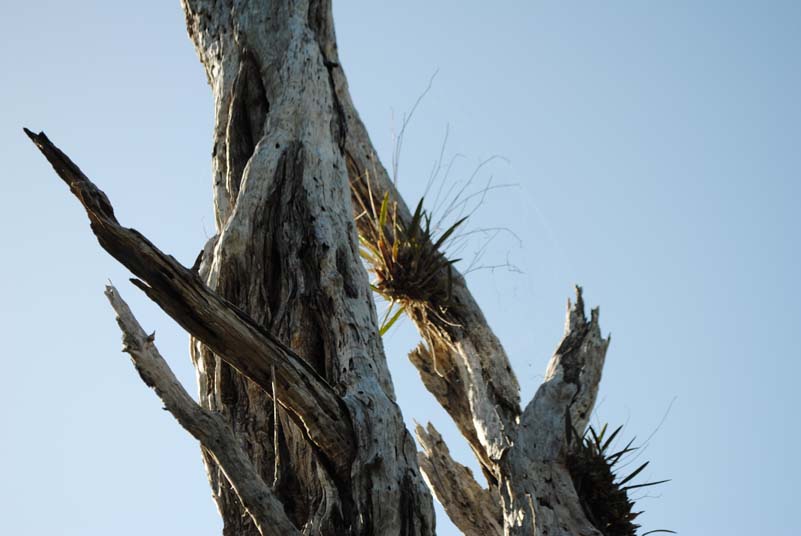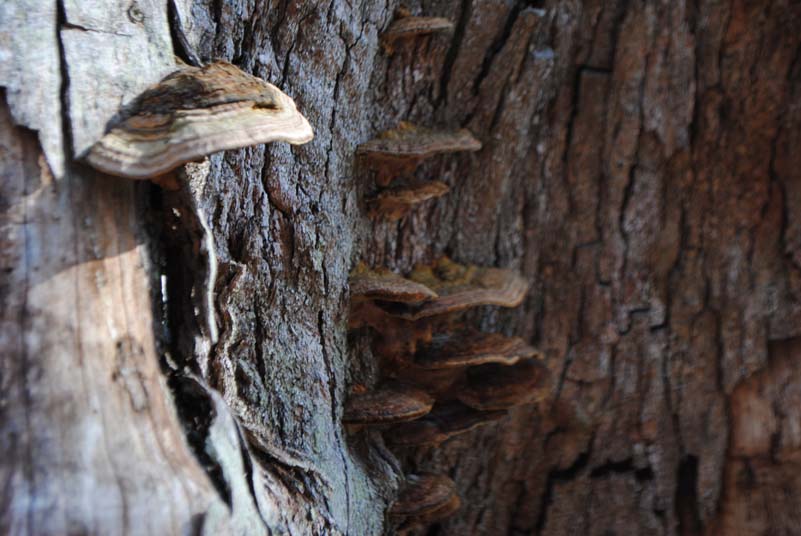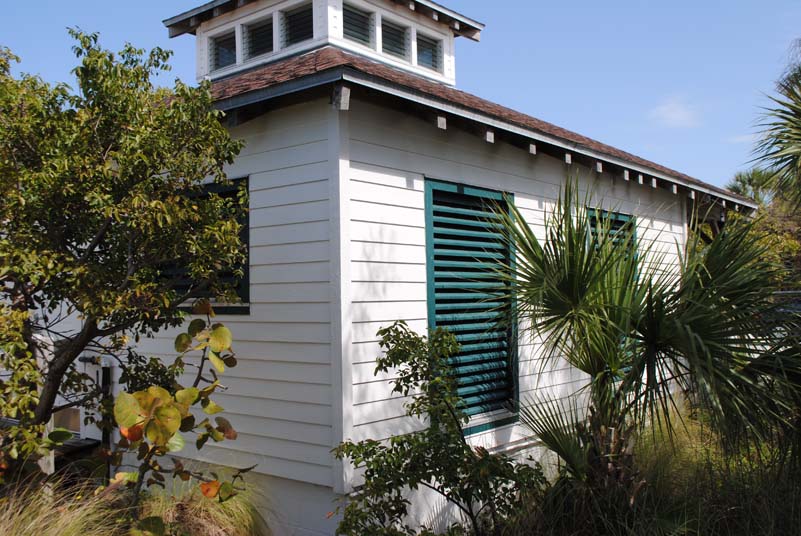 Meandering through the palm-lined streets was one charming home after another – some over 100 years old, others built to look like they were.
And just as you'd expect, color was everywhere.
But surprisingly most of the color wasn't a result of the flowers, but other aspects of plants– things like foliage, stems and berries.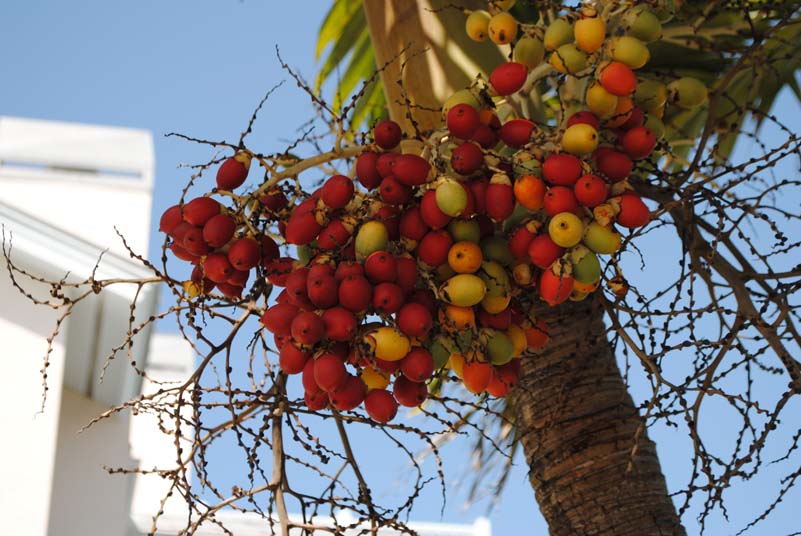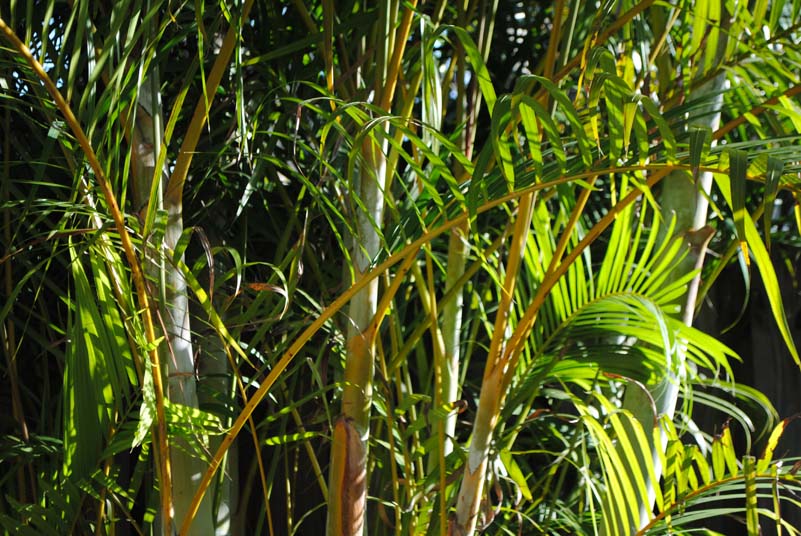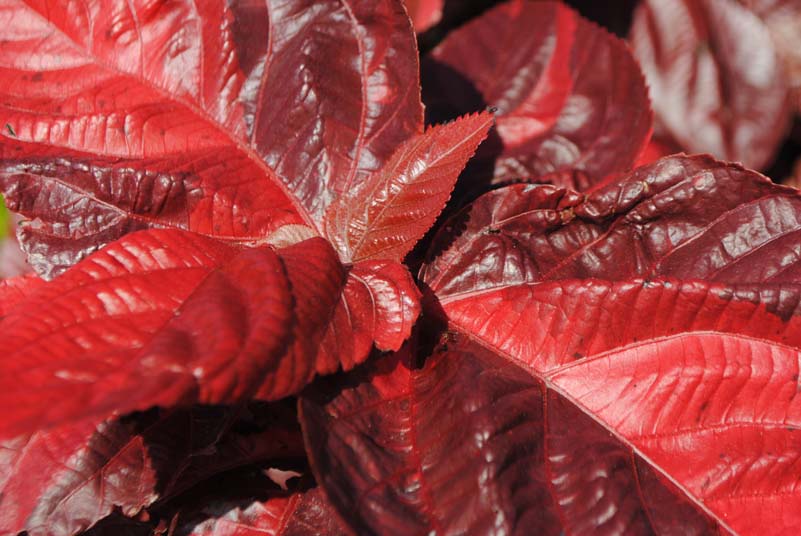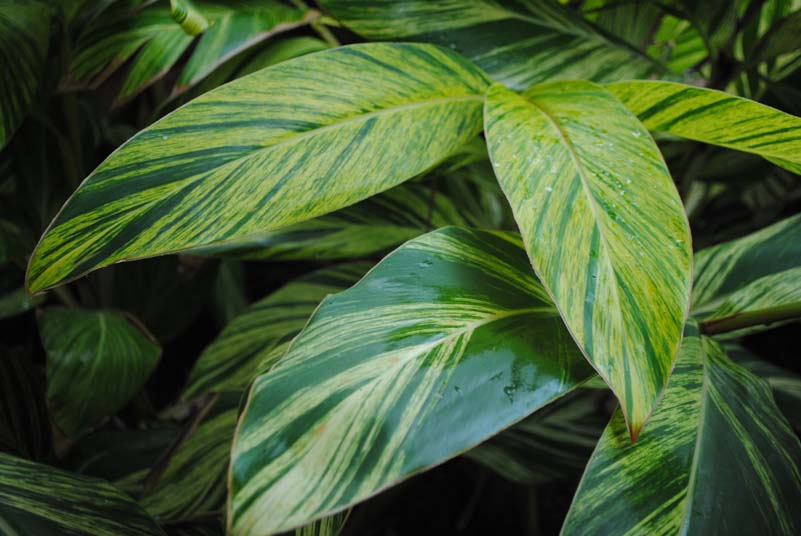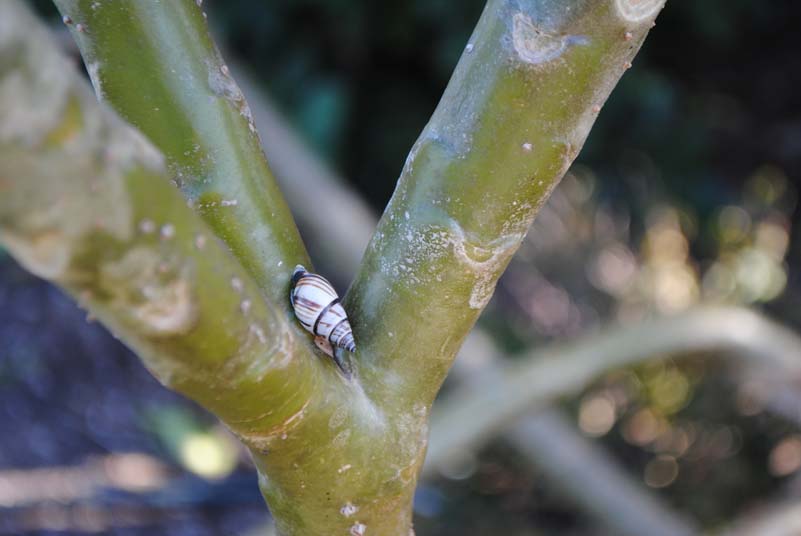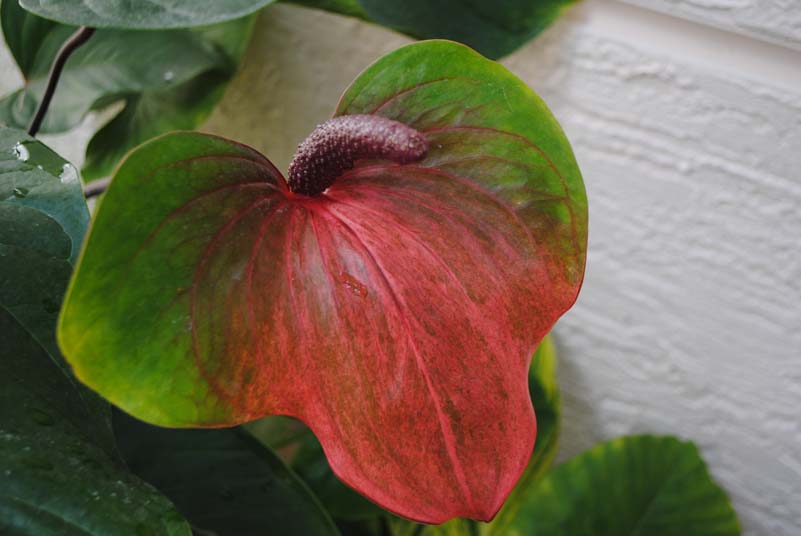 Even their common garden snails are pretty!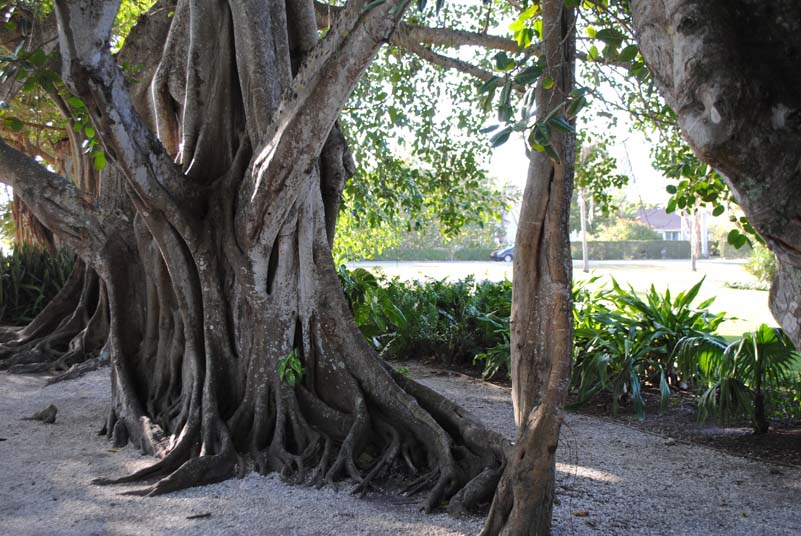 Boca Grande is a bucket-list worthy place to visit and I truly hope you all get a chance to someday.