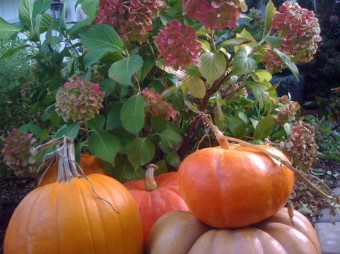 Wow – here we are again – another fabulous Garden Bloggers' Bloom Day! For those of you not familiar with what 'Bloom Day' is, it's a wonderful tradition started by May Dreams Gardens and is a chance for Garden Bloggers everywhere to show you what's going on in their own garden on the 15th of each month.  My garden is located in Los Altos, California (USDA Zone 8B).
.
I'm so lucky the 15th wasn't yesterday – Northern California was hammered all day by a tropical storm dumping several inches within a 24 hours period.  While this may be nothing new to you folks in other parts of the country, out here  – it's a MAJOR event.  On one hand, we celebrate in jubilation at the prospect of a wet winter, hopefully ending a several-year drought…yet we cringe as we watch our fully-leafed-out trees crash in the winds, and our perennials heavy with blooms, topple to the ground…Luckily, I still have some blooms which have survived Mother Nature's beat-down!
.
.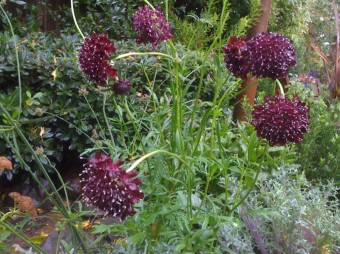 .
How cool is this?  It's a Scabiosa atropurpurea 'Ace of Spades' by our own Annie's Annuals.  I have this planted in the full sun, and it's just now coming into all it's glory.  I love the specks of white amid the dark maroon color…it really 'pops' in the landscape, especially when planted near grey leafed plants (like the ornamental kale in the lower right).  The color is just perfect for Fall!
.
.
.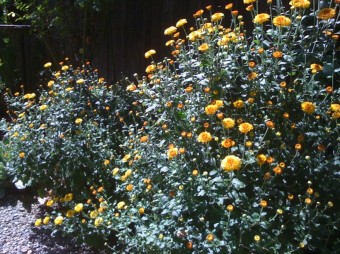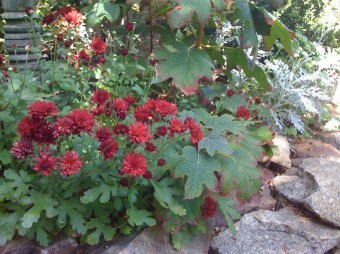 .
Now what Fall entry could be complete without Mums? While they're typically not a huge favorite of mine, when they pop their heads up in the Fall I'm always so glad to see them.  I'm particularly fond of the small button-like yellow mum on the left…it just doubles in size every year.  Both mums get pretty much zero care from me most of the year – I just dead head them once they start to look crummy, yet they still reward me year after year.
.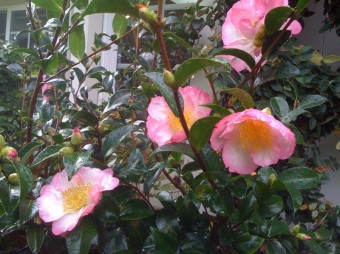 I just LOVE this Camellia sasanqua'Apple Blossom' – it's the first one of mine to start blooming, and will continue to do so for the next 2 months.  I like planting Camellias in succession, starting with the Fall blooming sasanquas, like this, and ending with the Winter blooming japonica varieties (like the 'Debutante'…pictures in a few months!)
.
Another reason I love Camellias?  They smell so 'earthy' – like beets!  (warning: if you're a beet-hater, then don't lean in to take a deep whiff…)
.
.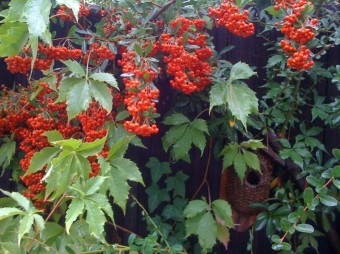 Ahh…Pyracantha berries.  While they're technically not a bloom, they add SO much interest to the Fall garden!  They've ripened early this year, I guess due to our unseasonally cool Summer – usually they start to turn color in December.  Soon, the robins will descend and gorge themselves on these berries, causing them to get drunk like a bunch of pirates, crashing into windows, pooping all OVER the place…but it's so worth it.
Out here, we have to watch out for Fire Blight – which quickly attacks and usually kills these bushes.  This particular one, in fact, was cut to the ground several years ago due to Fire Blight, but lo and behold – it sprouted back and is healthier than ever (knock on wood….)
.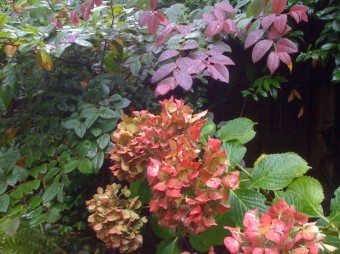 .
This is one of my very favorite hydrangeas – 'Glowing Embers'.  It's a smaller one, reaching only 3 x 3, which makes it PERFECT for tucking into smaller spots (like beneath this Loropetalum).  The blooms start out pink, then fade to this beautiful antique-y shade of dark rose.  A lovely, lovely hydrangea.
.
.
.
.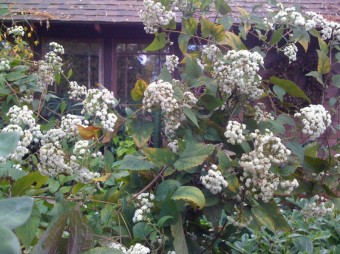 .
I don't know why this is so darn difficult to find in the nurseries!  It's Eupatorium rugosum 'Chocolate' (also called 'Snakeroot').  Hmmm..I wonder if that's why nurseries aren't carrying it – Snakeroot is such a hideous name….
.
Anyway, it's a fabulous plant – barely spreads at all here, reliably comes back each Fall to send up these 3′ tall clusters of airy white flowers which hang on for months! The foliage is dark maroon when it starts out, turning darker green with age.  And when there's a breeze, the flowers just seem to 'dance' above the other plants.
.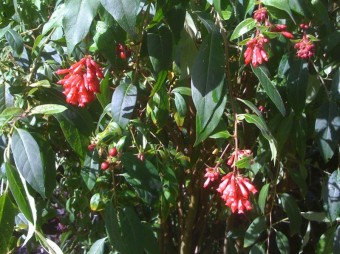 .
Those of you who are past clients of mine, know that this is one of my very favorite plants.  It's a Cestrum newelii and it blooms off and on throughout the entire year.  It has both cranberry-like berries and small, tubular flowers on it at the same time and is an absolute MAGNET for hummingbirds.  It's evergreen, super fast growing and can take a brutal pruning and bounce right back before you know it.
.
.
.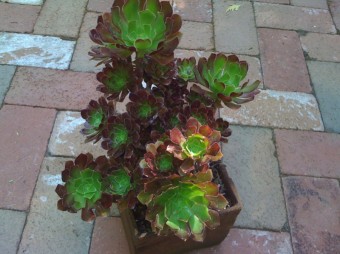 .
I know, I know…I'm cheating again.  But I can't help myself – these Aeoniums start to 'bloom' when the weather turns cool again, and they look like the prettiest flower in my garden!  This is a miniature variety I picked up somewhere…I don't remember the name of it…but it's rosettes are only about 3″ across (compared to the regular varieties which are about 10″!!).  So darn cute.
.
.
.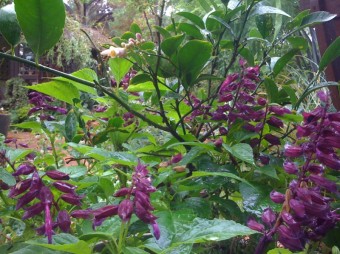 .
And last, but not least, are my annual Salvias 'Salsa Purple' planted beneath my potted Bearr's Lime tree (which has also kicked out a single bloom for this photo…).  I buy these Salvias every year, and watch as they just limp along in the Summer, then once the weather starts to cool – WHA-BANG – they're in their glory for months at a time.  They're SO worth the wait.
.
.
.Thanks for stopping by my garden!  I'll see you next month! – Rebecca
.