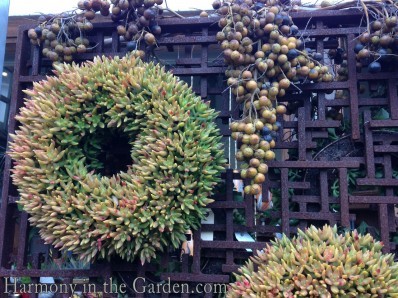 The new year is almost here and with it comes my new year resolutions for my garden.
Last year, my resolution was to remove my front lawn and replace it with less thirsty plants (that I'm thrilled to say I finally did!)
This year, though, I have a few more things that I hope to accomplish in my garden.

1.  Create a bigger vegetable garden
While I currently have an area designated for growing edibles, over the years the neighbor's acacia tree has shaded the area making it difficult for edibles to grow.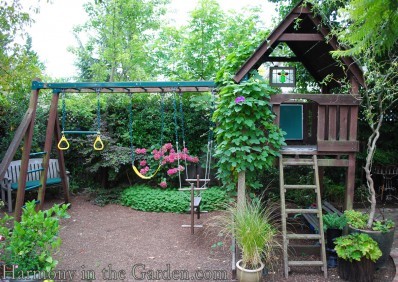 So this year, I'm finally going to remove my daughter's swing-set (she's 19, after all) and build a few vegetable beds.
I'm going to keep the fort, as I find it charming, but I'll remove the swing area.
Now I just need to decide what type of beds to build.  

I really like the stacked stone beds that we've built for my clients over the years….


But then again, I also like my clients redwood  beds (although, luckily, mine wouldn't need to have deer-fencing surrounding them)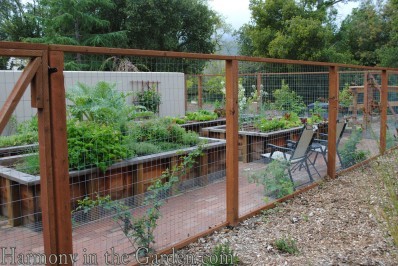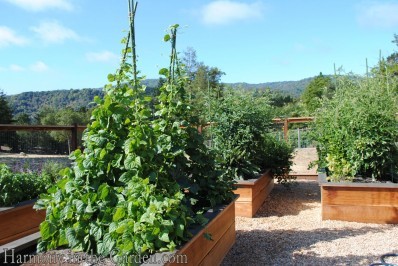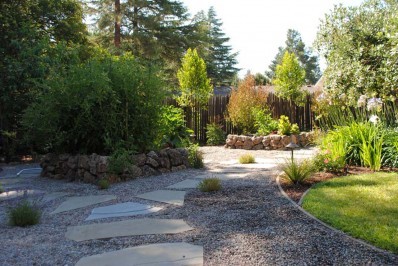 Or, maybe I'll keep it simple and create smaller, stacked field stone beds.  While they're lower to the ground and don't have a ledge to sit on, they tend to  blend easily in with the garden (and are definitely less expensive!)
Decisions, decisions…
I think I'm leaning towards the taller stacked stone beds shown in the first photo for my own garden.

2.  Take better care of my soil
I'm not as good about adding amendments to my garden's existing soil as I'd like to be, so this year I hope to be more consistent.
A few weeks ago I had a load of compost and bark delivered, which we spread throughout my garden.  Added to this was a few bags of worm castings.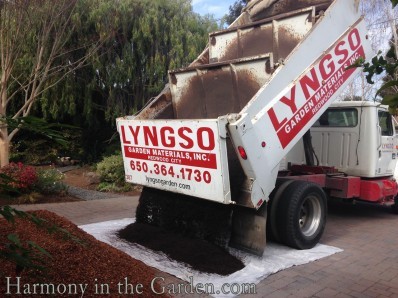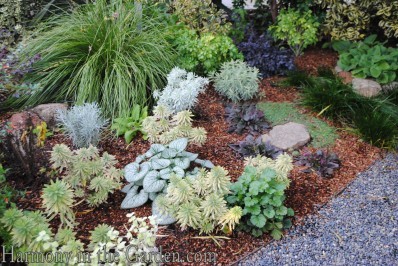 Yes, it's back-breaking, but it's so darn good for the soil!
We added a 1-inch layer of compost and castings throughout and topped it off with 3-inches of bark.  The bark is important as it will not only help to keep the weed population down but will also help the soil to retain much-needed moisture.
Ideally I'd do this every year or so, but it's been at least 3 years since I've done this.  I can already hear my plants thanking me!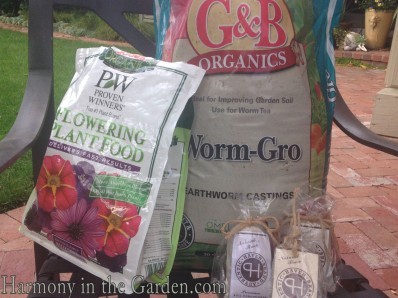 I'll be the first to admit that I'm not very good about feeding my containers.
This year I vow to do a much better job and not only re-pot my poor, root-bound babies but give them regular doses of worm castings and Annie Haven's compost tea.

3.  Take time to relax in the garden
While it's easy for gardeners to say this, actually doing it is an entirely different story.  But after all I've gone through this year health-wise, I really want to remember to take the time to enjoy my garden and all it has to offer.   For the past few months I've had to 'sit' more than 'do' and while it can be frustrating at times, it's also been really nice to appreciate my garden just as it is.
Several years ago I visited Innisfree Garden in Millbrook, New York and was so impressed by the various styles of garden seating placed here and there for visitors to use (click here to read more.)  I appreciated this so much as often large public spaces have only a few areas for weary guests to sit and appreciate the gardens.   Now that I hope to spend more time relaxing, I'm thankful that through the years I've included plenty of seating areas in my own garden:
And speaking of the upcoming new year – this month's final holiday giveaway couldn't be more timely!
UPDATE:  Congratulations Cheri – you won Debra Lee Baldwin's calendar!  (I've already sent you an email asking for your home address so once I receive it, the calendar will be shipped).  Thanks everyone for participating!
Renowned succulent expert Debra Lee Baldwin has generously offered one lucky reader her latest creation – a 2015 Succulent Watercolor Calendar.  Debra is not only the go-to source when it comes to anything and everything related to succulents, but did you know she's also a most talented artist? (click here to read a bit about her painting process)
How to enter:  For a chance to win, leave a comment here on my blog letting me know  if you have any garden resolutions this year or what you'd like to accomplish in your garden.  How easy is that?  And even though I can't respond to giveaway blog comments (if I do, it'll skew the random number generator), please know that I read every one and love what you have to say!
A few more details:  A random winner will be chosen by midnight Jan. 5th and contacted within 24 hours. If the proposed winner forfeits or does not claim the prize by Jan.12th, the prize will be re-awarded based on the sponsor's sole discretion. All prizes will be awarded. Please provide your first and last name to enter this contest so I can immediately contact you if you win. The winner agrees to allow his/her first name to be mentioned in conjunction with this giveaway.
This giveaway is limited to U.S. residents only, who are over the age of 18 years old. No purchase necessary to win. This sweepstakes is also void where prohibited by law (wherever that is, I'd sure hate to live there!) By entering this giveaway, you agree to these conditions.