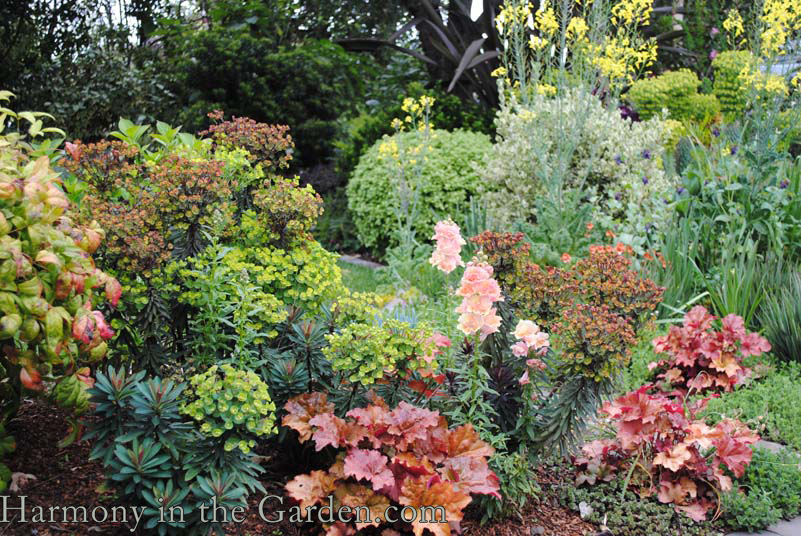 Heucheras (aka: Coral Bells or Allum Root) are one of my favorite perennials in the garden, whether adding spots of color in the front of the border, massed together in drifts or nestled into a container.   I'd be lost if I couldn't use these little treasures in my designs, as their foliage comes in just about every color imaginable, they reliably return year after year and they're even somewhat deer resistant.
The folks at Terra Nova Nursery (located in Canby, Oregon) have long been regarded as some of the top heuchera breeders in the country, introducing us to some of the most amazing heucheras one can find. Yes, they breed other plants as well (echinacea, hellebores and tiarellas to name just a few), but it's the heucheras that get my blood racing!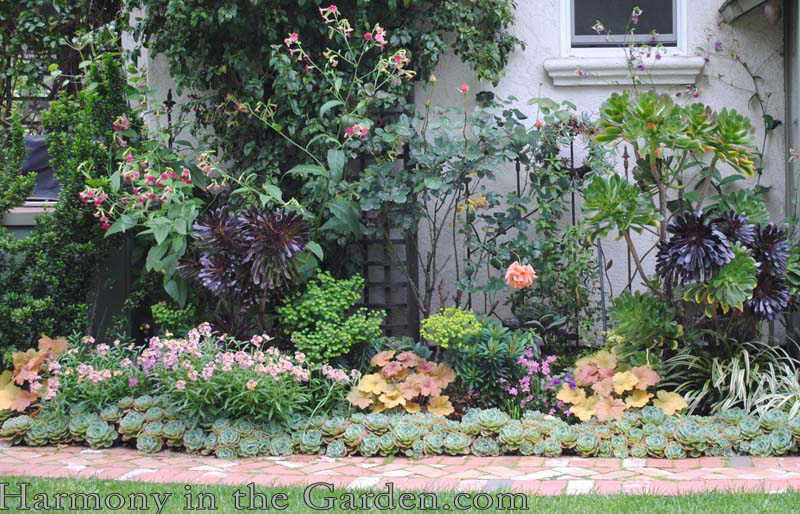 To delve a little further into the ins and outs of incorporating heucheras in your own garden, I interviewed both Dan Heims (the President of Terra Nova) as well as one of the company's premier heuchera breeders, Janet Egger (who is also a trial plant manager, patent writer and manager of Terra Nova). Between the two of them I don't think there's a stone left unturned!
Enjoy!
……………………………………………………………………………………………………………………………………………………………………..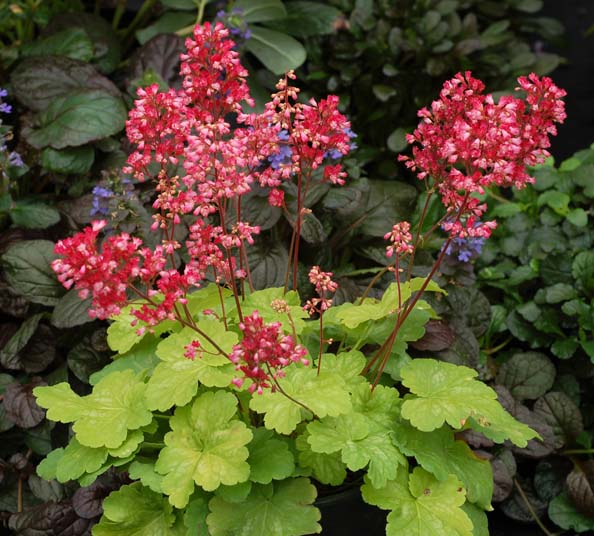 What are some of your favorite new heuchera introductions for 2013?
Janet: 'Sweet Tart' and 'Blondie' are very popular for small containers and as patio and house plants. These are in the Little Cuties™ series. They bloom and bloom and bloom! Heuchera 'Creole Nights' for its large glossy black leaves. Heuchera 'Fire Alarm' with its amazing, large leaf red foliage. It took a long time to breed a strong plant with foliage that stayed this red.
Dan: I have to add 'Sugar Berry' from the Little Cuties™ series – astounding, long-lasting purple color!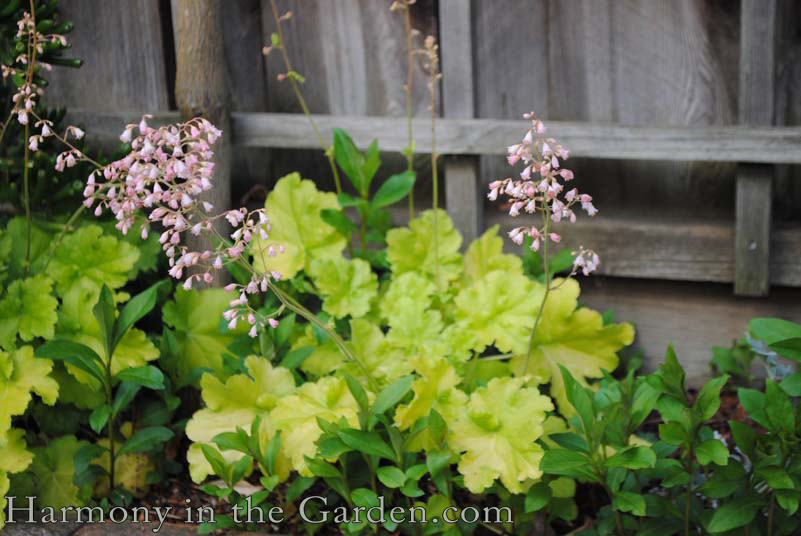 Why does it seem that some varieties of heuchera are fantastic in the garden for 1 to 2 years, then they slowly disappear never to be seen again, save for one or two sad little leaves?
Janet: This is usually due to grower error. They have sited or planted the plant incorrectly. Heuchera need to be planted high in halfway decent soil. They need good drainage. They need the correct amount of light.
Dan: A few hours of morning sun is best. If these conditions are met, they are very long lived.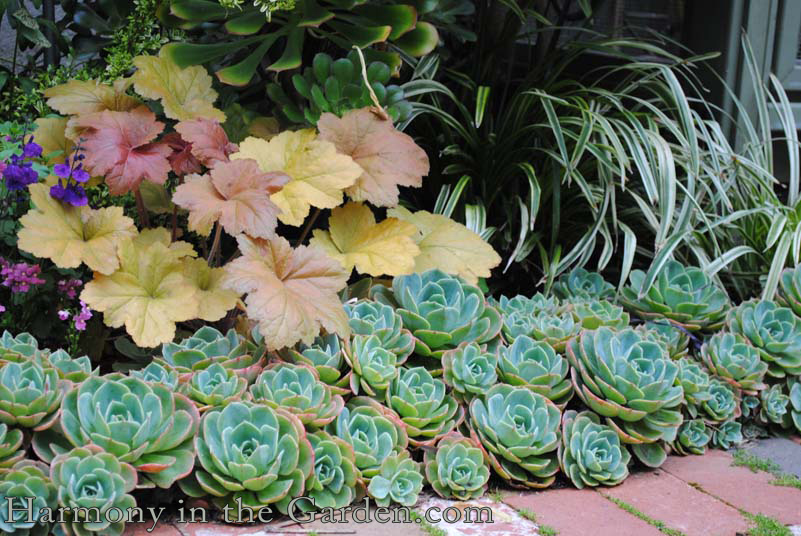 What makes some heucheras more heat and humidity tolerant than others?
Janet: Generally, it's the parents in the breeding line. The heuchera sold today come from species that grow from all over the US and into Canada. Heuchera with strong H. villosa or H. americana breeding tend to do great in heat and humidity. Many botanic gardens have test gardens where you can look up what grew best in your area.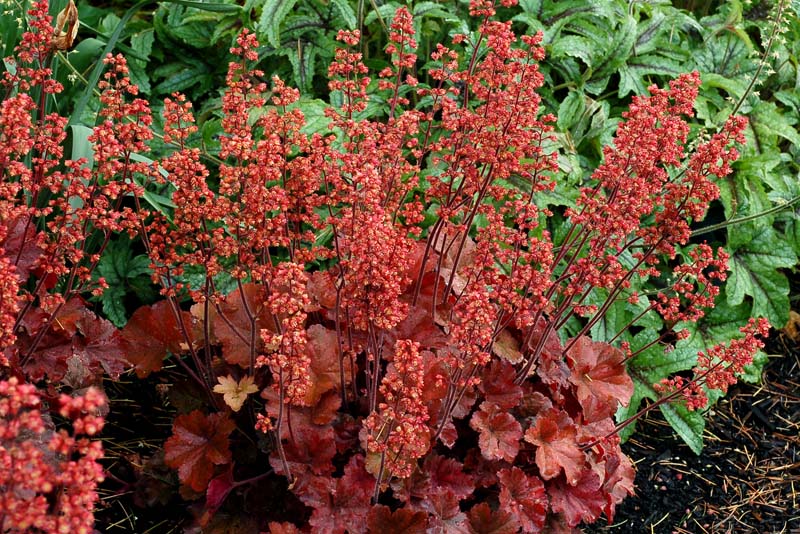 What are some varieties that have the most colorful and sturdiest blooms?
Janet: Heuchera 'Paris' is still the best for flowers. It blooms all spring through fall. Heuchera 'Cherry Cola' is great for foliage and flowercolor. It's a great plant. Heuchera 'Bella Notte' has almost black leaves with lovely large pink flowers.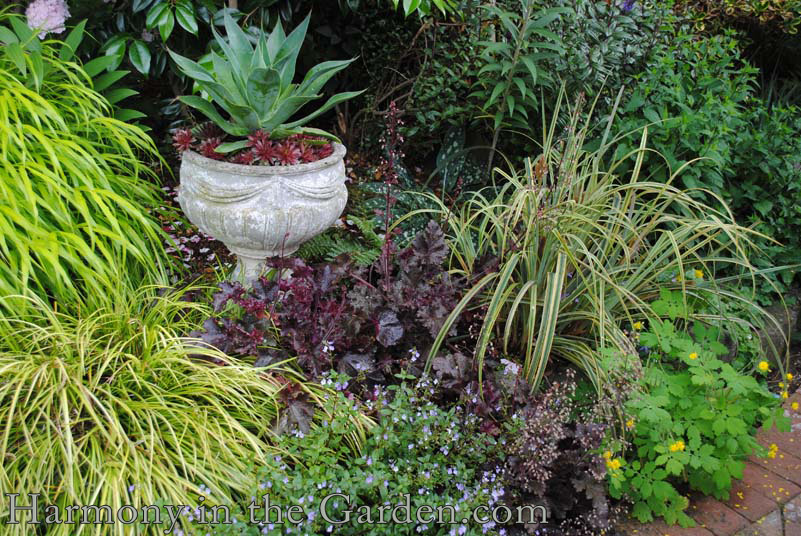 What are some of your favorite ways to use heucheras in the garden?
Janet: Heuchera are so versatile. They have such a wide range of plant size, leaf size, leaf colors, leaf types. That is what makes them so fun to breed. They look great in containers, as border plants, and in mass. They work great as an understory plant for shrubs.

What are some of your personal favorites?
Janet: 'Spellbound' is my new top favorite garden heuchera. It has a large habit and leaves that are silver to silver purple. Beautiful habit year round. Heuchera 'Delta Dawn' is an impressive plant and performer as well.
Dan: Heuchera 'Paprika' for me!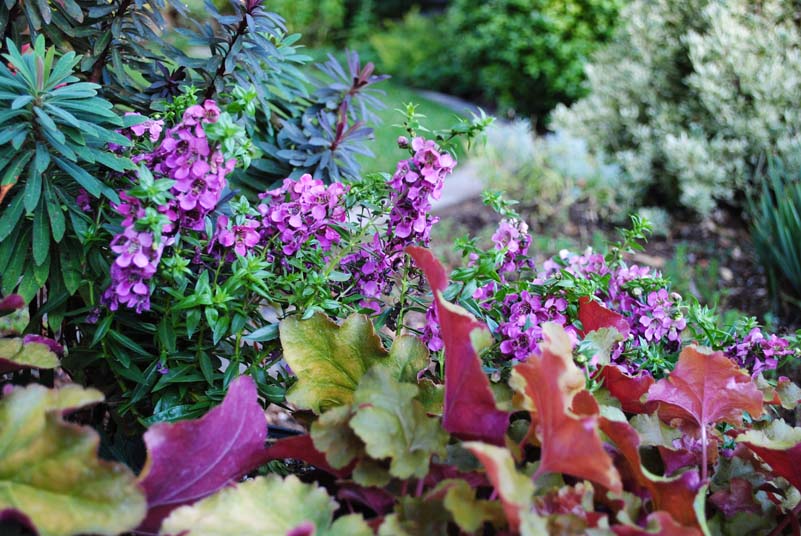 Many of my clients are surprised that lots of varieties have drastically different colors on the undersides of their leaves, providing unique opportunities to create interesting color echoes in the garden bed.  What are some of your favorites for this purpose?
Janet: 'Berry Marmalade' and 'Ginger Peach'. Also 'Sashay' is the classic for this with its ruffled leaves that are olive green on top and purple underneath.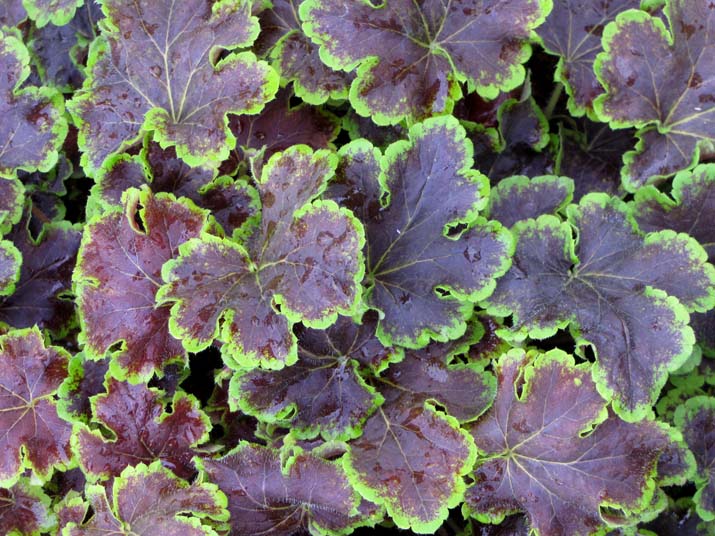 What are the main differences between heucheras and heucherellas?  I know heucherellas are bred with tiarellas, but why would someone seek out one over the other as they often seem so similar?
Janet: Heucherella grow well in a wider range of conditions. They grow better than Heuchera in the heat and humidity of the south. They also have the advantage of having different shaped and marked leaves.
Dan: They can be much more lobed or have dark centers near the veins, all depending on what look the parent had.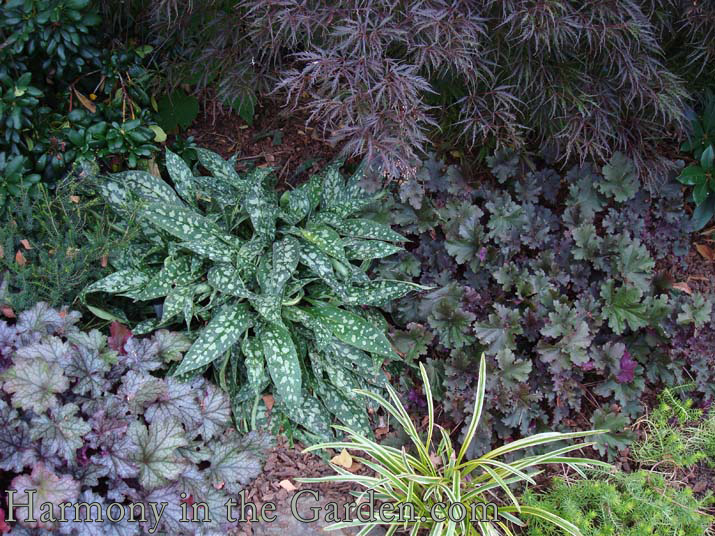 Now that we've been bitten by the heuchera bug, what's the best way for us to find these beauties?
Janet: Your local nursery and the Terra Nova website: www.terranovanurseries.com, which has a map of the US that can be clicked on to find a vendor in your city or state. Mail order sources are also listed.