Hey – we get fall color, too!
.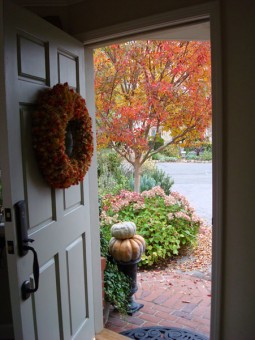 When you think of fall color California probably isn't the first (or second or even 20th) state that comes to mind.  Sure, those of you who live in the Northern states have your world renowned fall color, but out here in California we, too, have some pretty amazing color  – honest! I'm not talking about further up in Northern California, where temperatures dip into the single digits, helping leaves take on the brilliant hues of fall.  I'm talking about the Bay Area's mild climate, where our average winter temperatures are in the 30's!
Every time I hear a Northern transplant lamenting how 'dull' the color is in California, I always bristle just a bit.  I mean come ON!!  This image is taken right outside of my front door, where it opens up onto a beautiful Crape Myrtle (Lagerstroemia indica 'Basham's Party Pink'). It's something I look forward to every year as the colors are just perfect for Halloween and Thanksgiving!
Take a look at some of the other trees below and then tell me California's fall colors are 'dull'……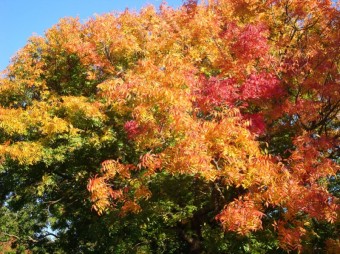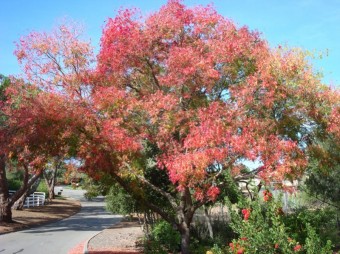 The Chinese Pistache tree (Pistacia chinensis) is pretty common around here, but so many people seem to forget about it until fall, when they drive around and ask 'What the heck is THAT!'  This is the time of year when I get lots of emails and phone calls from people who see these trees and tell me they want one for their own garden.   The thing to remember with Pistache trees, is you never know if you're going to get a yellow one or a red one…so if you have a preference, my advice is to buy one when it's in Fall color to be sure you get the color you desire.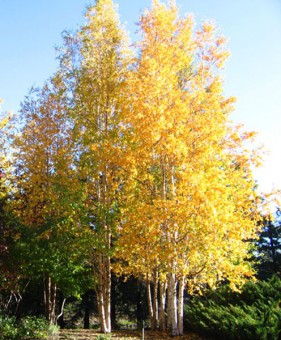 I love our Birch trees, which look beautiful in every season.  I'm particularly fond of them in the fall when they blanket the ground with zillions of tiny, golden leaves..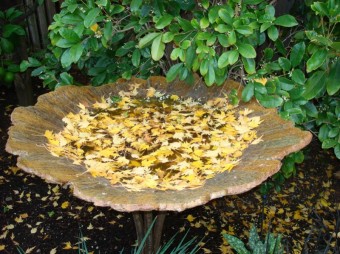 /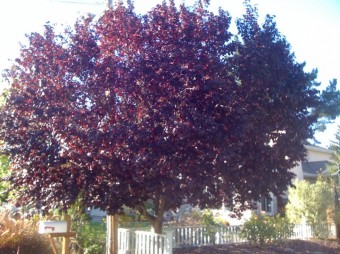 Okay, okay-so this Purple Leaf Plum (Prunus ceracifera 'Thundercloud') has this beautiful color year round.  But I'm including it in this post because can you imagine how awesome it would look planted near one of the above Pistache or Birch trees?  Holy Cow…what a combo!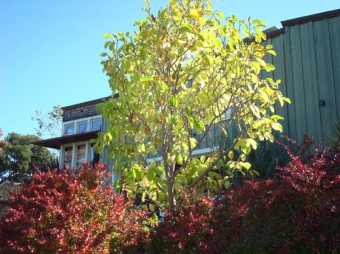 This Magnolia tree (Magnolia soulangiana 'Burgundy') is underplanted with gorgeous Berberis thunbergiana 'Crimson Pigmy'.  While Magnolia trees are well  known for their spectacular show of spring-time flowers, it also has a double whammy with it's bright, chartreuse color show before it drops it's leaves.  Pared with the Berberis – another gorgeous color combination.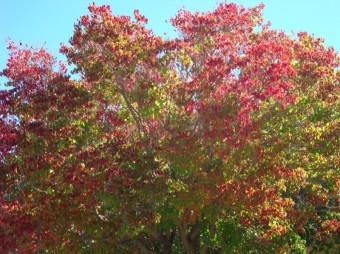 Here's another tree with beautiful dark red fall foliage – it's a Chinese Tallow tree (Triadicasebifera).  This tree does really well in our area, and it's one of the last to lose its leaves so we can enjoy its fall color a lot longer than many of the other trees.
I couldn't write about fall color in California without including some photos of the many varieties of Japanese Maples.   Here are just a few in my neighborhood: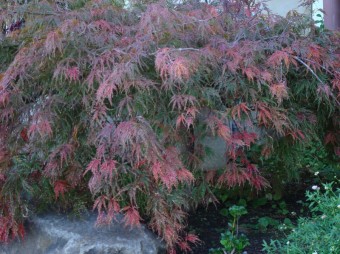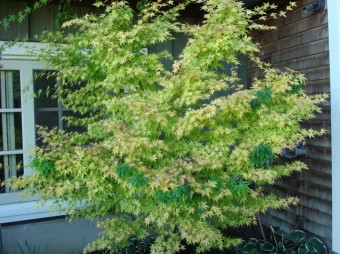 The weeping burgundy maple is an Acer palmatum 'Dissectum', while the upright chartreuse maple is Acer palmatum 'Sango Kaku'.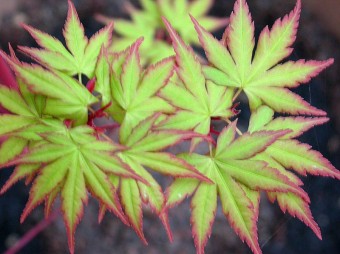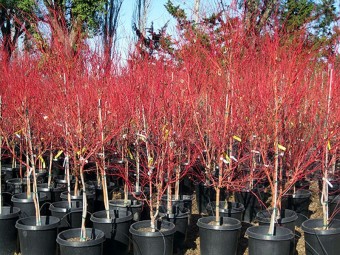 Here's a close-up of Acer palmatum 'Sango Kaku' (also called Coral Bark Maple).  It's leaves are quite often ringed with red, then turn a brilliant shade of yellow before they drop.  Another benefit of this amazing Acer?  Cold winter temperatures change the bark to a brilliant red – giving you even more color for your fall and winter garden.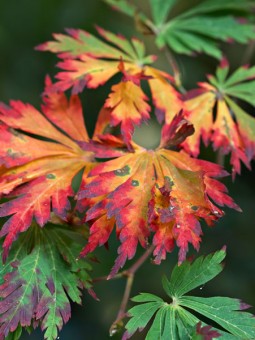 Okay, one more maple…Just look at this leaf.  It's an Acer japonicum 'Aconitifolium' (Japanese Fearnleaf Fullmoon Maple – how's THAT for a mouthful!).  Not only is it unusual in color, but it's leaves are quite large (3-5″), and in the spring it's covered with the sweetest little flowers.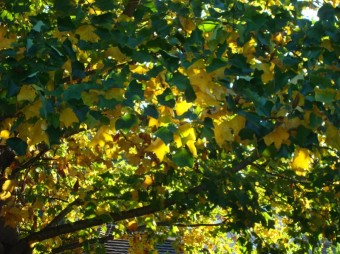 This tree is pretty fantastic – it's a Liriodendron tulipifera (sometimes called an American Tulip Tree).  Its leaves are just gorgeous when back-lit by the sun, so much dark green and yellow sparkling away…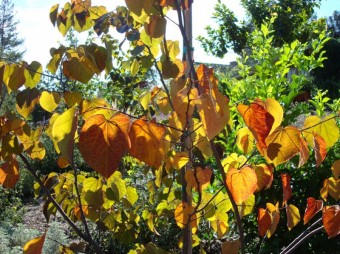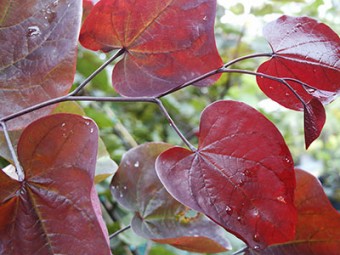 Most people are familiar with the dark maroon, heart shaped leaves of Cercis 'Forest Pansy', but many don't realize in the fall the leaves turn beautiful shades of gold and orange.
So next time you're tempted to say 'Oh California is O.K., but they don't have any fall color…' – think again!  And these are just the trees around here which turn color!  We haven't even begun to talk about our shrubs….
For more beautiful blogs with photographs showing Fall color around the country, make sure you check out The Fall Color Project at Growing The Home Garden's website.