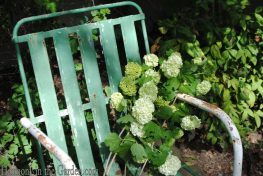 As I write the latest installment of my drought-tolerant series, yet another storm is heading our way.  Its been a soaking wet, record-breaking winter this year, with most counties having now lifted their mandated water restrictions.
But there's still a few cities that realize this annual rainfall won't last, and continue to mandate strict water restrictions.
Santa Barbara, for example, has recently banned watering residential lawns to help achieve their city-wide goal of 40% water reduction. (Click here to read an interesting interview about our drought, conducted last week by the New York Times).
Why am I telling you this?  Because even though we've had more than enough rain this year, it would be short-sighted of us to think this is California's new norm.  While I'm thrilled to see my garden bursting at the seams right now after quenching its poor, parched roots, I'll continue to plant low-water plants.  And should we have another fantastically wet winter this coming winter – great!  But should we return to our low-water norm, my gardens will continue to flourish.
So here we are, heading into spring where color is everywhere right now. It was next to impossible for me to choose which plants to highlight, so I wanted to focus on the most reliable spring bloomers that will put on a show – drought or no drought!