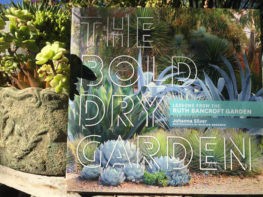 A few weeks ago I had the pleasure to attend a party celebrating Timber Press's new release, The Bold Dry Garden, written by Johanna Silver (who is also the garden editor for Sunset magazine).
The event was held at one of my favorite places, The Ruth Bancroft Garden (appropriate, as that's the subject of the book!)  Not only did I get to spend the morning in a beautiful garden, but Ruth herself was there (no small feat as she's 108 years old!) as well as other key horticulturalists and gardeners mentioned in the book.
After listening to Johanna discuss her personal experience getting to know Ruth and her garden, I couldn't wait to get home so I could dive into the book.
Let me just say that this is one of the most beautiful books ever.  Some might call it a coffee table book, as the oversized hardback book is chock full of mouthwatering photos (taken by award-winning Marion Brenner).  But unlike other coffee table books, where the tendency is to flip through and look at the pretty photos, this is one that you'll eagerly read from cover to cover.  Here are a few reasons why… read more