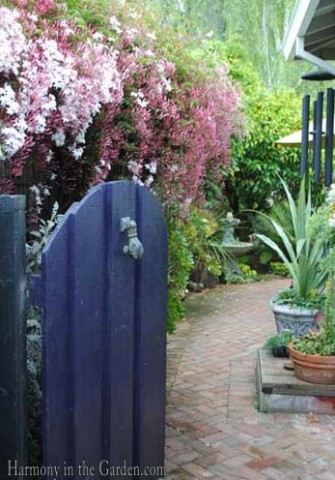 While walking around my garden the other day my friend excitedly commented 'I totally get what you're doing here – you write all about this in your book!'  Curious as to what she meant, I asked her to elaborate.  She then began to excitedly tell me how I combined this texture with that, placed this color to echo that color, put the upright form here, etc.
It was definitely a pinch-me moment to have someone not only explain the thought process I used in my own garden, but to also use passages from my recent book as a guideline.  It sort of felt like the time I overheard my daughter (who likes to get a rise out of me by telling me she's not into gardening) confiding in her friend 'oh, that's a hydrangea – one of my favorite flowers'.   Ahhh….to be listened to!
It was a really interesting experience having my garden visually dissected by my friend, and it allowed me to take a step back and look at things through her eyes.  As we walked around together I realized my garden consists of many different layers, with various ones peaking at different times throughout the year.  And while my book deals with the three biggies (color, texture and form) I've also got layers in my garden such as scent, climbers, beneficials, bulbs, etc.
So instead of just showing you pretty pictures of my spring garden, I thought I'd show you the different layers that are shining brightest right now.  These layers take time to create, but over the years they build upon themselves and transform a pretty garden into one that's unique and breathtaking throughout the year.  Enjoy!