Garden Designers Roundtable – Garden Up! Director's Cut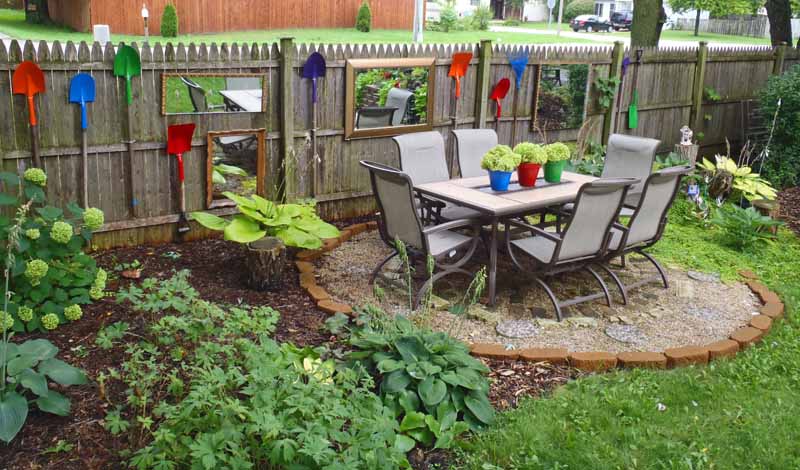 Our new book, Garden Up! Smart Vertical Gardening for Small and Large Spaces, made its debut this past week and Susan Morrison and I are thrilled that our fellow Roundtablers will be writing their own thoughts about vertical gardening today.
Since I've already written about many different aspects of vertical gardening in Garden Up!, I thought I'd do something a little different.  Today, I'd like to share with you some of my favorite photos and concepts that never made it into our book.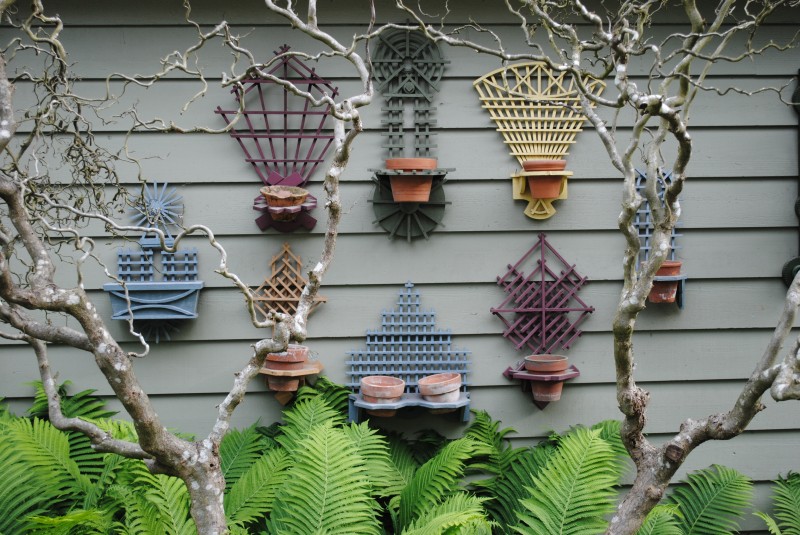 "Why not" you may ask?  It's certainly not because the photos aren't creative, beautiful or convey innovative ideas.  It's due to a few things we learned along the way.
Such as:
1. When your book contract says 224 pages, they don't mean 223 or 225 – they mean 224!  EXACTLY. No wiggle room whatsoever.  And believe me, 224 pages isn't very much when you have a lot to say!
2.  Hi-resolution photos are the only way to go.  Low-res may look good in blogs, but they don't translate to books very well! So many people had beautiful photos to share with us, but they were either low-res or a little blurry and we just couldn't make them work.  Dang.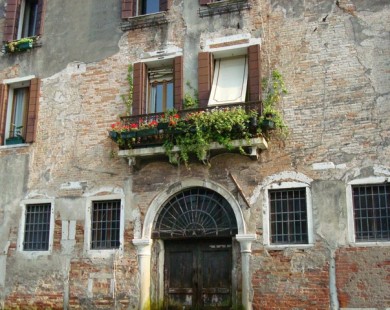 3.  The publisher's art director has a very specific format in mind for the finished copy.  While you might think a collage of photos would perfectly illustrate your point, it just won't work in a 3-column format!  Finding photos to fit within a predetermined layout is hugely important.
So today, I'm thrilled to finally be able to share some of my favorite photos with you that (unfortunately) ended up on the cutting room floor.  To make it interesting, I'll include a few from each of our 7 chapters.
Chapter 1 – Arbors and Trellises

The abundant lavender clematis spilling over the suede colored wall and mixing with the lavender below, is one of my favorite photos.  Due to space constraints, we just couldn't fit it in anywhere (believe me, I tried).  The clusters of kiwis squeezing through the overhead arbor was such a cool and unusual choice of vines, but since kiwi fruit aren't grown in most of the US, we decided to choose a different photo depicting plants that are more widely available.  Plus, practically speaking, can you imagine walking under this arbor when the fruit is starting to drop?  Messy as well as hazardous!
Chapter 2 – Skinny Spaces

The first photo is a garden by landscape designer

Michelle Derviss,

and is an excellent example of creatively using layers to give the illusion of a deep, complex and lush garden.  I particularly love the draping silver dichondra which mimics its neighboring waterfall.  Unfortunately, her photo wasn't in high enough resolution for us to use in the book.  Drats!   The second photo shows how height is attained by using a pair of matching trellises and creeping fig.  Combined with filler plants of varying heights, creates an interesting bed that's only 10″ wide!
Chapter 3 – Garden Secrets
I loved this before and after, which shows how a somewhat ho-hum side yard can be transformed into a beautiful destination with the help of a rose-covered arbor, lush plantings and window boxes mounted directly onto the fence.  Alas, the photos were very low resolution. Sigh….
Chapter 4 – Urban Gardens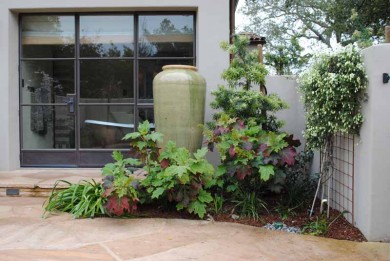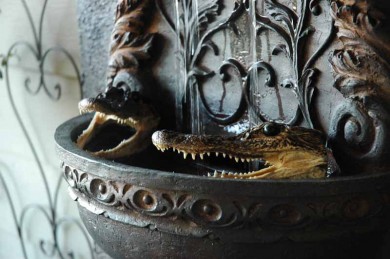 These two courtyard photos are clever, beautiful, creative and high resolution.  The only reason they're not in the book is that we simply ran out of space within the existing layout to include them!
Chapter 5 – Edibles
Helen Battersby found this front garden 'pea fence' one day on her morning jog, and was kind enough to go back and take a photo of it for us. But, due to layout constraints we just couldn't use it.  However, we DO use it in our presentations (to 'oohs' and 'aahs' galore!).  The second photo was interesting because this gardener uses a giant apple tree in their front garden to not only provide shade in the summer, but fruit as well.  Typically fruit trees are grown in the back, with ornamental trees in the front, but they decided to mix things up a bit!
Chapter 6 – Living Walls

This living wall was created by Patrick Fitzgerald using the many different varieties of carex grasses.  We loved both the look of it and the unusual plant choices – so much that we decided to build our own! (see details over on Susan's blog)  We especially love this photo because his son is clearly enjoying the garden while playing the guitar.  Priceless!   The second photo is one of Patrick Blanc's vertical gardens in an Australian mall.   A super cool website about vertical gardening (Lushe) offered this to us and we were thrilled.  Alas, it was super low-resolution and nothing we could do would make it work.
Thanks for joining me today, and please don't forget to visit the other designer's to read their articles on vertical gardening!
Lesley Hegarty & Robert Webber : Hegarty Webber Partnership : Bristol, UK
Pam Penick : Digging : Austin, TX »
Scott Hokunson : Blue Heron Landscapes : Granby, CT »
Susan Morrison : Blue Planet Garden Blog : East Bay, CA »
Tara Dillard : Vanishing Threshold : Atlanta, GA »
Shirley Bovshow: Edenmaker, Los Angeles, CA