About Rebecca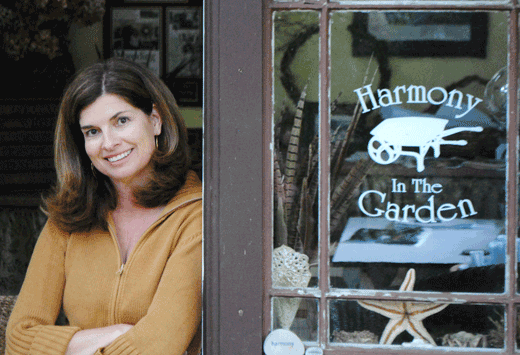 DESIGNER
 - Rebecca Sweet is a garden designer with her company 
Harmony In The Garden
, located in Northern California. Rebecca is a lifelong gardener who is passionate about design, plants and beautiful spaces.  Rebecca's signature "California Fusion" style blends the personal desires of her clients with regionally appropriate plants and California natives, resulting in gardens that are layered, lush and environmentally friendly.
Her gardens have been featured in Sunset, Fine Gardening, Horticulture, Woman's Day, American Gardener, and Country Almanac as well as regional newspapers and publications.  Rebecca has also been a radio guest on GardenLife and Martha Stewart Living and has been featured on the critically acclaimed PBS series Growing a Greener World.  
WRITER -  In addition to designing gardens, she is the co-author of the national best-selling garden book Garden Up! Smart Vertical Gardening for Small and Large Spaces.  Rebecca also shares her secrets to successful garden design in her column "Harmony in the Garden", in Horticulture Magazine.  In addition, she is a contributing author at Fine Gardening magazine and is a founding member of the Garden Designers Roundtable.  In her lighthearted blog Gossip in the Garden, Rebecca shares inside information about garden design, gardening tips, amusing observations and how-to videos for both the novice and experienced gardener.
SPEAKER -  In addition to designing and writing, Rebecca's passion is teaching gardeners how to design like professionals. Leading talks and workshops on a variety of innovative, practical and fun horticultural subjects, her goal is simple – to bring out the "hidden artist" which she believes lives in everyone.  Sometimes the talent is hidden deep inside and sometimes it's brimming on the surface waiting for a little encouragement. In either situation, nothing brings more pleasure than seeing the creative light bulb go off when discussing their garden.